1Day Leshan Giant Buddha Tour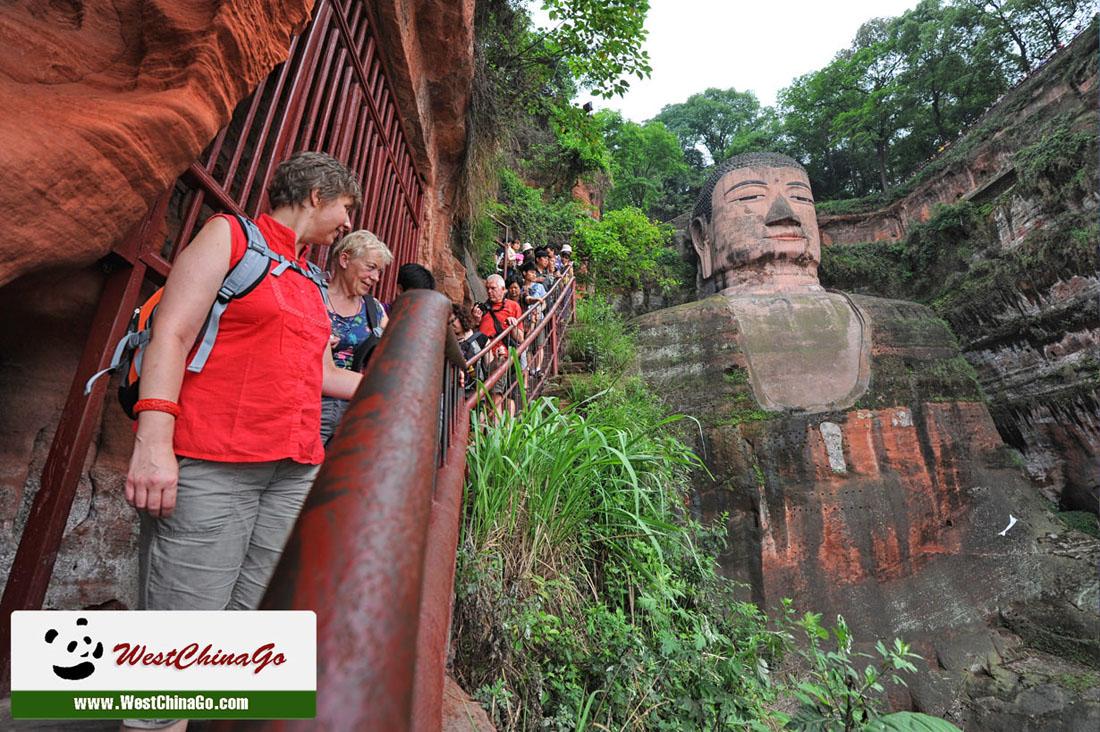 1Day Leshan Giant Buddha Tour
| Tour Number | Price |
| --- | --- |
| Tour for 1 Traveler | 228 USD/Per |
| Tour for 2 Travelers | 129 USD/Per |
| Tour for 3-6 Travelers | 108 USD/Per |
| Tour for 7-10 Travelers | 79 USD/Per |
| Tour for >10 Travelers | inquiry |
Price Inclusions:
Private Transportation: Round trip ticket of high speed train,Metro,Taxi or tour bus according to the group size for the connections.
Guide: English speaking Tour guide
Tickets:Entrance fee for the sites which listed in the itinerary
Lunch in local restaurant
Price Exclusions:
Private expense: such as Panda souvenir,laundry,drinks,telephone calls,optional activities
Tips: Tips for Tour guide and driver.not compulsory,which depend on your approval of service
Accommodation:N/A
Highlights
Visit the biggest Buddha in the world by taking high speed train.Faster &cheaper.
Moreover,using public transportation,mingle with locals,will better understand China &its people ..
Tour Feature:
★ Informative, friendly and professional guide
★ Soak up the atmosphere on a walking tour at LeShan Giant Buddha
★ Free hotel pickup and drop-off included
★Itinerary:ChengDu City-—LeShan Giant Buddha–Chengdu
---
1day Leshan Giant Buddha Tour
Morning:
Leshan Giant Buddha tour itinerary
Morning,meet your guide in hotel lobby,take metro line 2 to Chengdu railway station,catch high-speed train to Leshan.During the 1 hour comfortable train ride,enjoy the idyllic landscape of the Chengdu plain. In Spring time, the land is blanketed by yellow rapeseed flowers, summer time brings the beautiful, bright green landscapes of the rice paddies, autumn will be a busy harvest scene.
Upon arrival,transfer to visit Leshan Giant Buddha,it is 71m tall,it is regarded as the biggest stone Buddha statue in the world,, built during713 AD-803 AD in Tang Dynasty. climb to the top of Lingyun Hill where the Leshan Giant Buddha is situated.
Climb about 300 steps from the entrance to the top,you will see three  rivers-Min River,Qingyi River,Dadu River confluence together ,and visit the intricate Buddhist sculptures and murals inside Lingyun Temple.
Then Walk down stairs along the Red Sand Cliff Road to view the phenomenal Leshan Giant Buddha from the bottom,climb up at the opposite side of the hill .
Noon: lunch in a local restaurant ,try the authentic yummy local food.
AfterNoon:
Wuyou Temple-Leshan Railway Station-Chengdu
Afternoon:After lunch,visit Wuyou Temple.It is has been longtime overshadowed by Leshan Giant Buddha,it still remain tranquil and serene Buddhist atmosphere.Wuyou temple is separated from the Giant Buddha area by river that creates a kind of peninsula, crossing the stylish Haoshang bridge and climb up the steps to the top of Wuyou Mountain and the temple,you will be delighted at the unusual design of the Wuyou Temple.
When finish the tour in Leshan Giant Buddha,transfer to Leshan Railway Station to catch high-speed train back to Chengdu,your guide will accompany back to hotel.
.
Overnights:N/A
---