2-Day Mount Emei&Leshan Giant Buddha In-Depth Tour with Wannian Temple Stay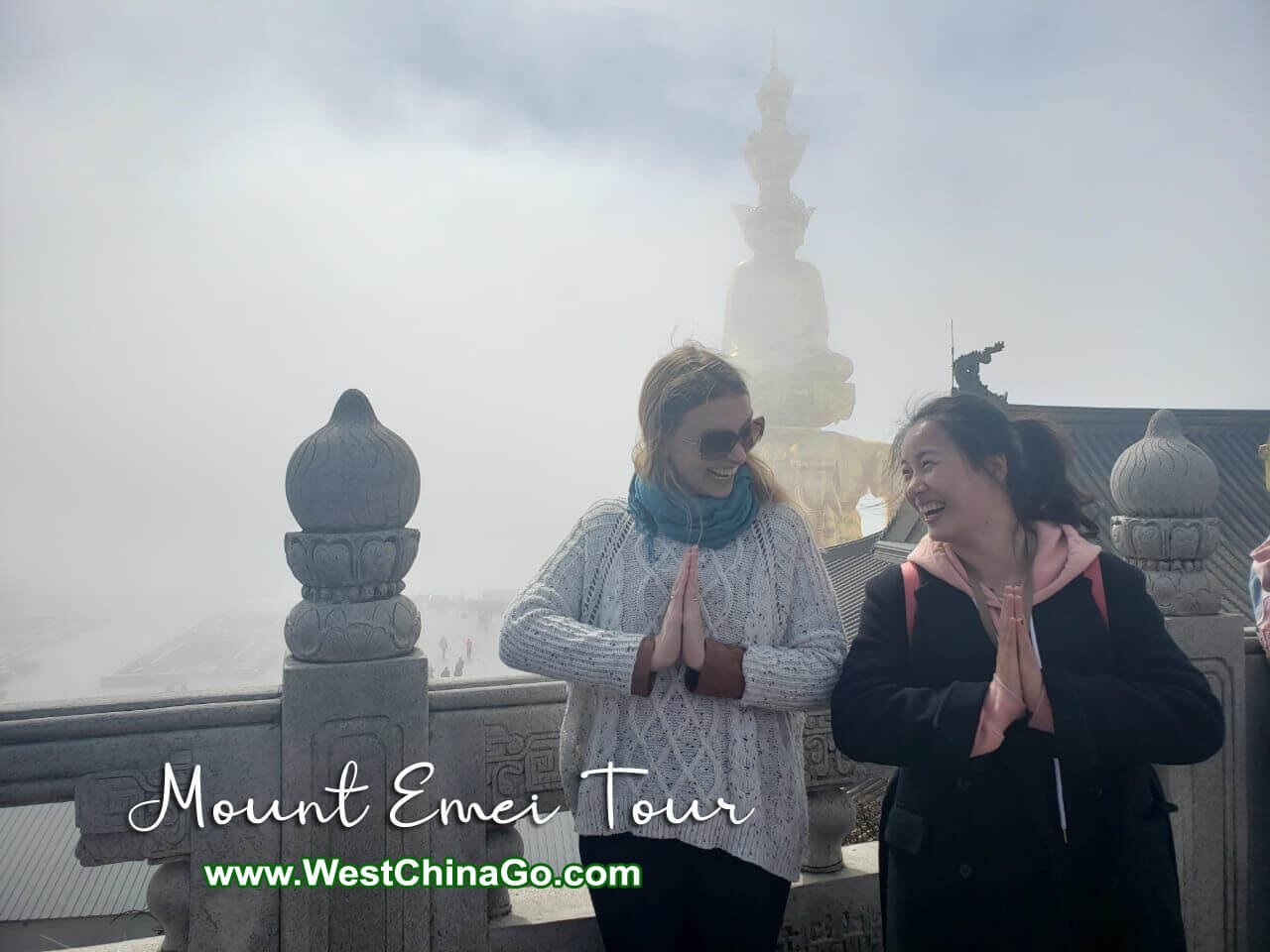 2-Day Mount Emei&Leshan Giant Buddha In-Depth Tour with Wannian Temple Stay
| Tour Number | Price |
| --- | --- |
| Tour for 1 Traveler | 679 USD p/p |
| Tour for 2 Travelers | 399 USD p/p |
| Tour for 3 Travelers | 369 USD p/p |
| Tour for 4 Travelers | 369 USD p/p |
| Tour for >5 Travelers | inquiry |
Price Inclusions:
Transportation: Chengdu-Mt.Emei/Leshan-Chengdu high speed train tickets.
Mount Emei-Leshan Giant Buddha Private transfer by car.
Guide:Guide:2-Day Informative and friendly English speaking Tour guide
Tickets:Entrance fee of Mount Emei,Wannian Temple,river cruise of Leshan Giant Buddha
Cable car:Round trip cable car in Golden Summit
Sightseeing bus in Mt.Emei from feet to the top
Meals in local restaurant specified in the itinerary
Accommodation: 1 night best available accommodation in historical Wannian Temple (4-star standard room with mountain view,private bath room)
Price Exclusions:
Private expense: such as souvenir,laundry,optional activities
Tips: Tips for tour guide and driver(not compulsory but will be very much appreciated) and encouragement for better service
Cable car to Wannian monastery
Meals which are not included in the itinerary
Tour Feature

Stay overnight in the 1000 years old Wannian temple(1000m above sea level) ,live with monks,monks, see the private Buddhist ceremony when all tourist gone.
Cover the major 2 highlights of Mt.Emei—Golden Summit&Wannian Temple and Leshan Giant Buddha.
Avoid the crowds(peak shift) to fully soak up the Buddhist atmosphere in Mount Emei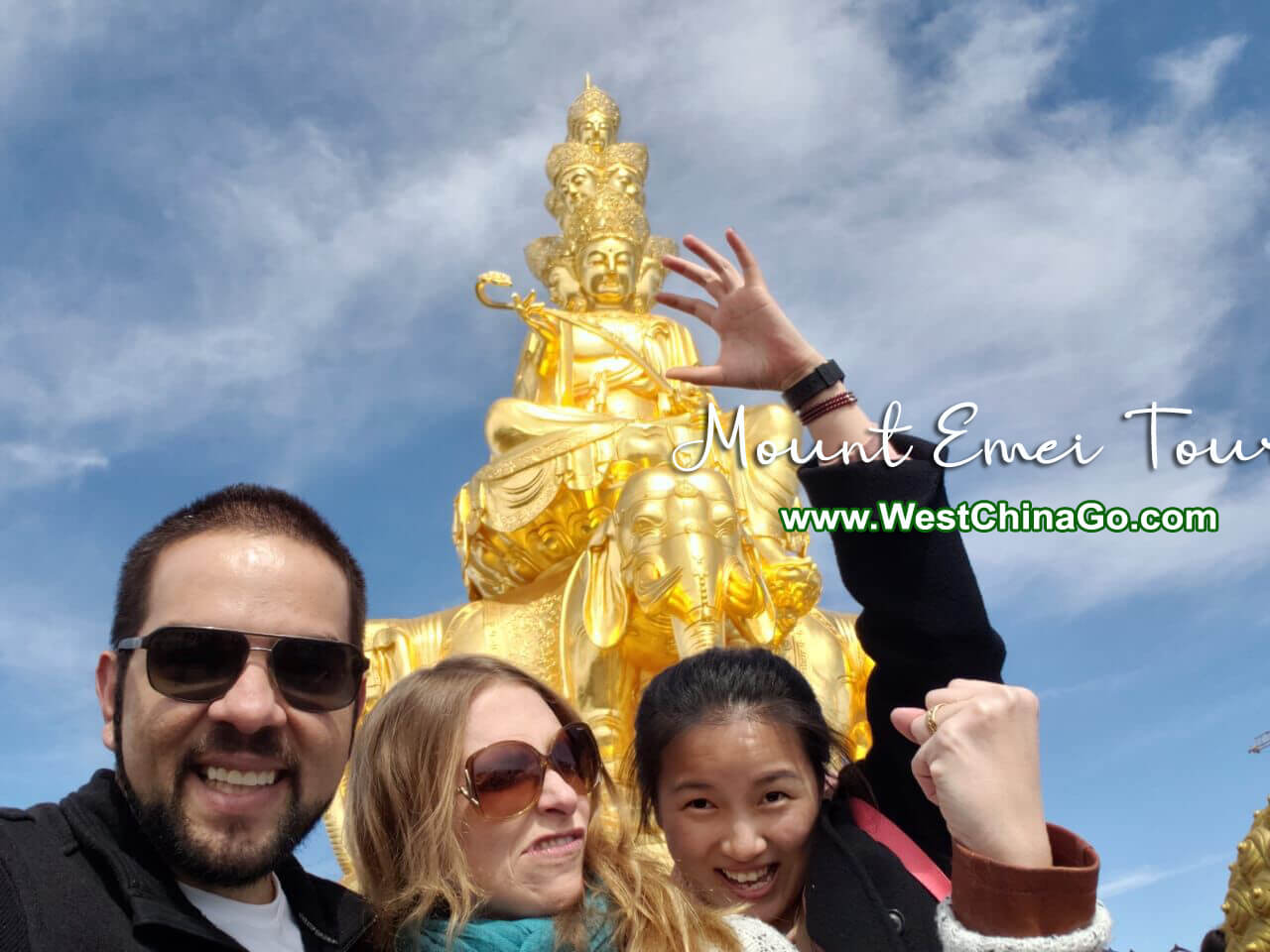 Mount Emei Tour Map
2-Day Mount Emei&Leshan Giant Buddha In-Depth Tour with Wannian Temple Stay Tours Itinerary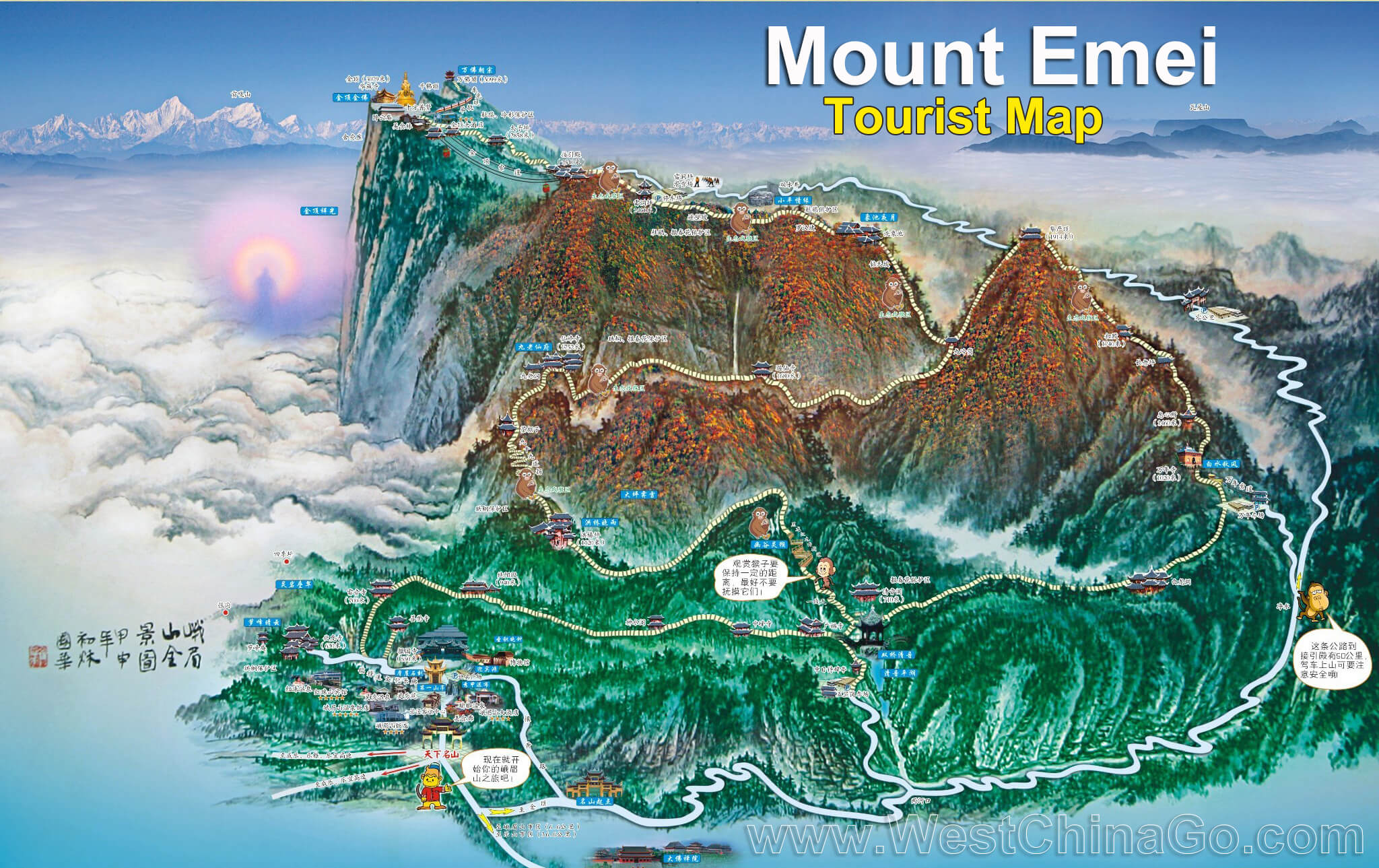 Day 1:Morning
Morning,meet your guide in hotel lobby,transfer to railway station to catch the high-speed train to Mt.Emei.
During the 1 hour 30 minutes comfortable train ride, mingle with locals and enjoy the idyllic landscape of the Chengdu plain..
Upon arrival to Foot of Emei Mountain
taking the tourist bus to Leidongping parking lot(2430m above sea level, about 2 hours bus ride)
Golden Summit of Emei Mountain
Lunch in Leidongping parking lot. Then hike 30 minutes to take the cable car up to Golden Summit. Visit the 48m tall ,world's biggest bronze Puxian Buddha Statue and the Gold/Silver/Bronze palace ,enjoy the breath taking scenery on the top of Mt.Emei
On the way, you may encounter naughty wild monkeys. (For your safety, please keep away from monkeys)
After the visit of Golden Summit, take cable car and bus all the way down to the Wannian parking lot(1020m above sea level), walk 40 minutes along the mountain path(can take cable car which the cost is at your own expense) to Wannian temple which house the national treasure-1000 years old Buddha Samantabhadra Statue.
Stay overnight in Wannian temple, you will see the serene Buddhist ceremony and fully soak up the tranquility when tourists gone.
Accommdation:
Stay overnight in Wannian temple,enjoy the tranquility when tourists gone
Meal:
Lunch
Day 2:Mount Emei—Leshan Giant Buddha-ChengDu(B,L)
You will be waken up by monks' chanting and try the Buddhist style breakfast with monks. Enjoy the refreshing morning and leave Wannian temple around 8:30 am ,hike downhill(1.5h) along the most poetic section of Mt.Emei before tour groups arrive.
The crystal clear spring, old temples dotted in the lush forest, constitute a ideal picture of ancient China. The hike ends up at Wuxiangang parking lot where you will take the sightseeing bus to the mountain feet.
Then board on your private vehicle to Leshan Giant Buddha(50min drive).
Take the river cruise to behold the panoramic view of Leshan Giant Buddha and see the three rivers confluence.
Tasty lunch will be arranged after river cruise. If time permit, your guide will show you around the Leshan old town before catching the train to Chengdu.
Accommdation:
N/a
Meal:
Breakfirst|Lunch