6 Breakfast Items You Must Try in Beijing

Whether you're hiking the Great Wall or exploring the hutongs, starting your day with a good breakfast is essential when traveling in Beijing. Luckily, the streets of the capital are brimming with breakfast options, from the familiar to the outlandish – fermented bean milk, anyone? Sure, you could stick with a coffee and an egg McMuffin from McDonald's, but where's the fun in that?

Baozi 包子
Baozi, steamed, bread-like buns filled with meat or vegetables, are surely one of the most satisfy – and not to mention portable – breakfasts around. There are almost as many different types of fillings as there are days of the year, from pork to preserved vegetables to lamb and even spicy mung bean noodles.
Local chain Qingfeng Steamed Dumpling Shop went viral in 2013 when President Xi Jinping popped in for a quick lunch at one of their stores in west Beijing. Presidential endorsement or not, we also rate their baozi. We have listed the address for the Dengshikou branch below, but there are literally hundreds of branches around Beijing, so you won't have to look far to find one.
Qingfeng Steamed Dumpling Shop
Daily 6am-9pm. 57 Dengshikou Dajie, Dongcheng District (6526 5357)
庆丰包子铺:东城区灯市口大街57号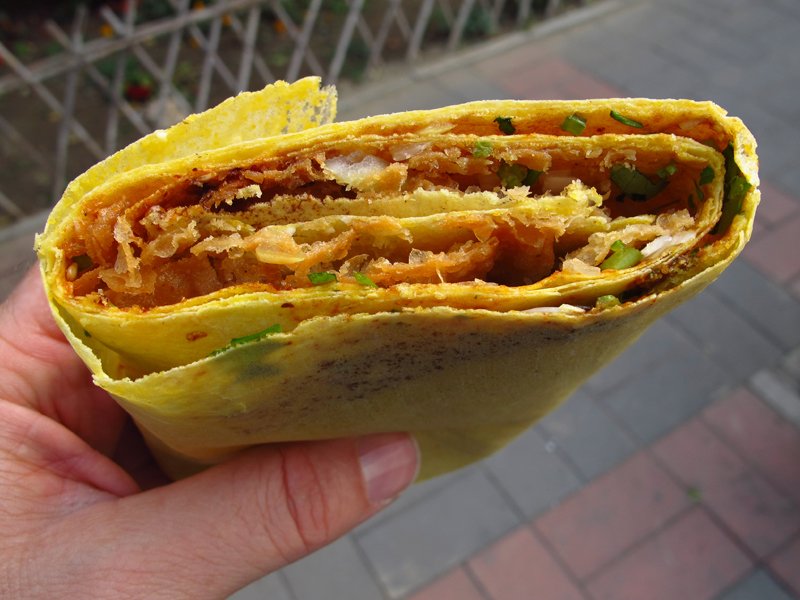 Jianbing 煎饼
Jianbing is one of Beijing's – if not, China's – most popular breakfasts and with good reason. A riot of flavors and textures, a jianbing is a wheat or grain flour crepe cooked on a circular grilled then topped with an egg, chopped scallions and cilantro, sweet soy bean paste, and a piece of crispy wonton wrapper. This last element marks a jianbing as being of the Shandong style (the province from which jianbing originates), although you will also find Tianjin-style jianbing around town, which are filled with youtiao (deep-fried dough sticks) instead.
You can find stalls selling jianbing on many a street corner or in food courts in Beijing, making them a good option for a quick snack at any time of the day, not just breakfast.
Dahua Jianbing
Daily 6am-11am. 8 Daxing Hutong, near Jiaodaokou Nandajie (next to Daxing Hutong Miancha), Dongcheng District (137 1788 6176)
大华煎饼:东城区交道口南大街大兴胡同8号
Miancha (flour tea) 面茶
A very traditional Beijing snack, this misleadingly named dish has nothing to do with tea. Instead, it consists of a bowl of gloopy millet and rice flour porridge topped with toasted sesame paste, making for a very filling breakfast. Eat it standing up out of a plastic bowl along with local hutong residents at this popular spot near Gulou Dongdajie.
Daxing Hutong Miancha
Daily 6am until sold out. 7 Daxing Hutong, near Jiaodaokou Nandajie, Dongcheng District (no phone)
大兴胡同面茶:东城区交道口南大街大兴胡同7号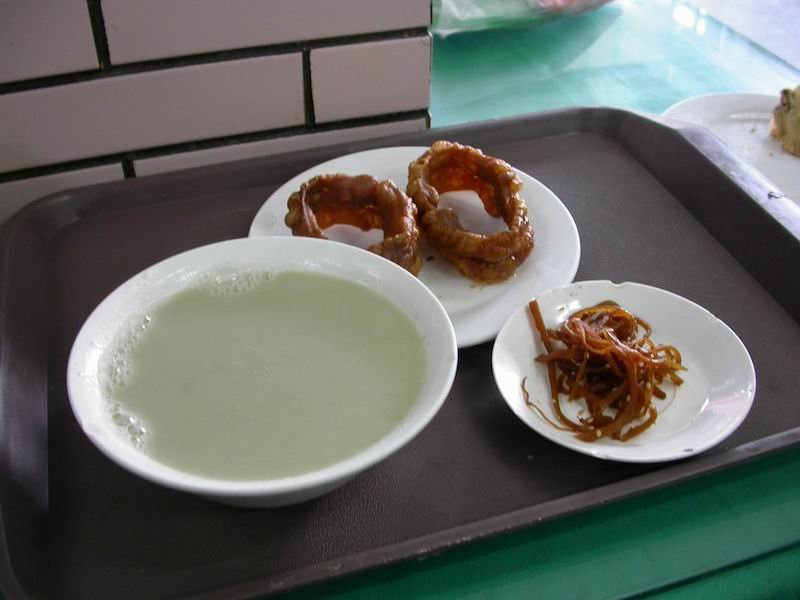 Douzhi 豆汁
This one is for the hardcore food enthusiasts. One of the most traditional Beijing breakfast items, douzhi (literally "bean juice") is a drink made from fermented mung bean lees, a byproduct of the production of mung bean noodles. It has a sour, distinctive taste, which many describe as faintly eggy. It is believed to have health-giving properties. Douzhi is often served with jiaoquan, crispy circles of fried dough, on the side for dipping. Try douzhi, along with many other traditional Beijing dishes, at Huguosi Snack Shop west of Houhai Lake.
Huguosi Snack Shop
Daily 5.30am-9pm. 93 Huguosi Dajie, Xicheng District (8328 1700)
西城区护国寺大街93号
Wontons 馄饨
You may have had wontons before but the type popular at breakfast in Beijing are slightly different. For Beijing-style wontons, small pinches of filling (usually pork) are wrapped in thin pastry and served in a light broth flavored with seaweed, dried shrimp, and cilantro. The wrappers are left deliberately long so they float in the soup. The soup is sometimes topped with thin strips of omelet.
Time-Honored Brand Huntun Hou, which specializes in wontons and other dumplings, has several branches around town, of which the branch near the Drum and Bell Towers on Gulou Dongdajie is the most convenient.
Huntun Hou
Daily 6am-10pm. 309 Gulou Dongdajie, Dongcheng District (6404 2021)
馄饨侯:东城区鼓楼东大街309号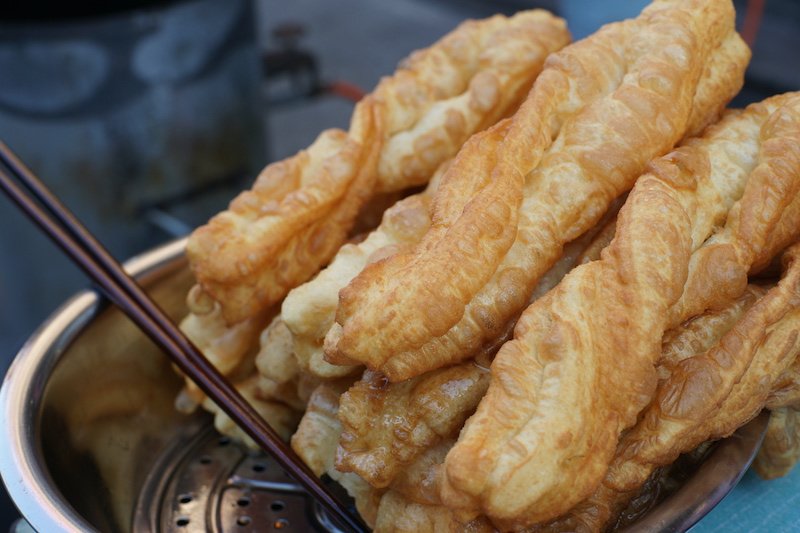 Soy milk and youtiao 豆浆油条
Think of this as the Chinese version of coffee and a donut … sort of. Youtiao are long sticks of savory fried dough which are dipped in a drink made from blended soy beans and water. There are various sweet and savory variations of this combination throughout China; the Beijing version favors the soy milk sweetened.
For exemplary soy milk and youtiao, head to Taoyuan Village in Sanlitun. We're cheating with this one since Taoyuan is actually a Taiwanese chain from Shanghai, but that doesn't make their soy milk any less delicious.
Taoyuan Village
Daily 7am-2.30am. S9-10, Taikoo Li Sanlitun South, Chaoyang District (6416 5117)
桃园眷村:朝阳区三里屯太古里南区S9-10