Yangtze River Cruise Company
Gold Cruises
Century Cruises
Victoria Cruises
Yangtze Cruises
Goddess Cruise
Yangtze River Cruise Tourist Attractions:
Goddess 2
Goddess 2
Chinese Name: 华夏神女二号
Built Time: 2012
revamption:
吨位 tonage:9000t
载客 capacity: 452
楼层 level:6
长度 length:119.8 m
宽度 width:18.8m
船速 speed:26
船员 crew:160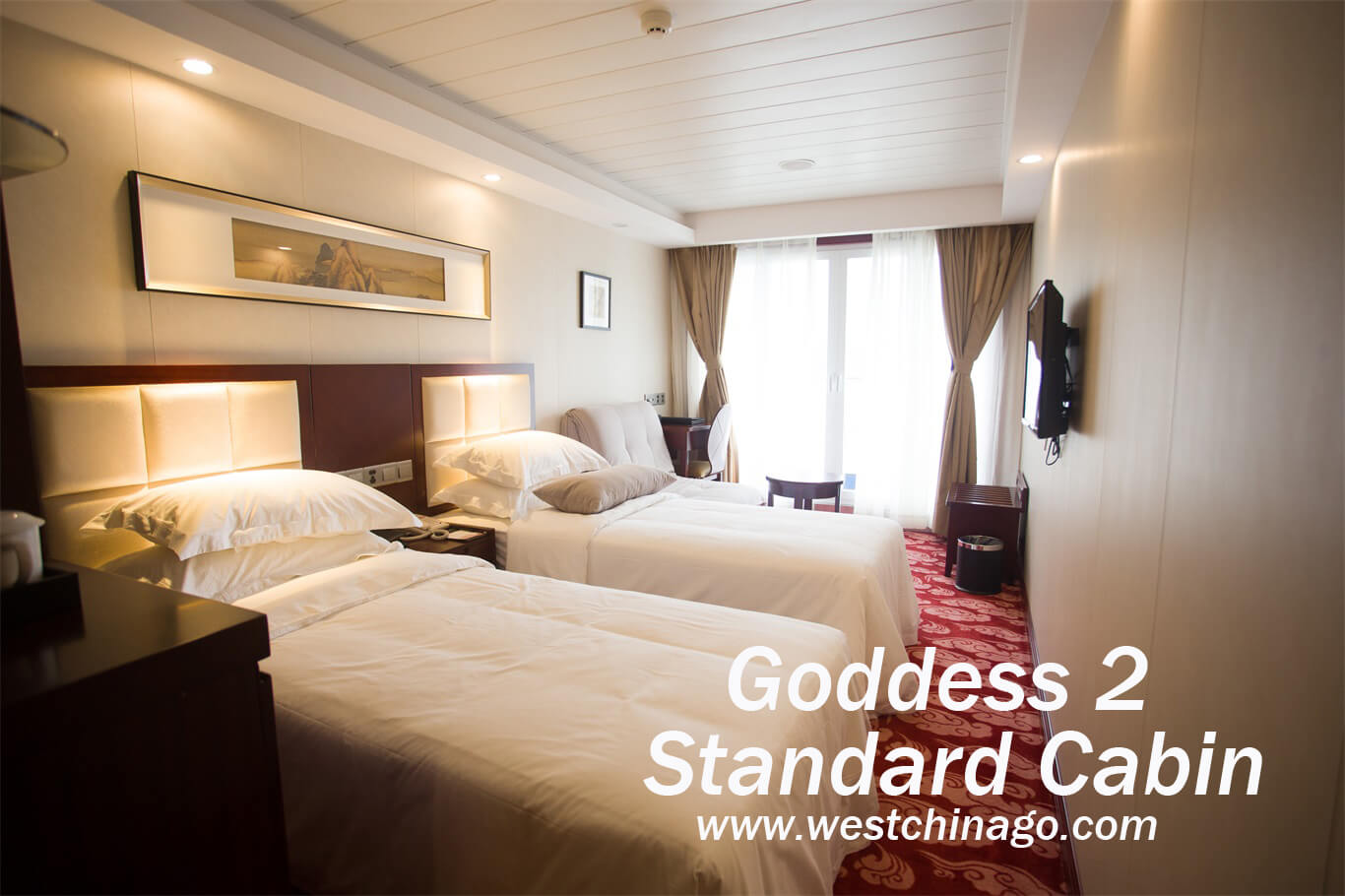 Goddess 2 Overview
Goddess 2 is The five-star standard luxury cruise ship decorated with the "Three Gorges Goddess" culture on the Yangtze River has two cruise ships "Huaxia Goddess 1" and "Huaxia Goddess 2". The cruise ship decoration is based on the cultural heritage of the Three Gorges Goddess story. The sculptures, reliefs, pictures, etc. of the goddess are established. Visitors can enjoy these stories through cruises to better understand the story and historical legends of the Three Gorges.
Goddess 2
1. Characteristics of cruise ships: foreign-related cruise ships with the main decoration style of "Three Gorges Goddess" culture, with strong themes;
2, suitable for the crowd: the pursuit of cost-effective and theme culture of the crowd, suitable for both young and old;
Goddess 2 Photo
Goddess 2 Video
[iframe width="100%" height="515″ src="https://www.youtube.com/embed/QorAfoTm1Hk" frameborder="0″ allowfullscreen="true"]
Goddess 2 Tickets
Goddess 2 Tickets Price depends on date,room type,itinerary,different travel agency's quoation
WestChinaGo sure give you favorable price
including
Accommodation 1:Based on standard cabin
Accommodation 2:Based on double occupancy in each cabin
Meal:The daily meals listed in the itinerary.
Shore Excurcation:usually 3 toursit attractions sightseeing(including tour guide,entrance tickets;port fee;transportation…),each cruise ship vary from,please check cruise specific itinerary.
Cultrue class:such as taichi,calligraphy,culture lecture organized by the cruise ship
Onboard entertainments:such Gym,snooker room……..
Excluding
The last night of yangtze river cruise
Single Room Supplement.
Your Upgrading better and higher level cabin
Meal 1:The first day(onboard) dinner,and the last day(disembark) lunch (you can order onboard dining room,on your expense )
Meal 2:Your UpGrading to upper level VIP dining room(quiet enviorment and plenty food)
Personal Expense:such as Onboard laundry, drinks,beverage,bar charge,movie,KTV,swiming pool,shopping,surfing bar,SPA.massages;hair salon….
Optional Shore Excurcation Sightseeing
Service Charge:depends on,some cruise complusory,some ship volunteerary,up to your satisfactory
Tansfer:Shuttel between port and airport or train station in ChongQing/YiChang
Gratuities, Tips to tour guides
Price for Children:
Between 2 – 12 years not occupying a bed, are entitled to 50% discount of the TWIN rate,
a child 2 – 12 occupying a bed is charged the 100% normal rate as an adult.
An infant under 2 years, not occupying a bed, are entitled to 80% discount of the Adult rate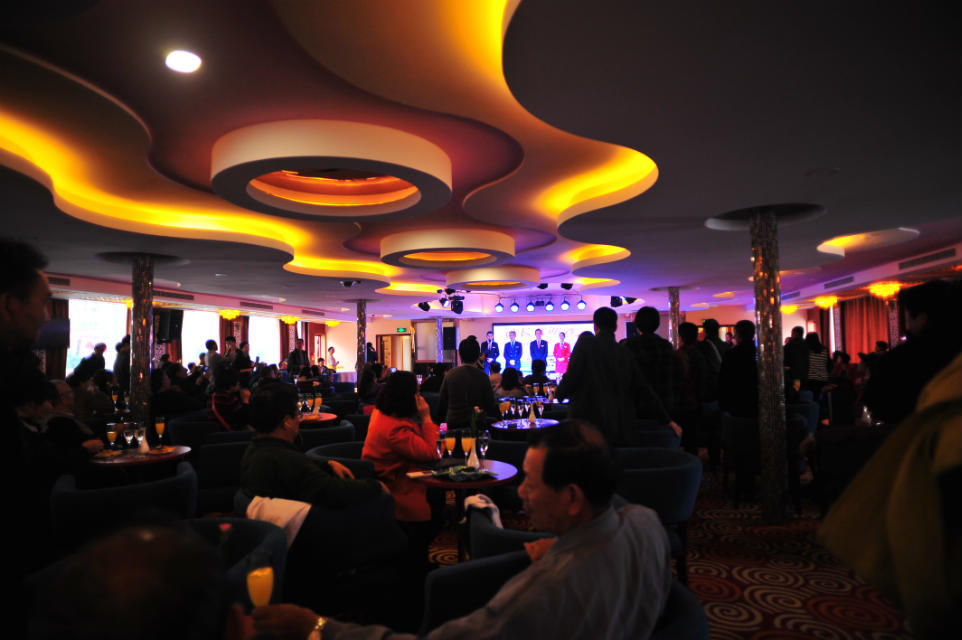 Yangtze River Cruise Tourist Map
[iframe src="https://www.google.com/maps/d/embed?mid=1gPkqmncYS1ZXdFpEjry0gKRYHIBfygOy" width="100%" height="480″]

Goddess 2 Sailing Schedule
| # | Monday | Tuesday | Wednesday | Thursday | Friday | Saturday | Sunday |
| --- | --- | --- | --- | --- | --- | --- | --- |
| ChongQing—Yichang | | | | Goddness 1 | | | Goddness 1 |
| YiChang—ChongQing | | | Goddness 2 | | | | Goddness 2 |
YiChang to ChongQing itinerary
天数

Day

抵达-离开Arr. – Dept.

停靠景点

Scenic sites

用餐

Dinner

D1

19:00-20:00

宜昌港游客登船入住

无

D2

06:00

宜昌港起航 Depart Yichang.

三餐

07:00-09:00

经过长江三峡之西陵峡 (东段)

08:30-10:30

三峡大坝工程参观

12:00-16:00

经过三峡大坝船闸

D3

15:00-17:30

上岸游览白帝城(自费)

三餐

D4

07:00

上岸游览石宝寨(自费)

三餐

16:00-18:30

游览中国神曲之乡丰都-鬼城

D5

08:00

抵达重庆港 Arrive Chongqing port.

早餐
ChongQing to YiChang itinerary
天数

Day

抵达-离开Arr. – Dept.

停靠景点

Scenic sites

用餐

Dinner

D1

19:00-20:00

重庆港游客登船入住Board the cruise from chongqing chaotianmen port

无N/A

22:00

重庆港起航start to sail

D2

09:00-11:30

导游带领游客游览丰都-鬼城visit the fengdu ghost city under guidence

三餐 B|L|S

D3

08:00-09:30

上岸游览白帝城(自费)optional pay activity:white emperor city

三餐B|L|S

09:00-10:00

游船经过瞿塘峡,游客在船上欣赏瞿塘峡秀美风光 pass by qutang gorge

12:30-16:00

上岸游览被誉为"中华奇观""天下绝境"的小三峡 board to vist the lesser three gorge

16:30-18:30

游船经过巫峡pass by wu gorge

18:00

欢送晚宴Farewell Dinner.

18:30-20:00

经过西陵峡(西段)pass by xilin gorge

D4

08:00-10:00

上岸游览三峡大坝 visit dam

早餐 B

13:00

抵达宜昌港 arrival of yichang
Yangtze Cruise Sailing Calendar
…..
[contact-form-7 id="30604″ title="yangtze"]