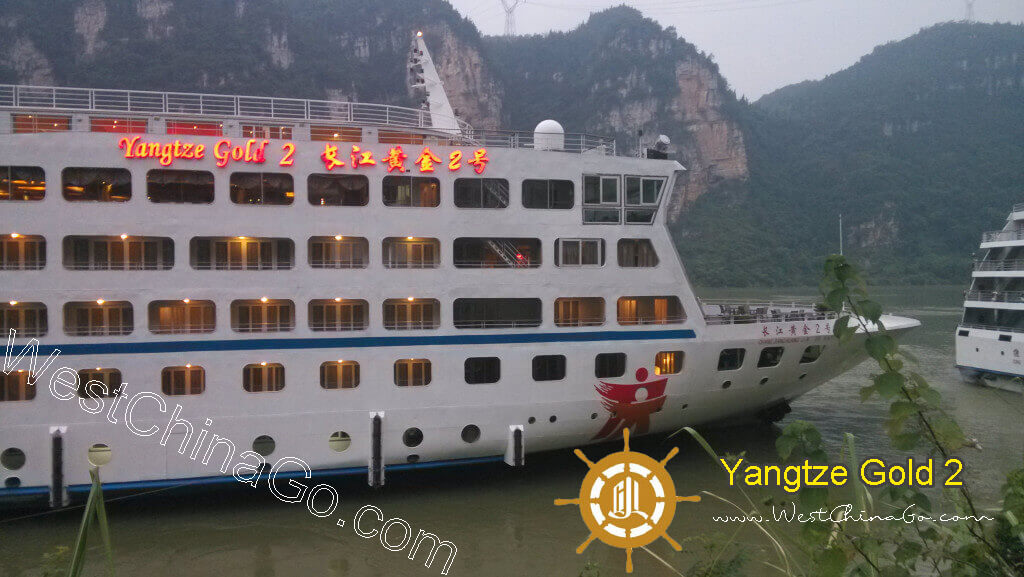 Yangtze River Cruise Company
Gold Cruises
Century Cruises
Victoria Cruises
Yangtze Cruises
Goddess Cruise
Yangtze River Cruise Tourist Attractions:
Gold 2
Gold 2
Chinese Name:黄金2号
吨位 tonage:17000 t
载客 capacity: 570
楼层 level:6
长度 length:149 m
宽度 width:24m
船速 speed:26
船员 crew:200
Gold 2 Overview
Gold 2 is 5 star cruise ship,it's maiden cruise at 2014.
It has 173 high-end luxury standard suites, 1 presidential suite, 1 executive room and 20 interior rooms. Supporting facilities include: cafeteria, barbecue bar, bar, chess and card room, karaoke room, movie hall, bath foot massage bag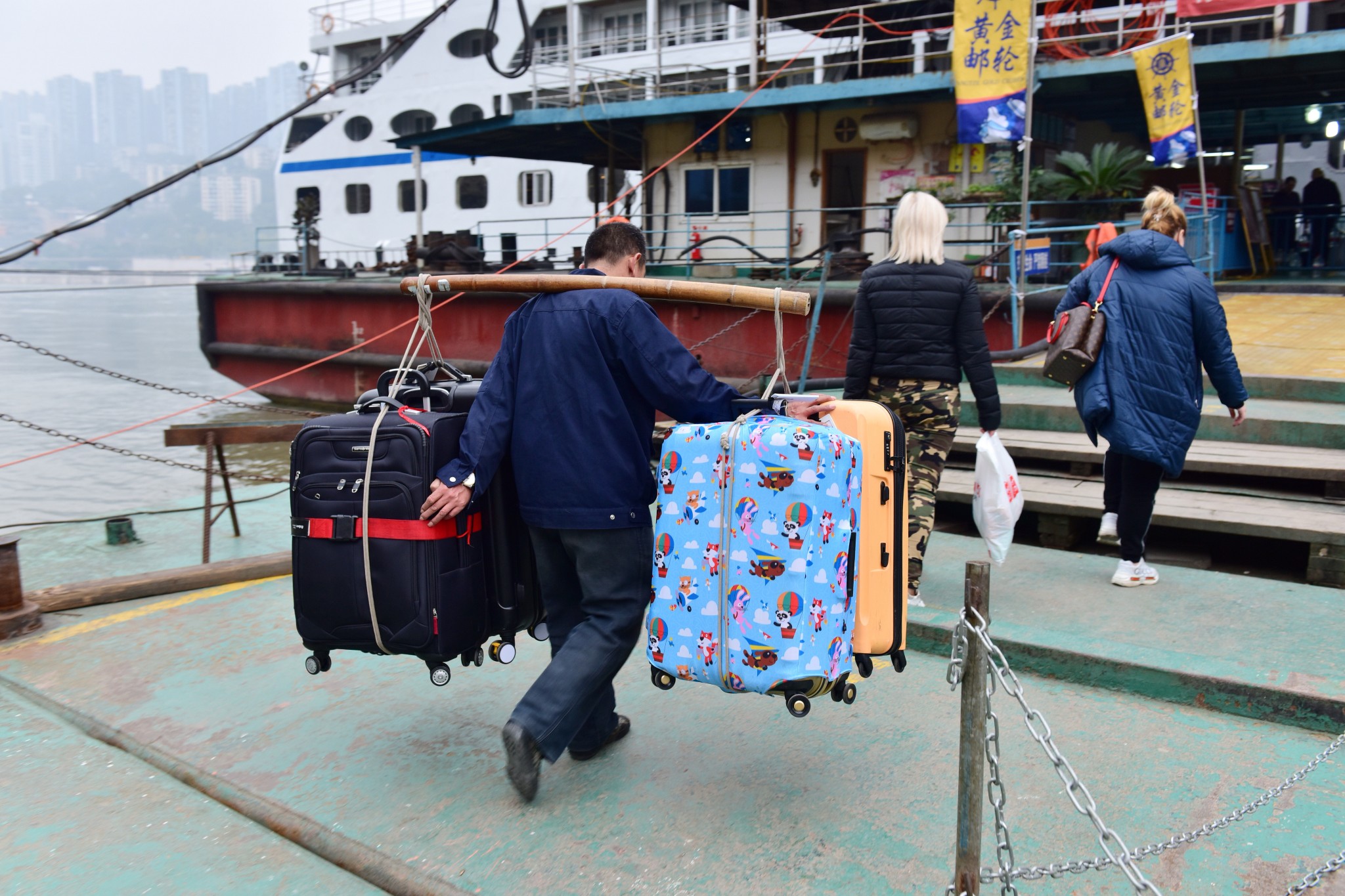 Cabin Type
Cabin Amount
Cabin Size(㎡)
Location
Cabin Facilities
Inside cabin
Balcony
Non-standard Cabins
20
16㎡
3F\4F
Bed size 1.5m×2m
One cabin with double bed
Standard Cabins
173
24㎡
2.7㎡
2F\3F\4F\5F
Bed size 1.1m×2m
One cabin with two single beds
King-size bed Cabins
8
24㎡
2.7㎡
2F
Bed size 1.5m×2m
One cabin with double bed
Excutive Cabins
6
36㎡
4㎡
5F
Bed size 1.1m×2m
One cabin with two single beds
Deluxe Cabin
5
36㎡
4㎡
3F\4F
Bed size 1.8m×2m
One cabin with double bed
Deluxe Suite
3
72㎡
8㎡
3F\4F
Bed size 1.8m×2m
One cabin with double bed
Presidential Suite
1
151㎡
231㎡
3F
(main bed room ) Bed size 2m×2m (sub bed room ) Bed size 1.8m×2m
two rooms with 2 double beds
Facility Type
Public Facilities
Location
Area
Public Facilities
Location
Area
Food & Beverage Facilities
Chinese & Western Restaurant
2F
660㎡
Business Restaurant
3F
35㎡
VIP Restaurant
6F
378㎡
Sightseeing Bar
6F
285㎡
Patio BBQ
6F
970㎡
Entertaiment Facilities
Theater
-1F
257㎡
Billiards
4F
36㎡
Conference Hall with Interpretation System
Casino
5F
20㎡
kids Garden
2F
53㎡
Muiti-function Hall
5F
568㎡
Reading & Meeting Room
4F
47㎡
Cigar Bar
5F
20㎡
Simulating Driving Area
4F
288㎡
KTV
6F
46㎡
Web-surfing Room
Café
Game Center
Gym & Fitness Facilities
Gym
1F
146㎡
Jogging Track
6F
(L)83m (W)1.5m
Surfing Swimming Pool
5F
63㎡
Mini Golf Course
Dome
786㎡
Other public facilities
SPA
1F
226㎡
Snacks
2F
43㎡
Foot Massage
Pedestrain Street
2F
870㎡
Lobby
2F
387㎡
Medical Service
3F
47㎡
Business Center
2F
22㎡
Conference Room
5F
75㎡
Monitoring Room
2F
28㎡
Sundeck
5F
970㎡
Radio on Air
2F
14.8㎡
PA System
inside cruise
Photograghing
2F
35㎡
TV System
inside cruise
Beauty Shop
2F
35㎡
Landing Space for Helicopter
Dome
Specialty Market
2F
43㎡
Sightseeing Elevator
3
Tea Art
2F
45.5㎡
Reading Bar
Gold 2 Photo
Gold 2 Video
[iframe width="100%" height="515″ src="https://www.youtube.com/embed/7f1IRXsbeBM" frameborder="0″ allowfullscreen="true"]
Gold 2 Tickets
Gold 2 Tickets Price depends on date,room type,itinerary,different travel agency's quoation
WestChinaGo sure give you favorable price
including
Accommodation 1:Based on standard cabin
Accommodation 2:Based on double occupancy in each cabin
Meal:The daily meals listed in the itinerary.
Shore Excurcation:usually 3 toursit attractions sightseeing(including tour guide,entrance tickets;port fee;transportation…),each cruise ship vary from,please check cruise specific itinerary.
Cultrue class:such as taichi,calligraphy,culture lecture organized by the cruise ship
Onboard entertainments:such Gym,snooker room……..
Excluding
The last night of yangtze river cruise
Single Room Supplement.
Your Upgrading better and higher level cabin
Meal 1:The first day(onboard) dinner,and the last day(disembark) lunch (you can order onboard dining room,on your expense )
Meal 2:Your UpGrading to upper level VIP dining room(quiet enviorment and plenty food)
Personal Expense:such as Onboard laundry, drinks,beverage,bar charge,movie,KTV,swiming pool,shopping,surfing bar,SPA.massages;hair salon….
Optional Shore Excurcation Sightseeing
Service Charge:depends on,some cruise complusory,some ship volunteerary,up to your satisfactory
Tansfer:Shuttel between port and airport or train station in ChongQing/YiChang
Gratuities, Tips to tour guides
Price for Children:
Between 2 – 12 years not occupying a bed, are entitled to 50% discount of the TWIN rate,
a child 2 – 12 occupying a bed is charged the 100% normal rate as an adult.
An infant under 2 years, not occupying a bed, are entitled to 80% discount of the Adult rate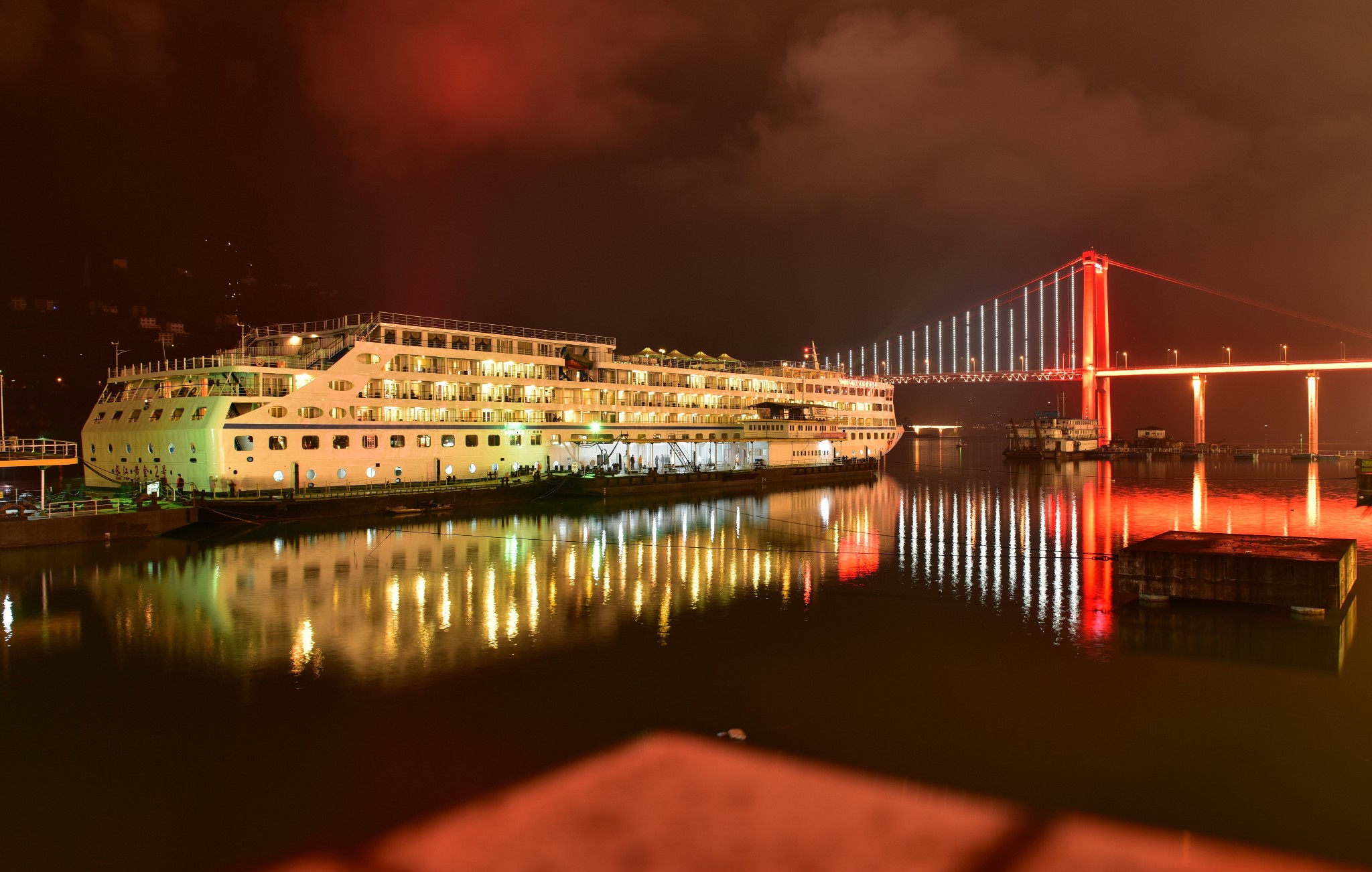 Yangtze River Vruise Tourist Map

Gold 2 Sailing Schedule
| # | Monday | Tuesday | Wednesday | Thursday | Friday | Saturday | Sunday |
| --- | --- | --- | --- | --- | --- | --- | --- |
| ChongQing—Yichang | Gold 8 | Gold 7 | Gold 6 | Gold 3 | Gold 5 | Gold 2 | Gold 1 |
| YiChang—ChongQing | Gold 5 | Gold 2 | Gold 1 | Gold 8 | Gold 7 | Gold 6 | Gold 3 |
[contact-form-7 id="30604″ title="yangtze"]