Macau Dining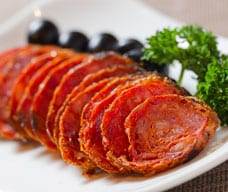 Macanese Cuisine
A special combination of Portuguese and Chinese cuisine, with ingredients and seasonings assembled from Europe, Africa and South East Asia, Macanese cuisine is uniquely irresistible. Renowned for its flavour-blending culture, and common cooking techniques such as baking, grilling and roasting, Macanese food – with over 450 years of history – is typically seasoned with spices such as turmeric and cinnamon, while a dash of coconut milk tops off the unforgettable aroma and taste. Signature dishes most famously include 'Galinha à Africana' (African chicken) and Macanese Chilli Shrimps.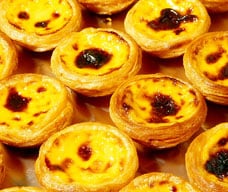 Local Snack Favourites
Some 'must-try' items are found on street stalls, with Pastéis de Nata (Portuguese egg tarts) and 'pork chop buns' established favourites of Hong Kong and Taiwanese visitors.
Rua de S. Paulo, Avenida de Almeida Ribeiro (popularly-known as 'San Ma Lo'), Rua da Felicidade, Travessa do Auto Novo near Senado Square and Rua do Cunha in Taipa Village are the places to find local snacks, packed with shops selling Macao delicacies like almond cakes, egg rolls, peanut candies, roasted sliced meat and many other local specialties. Some of the snacks are cooked right in front of you – and all make excellent gifts for your nearest and dearest.

The stunning variety of distinctive cuisines available in Macao – Portuguese, Chinese, Japanese, Indian and so much more – makes this international city a veritable paradise for foodies. With an increasing number of restaurants to choose from, there is something to please every palate. And in addition to a choice of international mainstream wines and spirits, the intrepid bon vivant can find many superior and reasonably priced Portuguese wines that are now emerging onto the international stage.

To build Macao into the World Centre of Tourism and Leisure, to cope with the industry's steady development, enhance the service quality of tourism and related sectors as well as promote the commitment to quality, the Macao Government Tourism Office (MGTO) launches the "Quality Tourism Services Accreditation Scheme" (QTSAS) in 2014 to define the standard of service quality for the tourism industry, encourage and support the industry to continuously enhance the overall service, and also recognize the merchants who provide outstanding service and implement good quality service management.
Participating merchants who achieve the service criteria set forth for the scheme will be granted the "Star Merchant Award". In order to recognize the "best of the best" performer in each category, a special "Service Star Award" is designed to spotlight the top participating merchant with the highest assessment score among its peers in the same category.