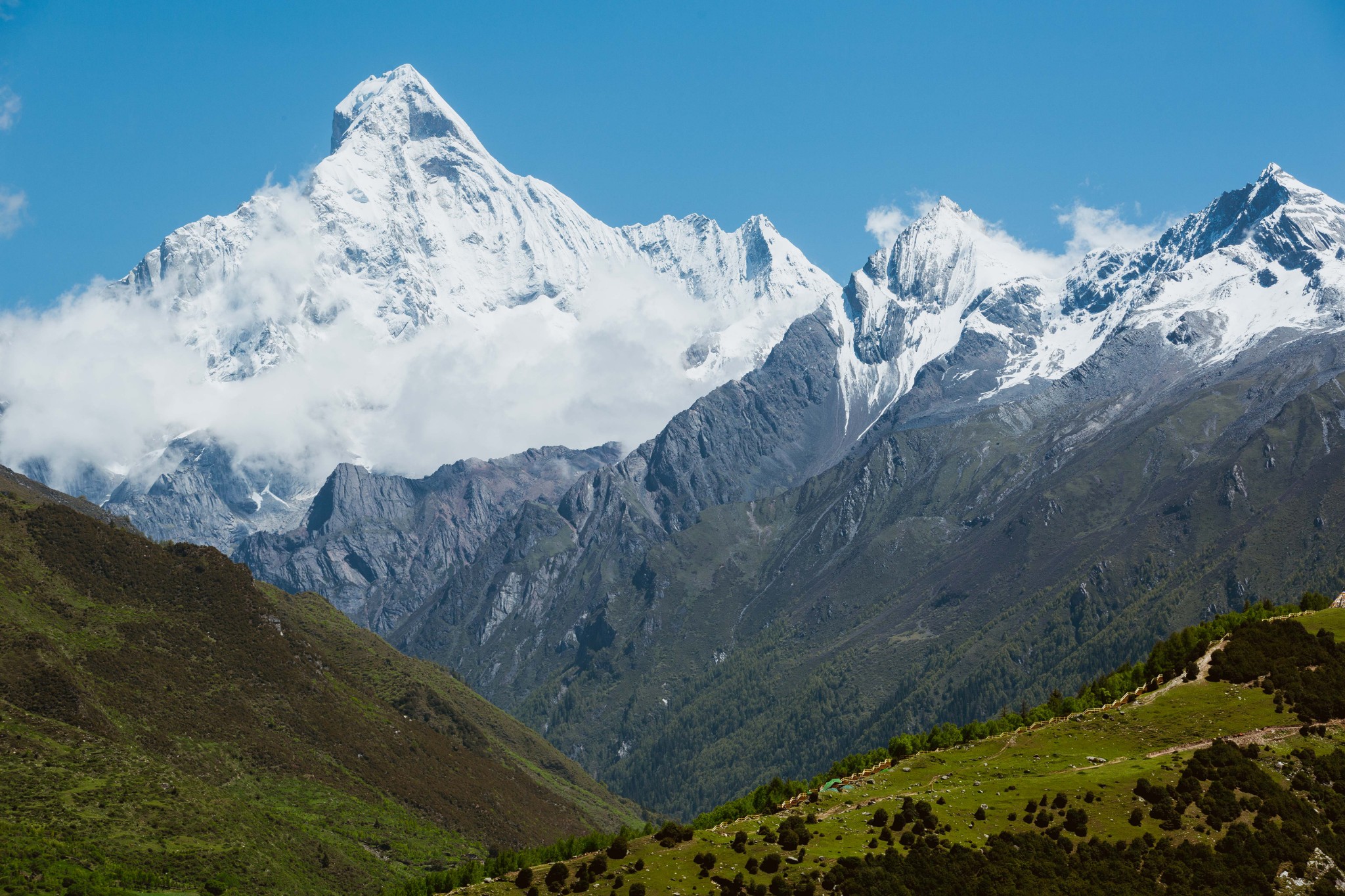 SiChuan Mount SiGuNiang Tour
Mount SiGuNiang (four sister)locate at west of sichuan, 237 KM apart from chengdu.
Mount SiGuNiang are made of 4 parts:4 sister mount, changping valley, songping valley,haizi valley
it's heaven for hiking lovers.
besides the mount valley,lake,..natural scenery, Mount SiGuNiang have plenty precious animal and plant resources.
For camp, there is strict stipulation,for detail, pls Consult westchinago
Siguniang Mountain is the highest peak of the Lushan Mountain on the eastern edge of the Hengduan Mountains. It consists of four continuous peaks. From north to south, the heights are 6,250 meters, 5,664 meters, 5,454 meters and 5,355 meters. The altitude is high and may occur. Altitude sickness. These four peaks are covered with snow and ice for many years, like the four girls wearing white gauze, standing on the two banks of Changpinggou and Haizigou. The mountain is rich in gastrodia elata, Fritillaria, and Cordyceps from ancient Quaternary ancient fish and other precious herbs. There are about fifty or sixty species of mammals and about 300 species of birds, including giant pandas, red pandas, golden monkeys, snow leopards, Sumenzi, Huahaizi, and husband and wife. Siguniang Mountain has always been a paradise for hikers. It takes about 70 kilometers from Changping Mouth to Bizhugou. The canyon mountain road is rugged and narrow, and the melting waterfall water on the iceberg flows slowly; while over the valley, it is a wide, flower-filled alpine meadow with a very soft view. When you come to Siguniang Mountain, you can't miss the beautiful autumn scenery with the golden mountains and lakes of Jinhaizi, and the Lama Temple with more than 2,000 years of history. You must also go to Wolong to see the cute giant panda along the way.
Mount SiGuNiang Nearby:WoLong Panda Base and BaLang Mount
Mount SiGuNiang :The Good Photo site is 猫鼻梁, you can check the sun-set at here.
双桥沟Shuangqiaogou is located in the northwest of Rilong Town, with a total length of 34.8 kilometers and an area of 216.6 square kilometers. Both sides of the ditch are mountains. In the Shuangqiaogou at an altitude of 400 meters, there are both birch forests, Yanglin forests, Qingfeng forests, high-spirited spruce, fir and redwoods. There are pieces of sea buckthorn, shrubs, and larch.。
长坪沟Changpinggou is located in the northeast of Rilong Town, with a total length of 29 kilometers and an area of about 100 square kilometers. It is one of the main scenic spots of Siguniang Mountain. Not only the beautiful natural scenery in the ditch, but also the unique Jiarong Tibetan national customs. The main attractions in the ditch include Zhangmu Tibetan Village, Gelugpa Lama Temple, Cooper Road, Dead Tree Beach, Jingxin Cave, Sink Pool, Gonggu Stone, Jinjiling, etc.
海子沟: Haizigou is located in the east of Rilong Town. It is named Haizigou because of its numerous Haizi. The ditch is 19.2 kilometers long and covers an area of 126.48 square kilometers. The scenic area is flat and has a native meadow. Here is the birthplace of the Zara River. Ancient fish from the Quaternary of the Earth have been preserved and become the living fossils for people to understand this land. The main tourist attractions in the ditch are Guozhuangping, Dazizi, Huahaizi, Husband and Sea, etc.
Mount SiGuNiang
• Address: 四川省阿坝藏族羌族自治州小金县日隆镇(四姑娘山镇)
• WeBsite: https://www.sgns.cn/
• Phone: +86-0837-2791063
• Tickets:From 60-80 CNY/Person 旺季(4月1日-11月30日):长坪沟70元,双桥沟80元,海子沟60元 淡季(12月1日-次年3月31日):长坪沟50元,双桥沟50元,海子沟40元
• Sightseeing Bus:70 CNY/Person (长坪沟20元,双桥沟70元)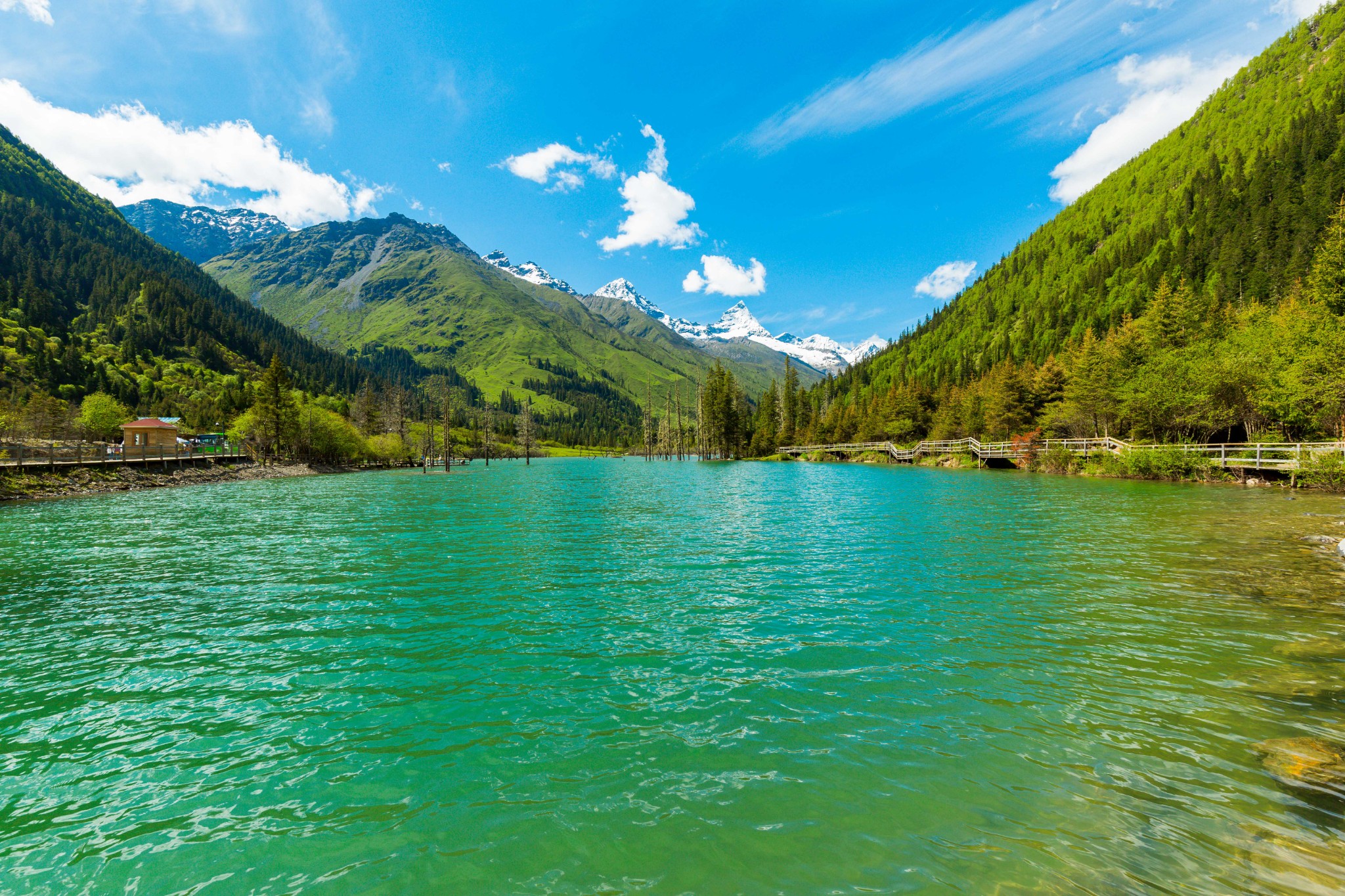 [iframe src="https://720yun.com/t/c27jOstkOf5?pano_id=2551111″ width="100%" height="715″ frameborder="0″ bgcolor="#000000″ target="_blank" allowfullscreen="true"]
[iframe src="https://www.google.com/maps/embed?pb=!1m28!1m12!1m3!1d620347.4033190686!2d103.15933758092271!3d30.803542285761772!2m3!1f0!2f0!3f0!3m2!1i1024!2i768!4f13.1!4m13!3e0!4m5!1s0x36efc52300447721%3A0xb98652ce2e240e02!2sChengdu%2C+Sichuan%2C+China!3m2!1d30.572815!2d104.066801!4m5!1s0x36e4d52f8af58b13%3A0xfeca0d964ee5c1ac!2sSiguniang+Mountain+Shuangqiao+Tourist+Zone%2C+303+Provincial+Road%2C+Xiaojin%2C+Aba%2C+Sichuan%2C+China!3m2!1d30.980096999999997!2d102.769373!5e0!3m2!1sen!2shk!4v1521724253762″ width="100%" height="550″ frameborder="0″ style="border:0″ allowfullscreen="true"]
Chengdu Mount SiGuNiang Tour Package
Day 1: ChengDu–1.5h–DuJiangYan Panda Ark–30min–Dujiangyan Irrigation System
Morning,meet your guide and driver, drive 1.5h to the less visited Dujiangyan Panda Ark where you will have once of lifetime chance to have your picture taken with young panda(Optional,285USD/person)
Walk around the facility to see pandas from young age to adults.
Lunch in the local family run restaurant to try the yummy and organic dishes.
In the afternoon, drive 30min to the world culture heritage site-Dujiangyan Irrigation System.
Your guide will give you full explanation about how this water-control project last over 2000 years and still working.
Dujiangyan Irrigation System is a very rare site which combine science&nature landscape and culture .
Overnight in Panda Hotel which locates in Dujiangyan Old Town area where you can check out the surrounding and walk along the river when the lights on.
Accommdation:Dujiangyan Panda Hotel(Old Town)
Meal: L D
Day 2: DuJiangYan City–7h–DanBa Tibetan tribe
Today you will enjoy the scenic drive to Danba and literally enter the mountain area of Sichuan.
What you will see on the way: Wolong Valley, Ziping Water Reservoir, Balang Mountain ,Mt.Siguniang,countless small villages.
Arrive Danba in the afternoon,check in the Tibetan family run guesthouse in Jiaju Tibetan village.
The fresh air with stunning view make the drive worthwhile.
Tour around this peaceful Jiaju Tibetan tribe, your guide will show you the viewing platform where you can enjoy the panoramic view of the whole tribe.
Lunch:Local restaurant on the way to Danba
Dinner:Tibetan home cooking dishes in the guesthouse
At night,sit on the roof of the Tibetan guesthouse, starry night and Milky Way is visible if weather permit.
Accommdation:Danba tibetan hotel
Meal:B L D
Day 3: Danba–3h–Mount SiGuNiang
Enjoy a leisure morning in Jiaju Tibetan tribe, leave for Mt.Siguniang after lunch.
Arrive Mt.Siguniang in the late afternoon.
Check in hotel and have a good rest for tomorrow's visit.
Accommdation:RILONG TOWN
Meal:B D
Day 4: Mt.Siguniang–4h– ChengDu
Visit the most beautiful valley of Mt.Siguniang–Shuangqiao Valley.
Take the sightseeing bus to reach the highest point,then descend to the stops to check out the breath-taking landscape along the way.
Today you will have about 6h-7h to for sightseeing in Shuangqiao Valley.(Snacks for lunch is recommended )
Around 3pm,drive back to Chengdu.
You will arrive Chengdu around 7pm.
Accommdation: N/a
Meal:B L
Tourist Map
Tour Photo
Travel Guide
Video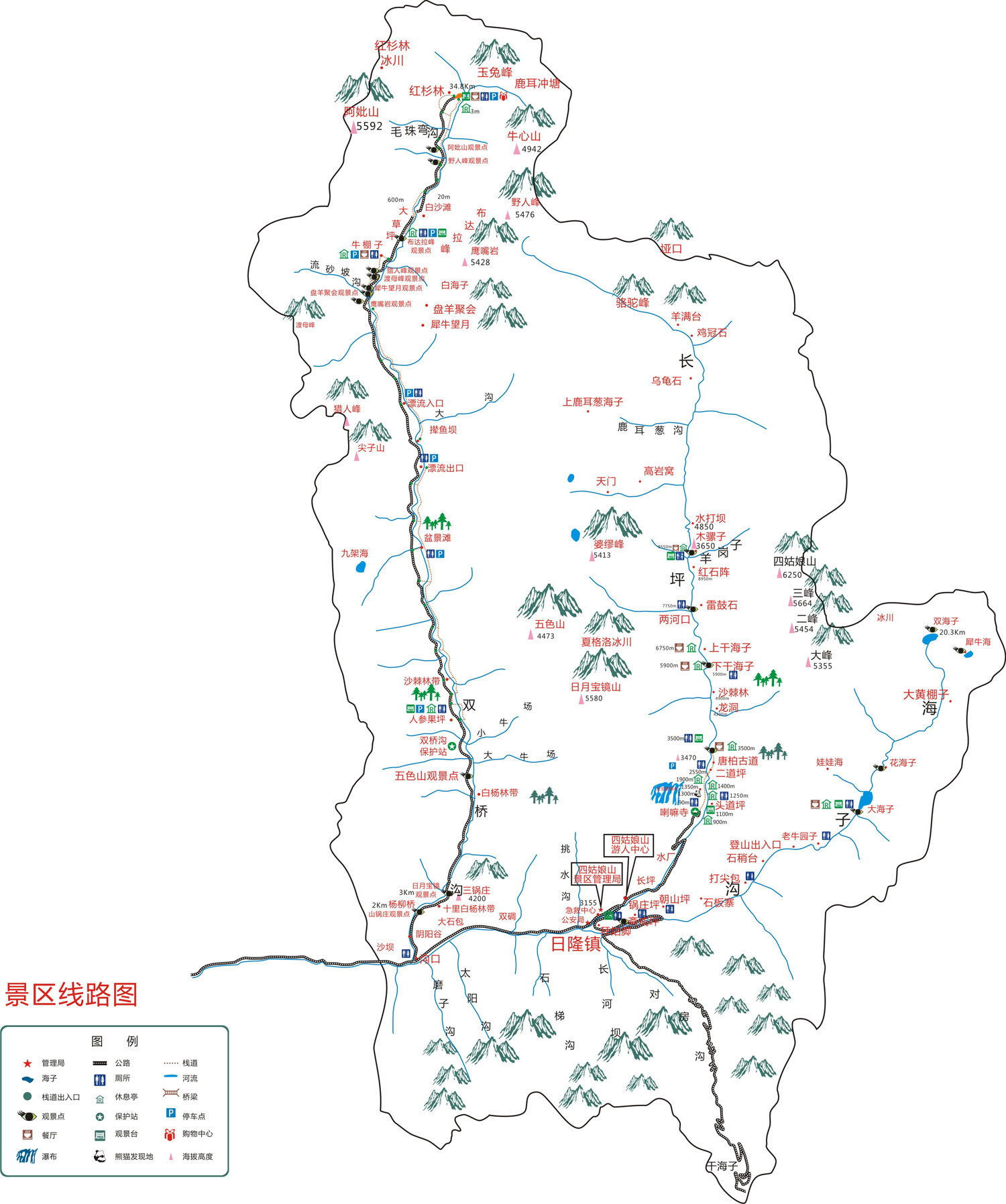 Mount SiGuNiang
双桥沟:
(建议你必须买观光车票,因为你想靠走进去,那是不可能的,全程约30公里,而且沟口进去很长一段没有风景,风景出现在十公里后)
双桥沟是普通游客必去的一条沟。也就是说,如果你时间只够游览一条沟,那就是双桥沟,景观最丰富,最全面的一条沟。视野开阔,延绵的雪山多达十几座。夏天六月底开始,草甸开满鲜花、可以采到野草莓,千姿百态的沙棘树、静谧的海子、秋天的红杉林,在沟底能看见一条悬挂冰川。最重要最重要的是双桥沟是不需要长途徒步或者骑马,而是像九寨沟一样坐观光车一站一站的,到点下车游览,走上一小段,再上车到下一站。所以建议普通游客,花一整天时间,慢慢游览双桥沟,然后下午出沟去猫鼻梁等日落,时间刚刚好。沟内没有餐厅,可以带上一些路餐,然后每一站点也有卖烧烤,羊杂汤的小摊点。
从沟口进去,穿过一段峡谷,到达开阔地带,就到了双桥沟人参果坪:这里是一大片平缓的草甸,溪流缓缓而过,高大的沙棘林像一个个盆景。
长坪沟:
著名的中国十大徒步路线之一"唐蕃古道"就是走长坪沟进去。在公路修通之前,这条路,是小金县的人去理县的必经之路啊,穿越过去就理县毕棚沟。在毕棚沟最深处看见的雪山美景,其实是长坪沟的。也就是说,毕棚沟看的其实也是四姑娘山的风景。但是问题在于玩长坪沟,开始是一小段观光车,接着就是开始长时间在风景一般的树林里穿,这需要要走3个小时以上,快到"下干海子"才开始走出树林,才有了美景,还要继续前进,至少到达木骡子才能算是不枉此行。夏天的木骡子是开满野花的大草甸,能看见幺妹峰的背面,继续往前更是风光无限。
作为普通游客,如果时间多体力好(体力不好愿意花几百元钱骑马),可以一早(比如7点之前)进去,走到木骡子再折返。那里也有小卖部和吃的。体力不好,又不想花钱骑马的,建议就放弃长坪沟吧。毕竟70元的门票,你走一大段森林就折返,似乎没啥意义,不太划算。大部分人的体力是走不到木骡子的,毕竟海拔在三千多米。很多人在枯树滩就没时间或者没体力了,只能折返回去了。注意,重要的注意事项:骑马是可以到达木骡子,但是请先说好价格,多少钱,到什么地方一定要说清楚,不能以为买了马票就放心了。以为很多人不知道说好价格,结果没到达木骡子,又想前进,那就等着马夫的大刀吧。淡旺季季节不同骑马费用大概是几百甚至上千。所以建议是,真心想领略长坪沟的美,最好的办法是准备好至少一天半,带上户外装备去穿越,露营。
海子沟:
美的地方都在进沟15公里以后。体力不好,又没时间的,或者不想花高价骑马的游客,建议放弃
体力很棒的,又出发很早的人,或者愿意花钱骑马的人,能走到大海子或者再走2公里到达花海子,当天再折回。但是就算如此还是有问题:大海子一般早上才不起风,才是最美的时刻,可是如果当天往返,那么到达大海子的时候估计是下午1-2点,基本上看不见风平浪静的海子,大海子就显得很普通,所以意义不大。
[iframe width="100%" height="515″ src="https://www.youtube.com/embed/PWU9T8x89F0″ frameborder="0″ allow="autoplay; encrypted-media" allowfullscreen="yes"][iframe width="100%" height="515″ src="https://www.youtube.com/embed/UTkX-52sTng" frameborder="0″ allow="autoplay; encrypted-media" allowfullscreen="yes"]

[iframe width="100%" height="515″ src="https://www.youtube.com/embed/sSJMemrF5as" frameborder="0″ allow="autoplay; encrypted-media" allowfullscreen="yes"]
[iframe width="100%" height="515″ src="https://www.youtube.com/embed/usHdNE72bJc" frameborder="0″ allow="autoplay; encrypted-media" allowfullscreen="yes"]
[iframe width="100%" height="515″ src="https://www.youtube.com/embed/4RTEdnZ2P_4″ frameborder="0″ allow="autoplay; encrypted-media" allowfullscreen="yes"]
[iframe width="100%" height="515″ src="https://www.youtube.com/embed/atpTMbJp_3g" frameborder="0″ allow="autoplay; encrypted-media" allowfullscreen="yes"]
[iframe width="100%" height="515″ src="https://www.youtube.com/embed/dPEQlmDJqlM" frameborder="0″ allow="autoplay; encrypted-media" allowfullscreen="yes"]
[iframe width="100%" height="515″ src="https://www.youtube.com/embed/NTWvTzHcIeE" frameborder="0″ allow="autoplay; encrypted-media" allowfullscreen="yes"]
[iframe width="100%" height="515″ src="https://www.youtube.com/embed/dPEQlmDJqlM" frameborder="0″ allow="autoplay; encrypted-media" allowfullscreen="yes"]
[iframe width="100%" height="515″ src="https://www.youtube.com/embed/ZTGtg_rAJMw" frameborder="0″ allow="autoplay; encrypted-media" allowfullscreen="yes"]
[iframe width="100%" height="515″ src="https://www.youtube.com/embed/zKIr1Q4txcI" frameborder="0″ allow="autoplay; encrypted-media" allowfullscreen="yes"]
[iframe width="100%" height="515″ src="https://www.youtube.com/embed/ZTGtg_rAJMw" frameborder="0″ allow="autoplay; encrypted-media" allowfullscreen="yes"]
[iframe width="100%" height="515″ src="https://www.youtube.com/embed/WwY-3jAvegQ" frameborder="0″ allow="autoplay; encrypted-media" allowfullscreen="yes"]
[iframe width="100%" height="515″ src="https://www.youtube.com/embed/DEKAbB5MHe4″ frameborder="0″ allow="autoplay; encrypted-media" allowfullscreen="yes"]
[iframe width="100%" height="515″ src="https://www.youtube.com/embed/o7KWkI6xHdE" frameborder="0″ allow="autoplay; encrypted-media" allowfullscreen="yes"]
How to Get to mount siguniang from Chengdu
Including:
5 seats or 7 seats car with good condition
round way trip
Parking fee,fuel cost,toll gate fee…
Driver's MEAL
insurance coverage of passengers
Chongqing Hotel Pick up and drop off
Excluding:
scenic spot admission tickets
scenic spot cable car……
personal expense
english tour guide
tips for driver, depends on service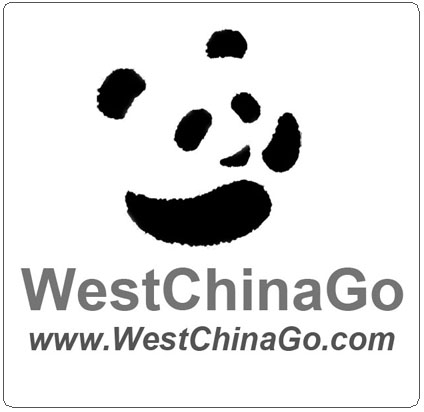 ChengDu WestChinaGo Travel Service
www.WestChinaGo.com
Address:1Building,1# DaYou Lane,,DongHuaMen St, JinJiang District,ChengDu.China 610015
Tel:+86-135-4089-3980
info@WestChinaGo.com
[iframe src="https://720yun.com/t/ed7jzp4ntO2?pano_id=5920467″ width="100%" height="555″ frameborder="0″ bgcolor="#000000″ target="_blank" allowfullscreen="yes"]
[iframe src="https://720yun.com/t/6d1jvpwOOk3?scene_id=19344386″ width="100%" height="555″ frameborder="0″ bgcolor="#000000″ target="_blank" allowfullscreen="yes"]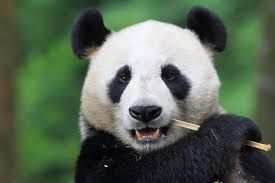 ChengDu WestChinaGo Travel Service
www.WestChinaGo.com
Address:1Building,1# DaYou Lane,,DongHuaMen St, JinJiang District,ChengDu.China 610015
Tel:+86-135-4089-3980
info@WestChinaGo.com