Description
1 Day Zhangjiajie Grand Canyon Glass Bridge + BaoFeng Lake Tour
this tour is not set for acrophobia tourist.
This is Tour C Itinerary:only Glass Bridge, not including Grand Canyon other tourist attractions
Tour B Itinerary means: Glass Bridge + Grand Canyon other tourist attractions,different entrance and exit; involving lot of walking,hiking
Glass Bridge is part of Zhangjiajie Grand Canyon
Tour B Itinerary: Grand Canyon other tourist attractions is under maintanence; so only Glass Bridge is available
there is limitation of tourist on the glass bridge: 800 people at same time
there only 8000 tickets available everyday, so please book in advance.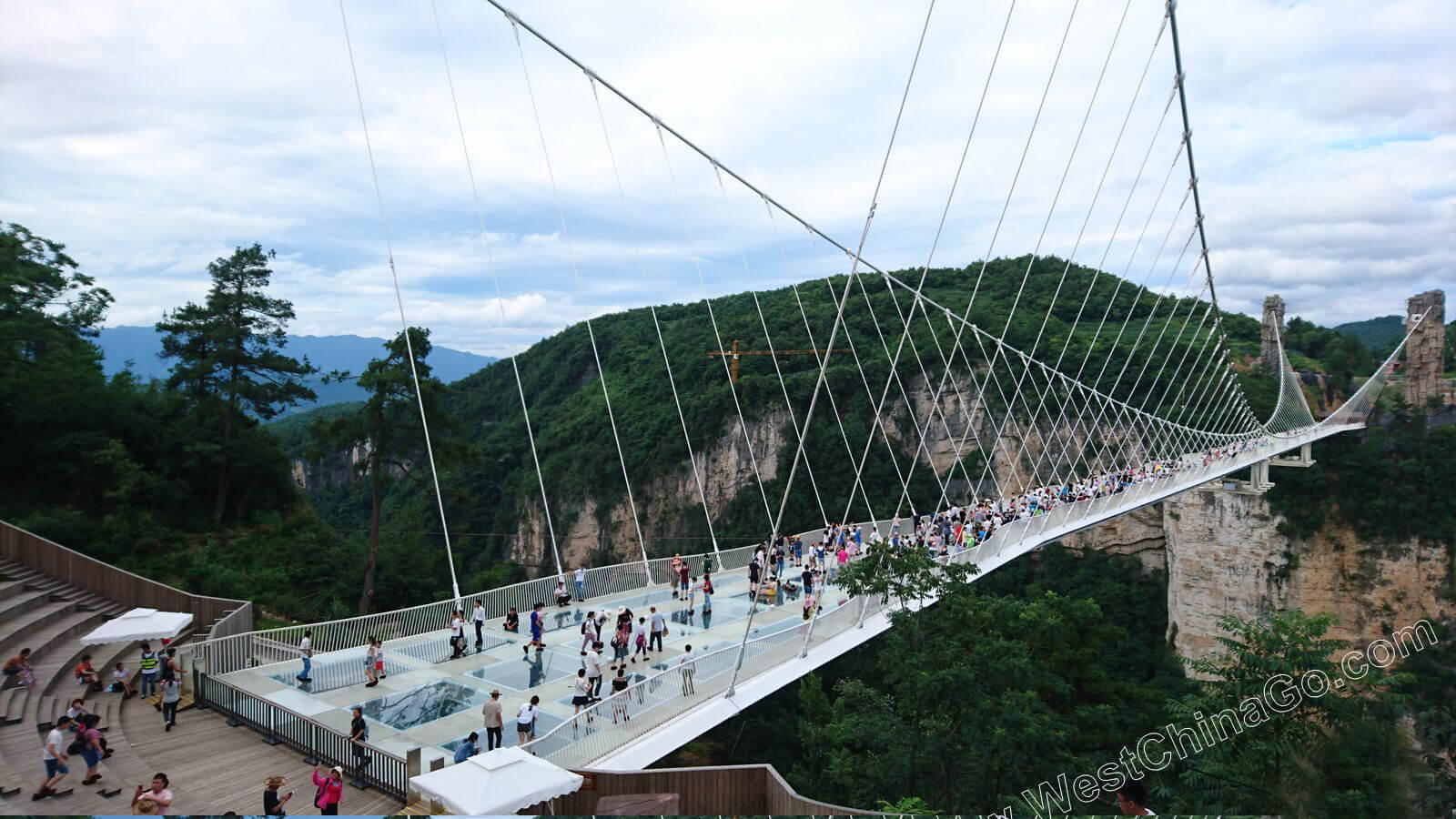 | Number | PRICE |
| --- | --- |
| 1 Person | 330 USD p/p |
| 2 Person | 230 USD p/p |
| 3 Person | 180 USD p/p |
| 4 Person | 160 USD p/p |
| 5 Person | 155 USD p/p |
Price Inclusions:
Hotel pick up and drop off Private Transportation
All entrance fees, elevator, List in the itinerary are included.

a local English-speaking guide.
Lunch in local restaurant
Scenic bus fee; Shoes cover fee; Service charge.
Travel insurance & government tax
Price Exclusions:
Zhangjiajie Grand Canyon other tourist attractions
Elevator cost 25RMB; Zip Line cost 30RMB; Slide gloves cost 22RMB.
Accommodation and supper;
Personal expenses such as excessive laundry, communications and excessive beverages.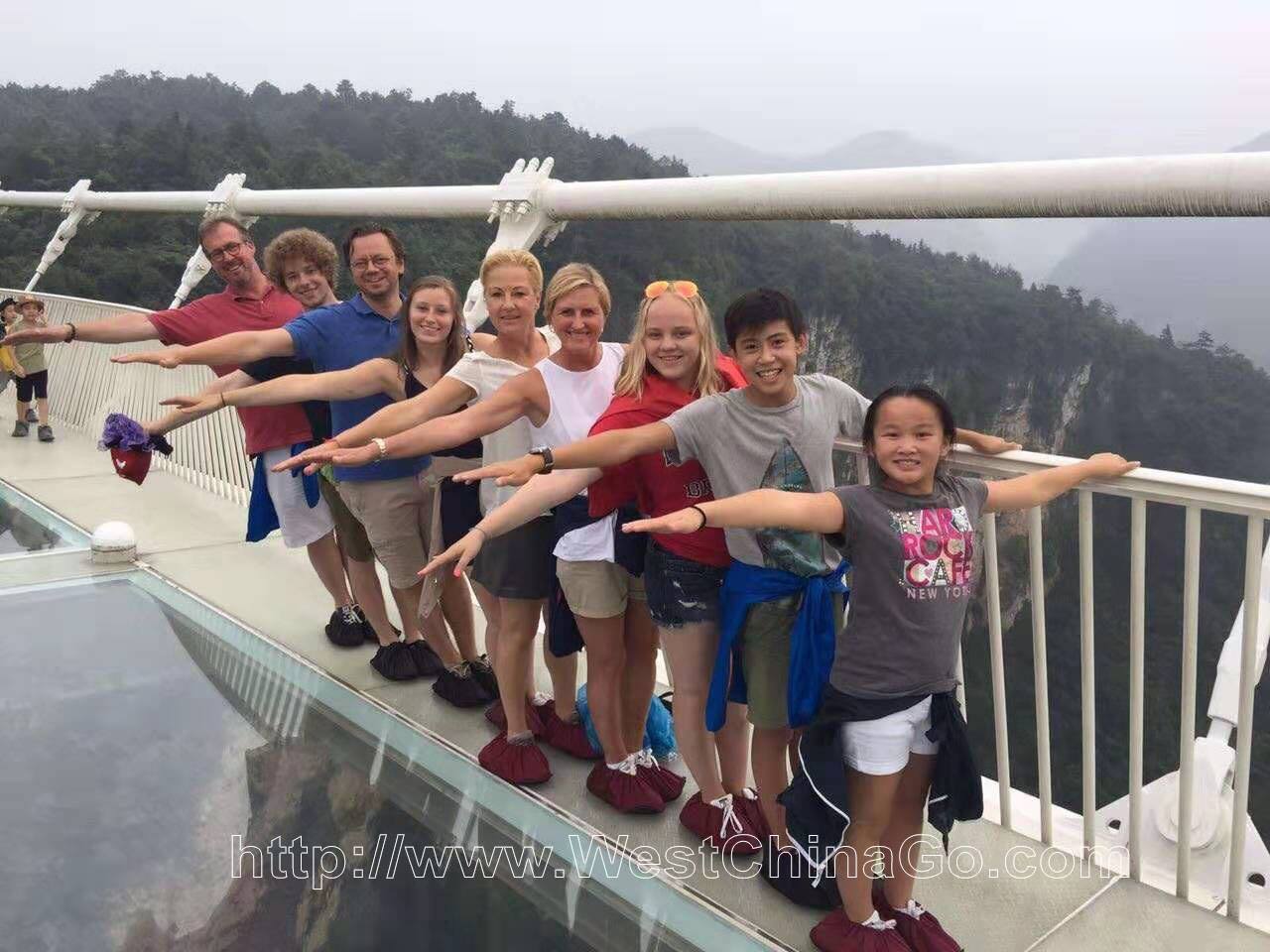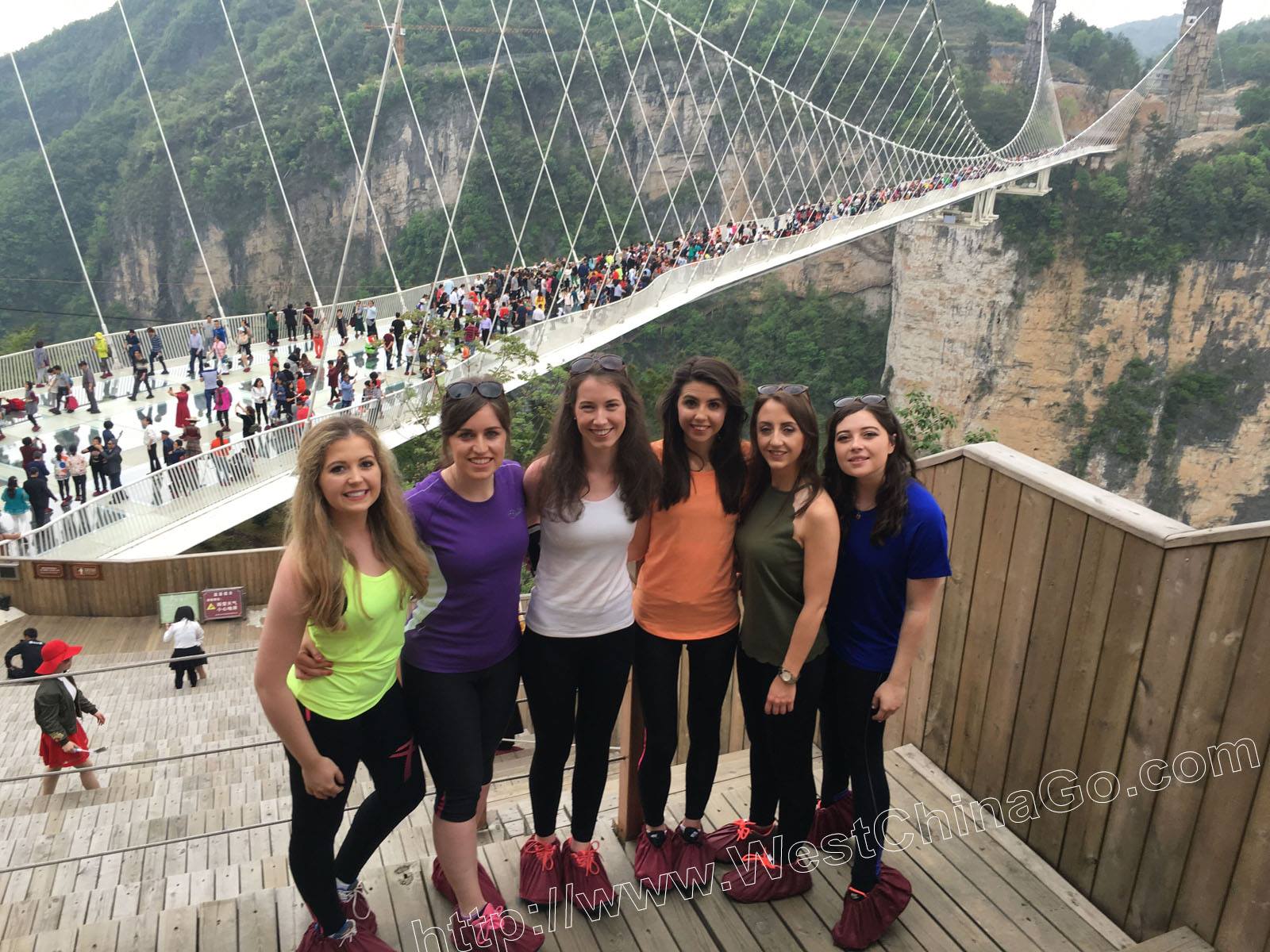 Zhangjiajie Grand Canyon Glass Bridge
: 08:00 AM: tour guide will greet you at the hotel lobby, heading to Zhangjiajie Grand Canyon Scenic Area
Hotel in ZhangJiaJie City:single trip is 2 hours.
Hotel in WuLingYuan Town:single trip is 1 hours.
: 10:00–12:00 AM: Visit the Glass Bridge tour
first to get the tickets at the foot, then take the sightseeing bus to the summit (about 20 min),
it's good bridge for epic selfies, you can challenge yourself!
Don't wear the shoe with high-heel, before entrance, you will change the free shoe cover (picture)
stipulation 1: stock your bag at the service center and claim after finishing tour
stipulation 2: glass bottle and Snack is prohibited for bridge
stipulation 3: selfies stick and SLR camera and Drone are prohibited for bridge,only mobile phone is ok
Notice:don't wear the short skirt since glass have light reflection
: 12:30–13:30 PM: after that., transfer to baofeng lake.
Meal :Lunch in local popular restaurant
Baofeng Lake
Baofeng Lake, Zhangjiajie, Hunan After lunch at a local restaurant, we will drive to Baofeng Lake. Baofeng Lake is in a basin in the middle of this mountainous area. A shuttle bus will take you from the entrance to the pier.
At the lake we'll take you on a wooden boat for a 30-minute boat ride. It is a leisurely experience as you boat on the clear water, see the hills of various shapes, and enjoy entertainment by the local minority people as they sing their traditional songs. After the tour we will escort you back to your hotel. (Duration: 1-2 hours)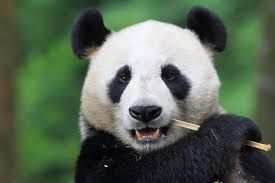 ChengDu WestChinaGo Travel Service
www.WestChinaGo.com
Address:1Building,1# DaYou Lane,,DongHuaMen St, JinJiang District,ChengDu.China 610015
Tel:+86-135-4089-3980
[email protected]