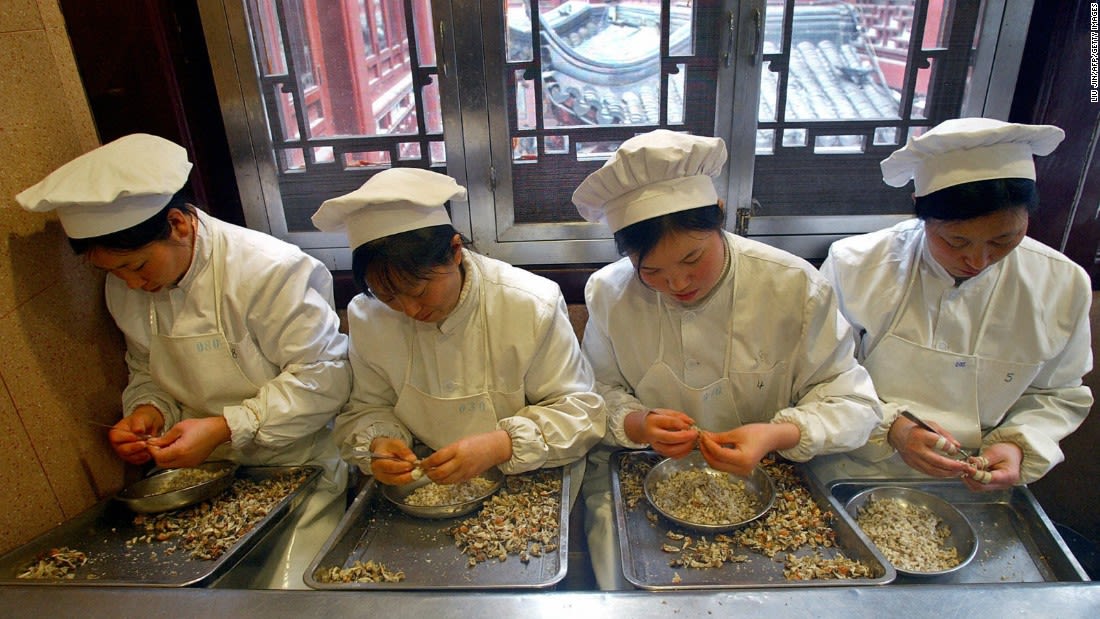 shanghai food
Although Shanghai's oily, sugary and soy sauce-doused cuisine can't be heralded as the best eating on the mainland, we love our food here in Shanghai. And, in a city that offers so many culinary options, from roadside stalls to Michelin-starred restaurants, we wanted to celebrate that, with a list of the 40 foods you can find in Shanghai that we simply can't live without. more info
1. Xiaolongbao (小笼包)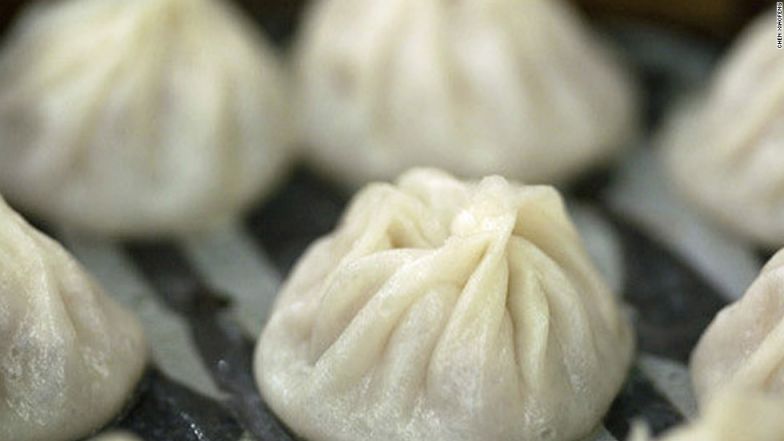 All dumplings here are good, xiaolongbao are the best.
We just had to get this one out of the way first since no list of Shanghai's favorite foods would ever be complete without the mention of our famous soup dumpling, xiaolongbao. The dumpling, cleverly hiding its soup within its delicately pinched wrapper, has reached cult-like fanaticism in this city.
Even though it burns the mouths and tongues of novice dumpling eaters (Note: you have to puncture the dumpling wrapper to let out the steam, and then slurp the soup slowly before shoveling the xiaolongbao down), we just cannot live without this Shanghai classic. We love it so much, in fact, we've even taken a few xiaolongbao tours of Shanghai.
2. Di Shui Dong ribs
These fall-off-the-bone ribs are as succulent as they are tender. Sweetly braised in soy sauce, these put those miniature rib appetizers to utter shame. And, without the small bones found in those ubiquitous appetizers, the meat on these solid ribs can be inhaled in a matter of seconds.
Try: Di Shui Dong, multiple locations, 2/F, 56 Maoming Nan Lu, near Changle Lu 茂名南路56号, 近长乐路2楼
Expert's guide to Shanghai's street food
[iframe width="100%" height="515″ src="https://www.youtube.com/embed/aLs4ngoNfG8″ frameborder="0″ allow="autoplay; encrypted-media" allowfullscreen]
3. Braised eggplant (红烧茄子)
Few truly love eggplant before they come to China, but once here, almost everyone's a convert to this purple veggie. Of all the eggplant dishes offered in this city, the braised version of this hearty vegetable is by far the most savory.
Stewed in shaoxing wine, soy sauce, vinegar, garlic, ginger, sugar, chilies and sometimes even pork, this Shanghai favorite has become a staple menu item at most restaurants. It boasts the perfect combo of saltiness, sweetness and savoriness — and we don't feel so guilty eating it because it's a veggie.
Try: La Gong Fu, 57 Yajiazhai Lu, near Changshou Lu 杨家宅路57号, 长寿路
[iframe width="100%" height="515″ src="https://www.youtube.com/embed/KWjv7pALzr0″ frameborder="0″ allow="autoplay; encrypted-media" allowfullscreen]
4. Chicken of the fields: aka frog (田鸡)
Don't be grossed out. Below that slimy skin lies meat that is superior to chicken in every way. Frog is the soulmate to your cold Tsingtao, and Shanghai's four-legged answer to the buffalo wing. It's cheap and plentiful and, because of these qualities, we've found that virtually every restaurant line cook can whip up a masterful dish of frog.
Our favorite is the gan shao niu wa at Xiang Li Ba Ba: a large pizza-sized plate piled high with spicy, tender frog, crisped rice cake nubs, potato slices and bamboo. If you're a beginner try the San Gu Bullfrog.
Try: Xiang Li Ba Ba (香里巴巴), 217 Hongqiao Lu, near Gongcheng Lu 虹桥路217号 近工程路. For novices try: San Gu Bullfrog, 882 Zhaojiabang Lu 肇家浜路882号; or, 3 Fenyang Lu 汾阳路3号
5. The M Pavlova
Correction, the famous M Pavlova. Forget cocktails, trade in your yuan for a sweet slice of this meringue torte heaped with tropical fruit and glazed with tangy passion fruit sauce.
Dry and crispy on the outside and soft like angels once you dig in, the M Pavlova is far tastier than any beaten egg whites have the right to taste.
Try: M on the Bund, 7/F, 5 Zhongshan Dong Yi Lu near Guangdong Lu 中山东一路外滩5号7楼, 近广东路
6. Grilled oysters (烤生蚝)
Shanghai is sea food foodie heaven and we have an entire street dedicated to oysters, mussels, scallops, crawfish and abalone (and for cheap!) to prove it. Every vendor on Shouning Lu has a slightly different take on three preparations of grilled oyster: oysters with black bean sauce, oysters with chili oil and garlic, and wannabe French oysters in "cheese" sauce.
You really have to try each tiny shack to find your favorite. Luckily for you, Shouning Lu is open 24 hours a day.
Try: Han Ji Shao Chao (韩记烧烤), 26 Shouning Lu, near Xizang Nan Lu 寿宁路26号, 近西藏南路
7. Choose your own adventure … in seafood
If you haven't visited the Tongchuan Lu seafood market strip, go. Go now. This is the place to test and refine your haggling skills as hunger will drive you to a new level of motivation.
Once you amass a selection of fresh seafood (you can buy everything from scallops to sea cucumber at restaurant prices if you negotiate, or take a Shanghainese speaking friend), take your seafood to any of the restaurants on the strip. The chefs will cook it all up so you can devour everything on the spot.
Try: Tongchuan Lu Shanghai Fish Market (Tongchuan Lu Haixian Shichang), Tongchuan Lu, near Caoyang Lu 铜川路,近曹杨路口, open 24 hours
8. "The chicken has no sexual experience" (童子鸡)
We appreciate tongzi ji, or young chicken, if only for hilariously awkward menu translations like the one above and contributions from the local vernacular ("tongzi ji" is slang for a younger man dating an older woman, or another name for a male virgin).
Tongzi ji are eaten for their especially tender meat, which is stir-fried with green peppers or edamame (the Japanese don't get to keep them all to themselves) or made into a medicinal soup.
Try: Tang Yun Qing Feng (唐韵秦风), 4/F, 580 Tianyaoqiao Lu, near Lingling Lu 天钥桥路580号4楼, 近零陵路,
9. Caramel strawberry kebabs (糖草莓串)
A descendant of the classic Sweet Hawthorne Kebab (糖葫芦), the appearance of these ripe, crunchy-sweet strawberry kebabs in vendor stalls announces "Spring is here" to Shanghai.
Get these strawberries at the height of their season in May. If you're lucky, you'll find a vendor who will glaze them before your eyes in a wok full of bubbling sugar.
Try: Fruit kebab vendors usually congregate in front of malls, park entrances or in tourist locations. Check for freshness and go for the ones that are individually bagged if available.
10. Raw, drunken crab (醉蟹)
Don't let those translucent crab parts and globs of orange roe intimidate you. Drunken crab, made with spotted sea crabs, is a must-try for its textures: the flesh is yielding like cold sashimi, the roe creamy but firm.
The complex flavor of Shaoxing wine can be bit of an acquired taste (especially in drunken crab) so try it first with a bit of rice or porridge.
Try: Jesse Restaurant, multiple locations, 41 Tianping Lu, near Huaihai Lu 天平路41号近淮海路. Can't get a reservation at Jesse's? Try Xiao Nan Guo's version. Xiao Nan Guo, multiple locations, 214 Huanghe Lu, near Beijing Xi Lu 黄河路214号, 近北京西路
Shanghai's new breed of 'speakeasy' bars
11. Stinky tofu (臭豆腐)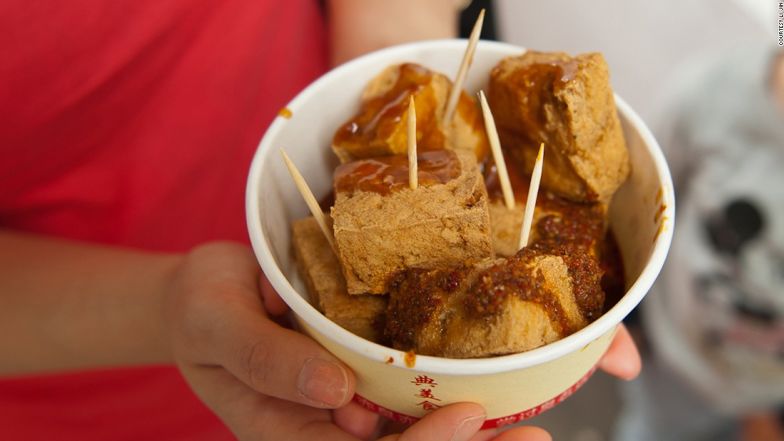 Stinky tofu (臭豆腐) — not as bad as it sounds.
Certainly the smelliest food in the city, stinky tofu — fermented and plenty offensive to the nose — is one of Shanghai's favorite snacks, and one many foreigners love to hate. Our view: you can't hate it until you give it a try.
Deep fried and doused with soybean paste and red chili sauce, the crispy outer shell of the oddly mild food (considering its stench) encases crumbly and almost sweet tofu. You know you've become a true Shanghailander when you smell this stuff from two blocks away and start running towards it — and learn that the really good stuff doesn't actually smell that bad.
Try: Yunnan Nan Lu, near Yan'an Lu 云南南路, 近延安路
12. Element Fresh's miso yogurt dressing
This dressing is liquid ecstasy. The first few times we tried the Laffa Bread Salad, we immediately fell addict to its miso yogurt dressing. Now when we order the salad, we don't think twice before asking our waiter for an extra serving of it, just so we have enough to dunk the laffa bread into. Who said anything about eating a salad because it's healthy?
Try: Element Fresh, multiple locations, 1/F Shanghai Centre, 1376 Nanjing Xi Lu, near Xikang Lu, 南京西路1376号, 近西康路
13. Niangao (年糕)
Soft and chewy sliced Shanghai-style niangao is an old-school treat that remains a salvation for bachelors cooking dinner as well as a popular lunch order at local noodle joints. Stir-fried with leeks and pork, or for special occasions mixed with pieces of hairy crab in a sweet brown concoction, niangao is freaking delicious. We love the sweet, gooey, chewy hairy crab niangao at Wang Jia Sha.
Try: Wang Jia Sha (王家沙), 805 Nanjing Xi Lu, near Shimen Yi Lu 南京西路805号, 近石门一路
14. Mapo doufu (麻婆豆腐)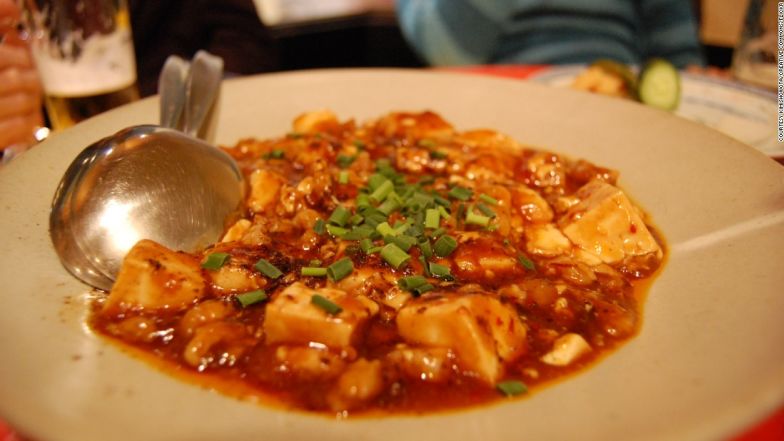 Although mapo doufu is technically a Sichuan dish, Shanghai has adopted the tantalizingly spicy creation as its own, as it can be found in most restaurants here. As legend has it, an outcasted pockmarked-faced old lady (mapo) created this dish featuring the tongue numbing huajiao — flower pepper. Just make sure to eat it with a bowl of rice, a tall glass of milk or, more likely, a cold Tsingtao, as this stuff can be tortuously, though addictively, hot.
Try: Spicy Joint (辛香汇), multiple locations, 4/F, Dabaishu Creative Garden, 930 Quyang Lu, near Handan Lu and Tengke Lu 曲阳路930号大柏树创意园4楼, 近邯郸路, 腾克路
15. Squirrel-shaped Mandarin fish (松子鲑鱼)
Also known as sweet and sour mandarin fish, this dish originates in Suzhou, a short hop from Shanghai. At first just an order for Shanghai-ning on holiday there, it became so popular that it was put it on the menu of every fancy Chinese restaurant in Shanghai. The Mandarin fish is scored, deep-fried into its distinctive "squirrel" shape and covered with a tomato sauce, shrimp, pine nuts and bamboo.
Try: Mei Wei Zhai (美味斋), 246 Shandong Zhong Lu, near Hankou Lu 山东中路246号, 近汉口路
………………………..
………………………..
Click for more info
[iframe width="100%" height="515″ src="https://www.youtube.com/embed/s1FaRCRgXHc" frameborder="0″ allowfullscreen]
——————————————————————————
ChengDu WestChinaGo Travel Service
www.WestChinaGo.com
info@westchinago.com
Ph:(+86) 135 4089 3980