shanghai tours things to do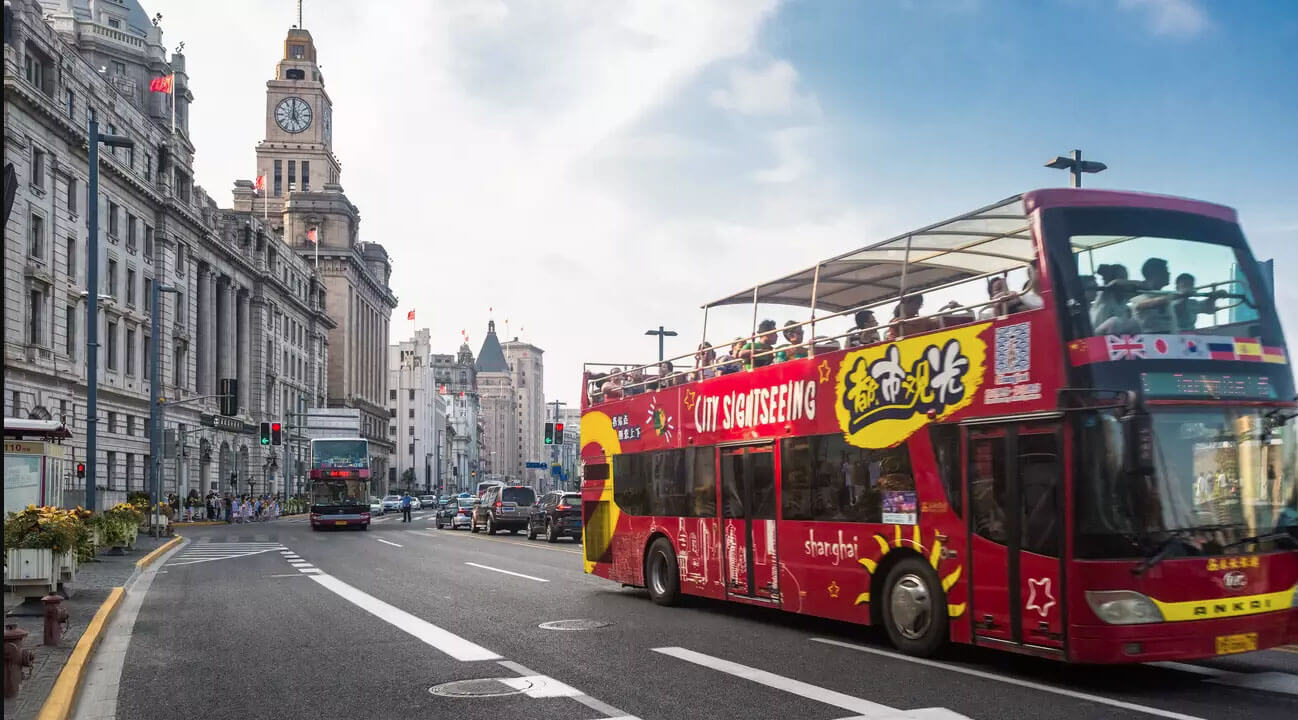 ShangHai Tour by Sightseeing Tour Bus
See Shanghai's highlights on this hop-on hop-off tour! Visit Jade Buddha Temple, Nanpu Bridge, the Bund, Jing'an Temple, Xintiandi, the People's Plaza and more. Your pass is valid on all three routes, and you can hop off at any of the 22 stops to explore attractions by foot with your provided map. You can choose 1 or 2-day pass includes different city attraction admission combos, such as Huangpu River Cruise, Jinmao Tower observation deck (88th floor), The Bund sightseeing tunnel, Shanghai World Financial Center (100th floor) and Shanghai Tower (121th floor)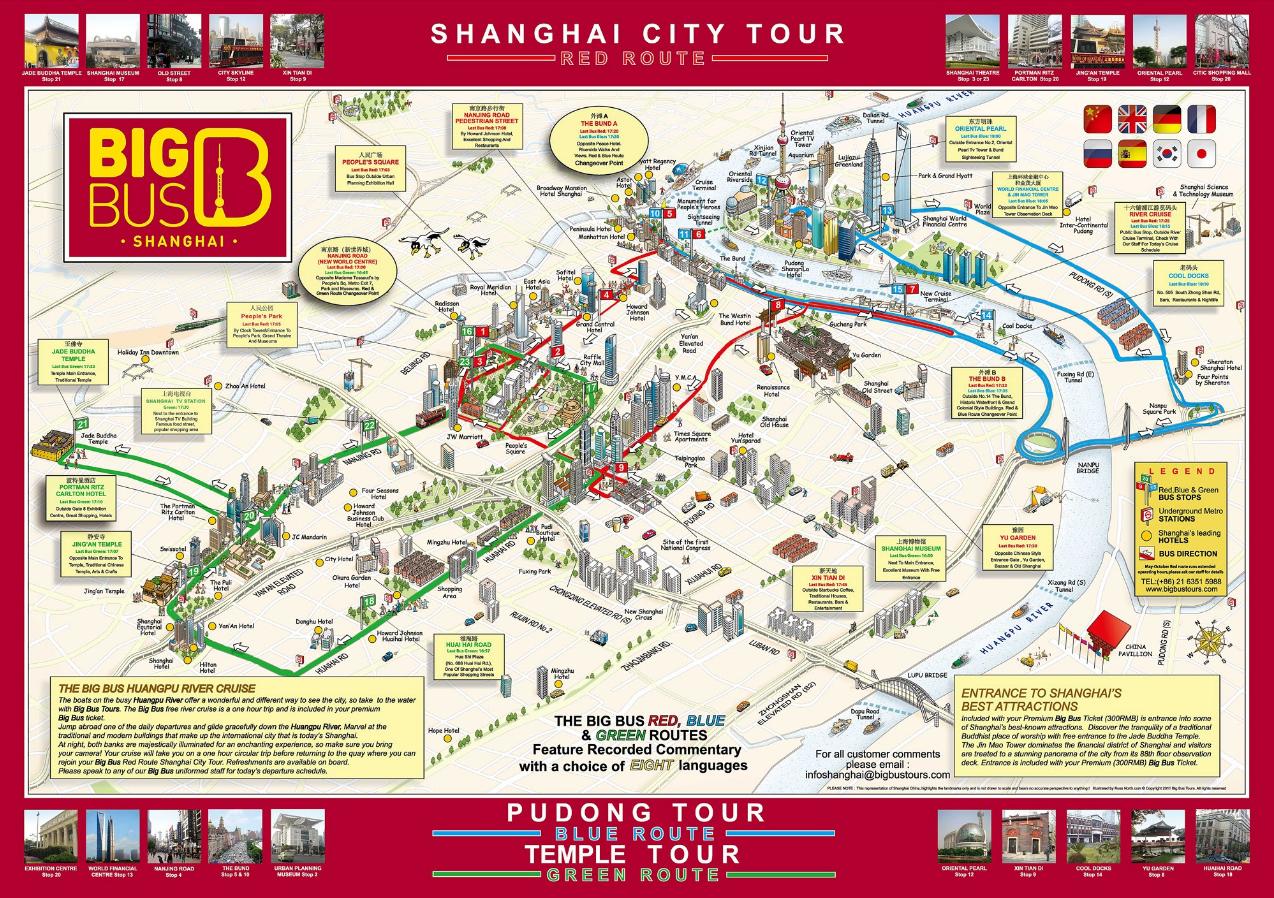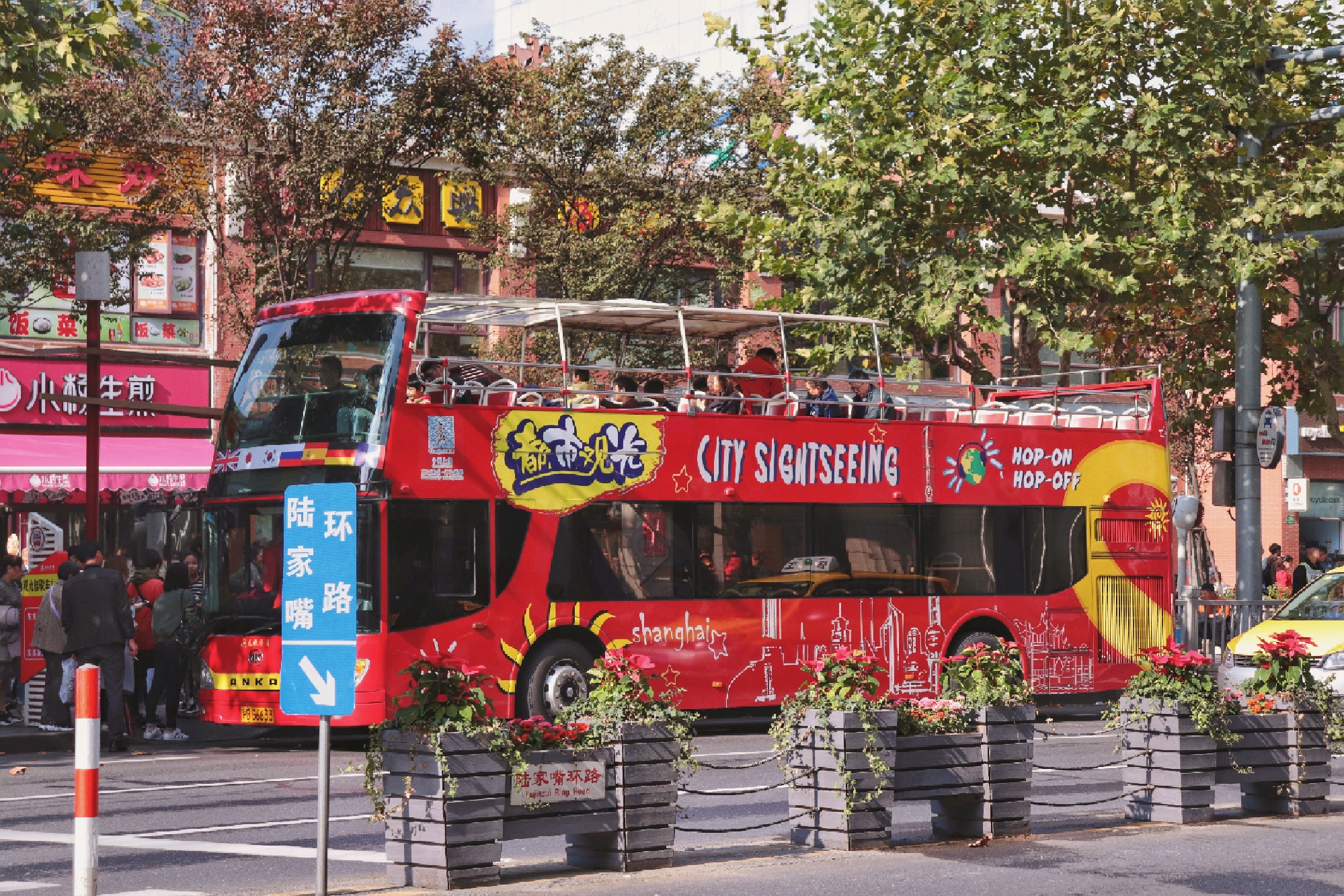 ShangHai Sightseeing Tour Bus Info
Itinerary
Price
Time
Video
1线、2线的运营时间指从上海博物馆站发车时间,3线、5线运营时间指从外滩外白渡桥站发车时间
• 大巴士红线

Red Line


1、南京路(新世界城)2、人民广场3、人民美术馆4、南京步行路街5、外滩A6、外滩B7、十六铺浦江游览码头8、豫园9、新天地(全程时间1小时,首班发车时间09:00,末班发车时间17:00,车次间隔30分钟)

• 大巴士蓝线 Blue Line
1、外滩A2、外滩B3、东方明珠4、上海环球金融中心和金茂大厦5、老码头6、十六铺浦江游览码头(全程时间1小时15分钟,首班发车时间 09:45,末班发车时间17:15,车次间隔30分钟)

• 大巴士绿线 Green Line
1、南京路(新世界城)2、上海市博物馆3、淮海路4、静安寺5、波特曼酒店6、玉佛寺7、上海美术馆(全程时间大约1小时,首班发车时间09:15,末班发车时间17:00,车次间隔45分钟)。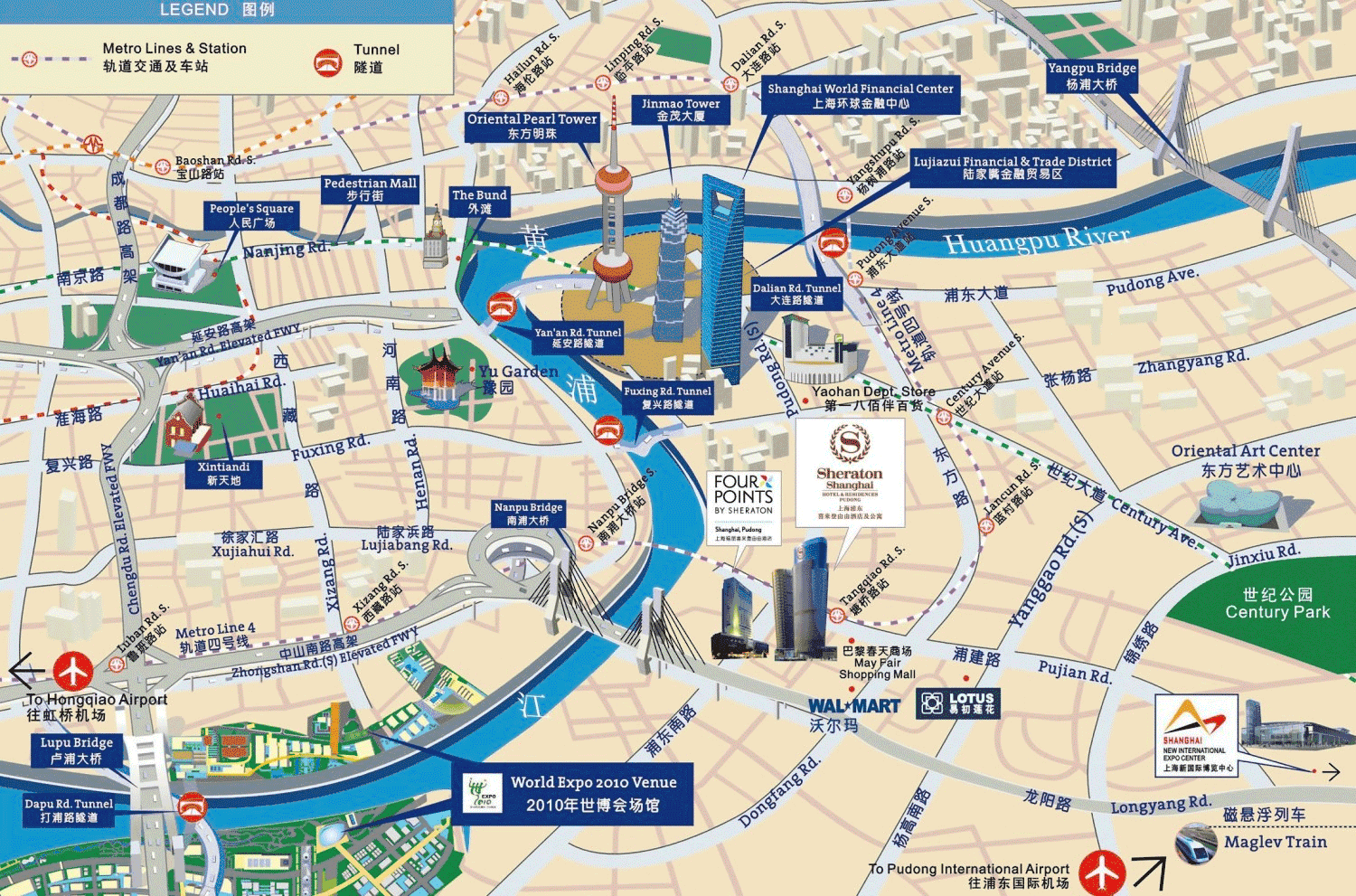 shanghai city tour map
For Tickets:关于车票
1、成人票
30元车票:包含都市观光旅游1线、2线,24小时有效
50元车票:包含都市观光旅游1线、2线、3线、5线以及黄浦江世博轮渡,48小时有效
2、每张车票可免费带一名1.4米以下(含)儿童,该儿童不占座,1.4米以上儿童需购买成人票。
3、每张车票首次刷卡使用时,可获赠都市观光旅游车地图宣传册和一副耳机。
4、凭有效车票,可在观光巴士运营时间内,在车票指定线路的停靠站点无限次随意上下车游览。

Time:时间
1、都市观光旅游1线(红线)
5月1日-10月31日 9:00—20:30
11月1日-次年4月30日 9:00—18:00
2、都市观光旅游2线(绿线)
5月1日-10月31日 9:00—19:30
11月1日-次年4月30日 9:00—17:30
3、都市观光旅游3线(黄线)
全年运行 9:00—16:00
4、都市观光旅游5线(紫线)
全年运行 9:00—18:00
5、都市观光世博轮渡
全年运行 9:00—20:00
ShangHai HuangPu River Cruise at Night
take an amazing river cruise on the HuangPu River. The perfect end to a great tour to see the spectacular views of Shanghai's skyline from both the East and West sides.



ShangHai HuangPu River Cruise Wharf
please check the map above, usually at the bund, you can find wharf location and buy tickets
• Add 1:上海的十六铺码头,船票在金陵东路轮渡站旁边就可以买到
• Add 2:浦东的滨江大道(离东方明珠不远的黄浦江边滨江大道的海鸥舫)
• Add 3:南京路外滩
• Price:From 35 CNY/Person to 280 CNY/Person,depends onday or night and combination tickets.
• Time:

How to get to Bund HuangPu River Cruise
By Taxi
from city center(tianfu square) to ChengDu People's Park, very close , 5-10 mins walking route
useful Chinese:for taxi driver
Please take me to ShangHai Bund for river cruise
请载我们到外滩坐游船 (十六铺码头)
Pudong Skyscrapers

【金茂大厦:体验极速电梯】
金茂大厦里两台每秒运行9.1米的直达电梯堪称"时光穿梭机",只需45秒就可直达楼顶。观光层上的玻璃幕墙视野开阔,凭栏远眺,黄浦江两岸的都市风光以及长江口壮丽的景色尽收眼底。观光厅还设有爱情邮局,你可以在这里给Ta寄一封明信片,跟Ta分享此刻的景色和心情
【环球金融中心:俯瞰魔都全景】
环球金融中心位列"上海三大高楼"之一,神似一枚"开瓶器"的独特造型,在陆家嘴林立的高楼之中格外抢眼。100层的观光厅是俯瞰魔都全景的黄金位置,不仅能平视东方明珠的尖顶,踩在悬空观光长廊上,透过脚下的透明玻璃欣赏浦江两岸风光,更是有如云中漫步,让人心中涌起一股"会当凌绝顶,一览众山小"的豪情快意。

Oriental Pearl Tower
When the Oriental Pearl Tower was built in 1994, much of Pudong was still farmland. The structure, which looks straight out of The Jetsons is particularly kitschy when night falls and its neon lights are turned on. Each of the tower's three spheres, which are meant to represent pearls, has its own observation deck, and a museum in the base recalls Shanghai's pre-1949 history. For a 360-degree bird's-eye view of the city go to the top deck, or sit for a drink in the tower's revolving restaurant, although the food should be given a pass.
Puxi, the west side of Shanghai, has the city's historic buildings, and Pudong, to the east, has its skyscrapers. These are concentrated in the Lujiazui neighborhood, just across from the Bund. Jin Mao Tower stands 88 floors high (8 is an auspicious number), a postmodern spin on a classic 13-tier Buddhist pagoda design. Zoom to the tower's 88th-floor observation deck in just 45 seconds and take in the 360-degree views, or skip the line and settle into a window seat at Grand Hyatt's 87th-floor Cloud 9 bar. Just across the street is Shanghai World Financial Center, often jokingly called "The Bottle Opener." It has three observation decks, the highest of which is on the 100th floor. The view from the top is thrilling—on a clear day, you'll feel as if you're floating above the city, and when it's overcast, it's as if you're adrift in the clouds. As with Jin Mao Tower, you can skip the crowds of the observation deck by going for tea or a drink at Park Hyatt's 87th-floor Living Room. Shanghai Tower—China's tallest building and world's second tallest—is not yet open to the public.
ShangHai Aquarium: World's longest underwater tunnel
The Bund Sightseeing Tunnel is one of Shanghai's strangest attractions. Located beneath the Oriental Pearl TV Tower, you travel under the Huangpu River by train for the most psychedelic trip of your life. Compartments on the train are completely transparent, so you can see all around, and the sound system changes as much as the colors. It takes about 5 minutes to go through the tunnel, plus it's a great chance for memorable vacation photos.

Bund Tourist Tunnel / Shanghai Pudong
Old City
A great neighborhood for exploring and getting lost, the Old City was once the central core of Shanghai, surrounded by a fortified wall built to keep out Japanese pirates. Today, just one 50-year section of the Old City Wall remains, and the area's old shikumen stone gate houses are disappearing rapidly. Here you'll find the highest concentration of narrow, winding laneways where laundry flaps from bamboo poles, locals drive scooters piled perilously high with cargo, and where not so long ago chamber pots were still in use. This is one slice of old Shanghai that will never be replicated, so see it before it's gone.
ShangHai Night Acrobatic Show
a fantastic acrobatic show in the evening after your day tour. This is the best show in China with a spectacular environment and features sophisticated athletic performers! ​A must see activity if you have time. Price: $45 USD/person