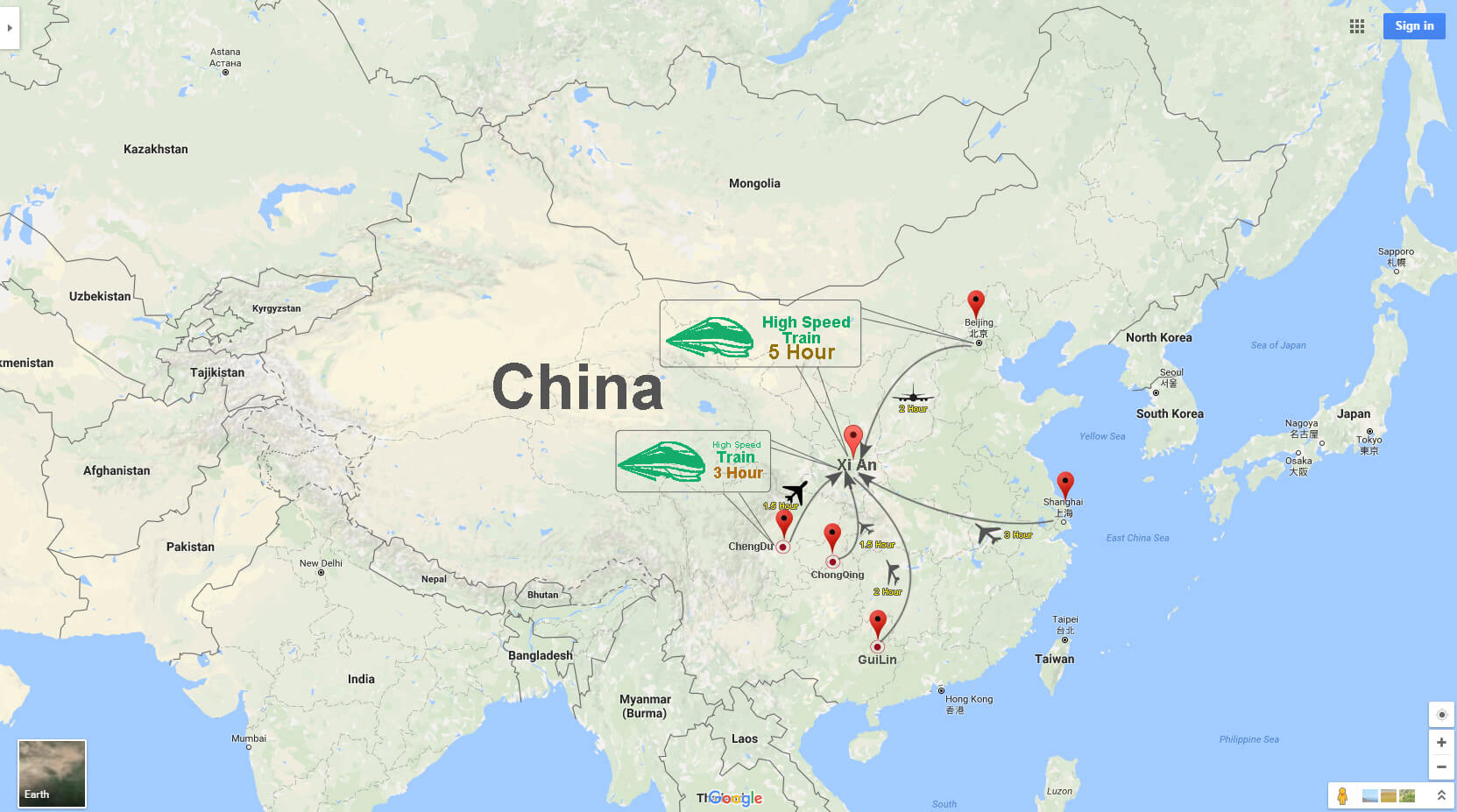 XiAn Transportation
Xi'an Xianyang International Airport
• Xi'an Xianyang International Airport
• Website:
https://www.xxia.com/
• Phone
(86)-029-96788
• email:
[email protected]
Xi'an Xianyang International Airport (airport code: XIY) is the major airport serving the city and it is the largest airport in the northwestern part of China. It is 41 kilometres (25 mi) northwest of Xi'an city centre, and 13 kilometres (8.1 mi) northeast of the centre of Xianyang. China Eastern Airlines, Hainan Airlines and China Southern Airlines are the main airlines using the airport. Terminal 3 and the second runway were opened on May 3, 2012.
International Routes: There are direct flights from Xi'an to many major cities in Asia, including Bangkok, Busan, Fukuoka, Hong Kong, Kuala Lumpur, Manila, Osaka, Sapporo, Singapore and Seoul and Taipei. First direct route between Xi'an and Europe was launched by Finnair on June 14, 2013. There are 3 three frequencies per week via Helsinki hub to many major cities in Europe during the summer season. United Airlines begun non-stop service to San Francisco since May 2016.
Germany's Fraport, the operator of Frankfurt Airport, has paid 490 million yuan to obtain a 24.5 percent stake in the Xianyang International Airport, offering opportunities to upgrade and expand the facility.
Eight airport bus routes connect the airport well with the Xi'an and Xianyang city.
There are also long-distance buses which connect the airport with Baoji, Yangling, Lintong, Hancheng, Hanzhong, Weinan, Tongchuan, Yan'an, Qingyang, and Pingliang.
A rail link between Xi'an North Railway Station and the airport is under construction and is expected to open in 2018.
Xian Metro
Main article: Xi'an Metro
Line 2, running through the city from north (North Railway Station) to south (Weiqu Nan), was the first line opened to the public on September 16, 2011.[43] Operations began on September 28, 2011.This line is 19.9 kilometres (12.4 miles) long with 17 stations. Line 1 opened on September 15, 2013. As a west-east railway, its 19 stations connect Houweizhai and Fangzhicheng. Line 3 runs from northeast (Baoshuiqu) to southwest (Yuhuazhai) and opened on November 8, 2016.
Six lines are planned to be finished around 2020. When completed, the system will span 251.8 km (156.5 mi); it will mainly service the urban and suburban districts of Xi'an municipality and part of nearby Xianyang City.
The subway system covers some of the most famous attractions, such as Banpo Museum (Banpo Station, Line 1), Bell and Drum Tower (Line 2), City Wall (Line 2) and Shaanxi History Museum, etc.
On December 30, 2008, a fire accident occurred that was extinguished within an hour and all workers evacuated safely. Sixty-six hours later, on January 2, another fire occurred at another station on Line 2.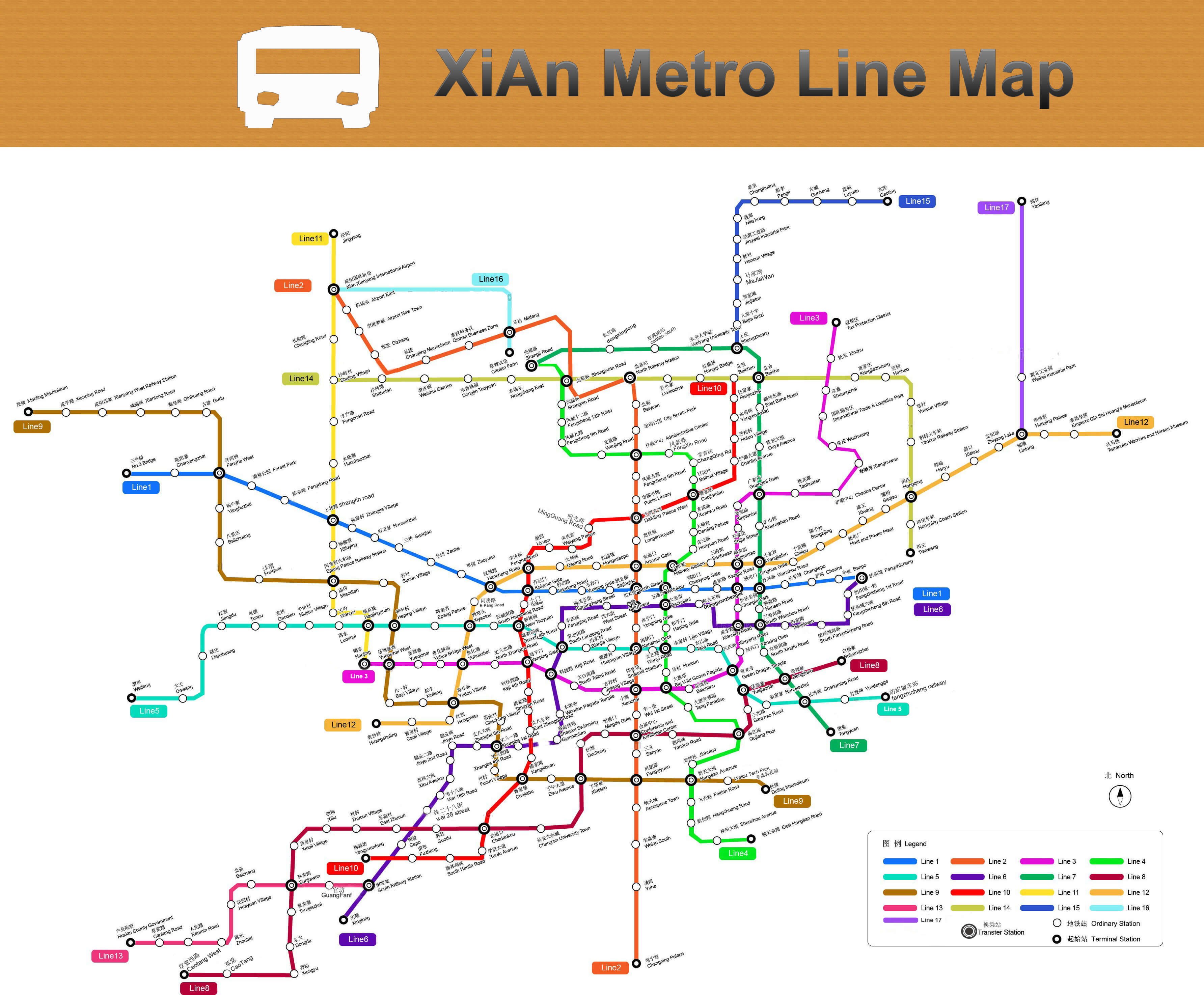 xian Metro Map
Xian Taxi
Taxis in Xi'an are predominantly BYD Auto made in Xi'an. Most, if not all, taxis in Xi'an run on compressed natural gas. For the taxis' fare, during the 06:00-23:00,¥9/2 kilometres (1.2 miles) for the fare fall and ¥2.3/Km later, at night ¥10 for the fare fall and ¥2.7/Km later.
XiAn Railway Station

There are 6 passenger transport railway stations in Xi'an. Xi'an Railway Station, located just north of Xi'an walled city, is one of the eight major national railway stations, and the main railway transportation hub of Shaanxi Province. The new Xi'an North Railway Station, situated a few miles to the north, is the station for the high-speed trains of the Zhengzhou–Xi'an High-Speed Railway. With 34 platforms, it is the largest railway station in Northwest China. Construction of the station began on September 19, 2008.The station was opened on January 11, 2011. As of May 2012, Xi'an North Station is served only by the fast (G-series and D-series) trains running on the Zhengzhou–Xi'an High-Speed Railway; one of them continues south to Hankou.The city's other stations include Xi'an West, Xi'an East, Xi'an South, Sanmincun, and Fangzhicheng railway stations.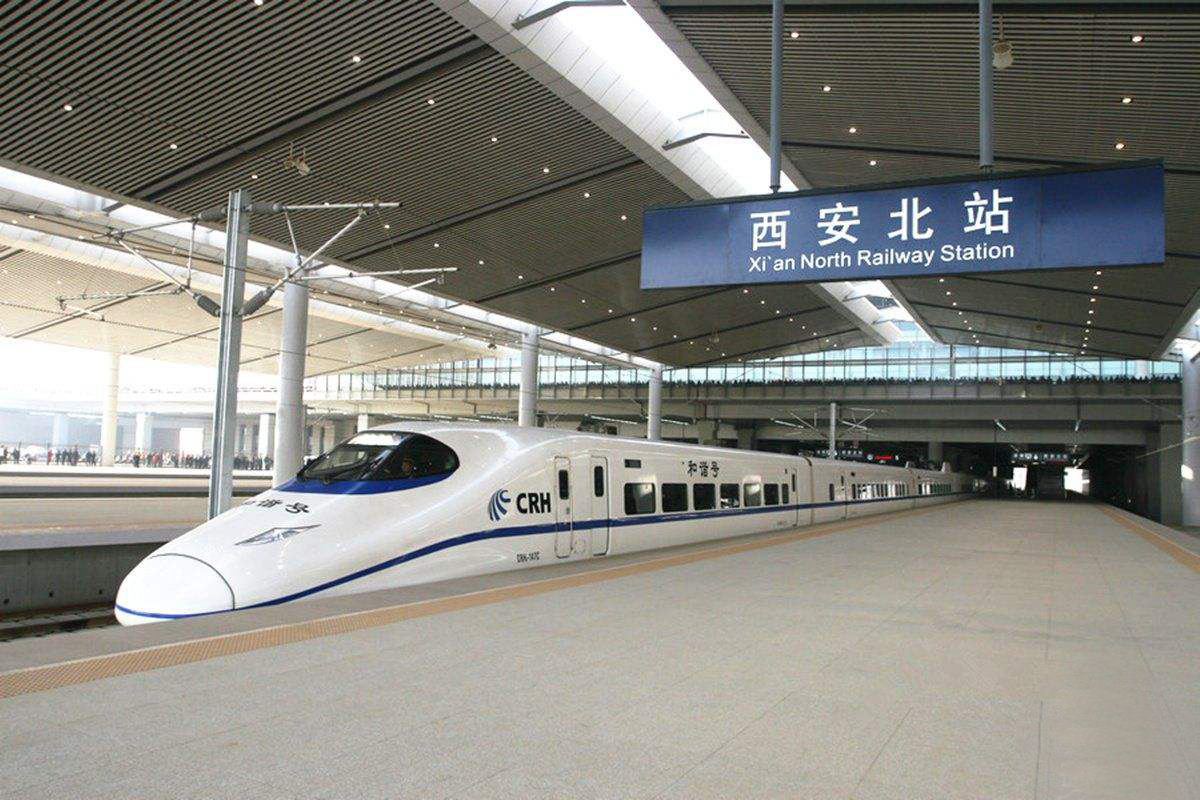 Xi'an North railway station (Chinese: 西安北站; pinyin: Xī'ānběi Zhàn) is a railway station on the Zhengxi Passenger Railway, Xibao Passenger Railway and Daxi Passenger Railway. The station is located in Weiyang District of Xi'an (the capital of Shaanxi Province of China). It is some 10 km north of the city centre and the Xi'an railway station.
The station has 34 platforms. It is the largest railway station in Northwest China.
The station is connected to downtown Xi'an by Line 2 of Xi'an Metro at Bei Kezhan Station

Xi'an Railway Station covers 597,000 square metres (6,430,000 square feet), has 5 passenger platforms, and 24 tracks. It provides 112 services to 80 000 people daily. Among the destinations served by direct trains from Xi'an are Beijing, Zhengzhou, Lanzhou, Baoji, and Mount Hua. China Railway High-speed 2 now run an express services from Xi'an to Baoji and Xi'an to Zhengzhou; with a total running time to Baoji of under 90 minutes, and 2 hours to Zhengzhou. The Zhengzhou–Xi'an High-Speed Railway also serves Xi'an. Construction work began on September 25, 2005, the railway opened for service on February 6, 2010. The railway has made air service between Zhengzhou and Xi'an uncompetitive. All passenger flights between the two cities were suspended within 48 days of start of regular high-speed rail service.

Expressways
Xi'an currently has three ring road systems, the Second Ring road and the Third Ring road which encircle the city. These ring roads are similar to freeways, except where there are traffic signals on the Second Ring road.
As a tourist city, Xi'an has built expressways to Lintong, Tongchuan and Baoji, with well-maintained roads to famous scenic spots in suburban counties and to the north slope of the Qin Mountains. Since its construction in September 2007, the Xi'an–Hanzhong Expressway connects Hanzhong and Xi'an through the Qinling.
——————————————————————————
ChengDu WestChinaGo Travel Service
www.WestChinaGo.com
[email protected]
Ph:(+86) 135 4089 3980