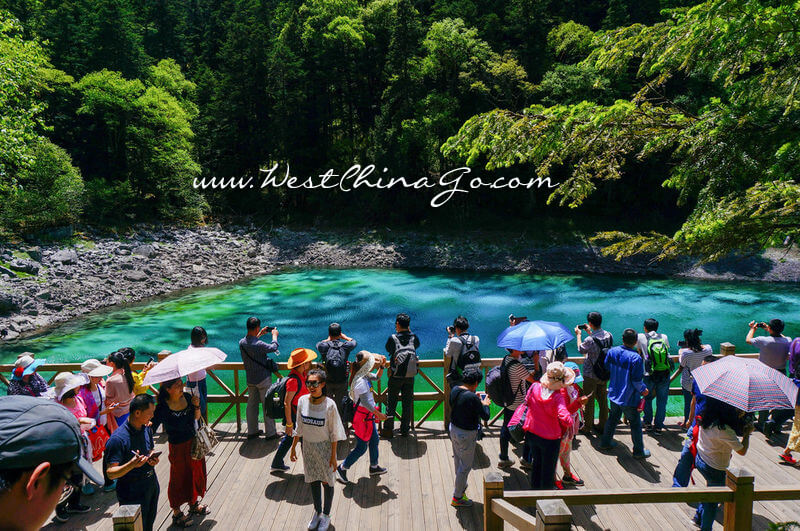 JiuZhaiGou
► Chinese Name: 九寨沟
► Address: jiuzhaigou,SiChuan,China(424 KM from chengdu)
► Opening Time:8:00-18:00
► Recommended Visiting Time:1-2days
► Offical Website: http://www.jiuzhai.com/
► Customer Phone: 0837-7739753
► Altitude: 4,764m (15,630 feet)
► Tickets: ¥220 (ON SEASON)
HuangLong
► Chinese Name: 黄龙
► Address: Aba Tibetan and Qiang Autonomous Prefecture, China
► Opening Time:8:00-18:00
► Recommended Visiting Time:1 Day
► Offical Website: http://www.huanglong.com/
► Customer Phone: +86 837 724 9188
► Altitude: 3300m
► Tickets: ¥200 (ON SEASON)
JiuZhaiGou Tour, Travel Guide
JiuZhaiGou:Called Dzitsa Degu in Tibetan,Jiuzhaigou National Park is located in the Aba Tibetan and Qiang Autonomous Prefecture of Sichuan Province, South Western China. It was declared a UNESCO World Heritage Site in 1992 and it belongs to the category 5 in the IUCN system of protected area categorization.
Jiuzhai Valley literally means "Nine Village Valley" and is named after the nine Tibetan villages scattered throughout the park. There is evidence of people living in the national park up to 3,000 years and the local people still hold onto many of their traditional ways of life. The human population of the park is just over 1,000 which comprises of over 110 families.
What To See
Lakes:114 individual Lakes in the park
Waterfalls:5 major waterfalls and numerous…
Forestscover more than half of scenic..
Tibetan Culture:local traditional customs…
Wild Life:highly diverse biologically fauna
Useful Info
The following articles can give you useful info.travel guide and thing to do help you plan the best mount tour,for your reference.
attraction
tickets
on season
off Season
JiuZhaiGou
full-price tickets
220 RMB
80 RMB
discount tickets
110 RMB
40 RMB
eco-Bus
90 RMB
80 RMB
JiuZhaiGou Tour 360° Panoramas
Best Time to Visit JiuZhaiGou
Each season brings with it different scenery. Autumn is generally considered the most beautiful with its multitude of colors. Winters are very cold, but much less crowded and when snow covers the valley it turns into a winter wonderland. Of course, snowfall might also make travel to and from the valley difficult or even impossible. In spring, the flowers bloom and the rivers swell, meaning waterfalls are at their most impressive. Jiuzhaigou in the summer is greener than ever. July and August are the rainy season, but some of the most beautiful pictures of the valley are taken directly after a downpour.
1JiuZhaiGou:春来冰雪消融,春水泛涨;夏时绿荫围海,叠瀑飞下;秋至红叶遍山,彩林满目;冬来宁静洁白,冰瀑如玉。九寨沟的美景四季不断、各有不同。
2JiuZhaiGou: high altitudes between 2000m~3100m,covered with Virgin forest.,the valley have 108 lake.,glory with fairy tale land,。prensent with V shape,made of main 3 valley:shuzheng valley、rize valley、zezhawa valley,totally 50 km length。
3HuangLong:Combination of High Mount,prairie Terrain and Landform, form unbeatable Large landscape,famous for colorful pond,snow mount,Canyon,forest…
How To Get To JiuZhaiGou From Chengdu
JiuZhaiGou Tour Map
JiuZhaiGou Car Rental
JiuZhaiGou Car Rental,Charter Vehicle
westchinago offers best value transfer services in JiuZhaiGou, We ensure you an enjoyable and hassle free journey with our fully qualified experienced drivers, well-conditioned serviced vehicles and auto insurance coverage.
From JiuZhaiGou Aiport To JiuZhaiGou
From JiuZhaiGou Aiport To HuangLong
From JiuZhaiGou To JiuZhaiGou Airport
From HuangLong To JiuZhaiGou Aiport
From JiuZhaiGou To HuangLong
From JiuZhaiGou To Grand Grassland

JiuZhaiGou Tour Video
JiuZhaiGou Travel Guide
Altitude Sickness: since jiuzhaigou locate above the 2000-3500 meters altitude,To avoide the sickness,do not do any drastic exercise, or drink wine.To Keep warm and eat more vegetables and fruits,also you can take some medicine like "HongJingTian" which sold in jiuzhaigou,.the senior with hypertension or cardiopathy is not supposed to go.
Don't come to JiuZhaiGou at chinese public holiday,such as labour fextival(1st to 7th May) and National Day holiday (October 1st to 7th)
To avoid the chinese tour group on season, choose the wooden path instead of main road.
Shoes:bring the hiking shoes or sport shoes
Food:To prepare the food and water in advance
Clothes:night big tempreture different,bring thick clothes.if planning to stay one night.
Wheather:big role,notice the forcast of rain,sunshine,and be careful the slippery road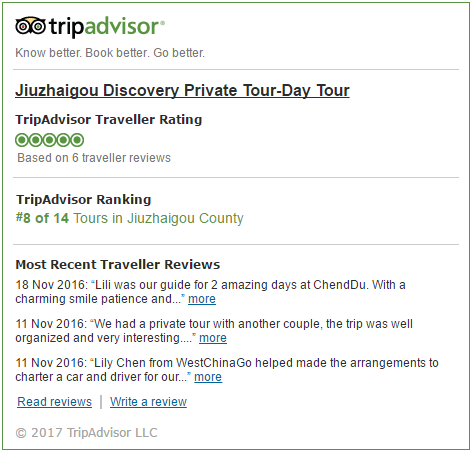 JiuZhaiGou Tours Thing To Do
JiuZhaiGou info
2017 JiuZhaiGou Tours Packager
---