ChengDu JinLi
ChengDu JinLi
Jinli (锦里古街) is a street in Chengdu, Sichuan, China. The street is about 550 meters long. It is a part of the Temple of Marquis, and the buildings are in the Qing Dynasty style. The theme is Three Kingdoms Culture, a traditional folk custom. There are many bars, inns, snack stores and souvenir shops. The street was renovated in 2004. In 2005, Jinli was named as "National Top Ten City Commercial Pedestrian Street". In 2006, Jinli was named as "National Demonstration Base Of The Cultural Industry" by the Ministry of Culture. There are approximately 18,000,000 visitors a year.
Jinli is an antique commercial street, one of the most popular attractions in Chengdu, and part of the Wuhou Temple Museum in Chengdu.
Here, you can enjoy the craftsmanship of clay figurines, sugar paintings, and shops that are rich in three countries.
There are also a variety of Sichuan specialties in the street, and a variety of tea houses, cafes, bars, and inns can be seated at any time.
At dusk, Jinli will light up and have a charm, suitable for taking pictures.
• JinLi SnackJinli is particularly famous for its traditional Sichuanese snacks. There is an area dedicated just to snacks, where you will see dozens of vendors preparing and displaying an impressive variety of noodles and finger food to snack on.
• JinLi Shopping:Shadow puppet performance and other traditional Chinese arts also make an appearance, and this tends to be an excellent places to procure local gifts.
• JinLi Bar: there are kinds of bar with live performance, city slow life.
• Nearby The neighbor is wuhou temple, and the opposite is tibetan life zone
ChengDu JinLi Video
Chengdu Jinli Photo
Chengdu JinLi Tourist Map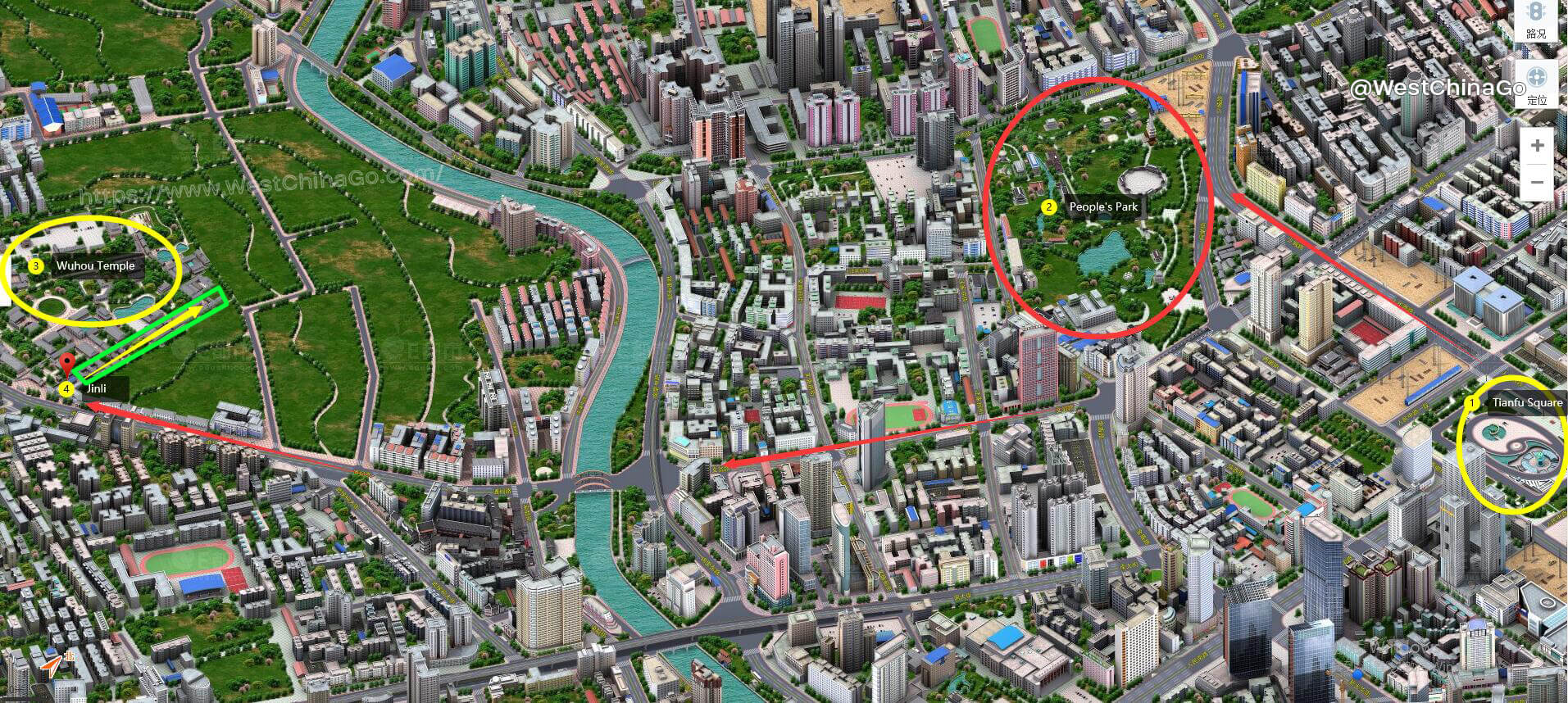 How To Get To Jinli,Chengdu
By Taxi
Practical Chinese:for taxi driver
pls take us to ChengDu jinli
请载我们到锦里古街
By Subway
Take the metro line 3,get off at gaoshengqiao,then walk 10 min
Chengdu metro map