Chengdu Songxianqiao Antique Market
Chengdu Songxianqiao Antique Market
Chinese name: 送仙桥古玩市场
Location: No. 24, Huanhua North Road, Qingyang District, Chengdu, Sichuan Province 四川省成都市青羊区浣花北路24号
Area: 20000 square meters
Number of commercial stores: 620
Counter: 300
Booth: 1000
Business hours: 10:30-18:30
Tel: 028-87338748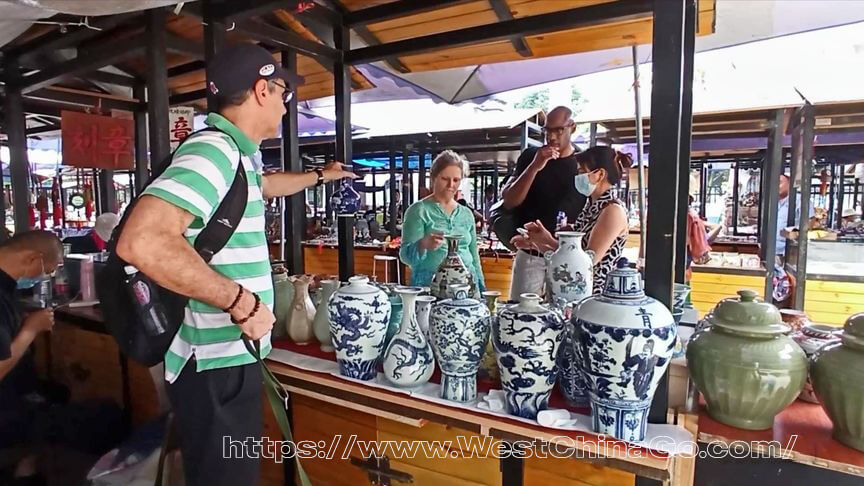 Chengdu Songxianqiao Antique Market
Chengdu Songxianqiao Antique Market, is a famous destination for antique collectors and enthusiasts .It's the second largest antique market in China.
The market has a history of over 20 years and is known for its vast collection of antique items, including jade, porcelain, bronze, calligraphy, and paintings.
The market is open every day from early morning to late afternoon, and it attracts a large number of visitors, including locals and tourists. The market is known for its lively atmosphere, and visitors can often see vendors bargaining with customers and showcasing their unique items.
Chengdu Songxianqiao Antique Market Travel Guide
Travel Tips
It's important to be cautious when purchasing antiques, as there are many replicas and fake items in the market.
Visitors can also enjoy the nearby Sichuan Provincial Museum and Dufu Thatched Cottage which is known for its beautiful scenery and historical significance.