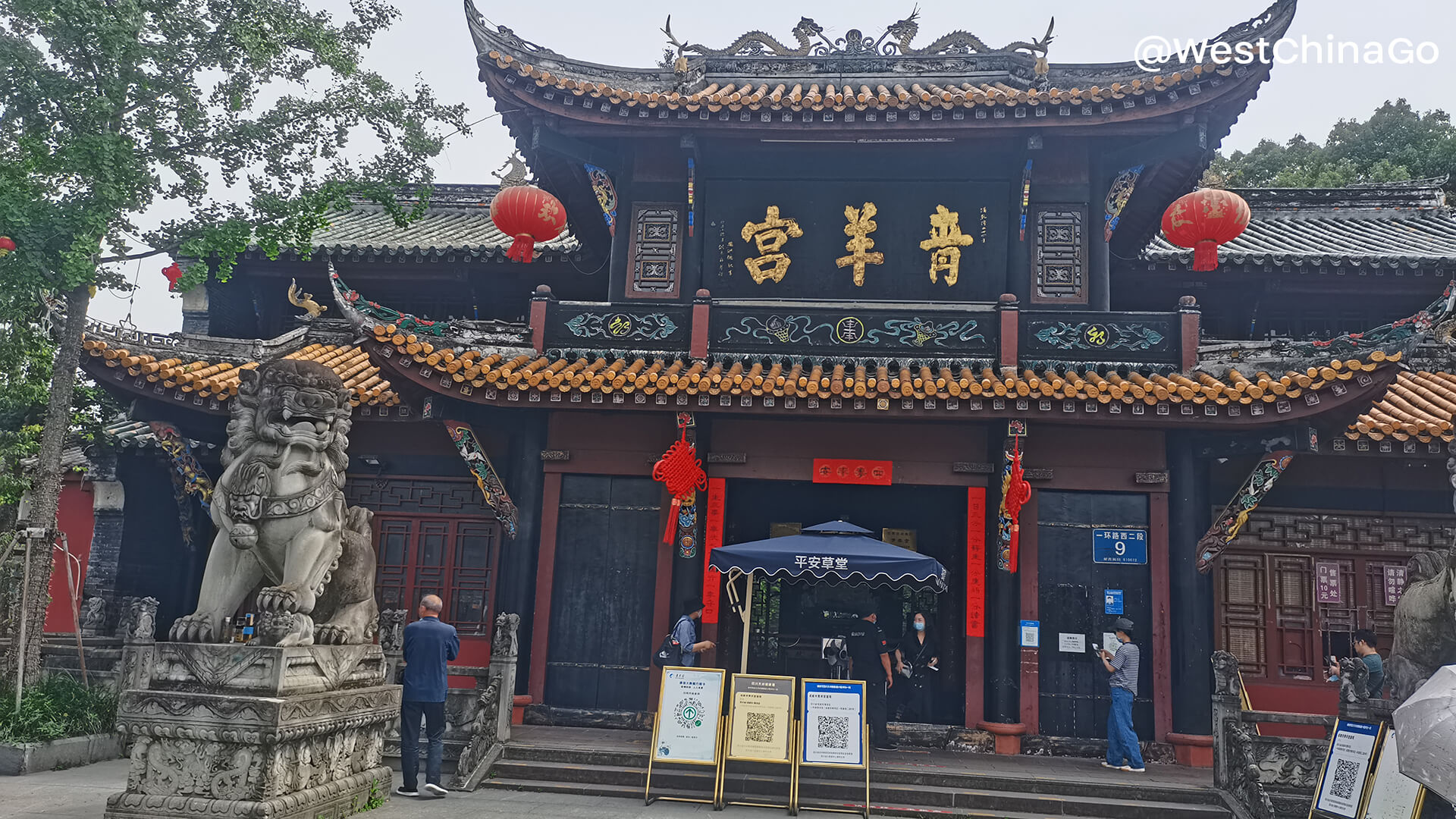 Chengdu Qingyang Palace
Chinese Name:青羊宫
English Name:Qingyang Taoist Temple
Address: 9 W 2nd Section, 1st Ring Rd, QinTai Lu, Qingyang Qu, Chengdu Shi,Sichuan Sheng, China, 610000
成都市青羊区一环路西二段9号
Opening Time:8:00-18:00
Recommended Visiting Time:2 hours
Tickets 10 RMB p/p
Religion Taoism
offical website: Website: https://www.qingyanggong.org
phone: +86 028-87766584;028-87710035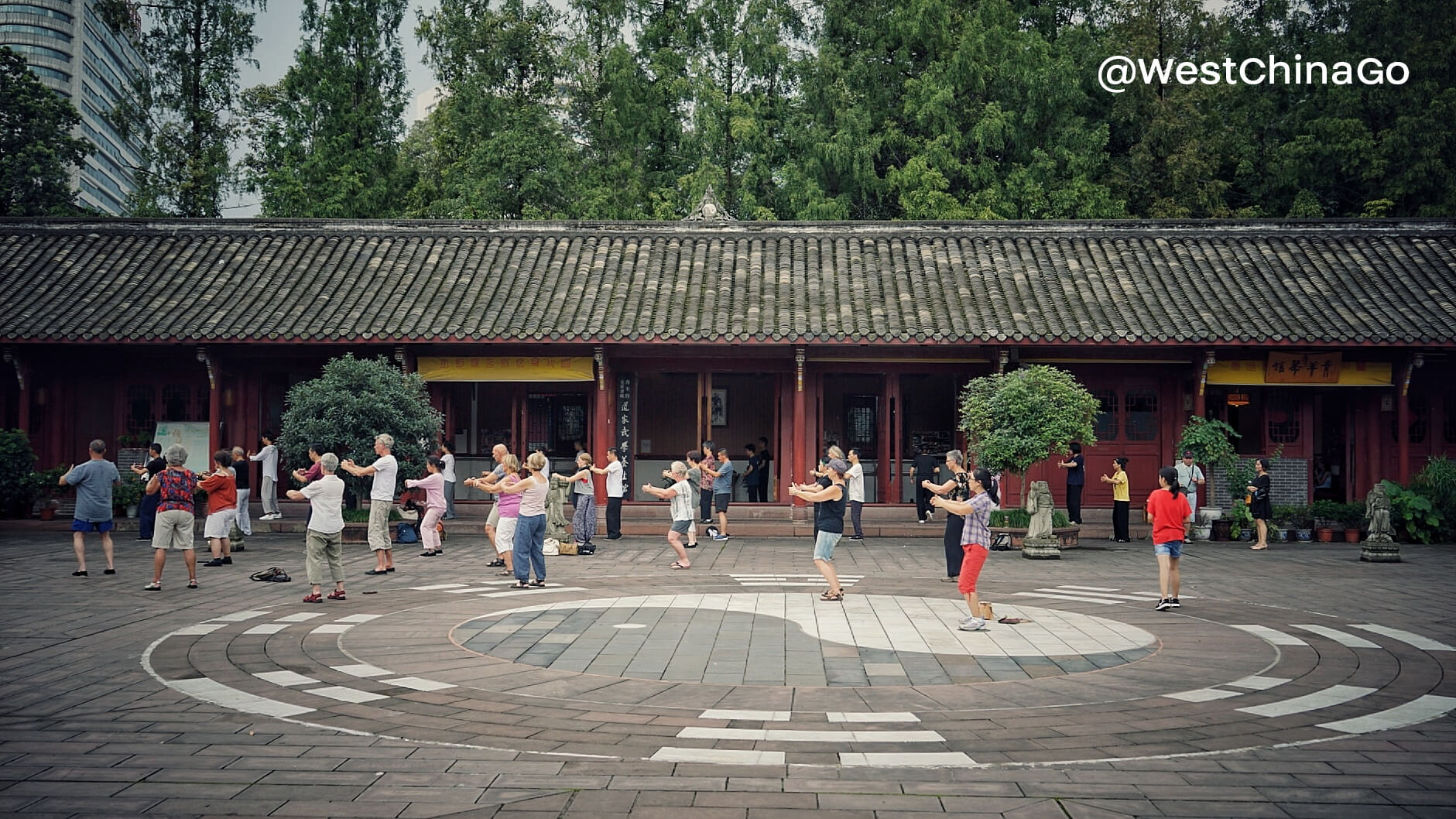 Chengdu Qingyang Palace
The showpiece of the Green Ram Temple is the 20 meter high Eight Traigrams Pavilion. It was rebuilt in 1873 during the reign of Emperor Tongzhi and in 1883 during the reign of Emperor Guangxu. It is a three-storey octagonal pavilion with a round roof and square base on which the eight trigrams – Qian, Dui, Zhen, Li, Xun, Kan, Gen and Kun are engraved. 16 stone pillars arranged in double rows support the eaves. Inside and outside the pavilion are some 81 dragons. Enshrined inside is a statue of Laozi, the supreme venerable sovereign, riding a green ox heading west towards the Hangu Pass.
Qing Yang Temple is one of the largest Daoist Temples in China and one of the first 21 Daoist Temples allowed to reopen by the government in 1983.
The temple was first built in the Zhou Dynasty (1040BC – 221BC) and expanded after the Daoists gave the Tang Emperor refuge during the Huangchao Rebellion.
The temple grounds are quietly busy and there are often nuns and monks training at the Two Immortals Monastery toward the back of the temple.
Two Immortals Monastery is the only Daoist monastery in southwest China authorized to certify Daoist training, initiations and the passing of lineage.
There is a small teahouse on the left hand side and the ticket counter sells CD's of the Qing Yang Temple Daoist Orchestra, costing 15 yuan.
The Green Ram Temple, otherwise known as Qingyang Temple, is one of the most famous Taoist temples in China. The temple was originally built in the Tang Dynasty (618-907), a period when Taoism was flourishing. Most of the parts of the temple that remain in existence are restorations from the Qing Dynasty (1644-1911), including Sanqing Hall, Doulao Hall, Hunyuan Palace, the Eight Trigrams Pavilion, and Wuji Palace.
Why is the temple called Green Ram Temple? Well it all went back to a meeting between a Taoist high priest called Lao-tzu who was to meet a friend here. The friend arrived only to see a boy with two goats and so thought the boy was his friend the priest!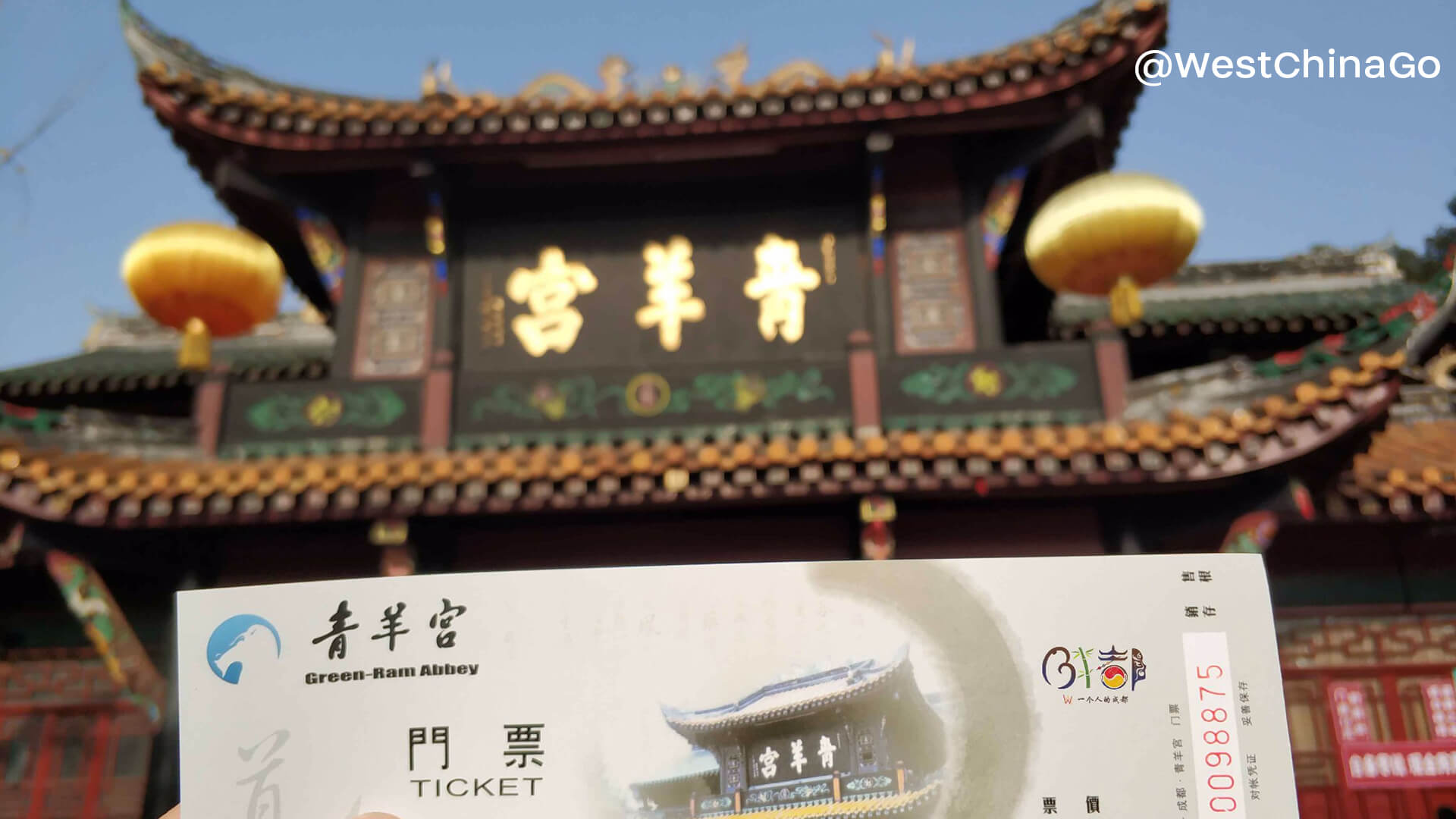 Chengdu Qingyang Palace Photo
Chengdu Qingyang Taoist Temple Video
Chengdu Qingyang Palace Tourist Map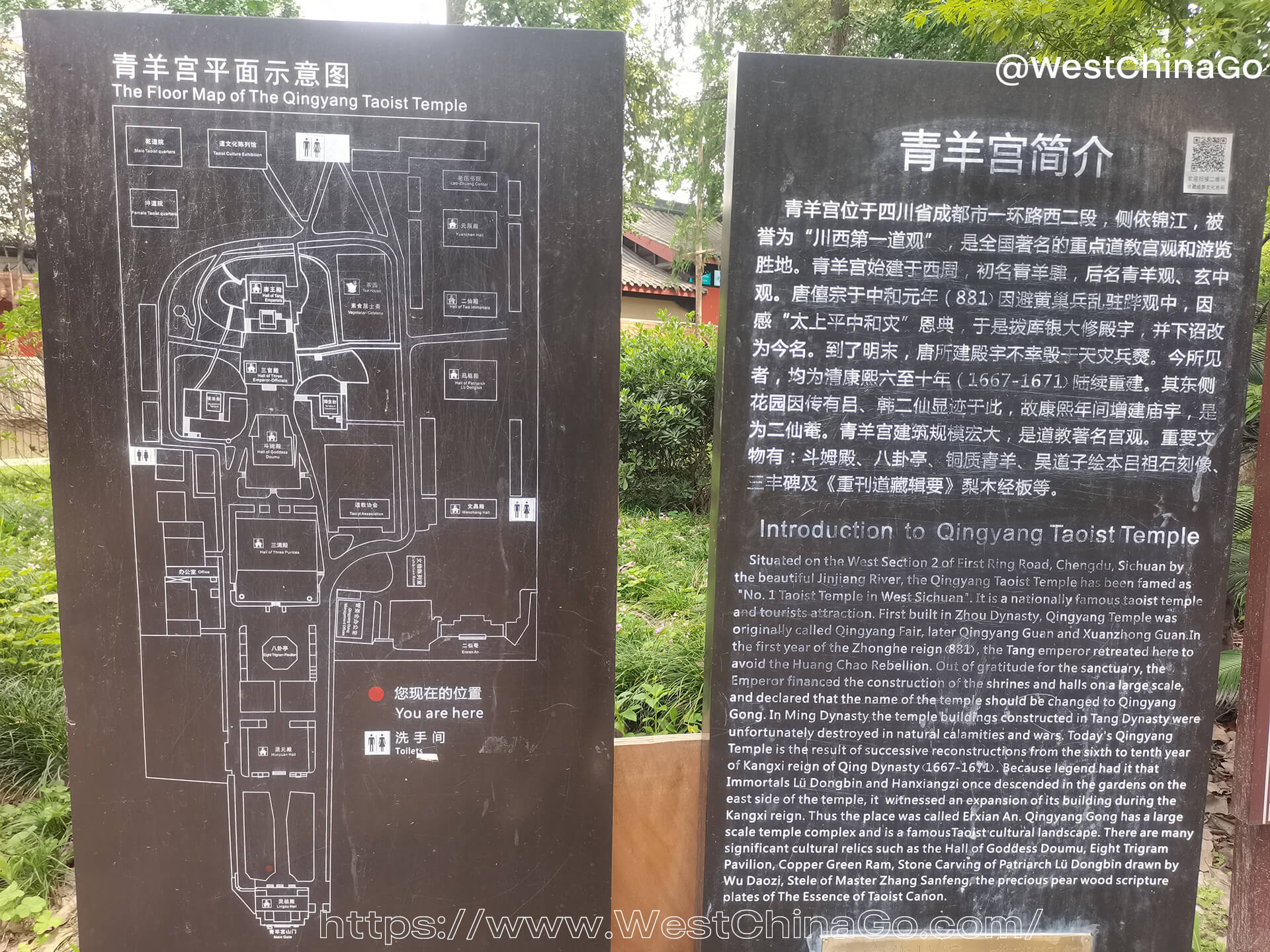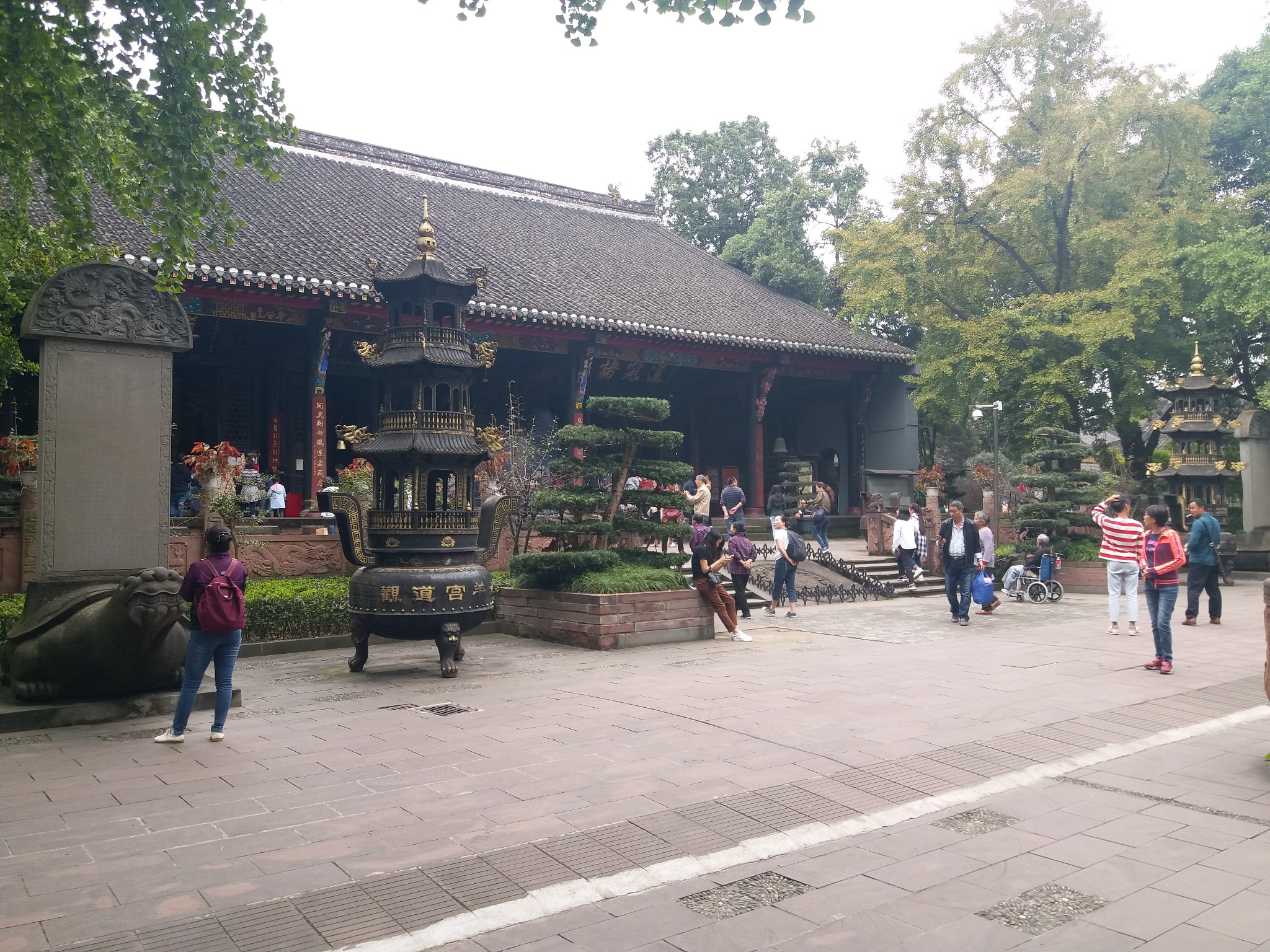 Chengdu Qingyang Palace Travel Guide
Qingyang Palace and Cultural Park Qintai Road can be connected together. Behind it is the Shufeng Yayun (Sichuan Opera Tea Garden).
There is a tea garden in the Qingyang Palace. If you are tired, you can sit down and drink tea to relax.
You can eat vegetarian rice at lunch time in Qingyang Palace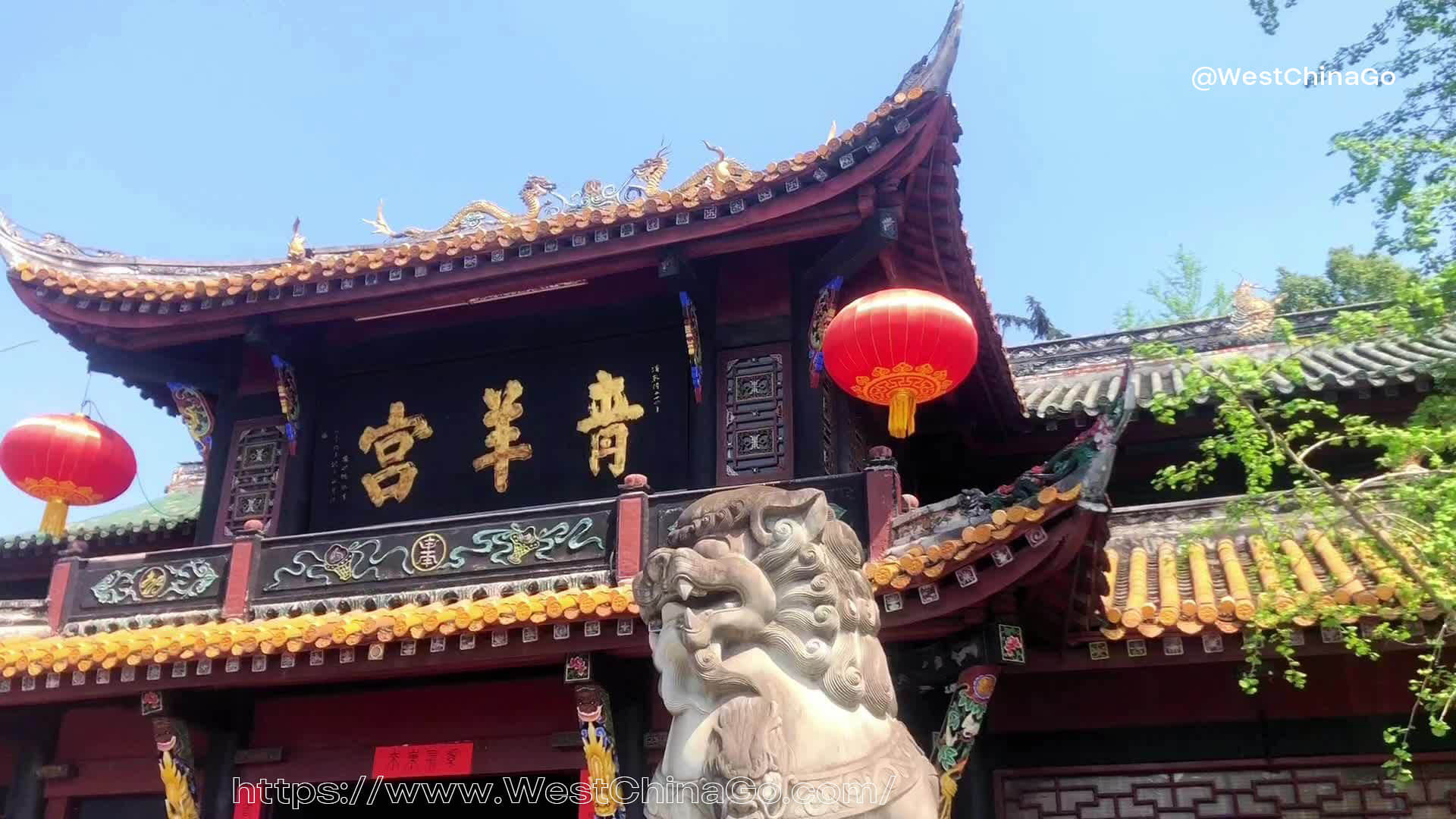 How To Get to ChengDu Qingyang Palace
By Taxi
Practical Chinese:for taxi driver
pls take us to ChengDu Qingyang Palace
请载我们到青羊宫
By Subway
Take the Metro line 5,get off at qingyanggong,or 10 minutes walk from Exit B of TCM Hospital of Metro Line 2 or Line 4
Chengdu metro map