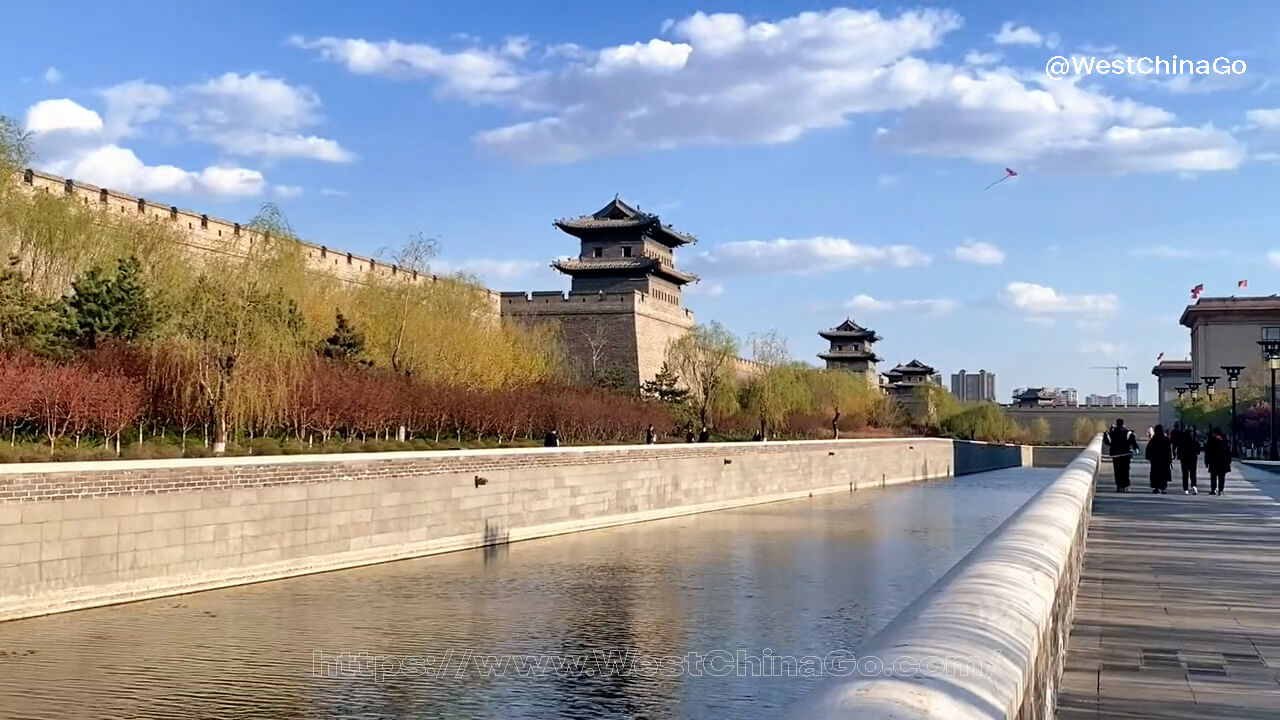 Datong Ancient City
Chinese name: 大同古城
Location: Pingcheng District, Datong City, Shanxi Province
Climate conditions: temperate continental monsoon climate
Opening hours: Spring and autumn: 6:00-24:00; Summer: 5:00-2:00 am; Winter: 7:00-22:00
Attraction level: Contains 3 AAAA scenic spots
Ticket price: Free for scenic spots (Huayan Temple needs to be charged separately)
Land area: 3.28 km²
Famous scenic spots: Datong Ancient City Wall, Huayan Temple, Shanhua Temple , Nine Dragon Wall, Drum Tower, Daiwangfu, Fuwen Temple, Dijun Temple, Chunyang Palace, Liang Sicheng Memorial Hall, China Sculpture Museum 大同古城墙 、华严寺、善化寺 、九龙壁、鼓楼 、代王府 、府文庙、帝君庙 、纯阳宫 、梁思成纪念馆 、中国雕塑博物馆
Main activities: The 5th Jackie Chan International Action Film Week
City Wall height: 14 meters
City wall width: 12 meters wide at the top, 18 meters wide at the bottom,
Circumference of city wall: 7.2 kilometers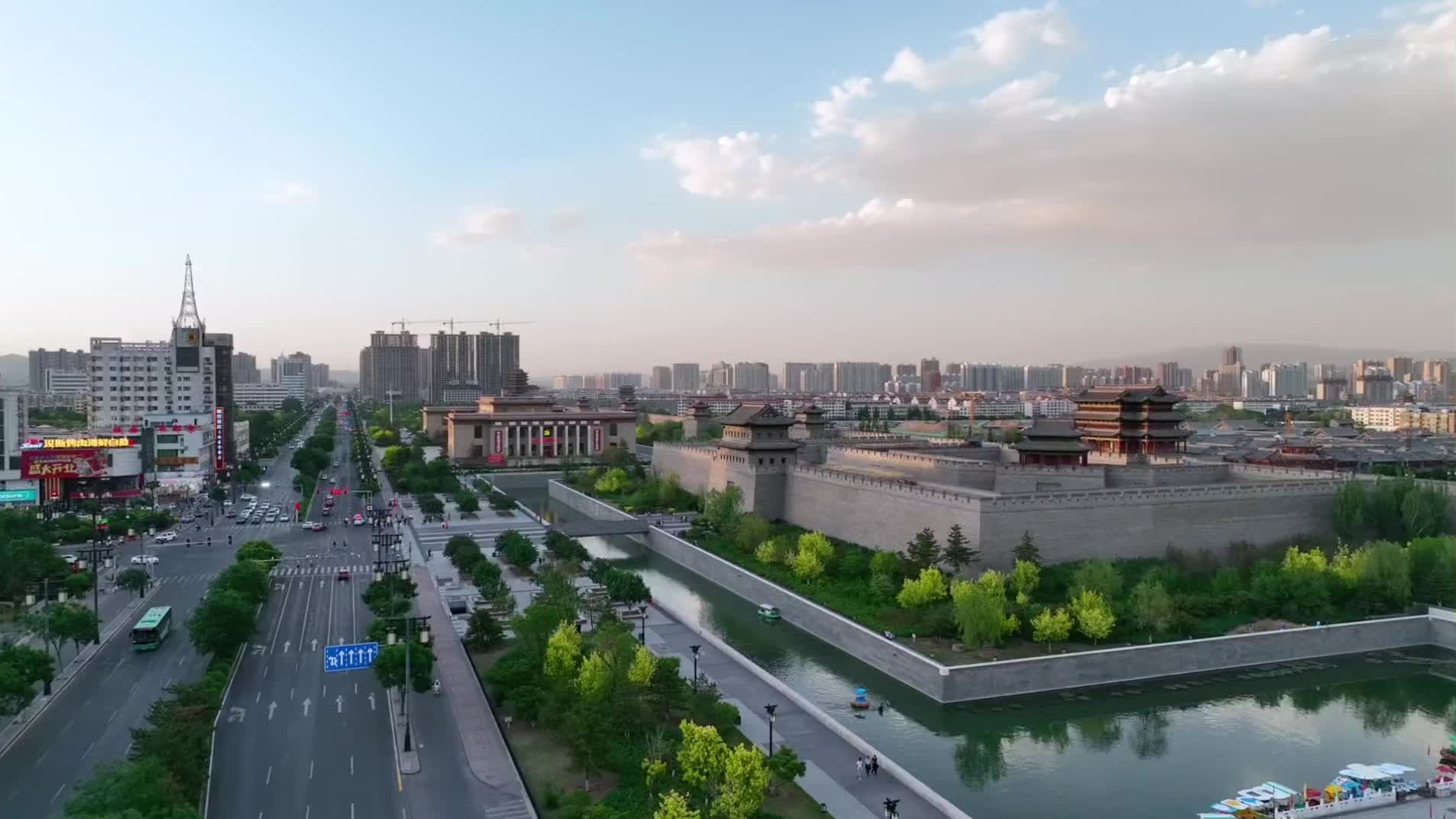 Datong Ancient City
Datong has a long and rich history dating back to the Han Dynasty(206 BCE – 220 CE).
It was once an important political, economic, and cultural center in northern China and served as the capital of the Northern Wei Dynasty (386 – 534 CE) for more than 100 years.
During the Northern Wei Dynasty, many Buddhist temples and grottoes were built in Datong, including the famous Yungang Grottoes, which are now a UNESCO World Heritage Site.
Datong continued to flourish under subsequent dynasties, such as the Tang, Liao, Jin, and Yuan dynasties, and became an important hub of commerce and culture in northern China.
However, Datong suffered significant decline during the Ming (1368– 1644 CE) and Qing (1644 – 1912 CE) dynasties due to political turmoil, economic stagnation, and war.
Datong Ancient City is a fascinating destination for anyone interested in Chinese history, culture, and architecture. Its ancient temples and artifacts, beautiful scenery, and unique local customs make it a memorable place to visit.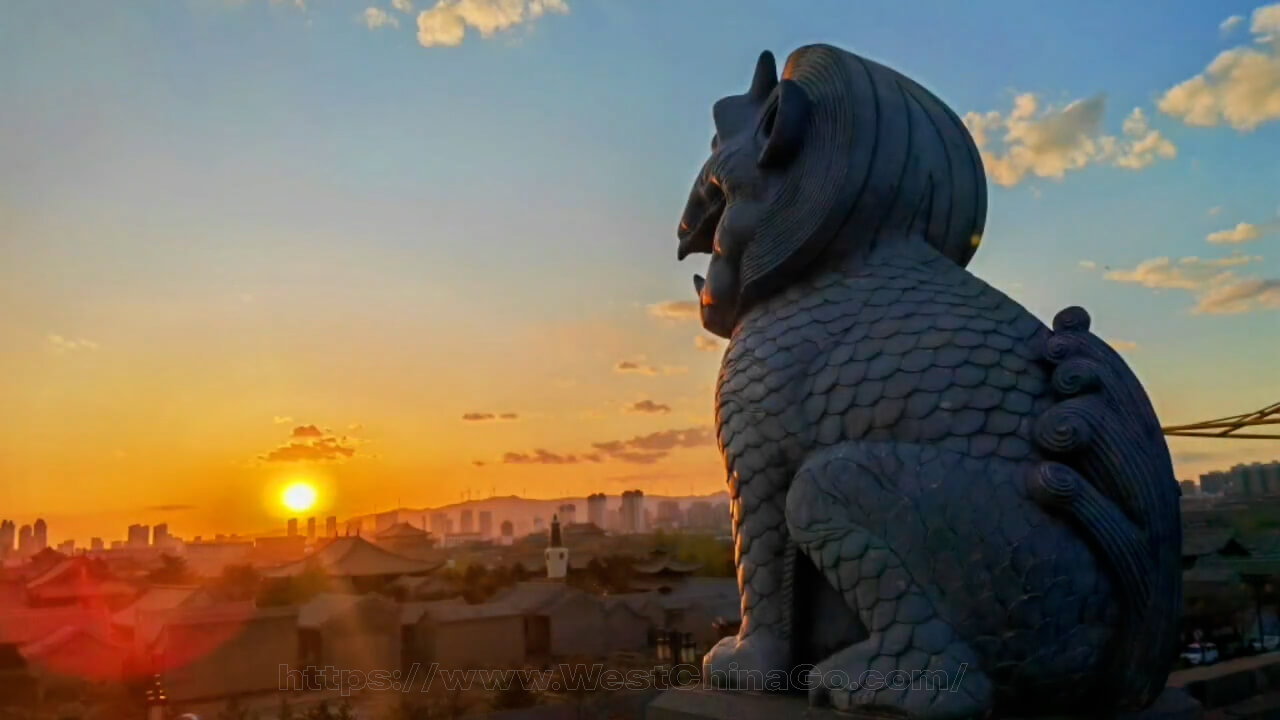 Datong Ancient City Video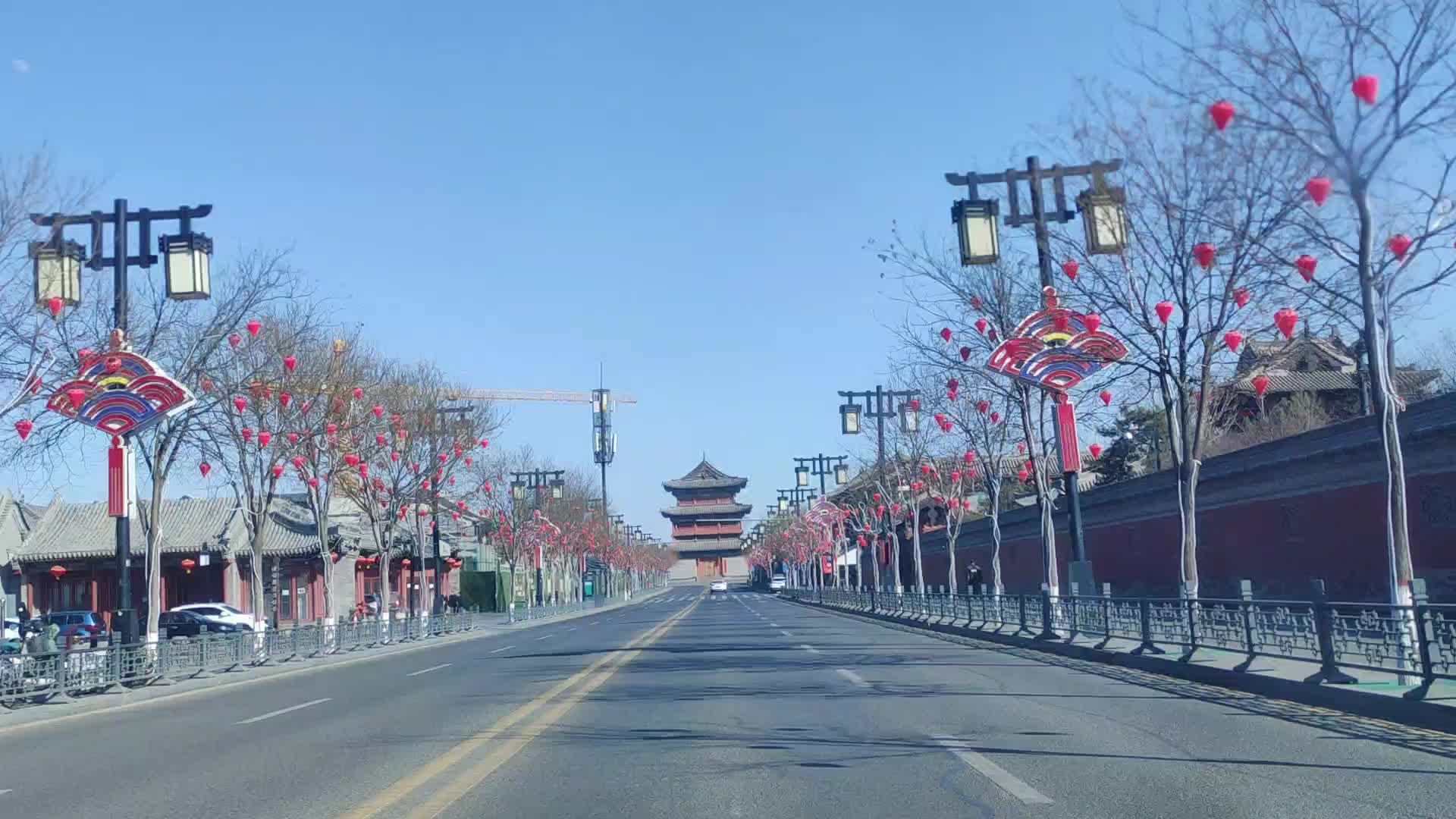 Datong Ancient City Tourist Map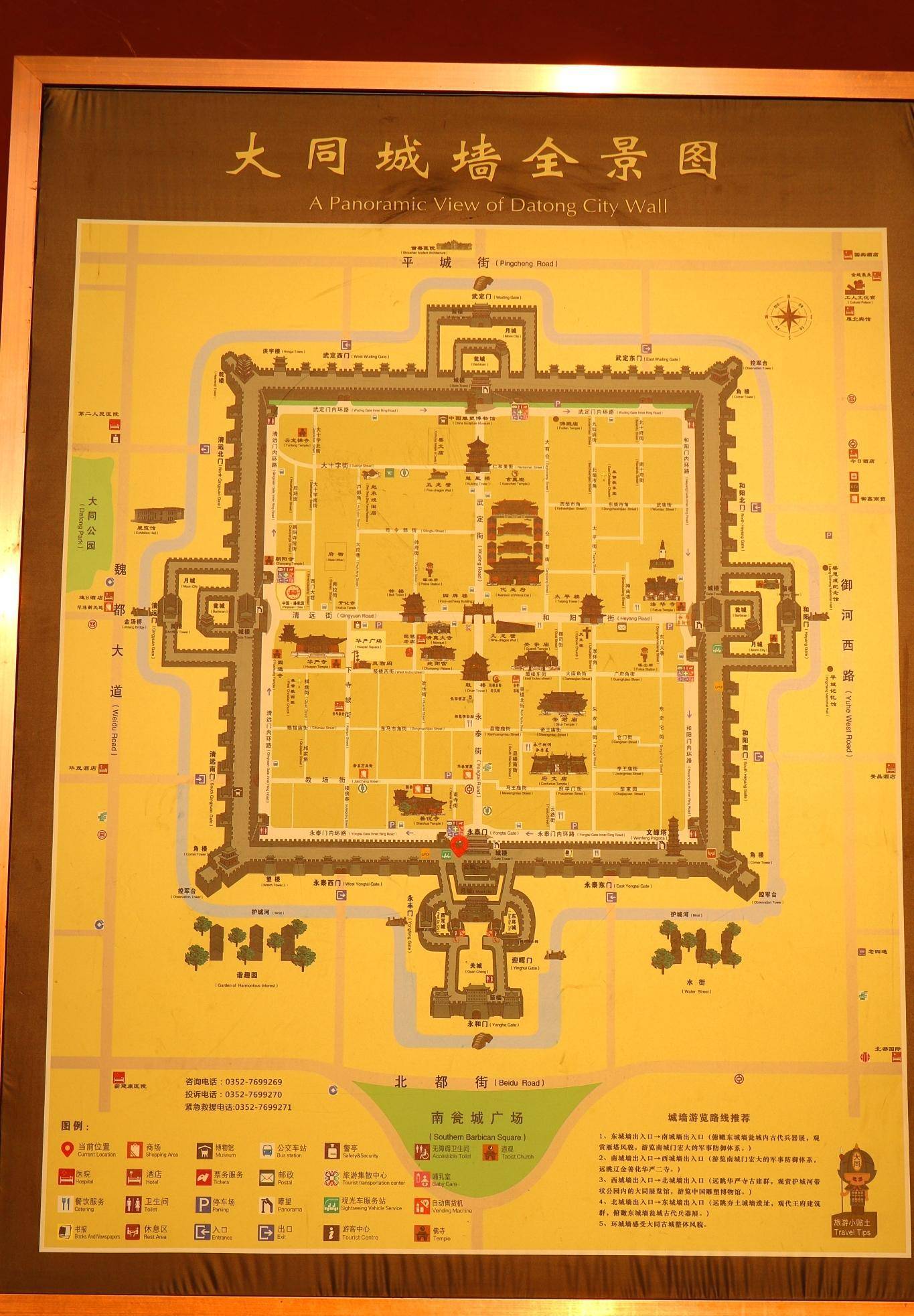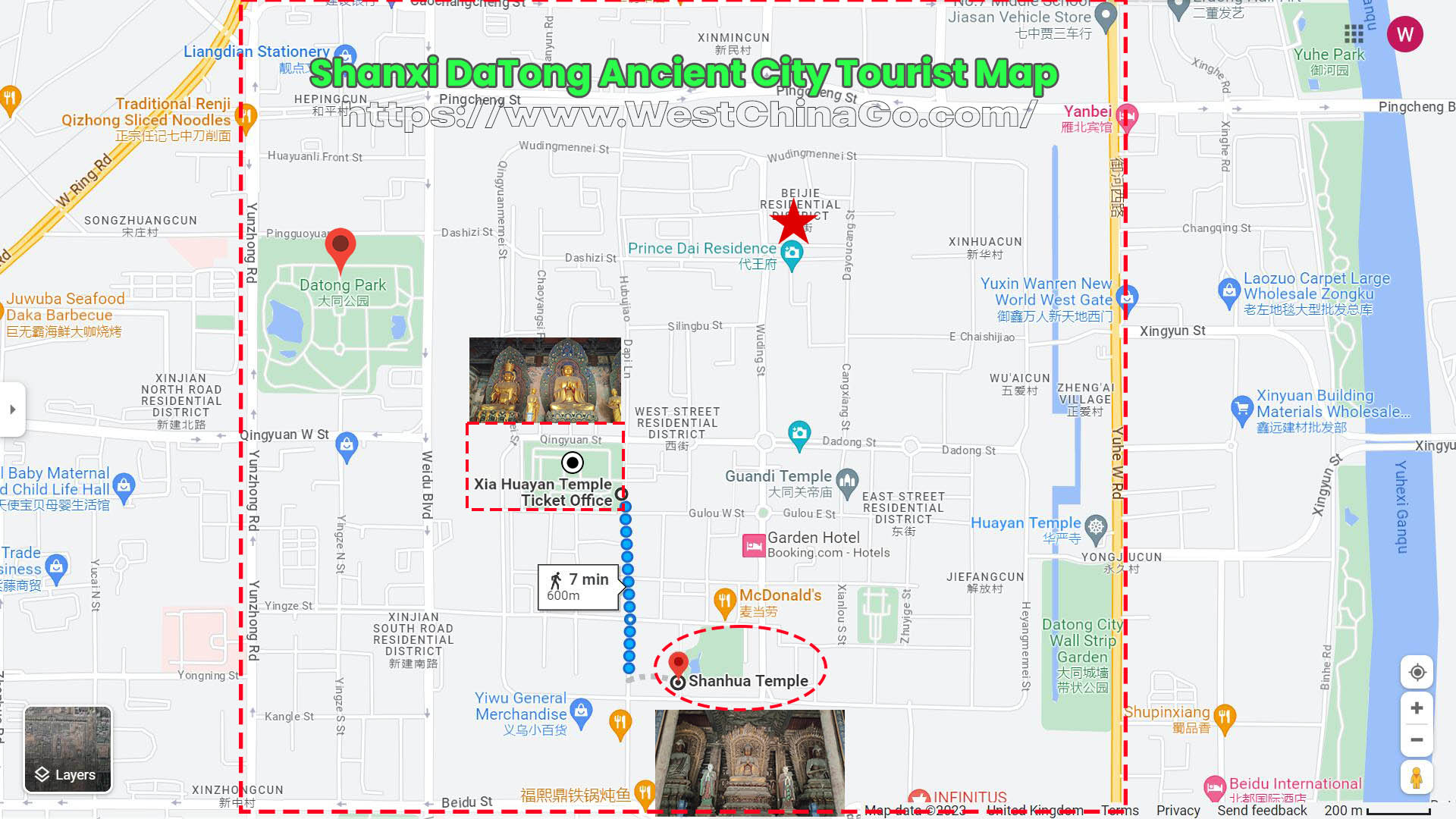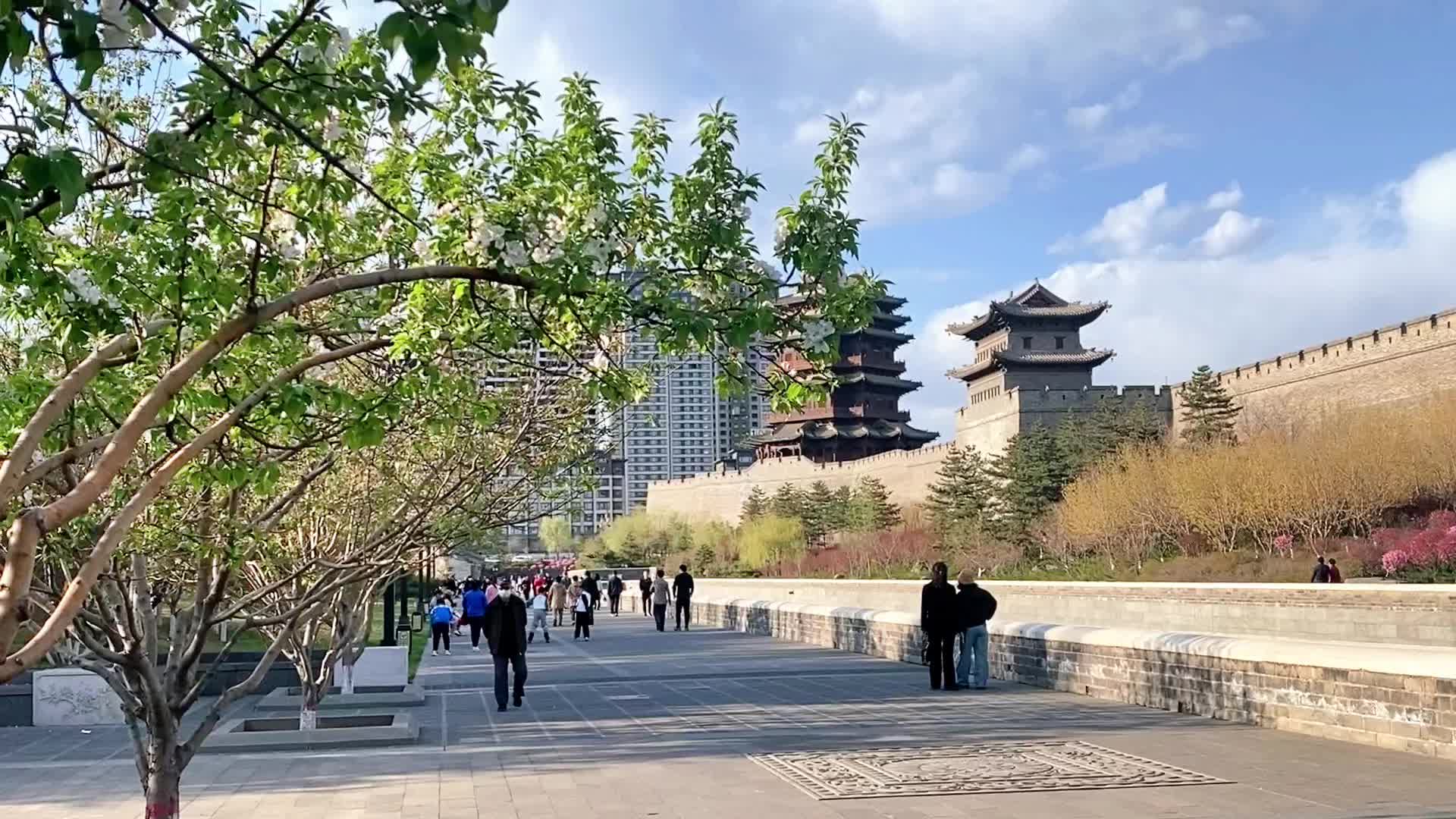 Datong Ancient City Travel Guide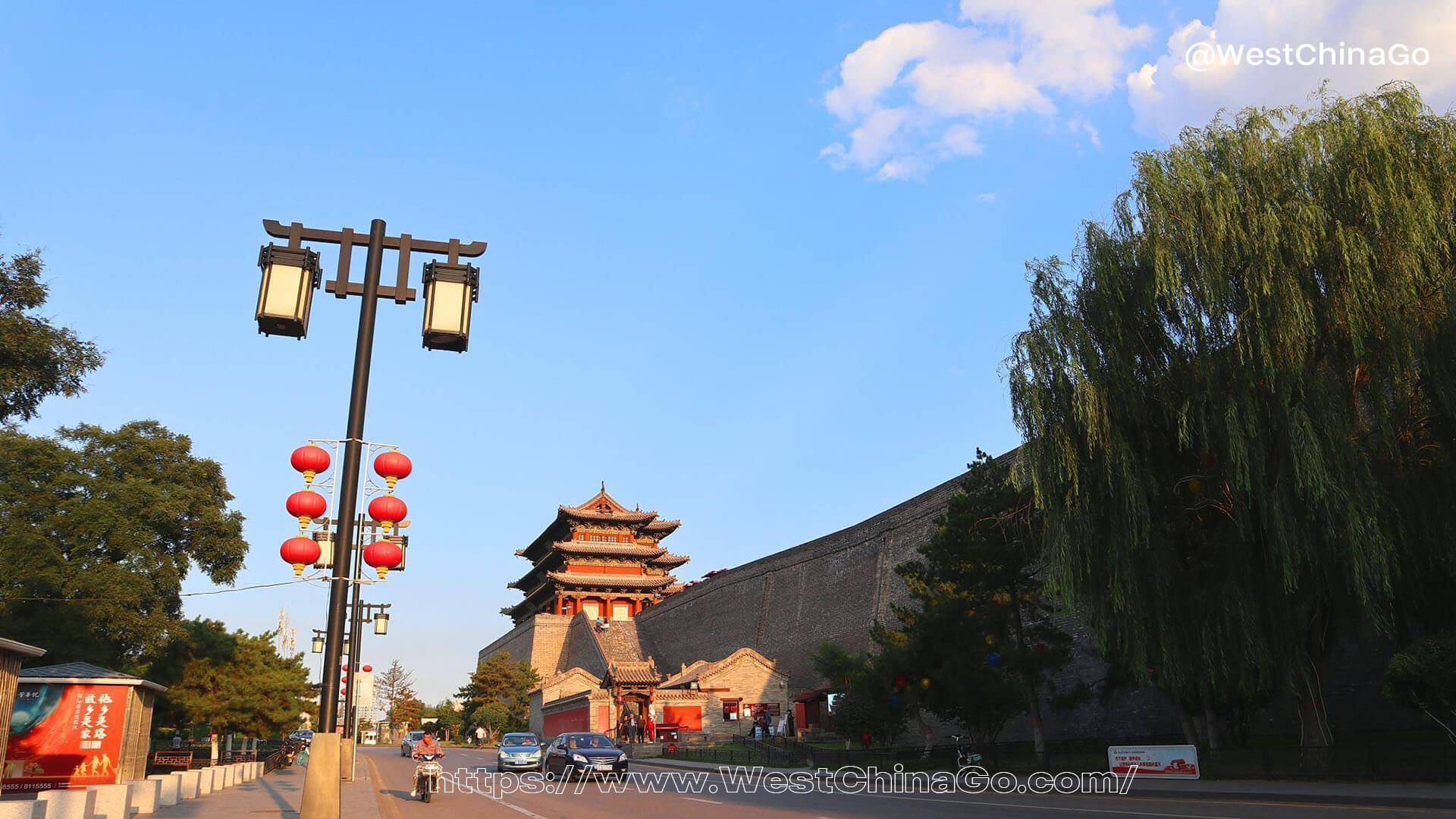 Datong Ancient City Things To Do:
Bicycle Ride
Tourists rent a bicycle and ride on the city walls. This is the best way to play on the ancient city wall. There is a kind of heroism in the riding
The price list for cycling on the ancient city wall is 90 minutes each time, which is exactly the time for a slow cycle. 30 yuan for a single bicycle, 50 yuan for a tandem bicycle, and 60 yuan and 120 yuan for 3-person and 6-person bicycles. It should be said that the price is relatively affordable. Bicycles can be returned at the car rental points of the four ancient city gates, is it convenient?
Shanhua Temple and Huayan Temple
Both inside the Datong Ancient City,close each other.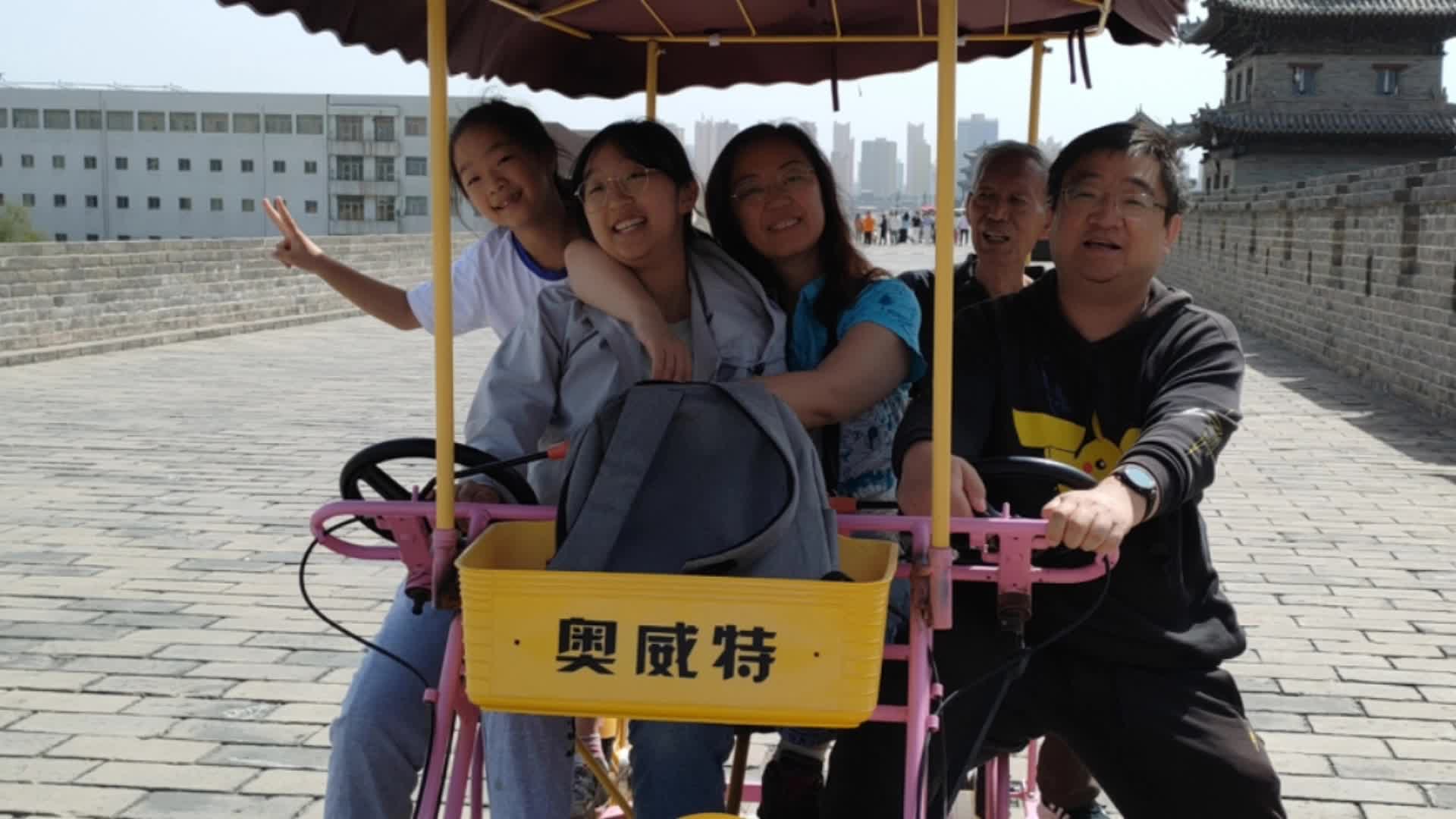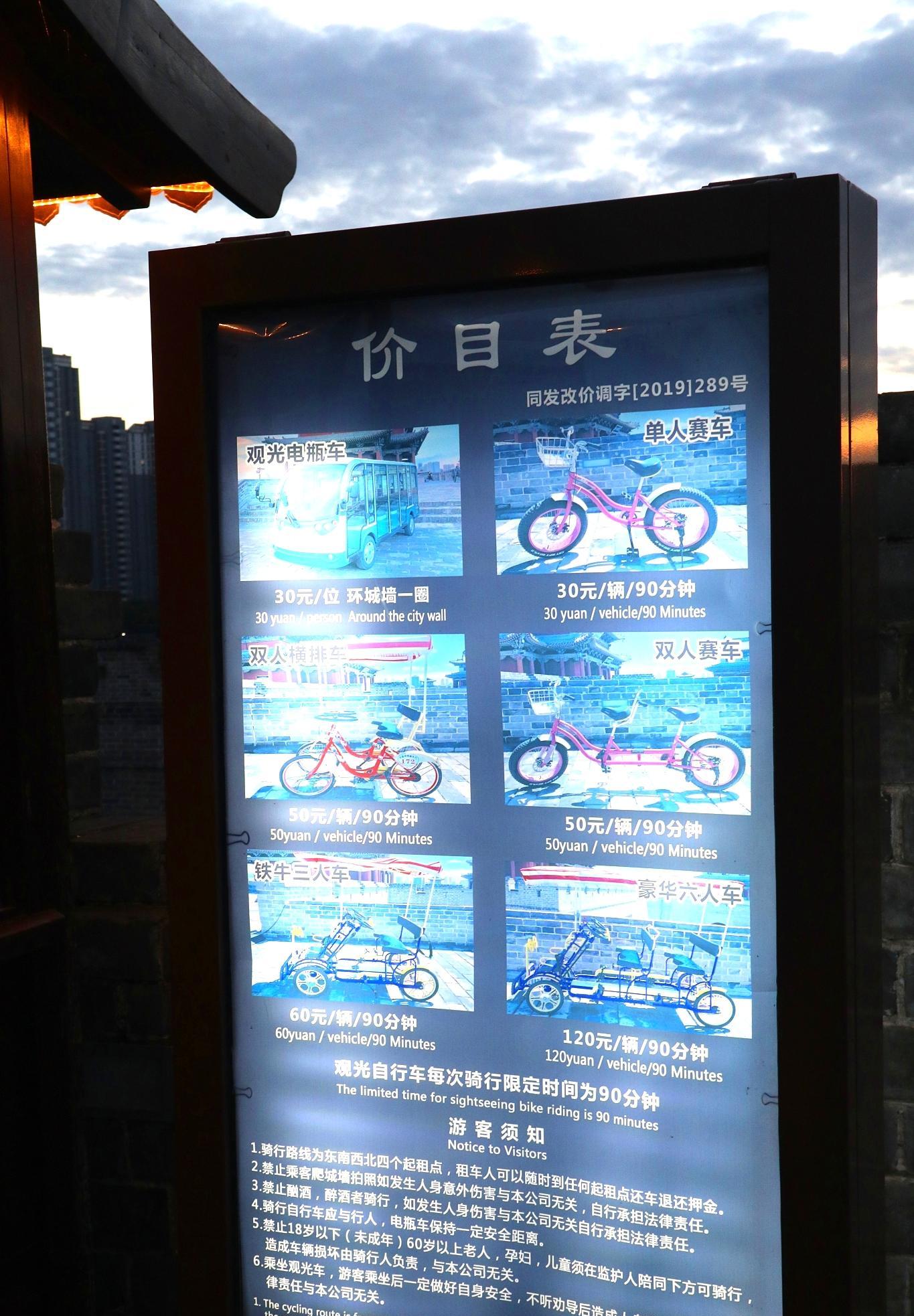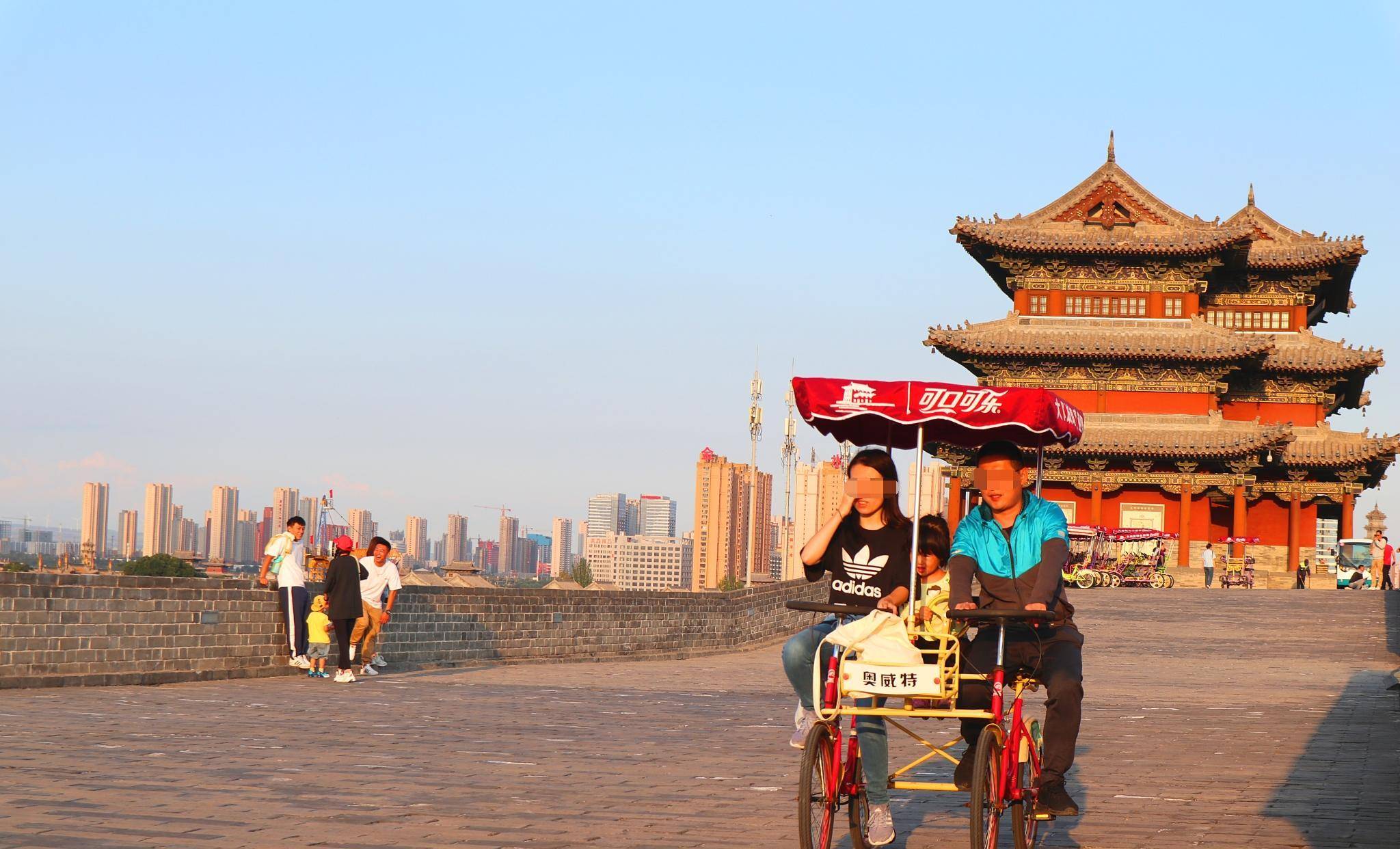 Datong City Things To Do:
● Yungang Grottoes
This UNESCO World Heritage Site features over 50,000 Buddhist statues and is considered to be one of the most important examples of ancient Chinese Buddhist art.
● Hanging Monastery
This unique temple is built into the side of a cliff and is supported by wooden beams and stilts. It features a blend of Buddhist, Taoist, and Confucian elements.
● Nine Dragon Screen
This colorful screen wall is made up of 426 glazed tiles and features nine dragon designs. It is considered to be one of the three most famous examples of its kind in China.
● Shanhua Temple
This ancient temple dates back over 1,000 years and features a large collection of Buddhist relics and artifacts.
● Datong City Walls
These well-preserved ancient walls surround the old city and offer a glimpse into the city's history and culture.
● Local Cuisine
Datong is also known for its rich cuisine, which features a blend of local and regional flavors. Some of the most popular dishes include Datong Braised Pork, Fried Datong Style Cake, and Hand-pulled Noodles.