Great Wild Goose Pogada
• Chinese Name: 大雁塔
• Address: Center,XiAn,ShaanXi, China
• Founded Time: 652 AD
• Tickets:50 RMB/per
• Recommend tour time2-3 hrs
• Phone: +86 29 8139 9001
• Offical Website: https://www.xian-tourism.com/
• Opening Time: 8:00AM–5:00PM
Great Wild Goose Pogada
Big Wild Goose Pagoda is one of the most famous tourist attractions in Xian. It is located in the compound of the Daci'en Temple in the southern suburbs of Xian. With its magnificent architecture and being a well-preserved Buddhist pagoda, the Big Wild Goose Pagoda is considered a landmark of Xian and is a must-see site for tourists visiting Xian.
Great Wild Goose Pogada was first constructed in 652 during the Tang Dynasty and was used to keep the Buddhist sutras and relics brought back from India by famous hierarch Xuanzang. Later after several restorations and reconstructions, the Big Wild Goose Pagoda is a beautiful architecture over 64 meters high with 7 stories.
Great Wild Goose PogadaBuildings of the Big Wild Goose Pagoda are in the style of the Tang Dynasty, built with grey bricks with glazed roofs and decorated with beautiful artistic engravings. There are stairs built inside the pagoda so that tourists can climb up and get beautiful panoramic views of Xian. The surrounding scenery of the Big Wild Goose Pagoda is also very charming. There are exquisite gardens and ancient forest of steles constructed around.
大雁塔喷泉广场开放时间:
全天开放(夏季(一直到9月30日之前):周一-周五:12:00、20:30(周二喷泉水舞设备例行检修,白天停开)。
周六、周日及法定节假日:12:00、14:00、16:00、18:00、21:00。
冬季(10月1日以后)白天时间不变,晚间为20:30。)
Great Wild Goose Pogada Tour Map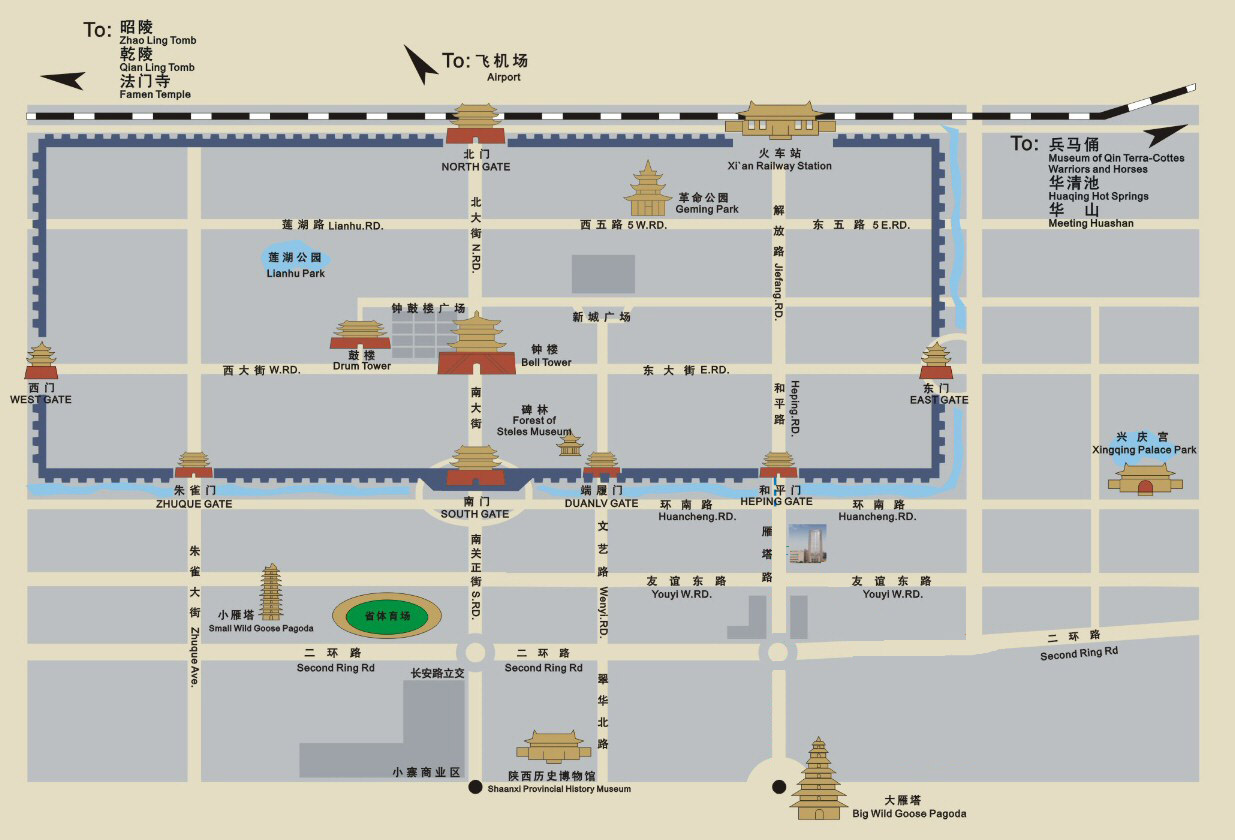 Great Wild Goose Pogada Travel Guide
Fountain Show Time.@Big Wild Goose Pagoda North Plaza Monday to Friday 12:00, 21:00 (no performances on Tuesday at noon)
Saturday and Sunday: 12:00, 14:00, 16:00, 18:00, 21:00.
Duration: 20 minutes, 30 minutes earlier in winter than in summer night
All year round. As summer is hot in Xian, visiting in morning and after sunset is better choice.
nearby is ShaanXi History Museum.walking distance is about 8 mins.
explore theArt masterpieces of Buddhist architecture,national cultural relics
Great Wild Goose Pogada
How to get to xian Big Wild Goose Pogada
By Metro
Metro Line:2 ,Take Subway Line 2 to Xiaozhai Station (Exit C) and walk eastward for 10 minutes.
Xian Subway Line Map
By Bus
BUS lINE:Public Bus Line:5、21、22、23、27、30、41、224、320、401、500、501、527、601、606、609、715
Sightseeing Bus: stop at Big Wild Goose Pagoda North Plaza Station (Da Yan Ta Bei Guang Chang Station )
More Info
By Taxi
Practical Chinese for taxi driver:
10-25 mins from xian downtown to Big Wild Goose Pogada
请载我们到大雁塔
China xian Terracotta Warrior Tours Package
2 Days Xian Tours

Terracotta Warrior + City Tour

2 Days Xian Tours

Terracotta Warrior + City Tour