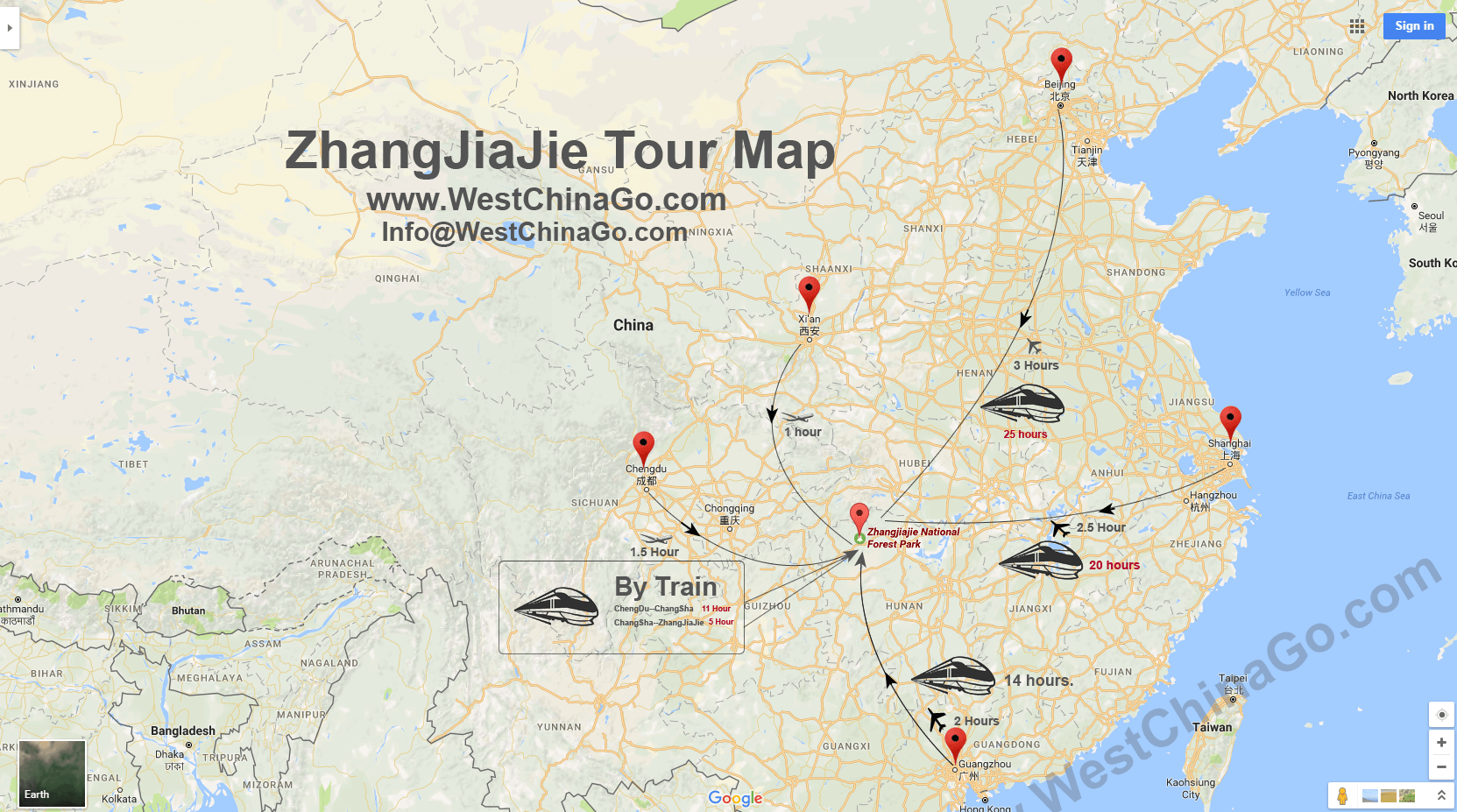 how to get to zhangjiajie national park
By Air
Zhangjiajie Lotus Airport is situated in the south suburb of ZJJ city, It is about 3-5 km to Zhangjiajie city center,and it is about 40 km from Zhangjiajie scenic area(Wulingyuan area). Nowadays, It is up to the state second-class airport standard, competent for taking-off and landing for medium airliners like Boeing 737,738 ,MD and so on. There is No.4 bus going from downtown to the airport. At present, Zhangjiajie Lotus Airport has opened several air routes to the large and medium cities in China, such as Changsha, Guangzhou, Shanghai, Nanjing, and Beijing. Visitors should check the local number for flights before purchasing tickets.
China City Flight To ZhangJiaJie
| Tour City From | To ZhangJiaJie |
| --- | --- |
| From BeiJing(Daily Flight) | 3hrs |
| From ShangHai(Daily Flight) | 2.5hrs |
| From Xi'An(Daily Flight) | 1hr |
| From GuangZhou(Daily Flight) | 2 hrs |
| From ChangSha(Daily Flight) | 1hr |
| From Changdu (Weekly Flight) | 1.5hr |
| From GuiLin (Daily Flight) | 2hr |
[iframe src="https://www.google.com/maps/embed?pb=!1m28!1m12!1m3!1d18910759.94467876!2d98.79835595447867!3d32.62505702713439!2m3!1f0!2f0!3f0!3m2!1i1024!2i768!4f13.1!4m13!3e0!4m5!1s0x369bae21c27a1087%3A0x64c734c88e4626d3!2sHehua+Airport%2C+Yongding+Qu%2C+Zhangjiajie+Shi%2C+Hunan+Sheng%2C+China!3m2!1d29.103856!2d110.451191!4m5!1s0x369bafca1a43aca1%3A0xa18079ec65a40b6f!2sZhangjiajie+National+Forest+Park%2C+Wulingyuan+Qu%2C+Zhangjiajie+Shi%2C+Hunan+Sheng%2C+China%2C+427400!3m2!1d29.3143553!2d110.43285139999999!5e0!3m2!1sen!2shk!4v1487411458366″ width="100%" height="500″ frameborder="0″ style="border:0″ allowfullscreen]
By Train
Zhangjiajie Railway Station was built in 1978. Though with only about 20 trains passing it every day, it has trains that connect Zhangjiajie with major cities, such as Beijing, Shanghai, Guangzhou, Shenzhen, Changsha, Nanning, Guiyang, Yichang, Zhanjiang and Zunyi. There are also departure trains to Guangzhou, Changsha, Nanning and Guiyang.
1) Beijing to Zhangjiajie: There are 3 trains every day, K267, K507/K510 and K967/K966, taking about 25 hours for each ride. No trains to Zhangjiajie are available in other cities in North China, so visitors in those areas need to go to Beijing to take train to Zhangjiajie.
2) Shanghai to Zhangjiajie: Every day there is one train (K533) which departs from Shanghai South Railway Station to Zhangjiajie. The train ride takes about 20 hours. It is convenient for passengers in East China to take this train for Zhangjiajie.
3) Guangzhou to Zhangjiajie: Every day there are 2 trains (K9064/K9065 and K9072/K9073) depart from Guangzhou to Zhangjiajie, and train ride takes about 14 hours.
By Bus
Zhangjiajie Central Bus Station is located in the west part of the new train station square in Guan Li Ping Street, Yongding District of ZJJ, the new-built Central Bus Station which is invested by Zhangjiajie Economic Development Investment Group, covers an area of 300-odd mu (approximately 20 hectares) with a main building of 8000-odd square meters. Enjoying a 2000-odd-capacity waiting room and a 300-odd-capacity parking lot, the new bus station is designed to reach a passenger flow volume of more than 15,000 in rush hours. It is a huge step forward in terms of bus station construction concerning its well-equipped facilities.
ZJJ Bus station to Zhangjiajie Park is about 35 km, take the bus 11RBM per person,50 mins ride,every 10 minutes 1 times shift.
ZJJ Bus station to Wulingyuan is about 38 km, take the bus 12RBM per person,10 minutes1 times. 1.5 hour ride, ZJJ Bus station to Yongshun Village ( Hibiscus Town ) is about 80 km, take the bus 40RBM per person;
ZJJ Bus station to Jishou is about 150 kilometers, take the bus 55RBM per person, about 150 minutes;
ZJJ Bus station to Phoenix is about 228 kilometers,take the bus 70RBM per person, about 4 hours; ZJJ Bus station to Changde is about 180 kilometers,take the bus 70RBM per person, about 2 hours;
ZJJ Bus station to Changsha west bus station is about 350 kilometers,take the bus 120RBM pax, about 4 hours;
From ChangSha To ZhangJiaJie
长沙到张家界铁路交通 by railway—5-6 hours for arrival.
火车的话大概5-6小时,车次、发车时间及票价详见下图:
By Public Bus—–4 hours.
长沙到张家界中心汽车站有4个车站: 基本上4个小时到达
(1)、长沙汽车东站(处于黄花机场、火车站、武广长沙南站三地之中)
最早一班车7:40, 最晚17:00,每小时一班,119元
(2)、长沙汽车西站最早一班车8:20,最晚17:00,每小时一班,119元
(3)、长株潭车站(长沙火车站对面),最早8:20,最晚19:00,每小时一班,120元
(4)、长沙高铁汽车站,11:40, 13:00, 14:10, 15:10, 16:20, 135元
长沙到张家界武陵源区只有西站有车,每天2班:8:20和14:30,票价103元