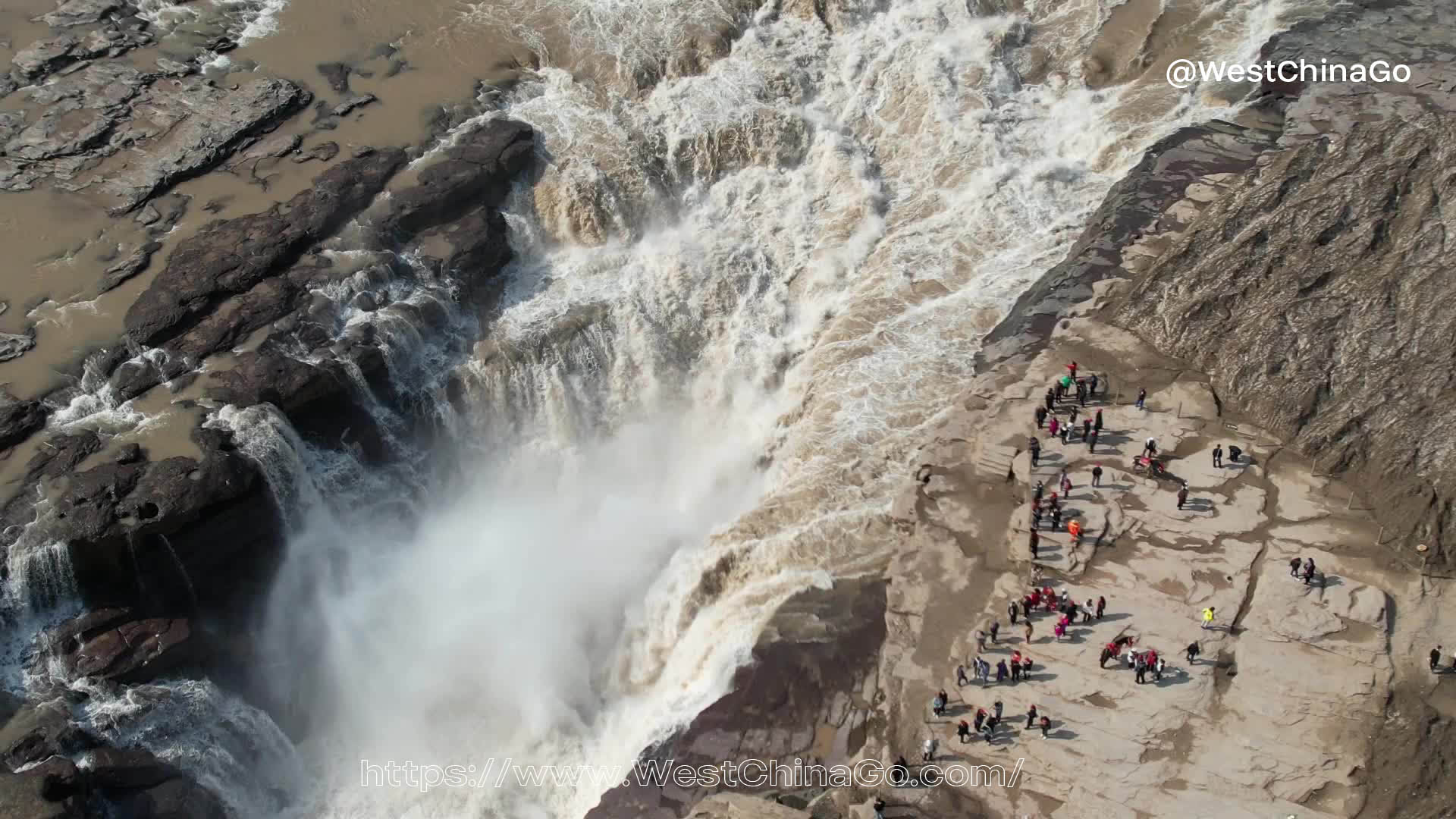 ShaanXi Hukou Waterfall of the Yellow River
Shaanxi Yellow River Hukou Waterfall
Chinese name:壶口瀑布 Hukou Waterfall
Foreign name: The Hukou Waterfalls of Yellow River
Climate conditions: Continental monsoon climate
Opening hours: 08:00-18:00 all year round
Attraction level: AAAAA
Ticket price: 90 yuan / person
Famous scenic spots: Xilongzhangyuan, Mangtou Mountain, Pangu Mountain, Balang Mountain, Jiangjuntai, Xianchuan River, Yunyan River
Waterfall Type: Structural Waterfall
Height: more than 50 meters
Width: more than 30 meters
The water system it belongs to: the Yellow River system
Suggested play time: 2-3 hours
Suitable season to visit: spring and autumn are the best
Official Website:https://hhhkpb.com/

Hukou Waterfall of the Yellow River
geographic location
The Hukou Waterfall of the Yellow River is located in the bed of the Yellow River in the Qin-Jin Grand Canyon. To the east of the waterfall is the Linfen area of Shanxi, to the west is Yichuan County, Yan'an, Shaanxi, and Hukou Waterfall is located in Shaanxi, about 35 kilometers east of Yichuan County, Yan'an City. Because the Yellow River water carries a lot of sediment, it has become a rare golden waterfall in the world.
Charactoristic and Spirit
When the Yellow River roared all the way to the Qinjin Gorge, the width of the river suddenly shrank from more than 400 meters to 50 meters, and poured into a stone trough with a drop of 30 meters. It was named Hukou Waterfall because of its shape like a teapot pouring water. Here, the water of the Yellow River is gathered by the gorge and converged into one stream. It rushes down, jumps into the deep pool, splashes huge waves, and stirs up clouds of water mist. The scene is extremely spectacular. Standing by the river and watching, you are all shocked. It is also known as the "national spirit", "the soul of the Yellow River" and the spiritual symbol of the Chinese nation's courageous advancement.
scenery vary from time
Hukou Waterfall has different scenery throughout the year. The best time to visit is divided into two parts. One is from April to May every year, when the peach blossoms near the waterfall are in full bloom, and the frozen ice on the shore begins to melt. Peach Blossom Flood in March". The second is from September to November every year. At this time, the rainy season just passes, and there are occasional autumn winds blowing, often accompanied by rainbows, which is called "Hukou Autumn Wind". In spring and autumn, the amount of water is relatively large, and the sound of water splashing is like thunder, which is more shocking than usual.
Wonder of the Ice Falls in Winter
In addition, it is possible to see the "Wonder of the Ice Falls" in winter. The river flows straight down from the icicles of different shapes on both sides, and a beautiful ice bridge is built under the waterfall. The water column formed by the overflow on both sides hangs upside down on the cliff like an ice peak.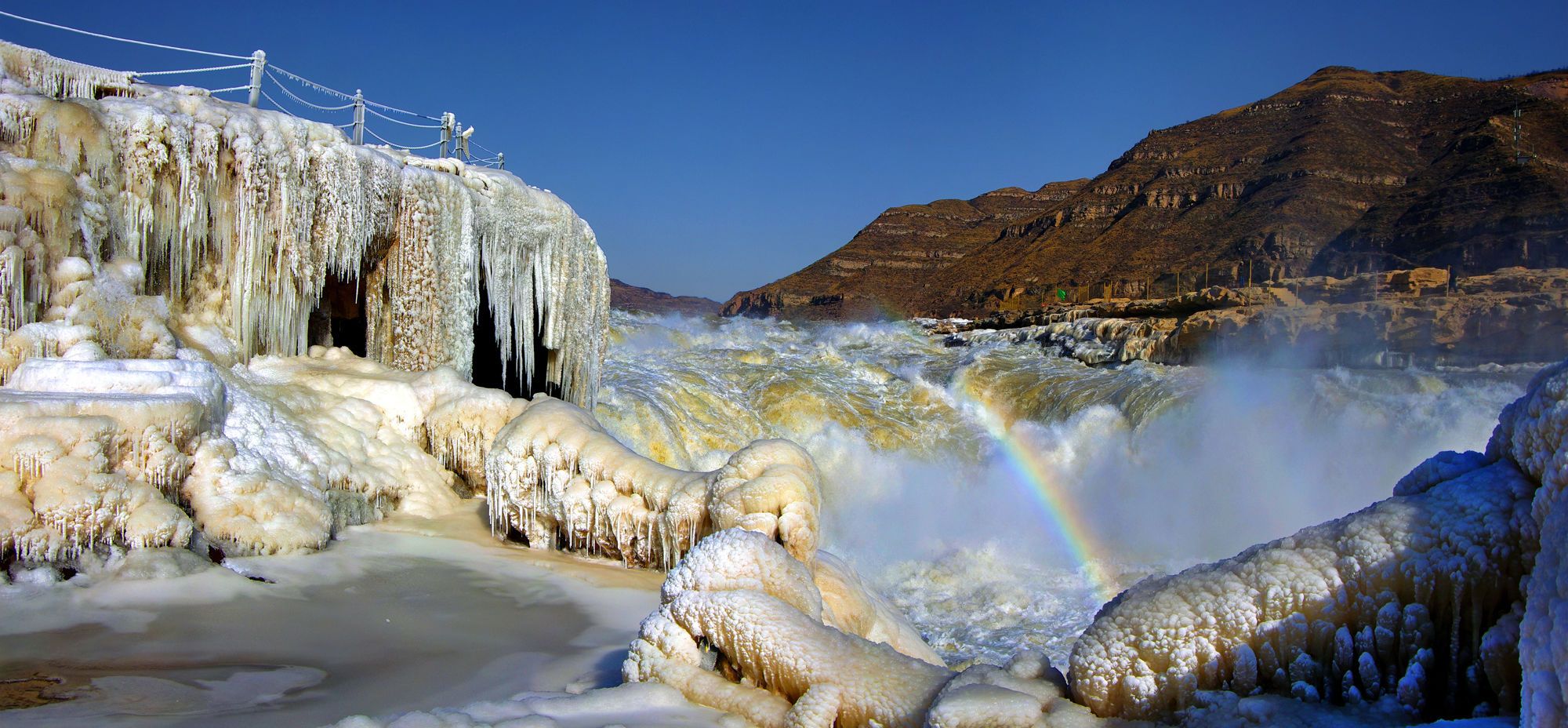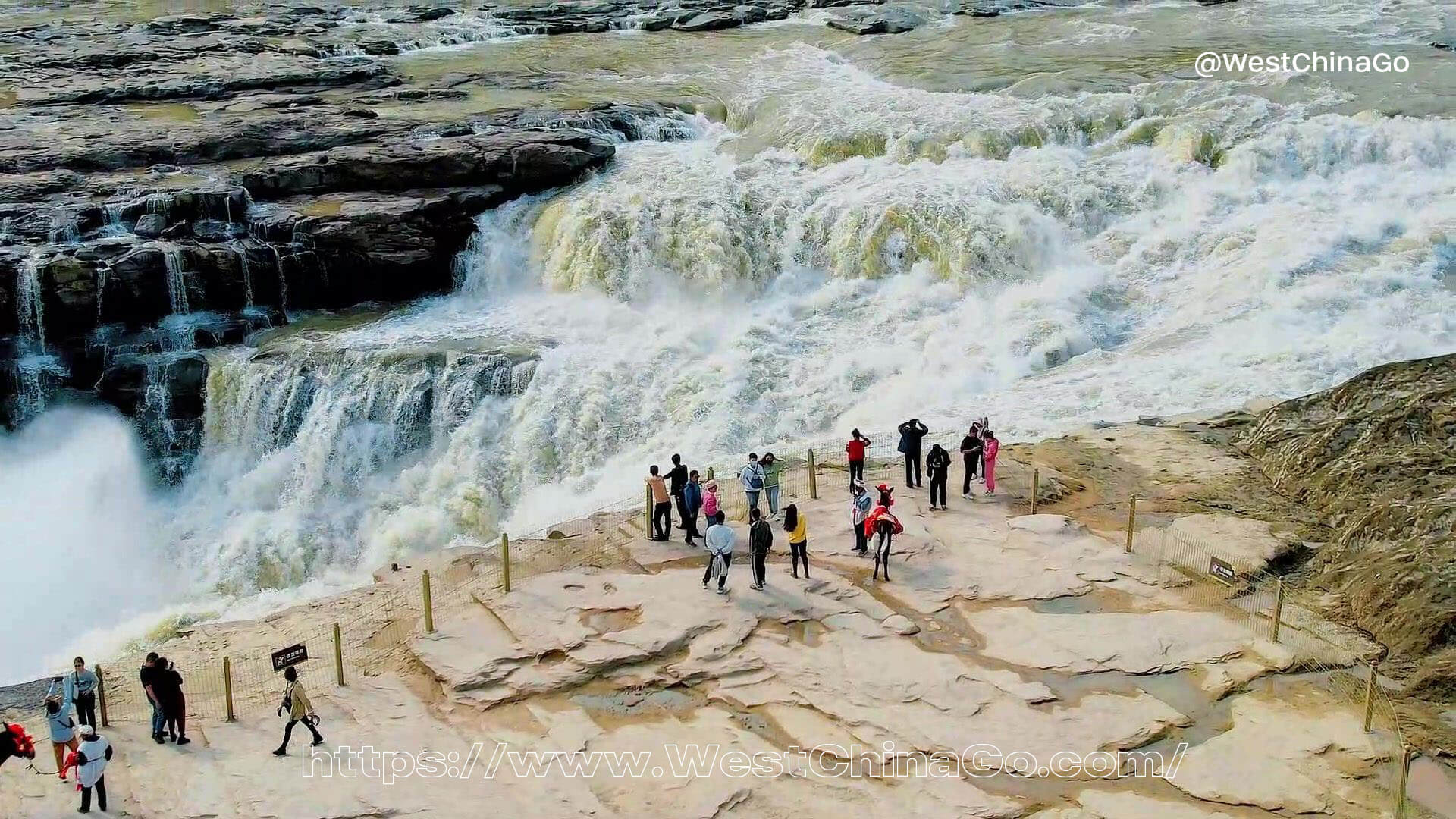 Yellow River Hukou Waterfall Tourist Map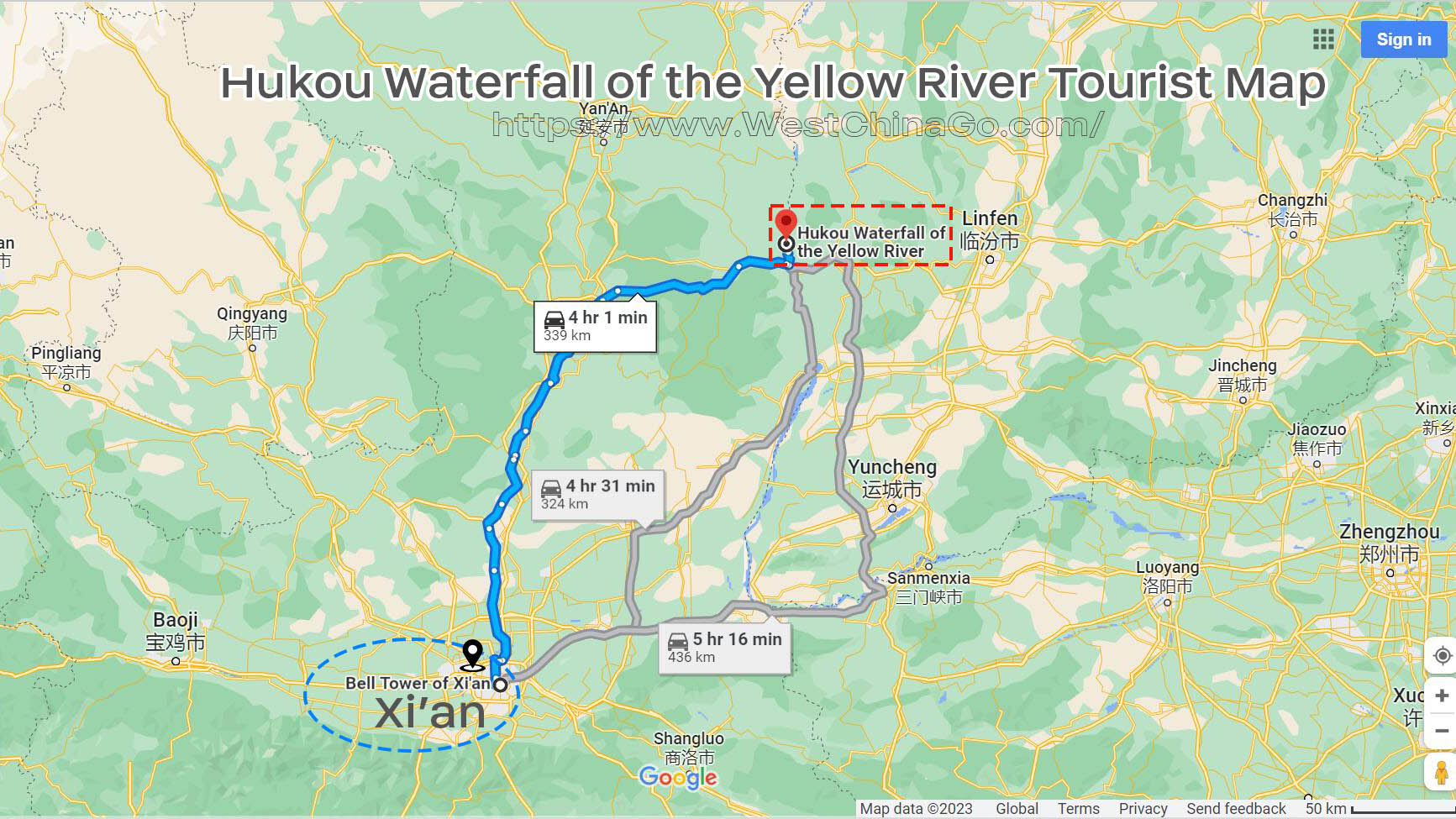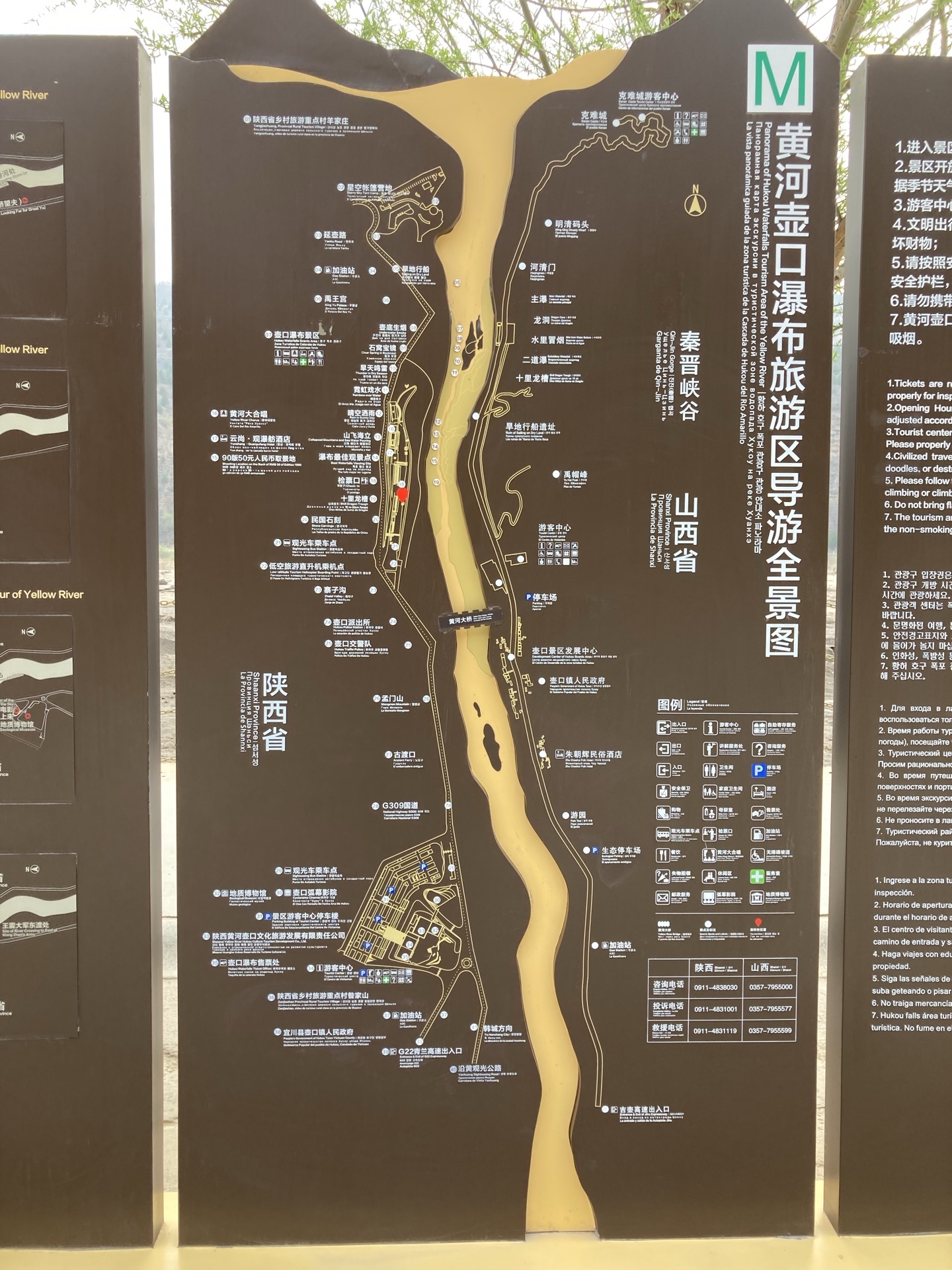 Yellow River Hukou Waterfall Video
Xi'an ⇄ Yellow River Hukou Waterfall Transfer:Car Rental with Driver