Huzhu Tu Ethnic Tourist Area
• Chinese Name:互助土族故土园旅游区
• Add:青海省海东市互助土族自治县互助威远镇
• Tikets:60 CNY p/p
• Opening Time:09:00-17:00
• Web:http://www.tzgty.com/
• Tel: +86 0972-8318818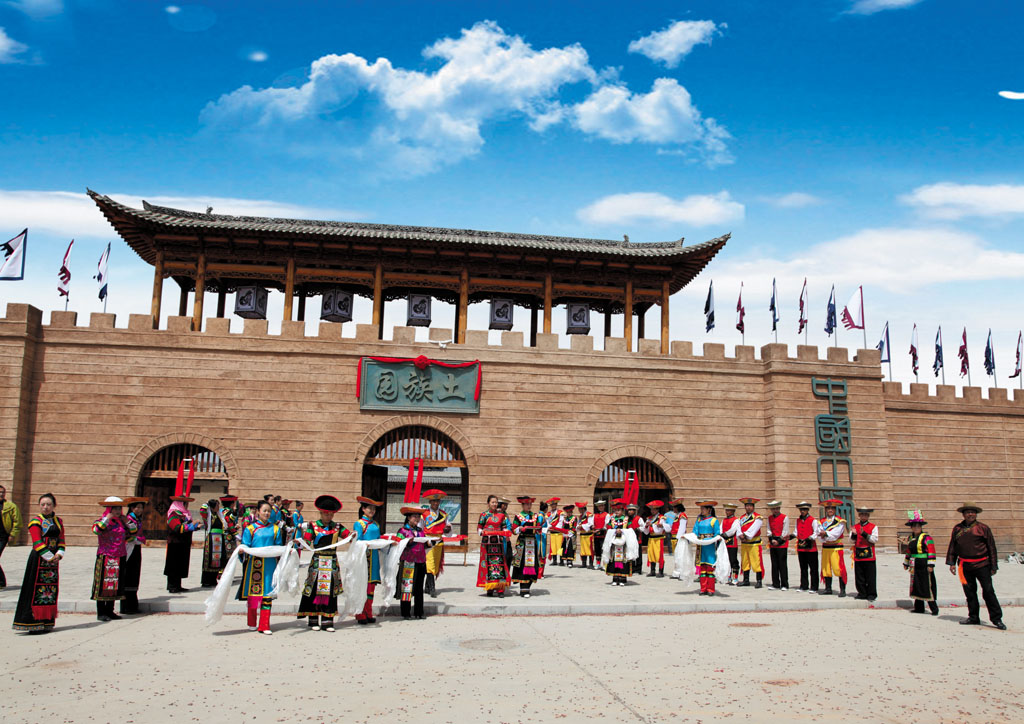 The Huzhu Tu Ethnic Tourist Area is located at the fringe zone of Qinghai-Tibet Plateau and Loess Plateau, in the northeast part of Qinghai Province. It is the only autonomous county dominated by people of Tu Ethnic group in China.
The Tu people are good at singing and dancing. During some folk festivals held on specific days throughout the year, the "Hua'er Concert" is mostly held as a major activity.
The picturesque Beishan National Forest Park is also located in this area. Covering a total area of 113,000 hectares, the park features amazing natural landscapes including the odd-shaped pines, grotesque rocks, immense forest, fountains and waterfalls. It is also the home to rare birds and animals.
[iframe src="https://www.google.com/maps/embed?pb=!1m28!1m12!1m3!1d204698.76675012542!2d101.7204942625776!3d36.71251558541468!2m3!1f0!2f0!3f0!3m2!1i1024!2i768!4f13.1!4m13!3e6!4m5!1s0x364d815ca4086649%3A0xee9f96f799511ba4!2sXining%2C+Qinghai%2C+China!3m2!1d36.617134!2d101.778223!4m5!1s0x364e08a062eeccf1%3A0xd4d14f7f55bd8a50!2sHuzhu%2C+Haidong%2C+Qinghai%2C+China!3m2!1d36.844249!2d101.959271!5e0!3m2!1sen!2sus!4v1500643670649″ width="100%" height="550″ frameborder="0″ style="border:0″ allowfullscreen="true"]
Huzhu Tu Ethnic Tourist Area
Qinghai Huzhu Tu Ethnic Tour Video
[iframe width="100%" height="555″ src="https://www.youtube.com/embed/N66jaXcQz-Y" frameborder="0″ allow="accelerometer; autoplay; encrypted-media; gyroscope; picture-in-picture" allowfullscreen="true"]
BeiShan Forest Park
• Chinese Name:互助北山国家森林公园
• Add:青海省海东市西宁市互助县北山林场
• Tikets:8 CNY p/p
• Opening Time:09:00-17:00
• Web:http://www.hzbsjq.com/
Huzhu Beishan National Forest Park, located in Beishan, Huzhu County, Qinghai Province, covers an area of more than 400 square kilometers and is a famous original forest area in Qinghai Province. Here, the water is flowing, the pine and cypress, the original ecological preservation is complete, the vegetation is dense, and the animal resources are abundant.
Although it is a national forest park, it has not been overexploited, and the traffic is inconvenient, so there are not many tourists coming here. It is the best time to travel between July and August every year.
BeiShan Forest Park Photo