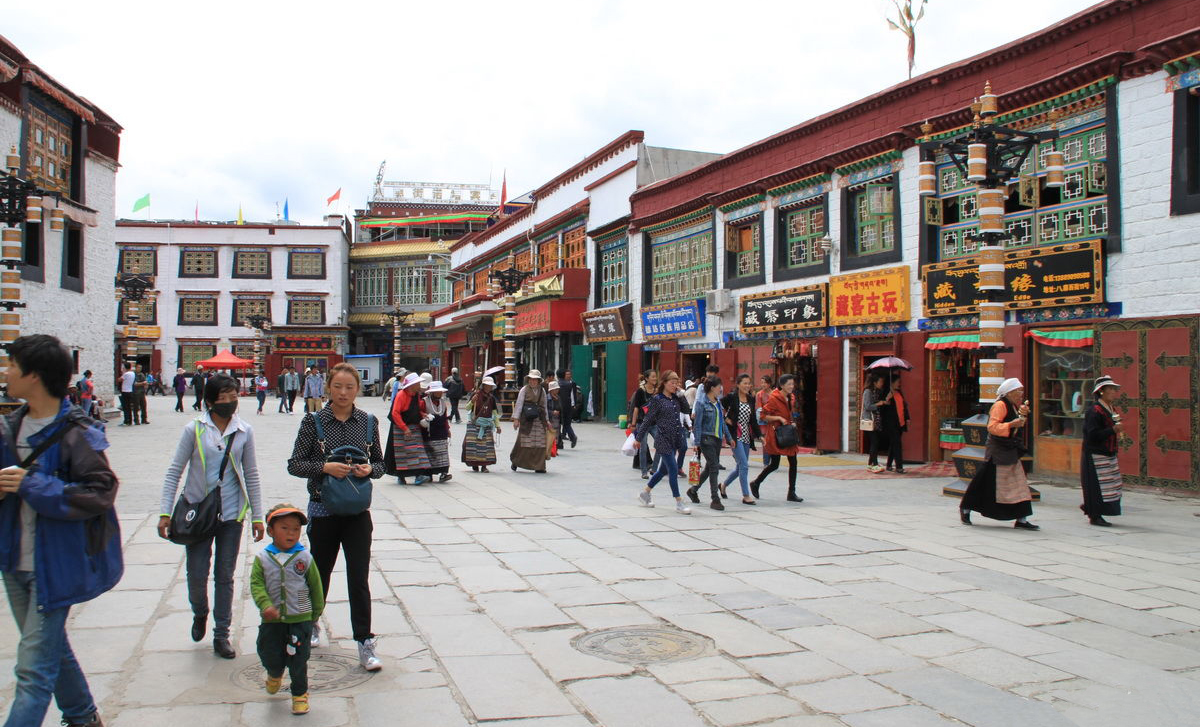 Lhasa Barkhor Street
Lhasa Barkhor Street
• Chinese Name: 八廓街
• Address: center of lhasa, Tibet, China
• Opening Time:the whole day
• Recommend tour time4-5 hour
• Best time to travel Barkhor Street: from March to October is the suitable month to visit, at that time visitors can avoid rainy season and severe winter.
• Total Area:360 thousand sqm
Lhasa Barkhor Street
In Barkhor Street, you can see the changes of the ancient city of Lhasa in the millennium;You can feel the most devout faith among believers; The life of the Lhasa people is here to show off.
Barkhor Street was built and developed with the development of the Jokhang Temple. It has a history of more than 1,300 years. A polygonal street circle consisting of the Jokhang Temple, Bajiao East Street, Bajiao West Street, Bajiao South Street and Bajiao North Street. The roadside is full of Tibetan old streets. The old houses on the 2nd and 3rd floors retain the original features of the ancient city of Lhasa. They are also the famous turn-by-turn and commercial center of Lhasa.
Every day, countless Tibetan pilgrims flooded into Barkhor Street. The devout believers shook the prayer wheel and walked around the Jokhang Temple.
For The first time, it was really shocked.
Lhasa Barkhor Street
Located in the old area of Lhasa City, Tibet, Barkhor Street is a very ancient round street surrounding the Jokhang Temple and the locals are always proud of it. As a symbol of Lhasa, it is also a must-see place for visitors.
It's said that in 647, the first Tibetan King Songtsen Gampo (617 – 650) built the Jokhang Temple. Due to its magnificence, it quickly attracted thousands of Buddhist pilgrims. As a result, a trodden path appeared. That is the origin of Barkhor Street. Today even still many pilgrims hold the prayer wheels to walk clockwise there from dawn to dark. Also you can see some pilgrims walking or progressing body-lengths by body-lengths along the street. Even some of them are teenagers or have experienced thousands of miles' walk to reach this sacred place. The way they express their piety could make you understand the holiness of religion.
For visitors, Barkhor Street is a magical place showing the original outlook of Lhasa. It was paved by hand-polished stone boards. Though it is not broad, it accommodates thousands of tourists every day. Varied shops stand on its both sides and thousands of floating stands are on every corner. Most of them offer the prayer wheels, long-sleeve 'chuba' (the Tibetan people's traditional clothes), Tibetan knives and some religious articles for sale. Furthermore, some shops sell 'Thangka' (the Tibetan scroll painting), which is a unique art of Tibet with the themes of religion, history, literature, science and customs. Surprisingly, there are some articles from India and Nepal in this street as well..
Lhasa Barkhor Street
To sum up, Barkhor Street is a place full of religious atmosphere and a world of exotic articles. If you have been attracted by it, you should go there. Believe your eyes, and you will get a lot of surprise there.
Shopping in Barkhor Street
Tibetan carpets, Tibetan knives, small carpets, apron, ethnic clothing, shoes and hats, gold and silver jewelry and various traditional arts and crafts, are the traditional handicrafts with strong local style and ethnic characteristics. Barkhor Street of Lhasa is the most famous commodity street in Lhasa, is the ancient and sacred place in Lhasa. In Barkhor Street visitors can stroll for a long time, you can buy souvenirs, remember to bargain. In addition, in the Barkhor Street you can also taste the authentic Tibetan diet. Tibetan medicine is famous in the world, don't miss to buy or appreciate the ganoderma lucidum, saffron, winter Chinese caterpillar fungus, Tibetan antelope horn, snow lotus, etc., and there are various compound Tibetan medicines.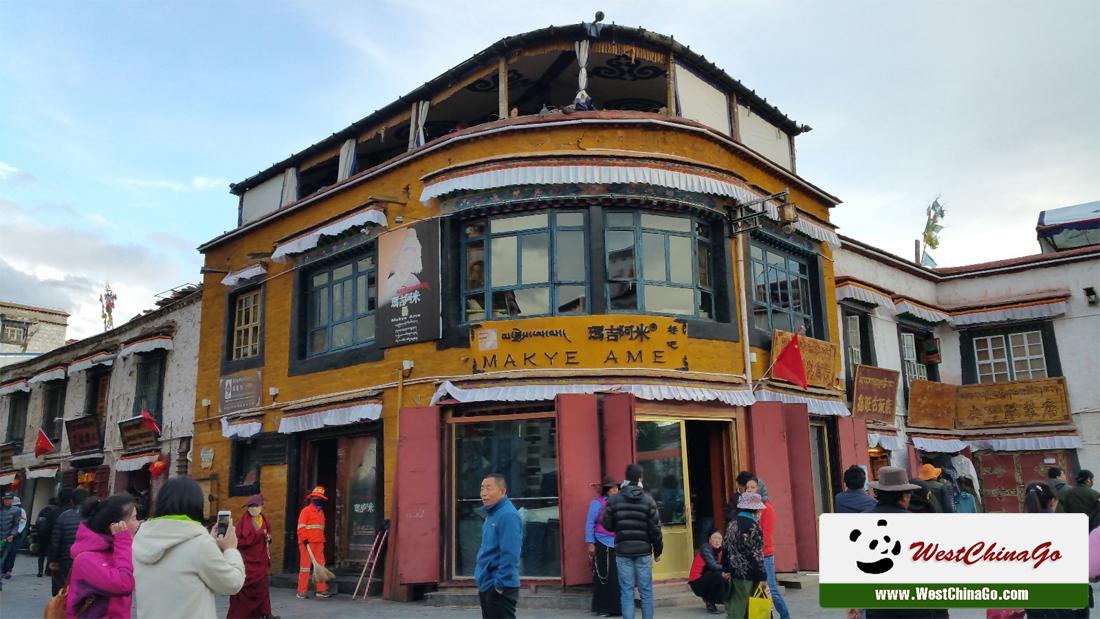 Lhasa Barkhor Street Tourist Map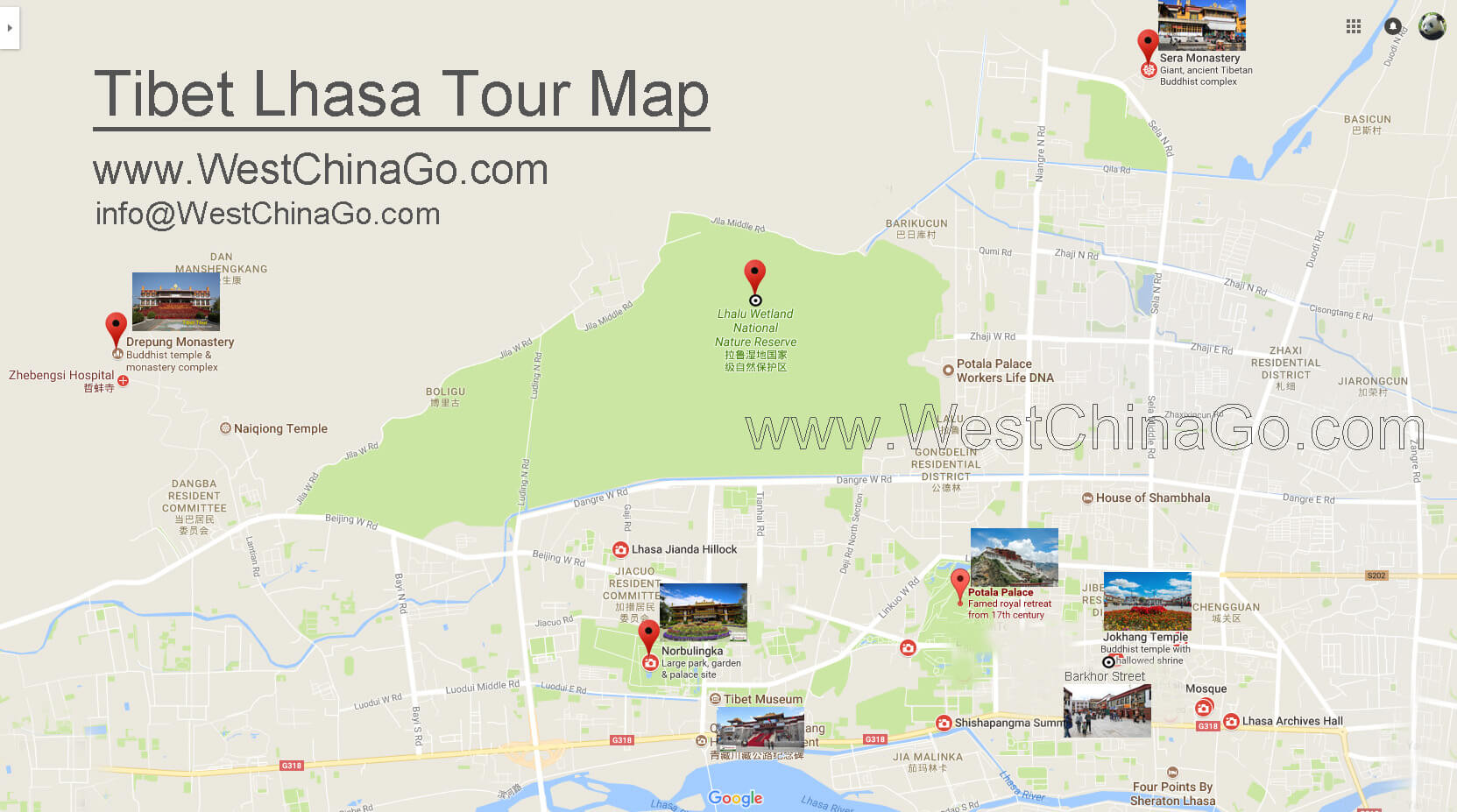 Lhasa Barkhor Street Video
if you buy the Tibetan knives, you can not take it into the plane, not even checked, but you can mail it through the post office.
In the northern neighbor of the street, the post office in the middle of Beijing Road is the general post office in Lhasa,
mail in there is much faster than in small post office.