ZhangJiaJie TianMen Mountain Tours
Mount Tianmen
Chinese Name:天门山
Address: YongDing,ZhangJiajie,HuNan, China
Visiting Time: 3-4 Hours
Phone:+86 (0744)8366099
Tickets:258 RMB/per (inclusive of cable car rides)More Detail
Open Time 1: High Season 08:00-18:00;Stop selling ticket at 16:30(1st March-30th Nov)
Open Time 2: Low Season 08:30-18:00; Stop selling ticket at 16:00 (1st Dec-28th Feb next year)
Website : https://www.tianmenshan.com.cn/index.php?m=En&a=index
Height: 1518 m(4,982 ft)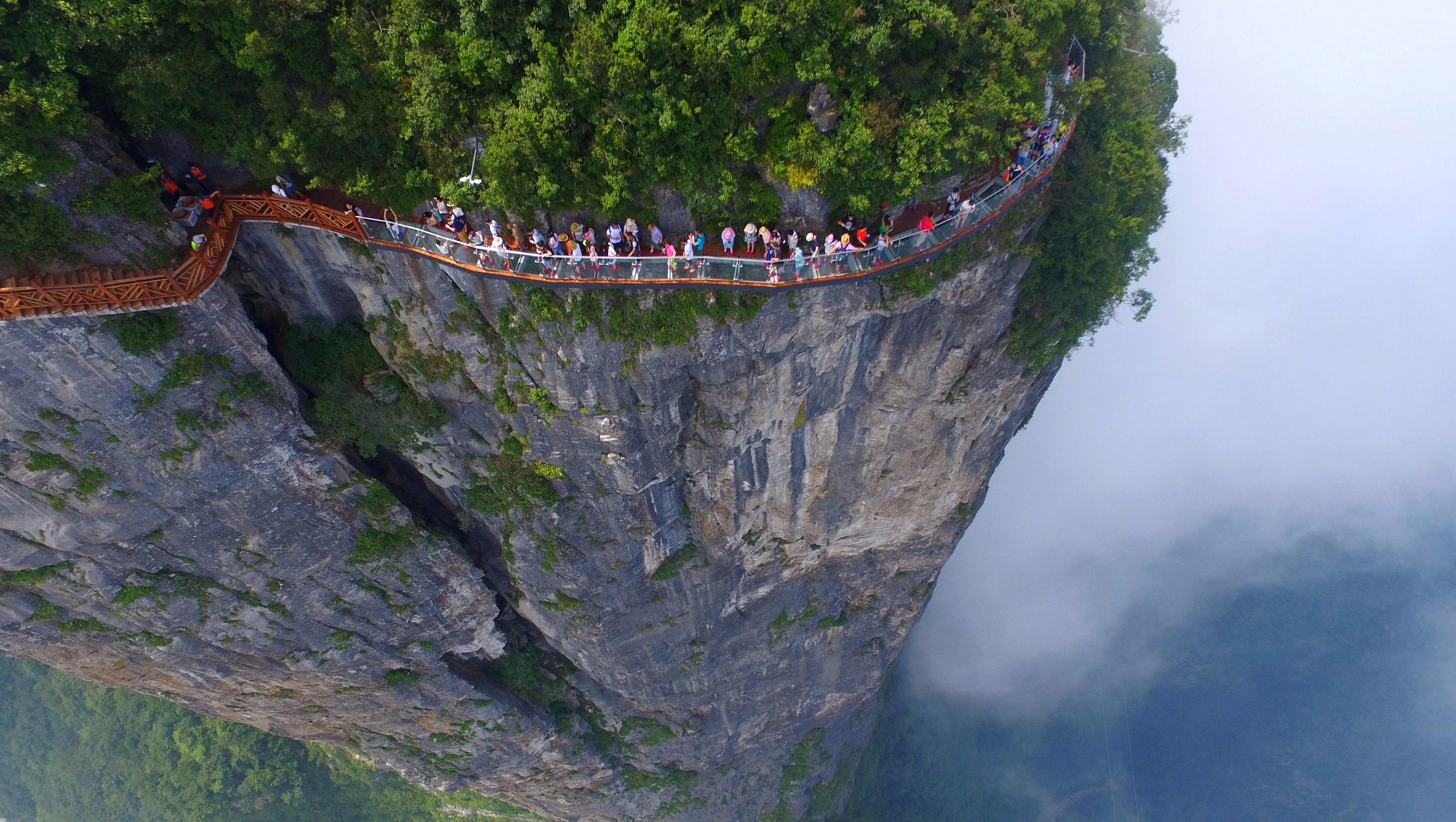 Mount Tianmen
Tianmen Mountain , has an elevation of 1518.6 meters, only 8 kilometers far from the downtown and is one of the most representative natural sceneries of Zhangjiajie.
Tianmen Mountain not only attracts the attention by its miraculous and unique geographic landform and unparalleled natural landscape, but also well known for its profound cultural connotations and famous colorful humanistic sites.
Tianmen Mountain is a mountain located within Tianmen Mountain National Park, Zhangjiajie, in the northwestern part of Hunan Province, China.
A cablecar was constructed by the French company Poma from nearby Zhangjiajie railway station to the top of the mountain. Tianmen Mountain Cableway is claimed in tourist publications as the "longest passenger cableway of high mountains in the world", with 98 cars and a total length of 7,455 metres (24,459 ft) and ascent of 1,279 metres (4,196 ft) The highest gradient is an unusual 37 degrees. Tourists can walk on kilometres of paths built onto the cliff face at the top of the mountain, including sections with glass floors. An 11 kilometres (6.8 mi) road with 99 bends also reaches the top of the mountain and takes visitors to Tianmen cave, a natural hole in the mountain of a height of 131.5 metres (431 ft).
A large temple is also located on the summit with chairlift or footpath access. The original temple here was built in the Tang Dynasty. Today a more recent construction with Tang dynasty architecture occupies the site and includes a vegetarian restaurant in the 10000 sq mi of setting.
On September 25, 2011 Jeb Corliss glided through the 100 feet (30 m) wide archway in the mountain using a wingsuit. The flight began from a helicopter at 6,000 feet (1,800 m), and ended with a safe landing on a nearby bridge. The World Wingsuit League held the first and second World Wingsuit Championships in Tianmen. On October 8, 2013, during a training jump for the second world championships, Viktor Kováts plunged to his death when he was unable to open his parachute.
In August 2016, a glass skywalk overlooking Tongtian Avenue, called the "Coiling Dragon Cliff," opened to the public.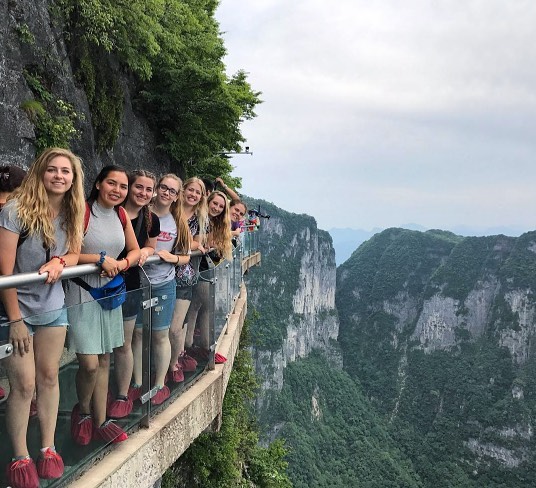 Mount Tianmen Video
Mount Tianmen Photo
Mount Tianmen Tourist Map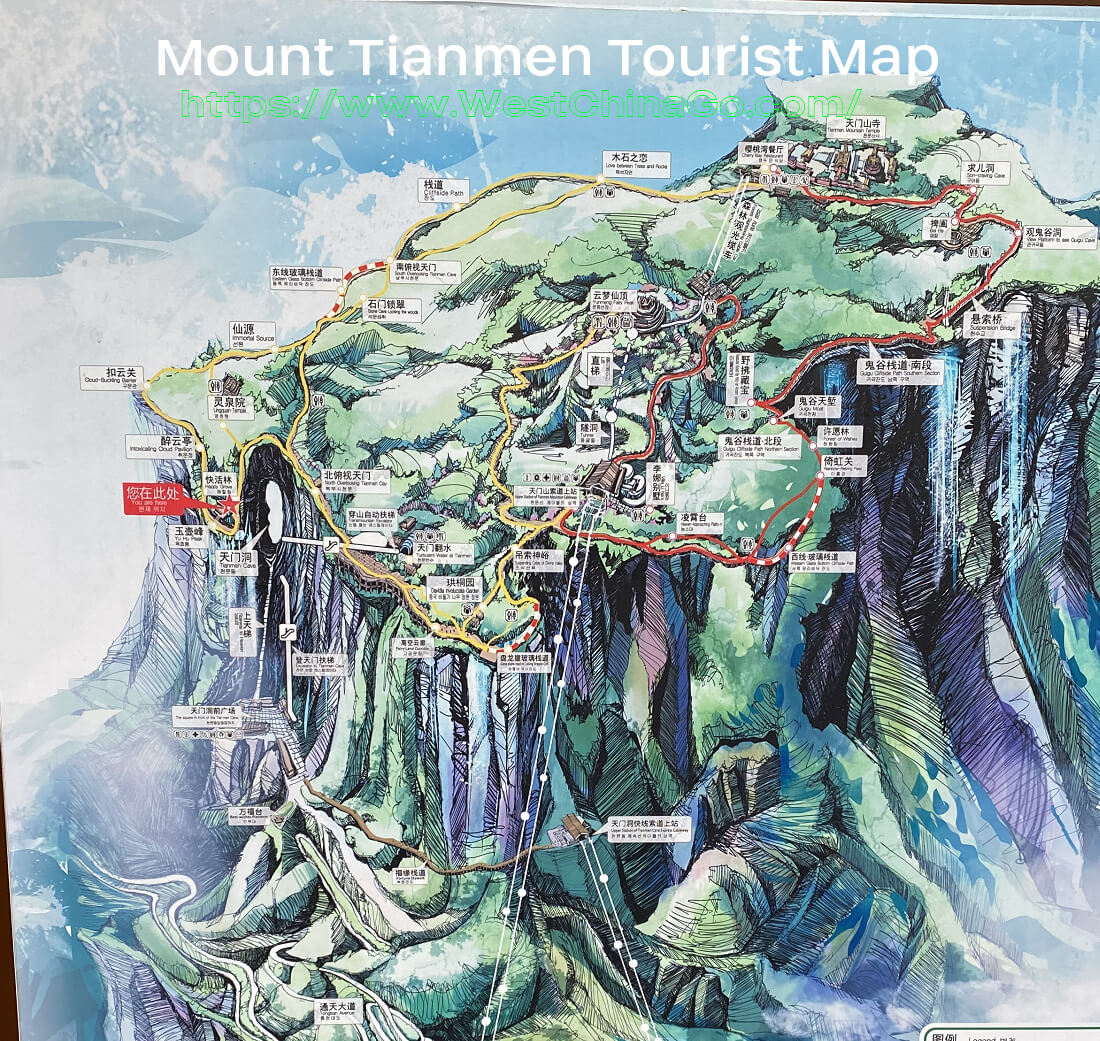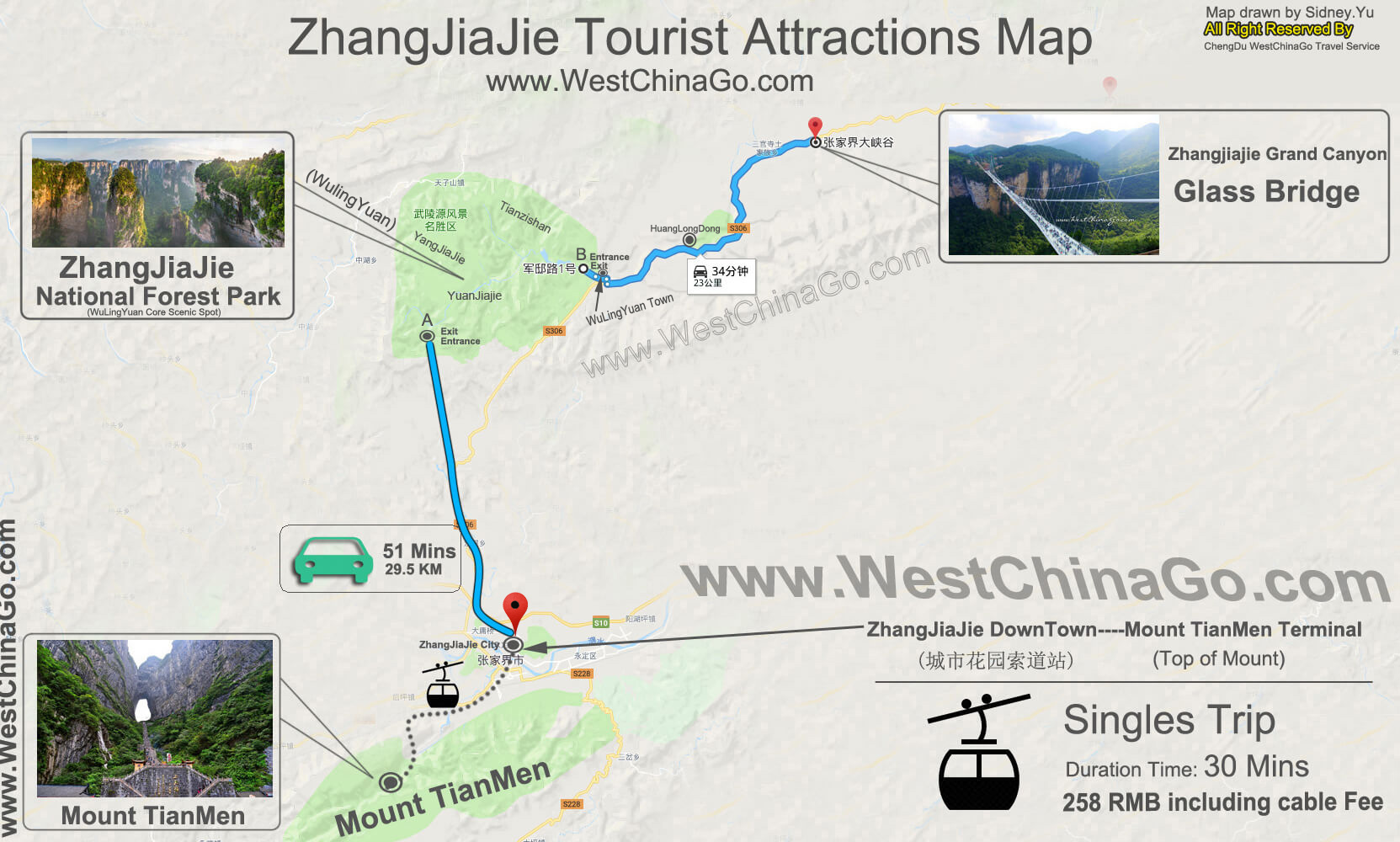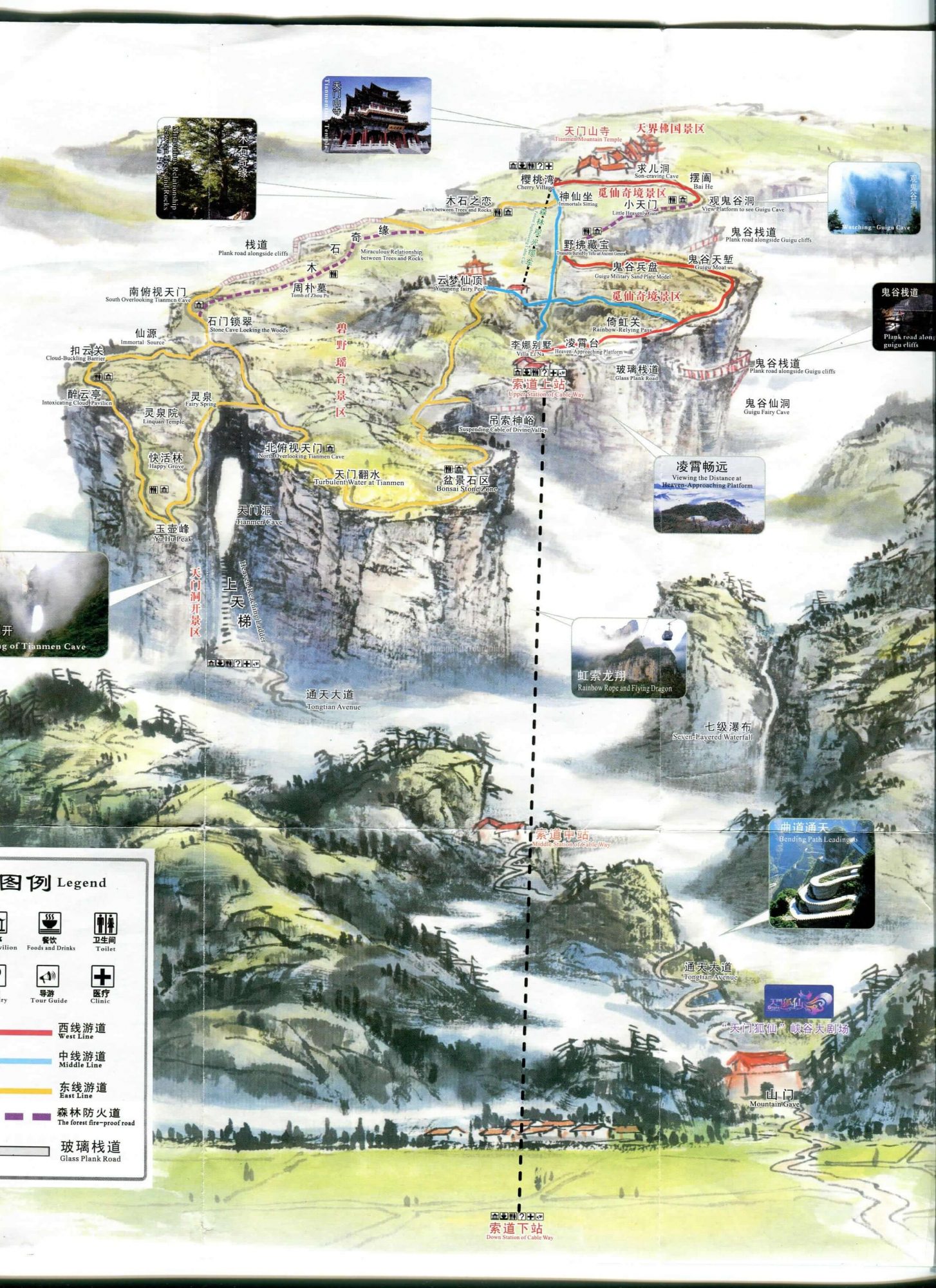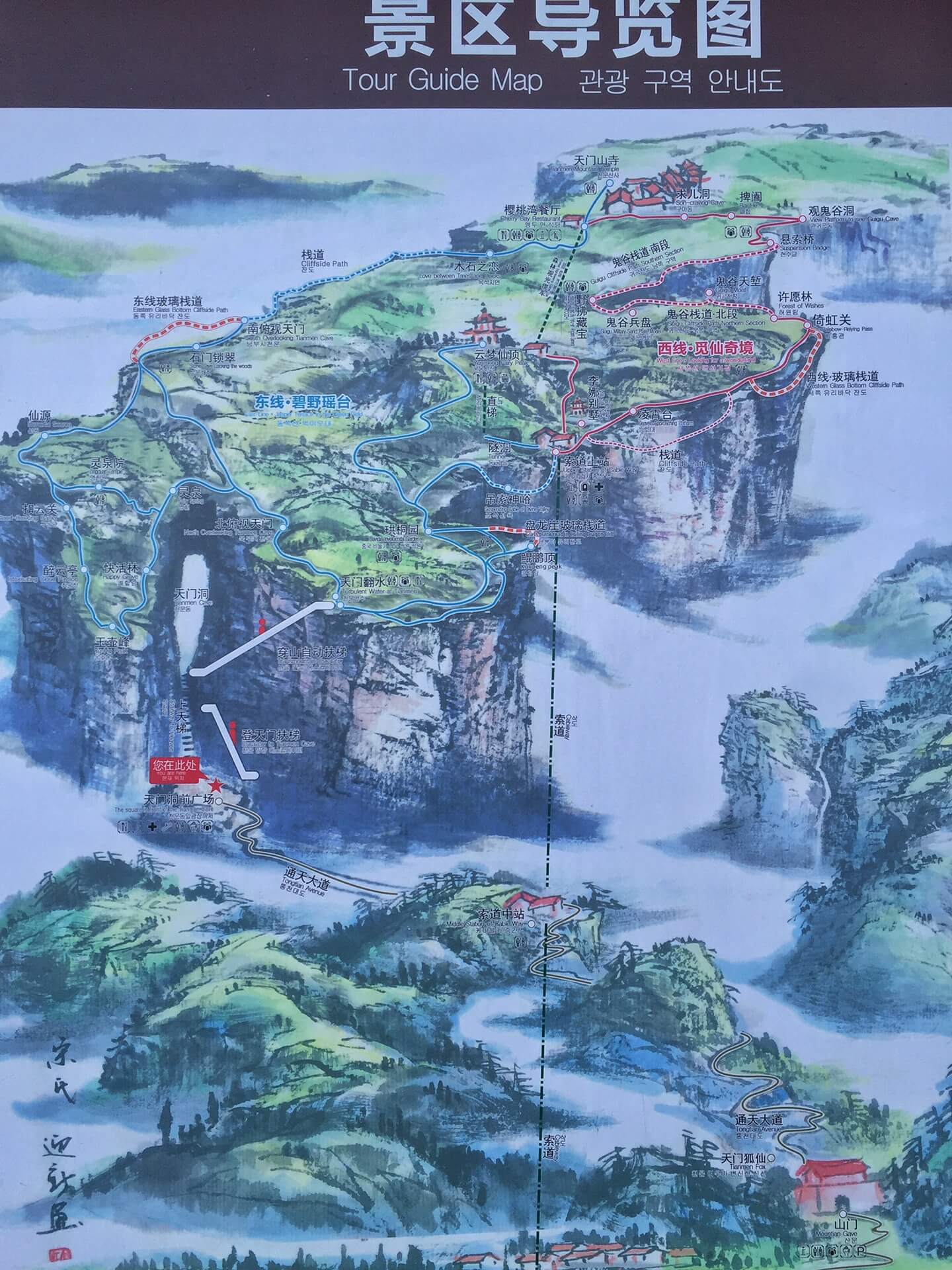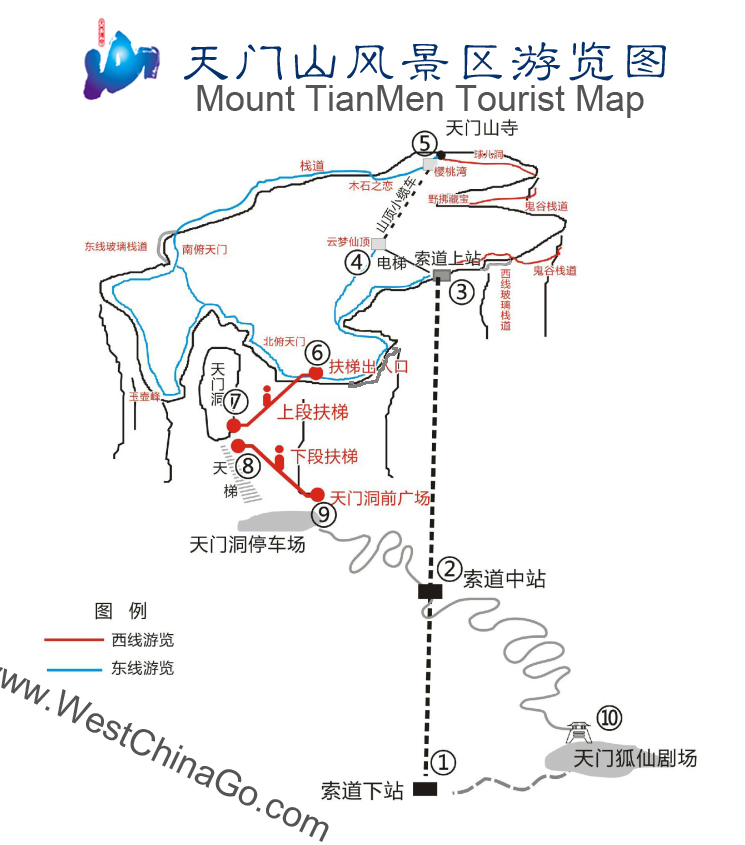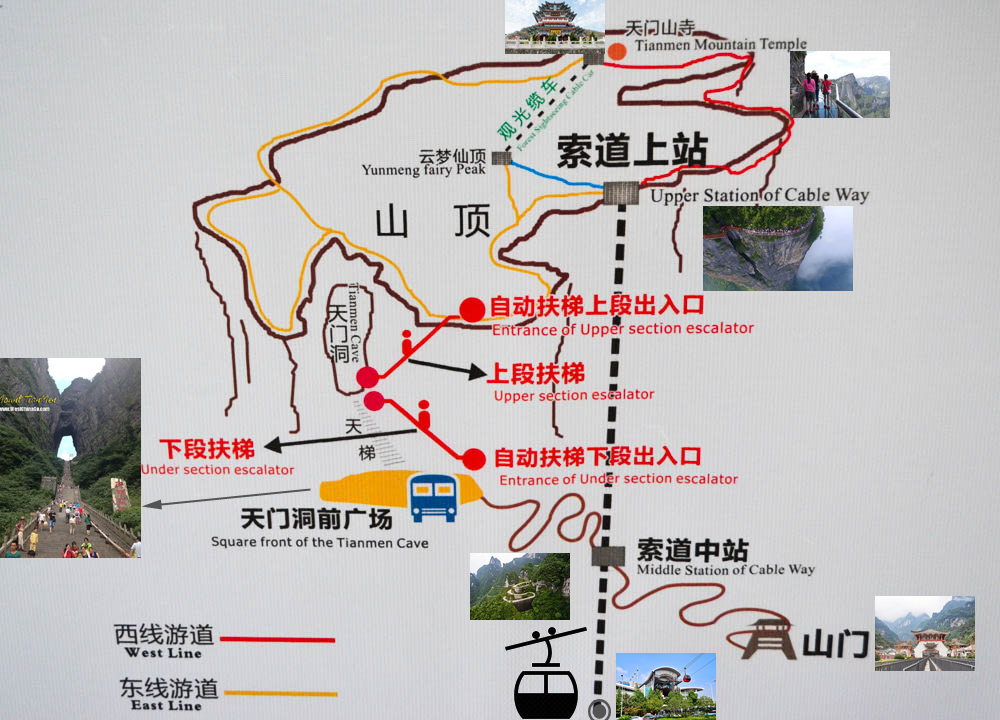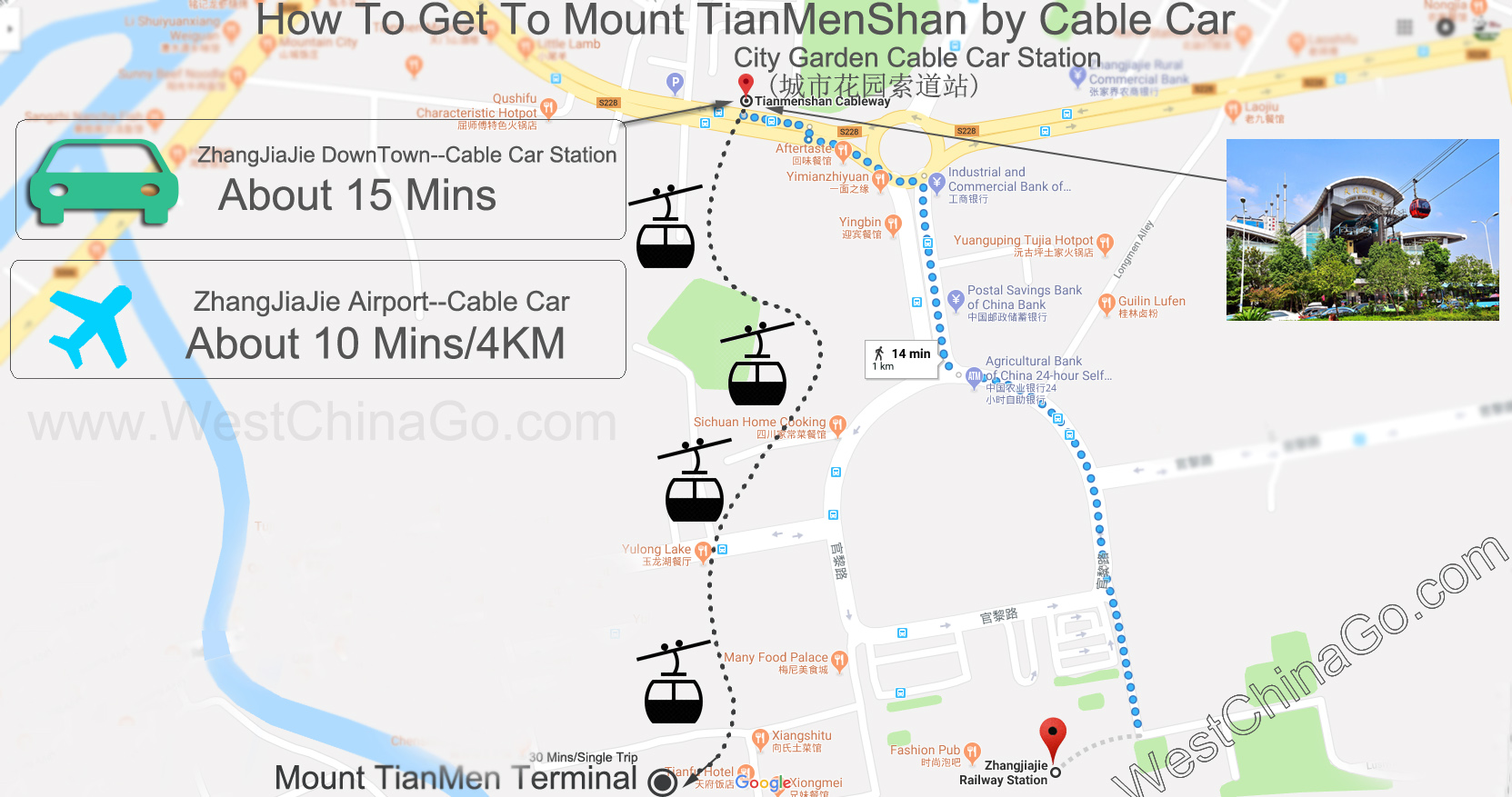 Mount Tianmen Travel Guide
3 Ways to Vist Tianmen Mountain
There are only following 3 ways for commuter,attention:no cable up and cable car down.
Option A: Uphill:Cable Car from downtown + Downhill:Sightseeing bus to downtown
Option B Uphill:Sightseeing bus+Downhill:Cable Car to downtown
Option C Uphill:Sightseeing Bus+Downhill:Sightseeing Bus to downtown
After the arrival of top of mountain, you have 2 itineraries to choose,.
one is east line (yellow itinerary), and the other is west line(red itinerary).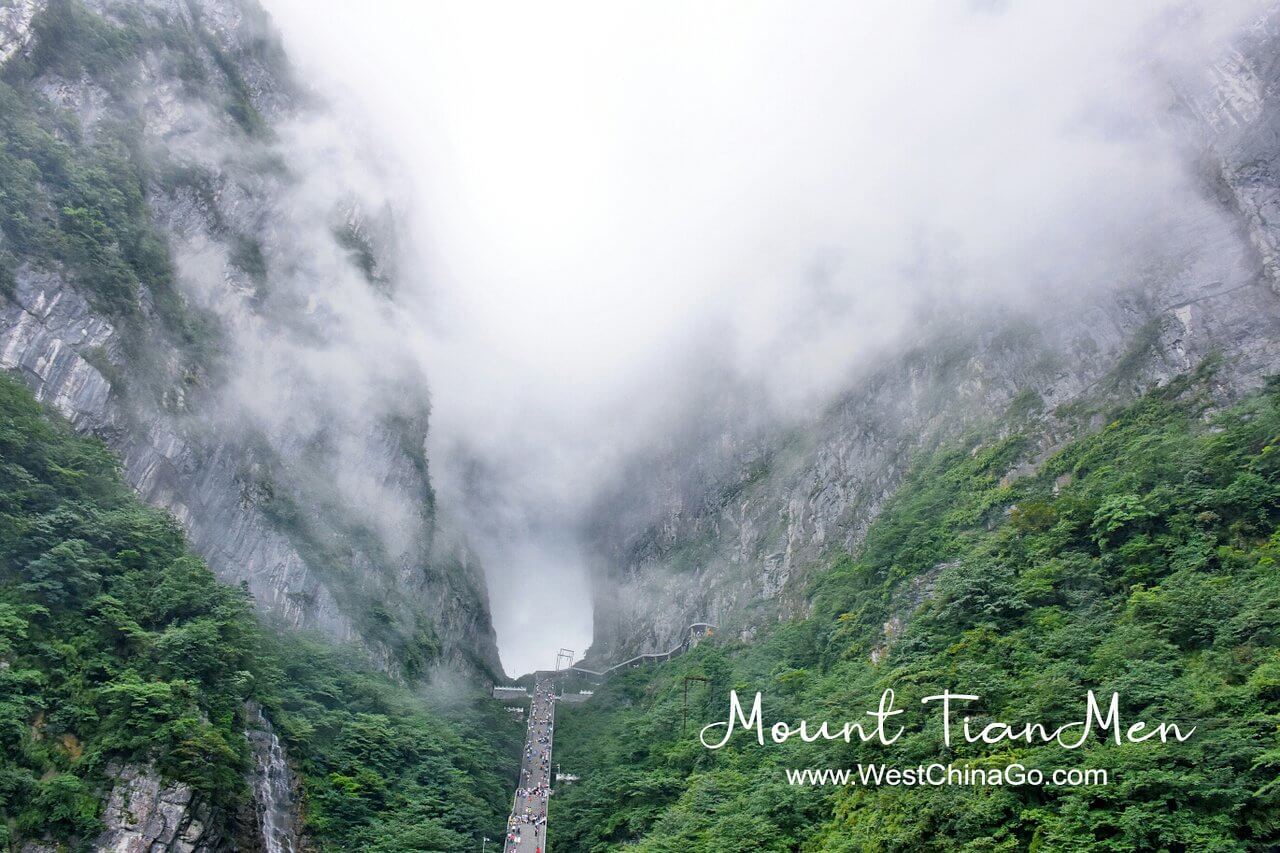 Mount Tianmen Tour