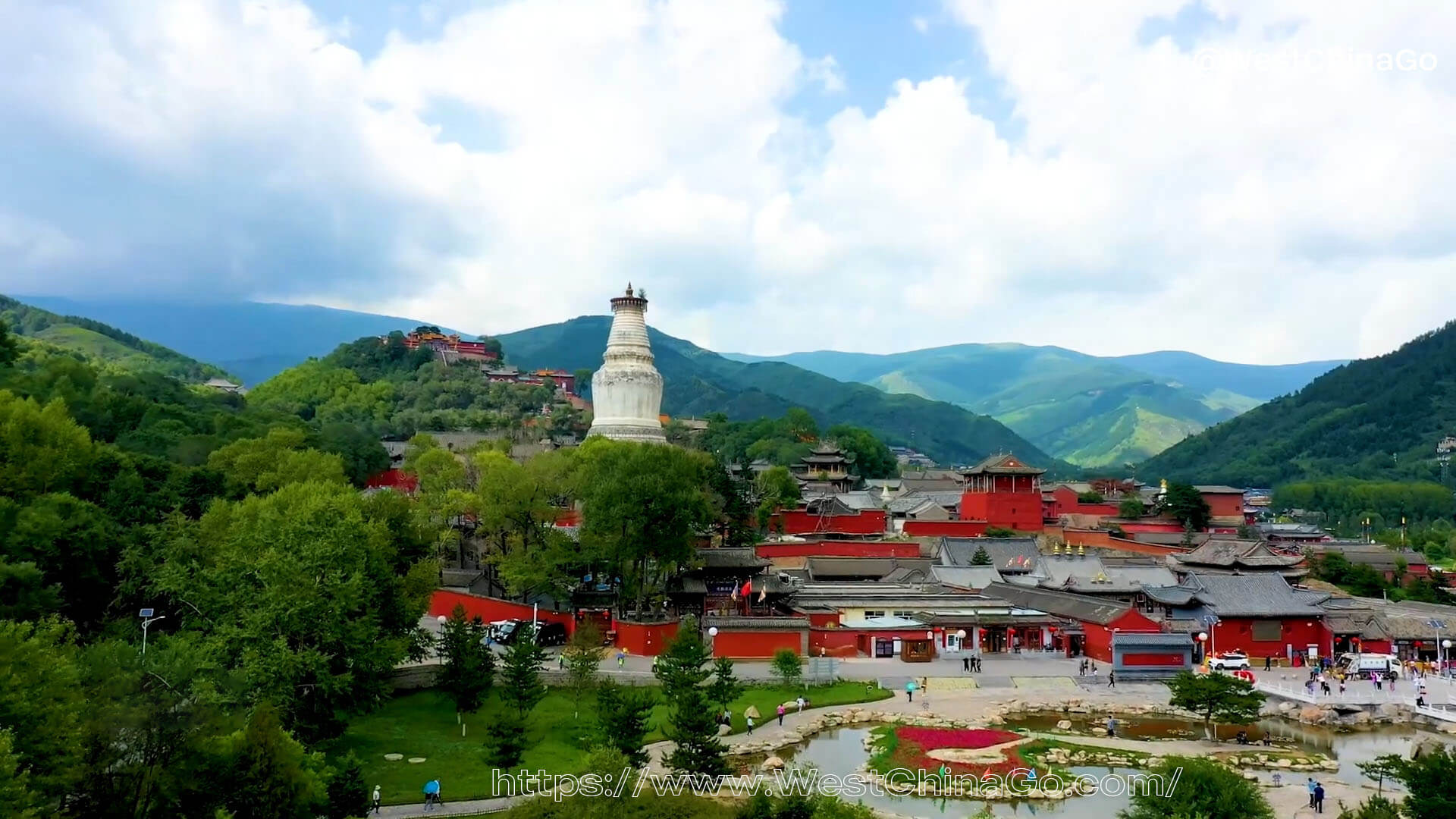 Wutaishan Mountain
Chinese name: 五台山风景名胜区
Location: Taihuai Town, Wutai County, Xinzhou City 山西省忻州市五台县台怀镇
Opening hours: open all year round
Attraction level: AAAAA level
Ticket price Peak season: 168.00 yuan (excluding sightseeing cars) Off-season: 140.00 yuan (excluding sightseeing cars)
The highest point: Beitai Yedou Peak 3058 meters above sea level
Average altitude: above 1000 meters
Land area: 2837 km²
Tel: (+86) 0350-6545588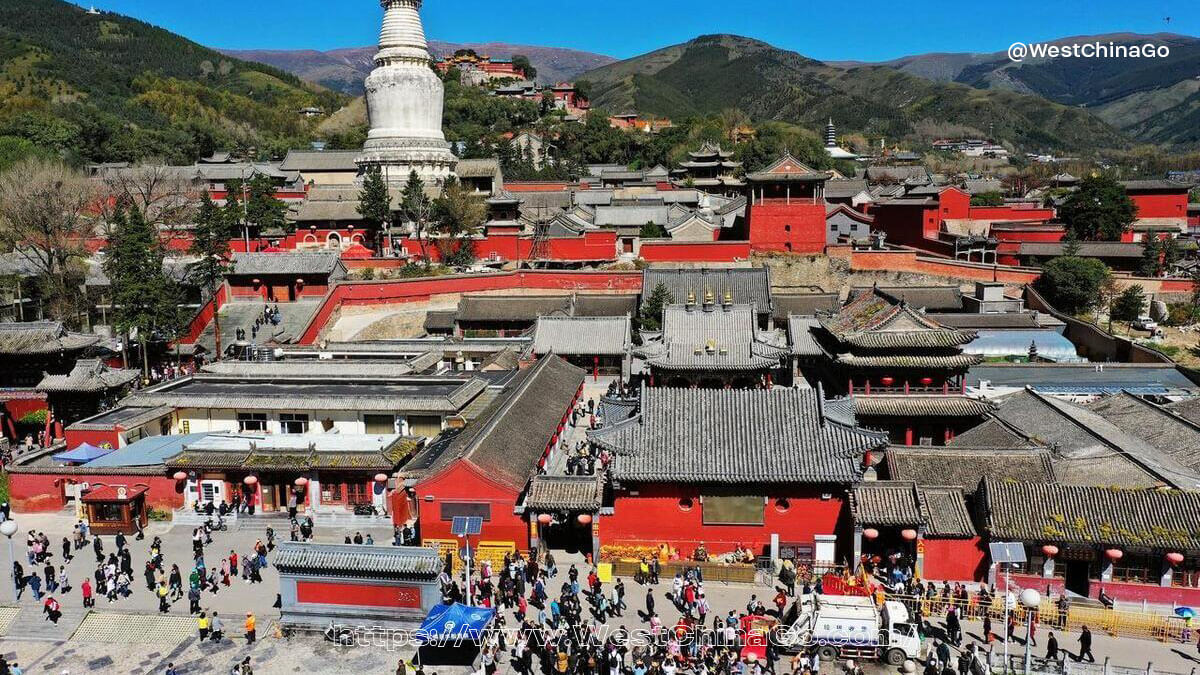 Wutaishan Mountain
Wutai mountain is one of the Four Sacred Mountains of Chinese Buddhism. The mountain is known for its five terraces, each of which has a peak and is said to represent one of the Five Dhyani
Buddhas.
The Wutai Mountain Scenic Area covers an area of over 300 square kilometers and is home to many important Buddhist temples and cultural relics.
The mountain has a long history of Buddhism, dating back to the Eastern Han Dynasty (25-220 AD), and was designated as a UNESCO World Heritage Site in 2009.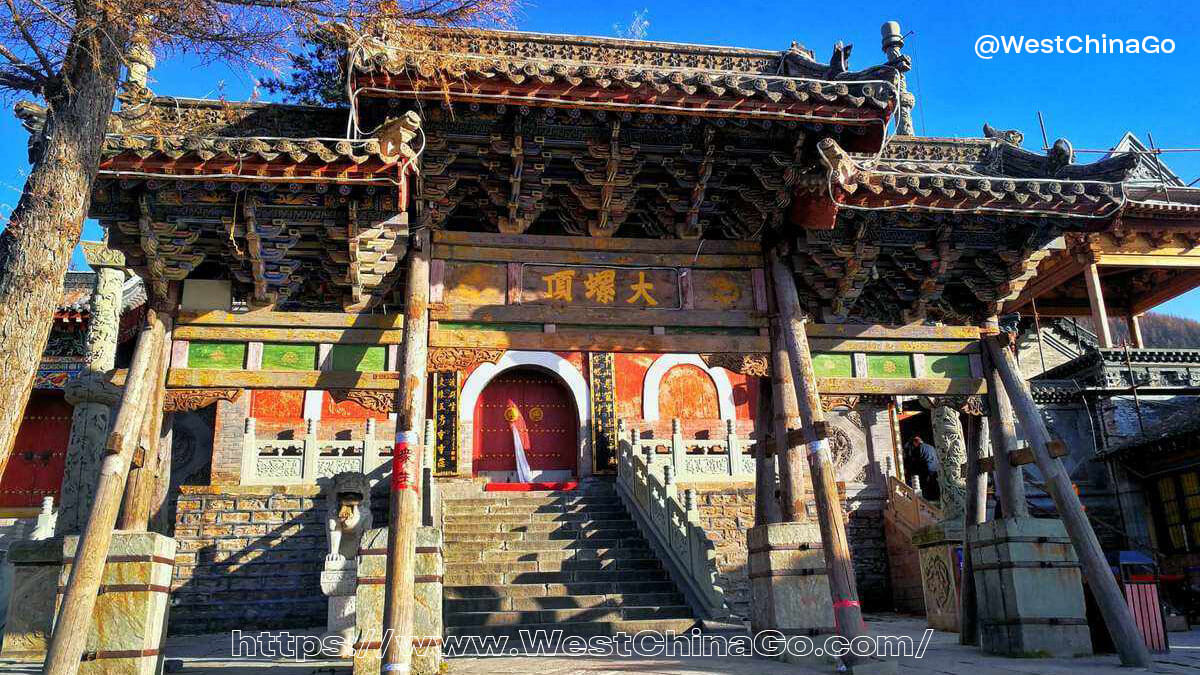 The five terraces of Wutai Mountain:
The five terraces of Wutai Mountain are home to some of the most important Buddhist temples and sites in China, including:
1.Xiantong Temple
This temple, located on the first terrace, is one of the oldest and largest temples on the mountain, with a history dating back over 1,300 years.
2.Tayuan Temple
Located on the second terrace, this temple is known for its stunning Ming Dynasty (1368-1644) architecture and beautiful gardens.
3.Pusading Temple:
This temple, located on the third terrace, is known for its massive statue of Maitreya Buddha, which is over 20 meters tall and carved from a single piece of white sandalwood.
4.Foguang Temple
Located on the fourth terrace, this temple is known for its ancient wooden pagoda, which is over 1,000 years old and one of the tallest wooden structures in China.
5.Nanchan Temple
Located on the fifth terrace, is known for its beautiful Tang Dynasty (618-907) architecture and its ancient ginkgo tree, which is over 1,000 years old.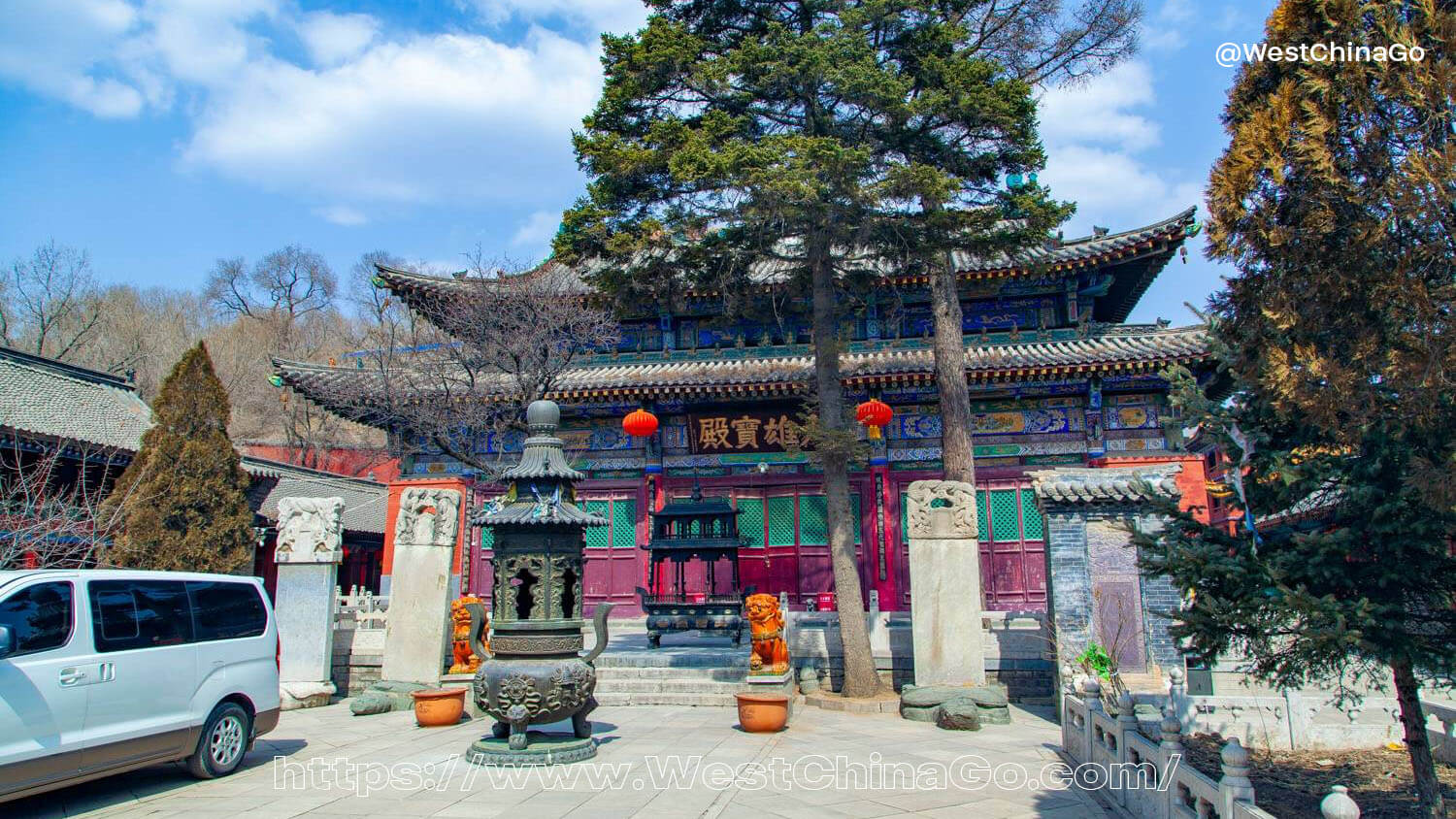 Mount Wutai, located in the northeast of Wutai County, Xinzhou City, Shanxi Province, is now a national AAAAA-level tourist attraction, a national key scenic spot, a national geological park, a national natural and cultural heritage, one of the top ten famous mountains in China, and one of the four major Buddhist temples in China. It is one of the famous mountains and one of the five holy places of Buddhism in the world.
geographic feature
Mount Wutai is located at 38°50′ to 39°05′ north latitude and 113°29′ to 113°44′ east longitude, with a radius of 250 kilometers and a total area of 2837 square kilometers. With Taihuai Town as the center, there are five peaks in the east, west, south, north, and middle, which are high above the cloud surface. There are no trees on the top of the mountain. The highest point, Beitai Yedou Peak, is 3,058 meters above sea level and is known as the "Roof of North China".
Temple of Mount Wutai
Mount Wutai is the ashram of Manjusri Bodhisattva and the only Buddhist ashram in China where the green temple and the yellow temple complement each other. It is also a tourist scenic spot that integrates natural scenery, historical relics, ancient architectural art, Buddhist culture, Mingu style, and summer vacation. There are 47 existing temples, 39 inside the platform and 8 outside the platform, among which most temples were built by imperial edict, and many emperors came to pay homage. The famous ones are: Xiantong Temple, Tayuan Temple, Pusading, Nanshan Temple, Dailuoding, Guangji Temple, Wanfo Pavilion, etc.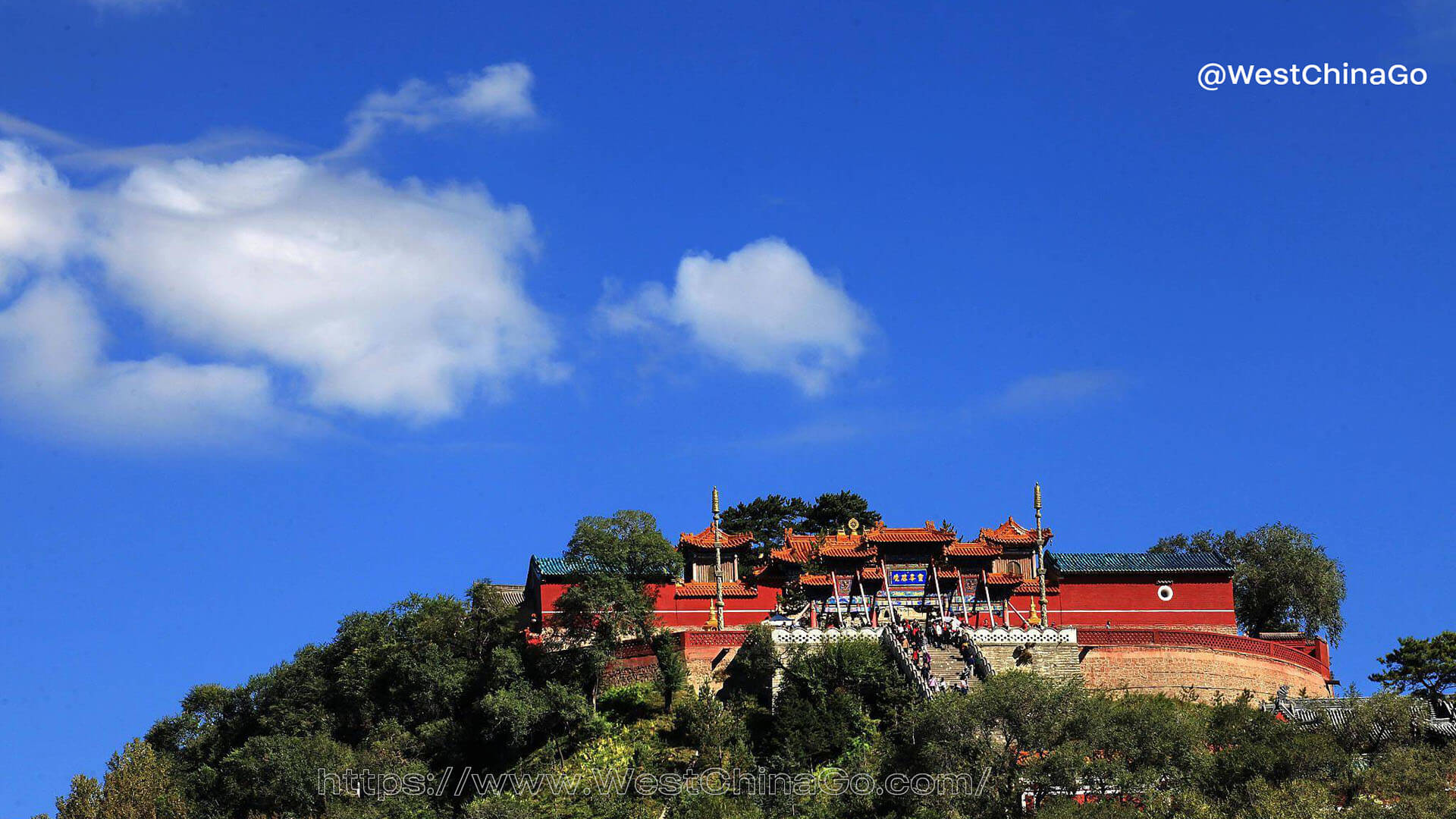 Wutaishan Mountain Video
Wutaishan Mountain Tourist Map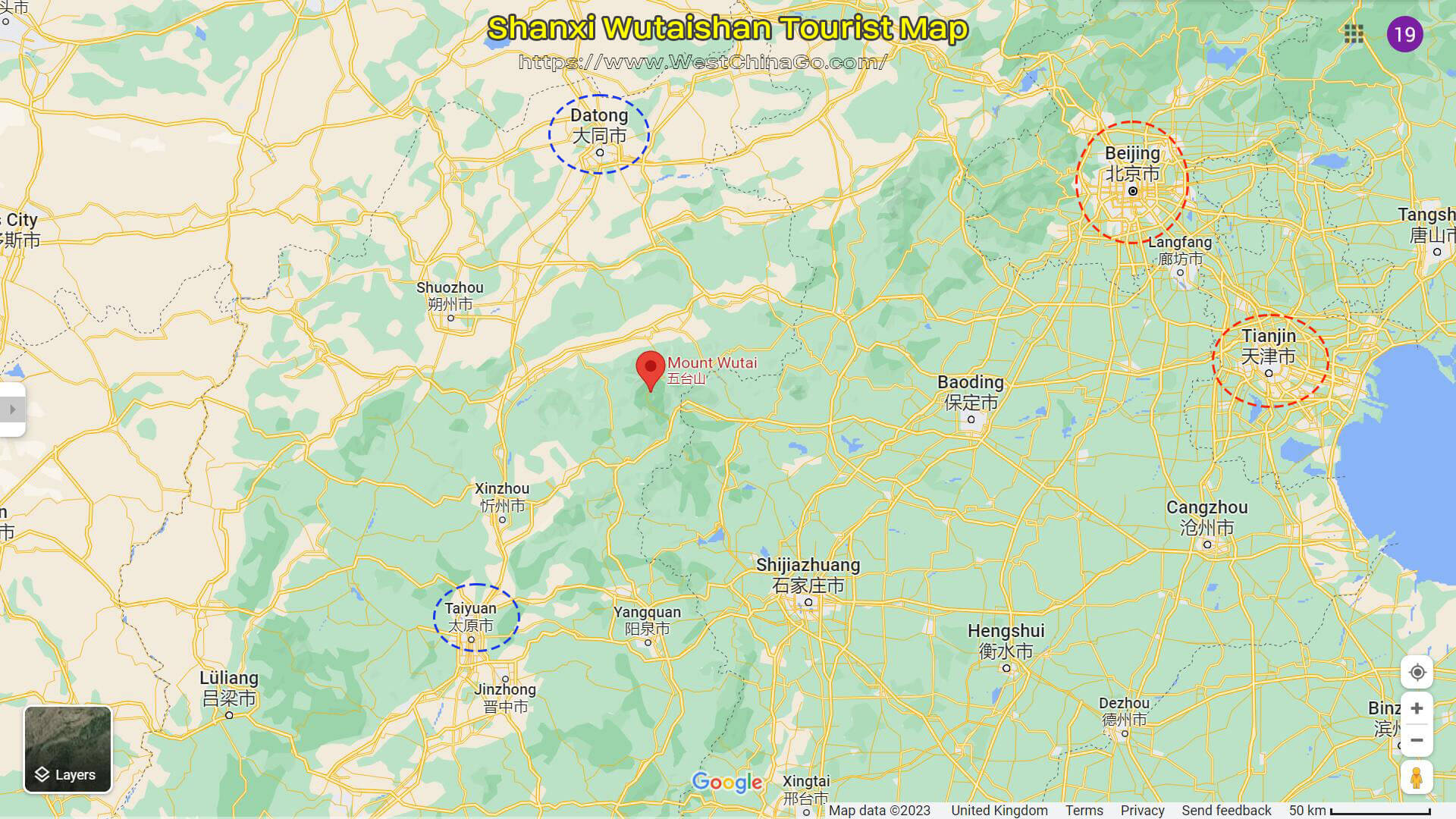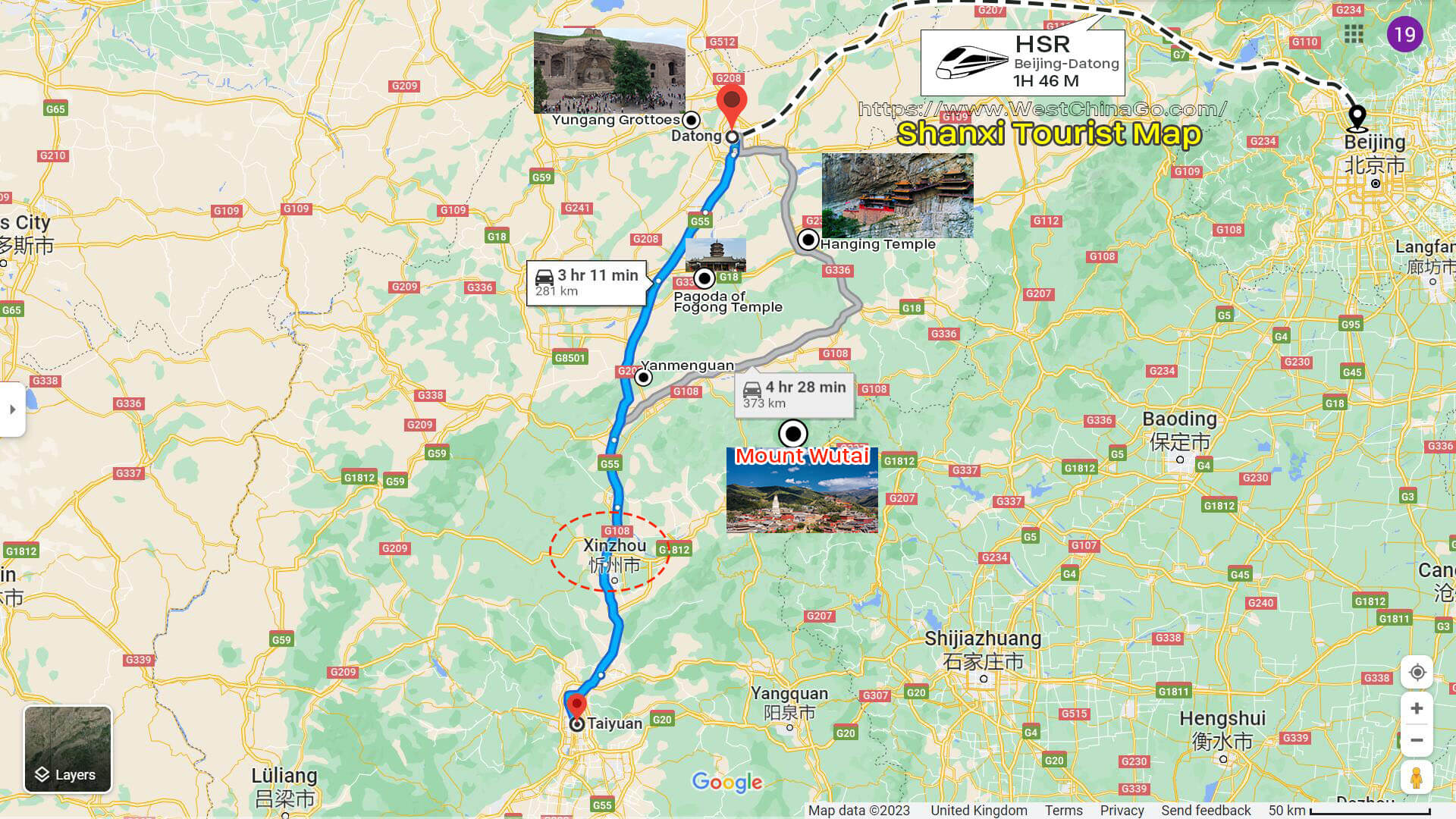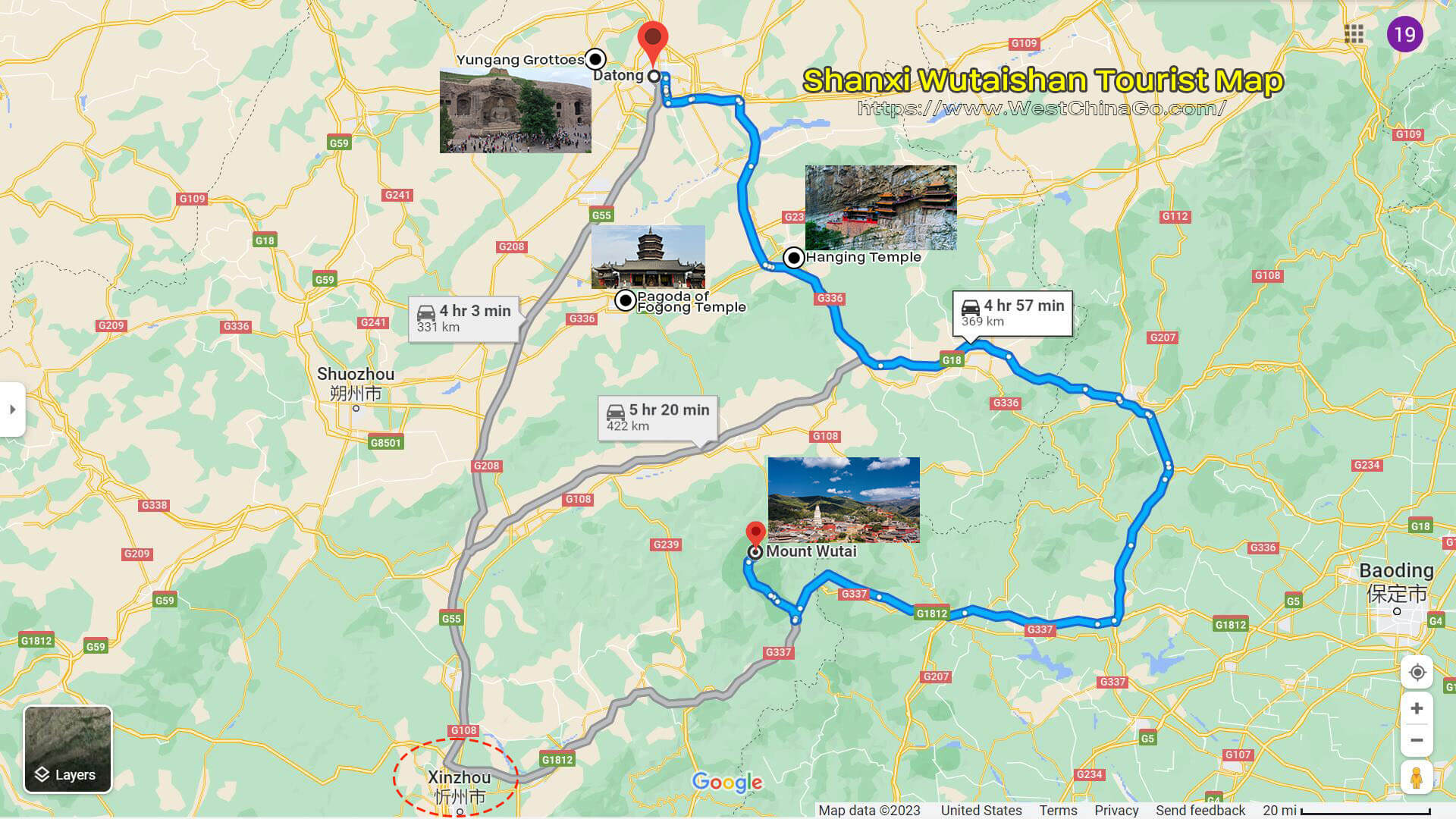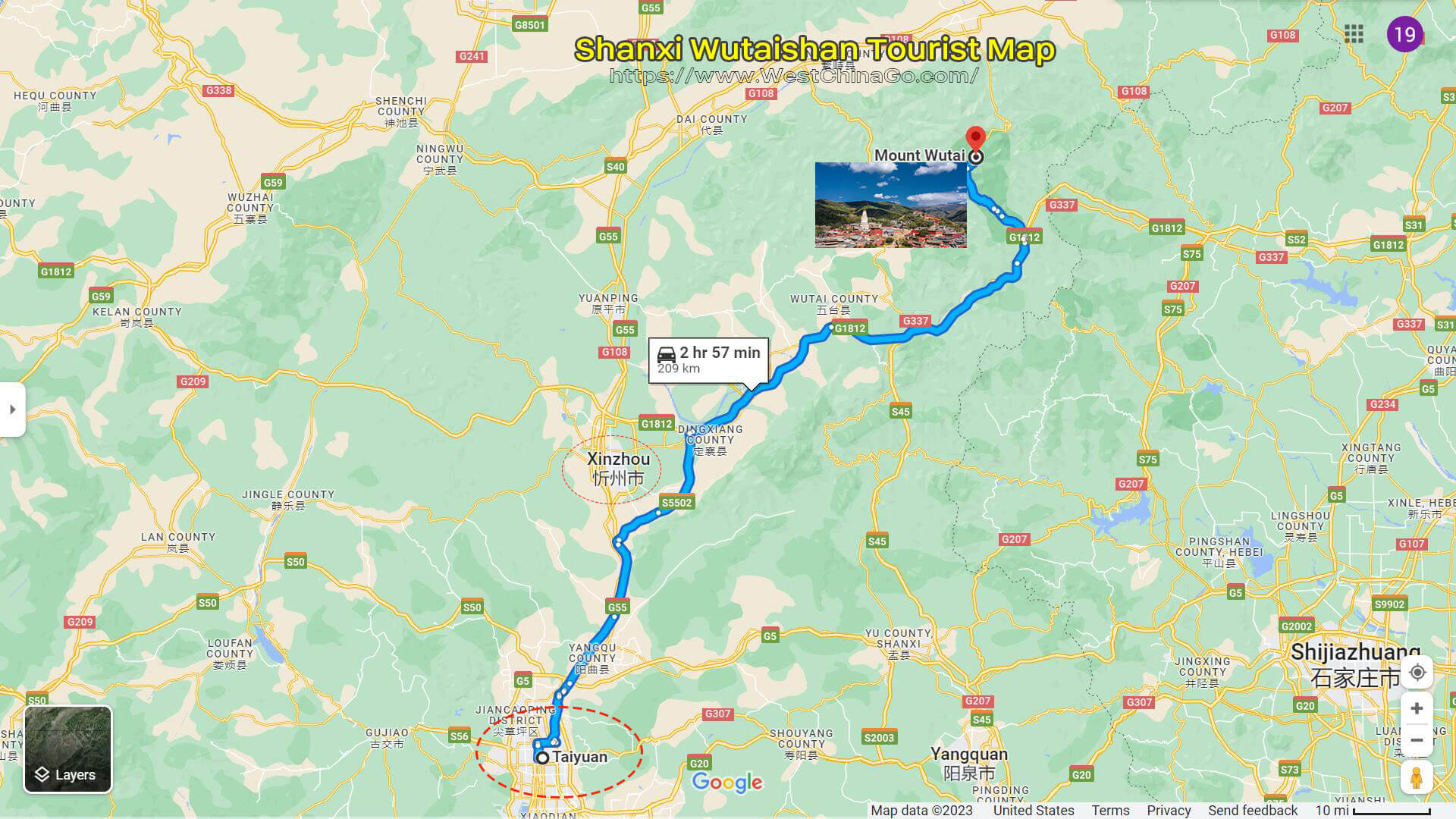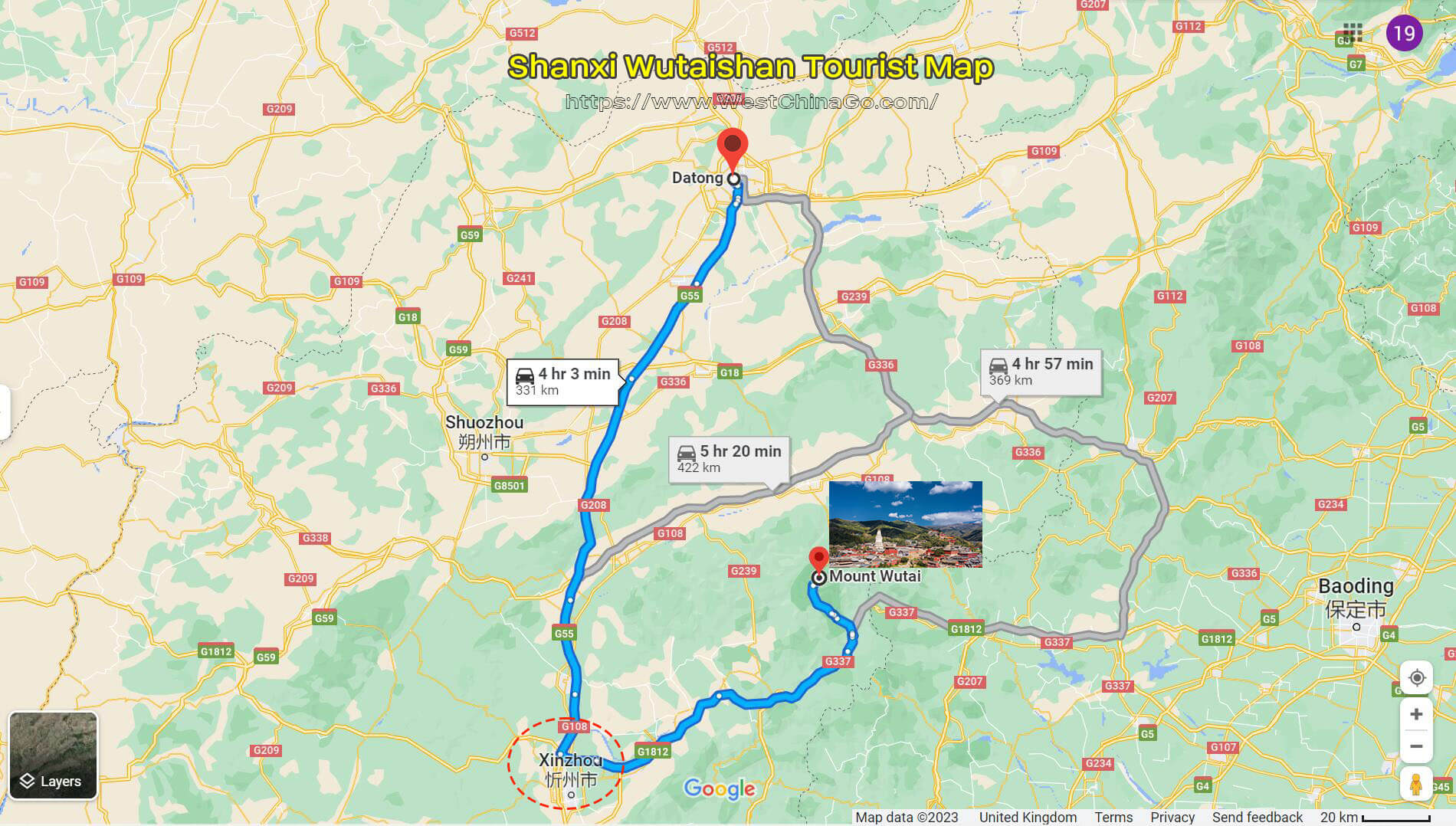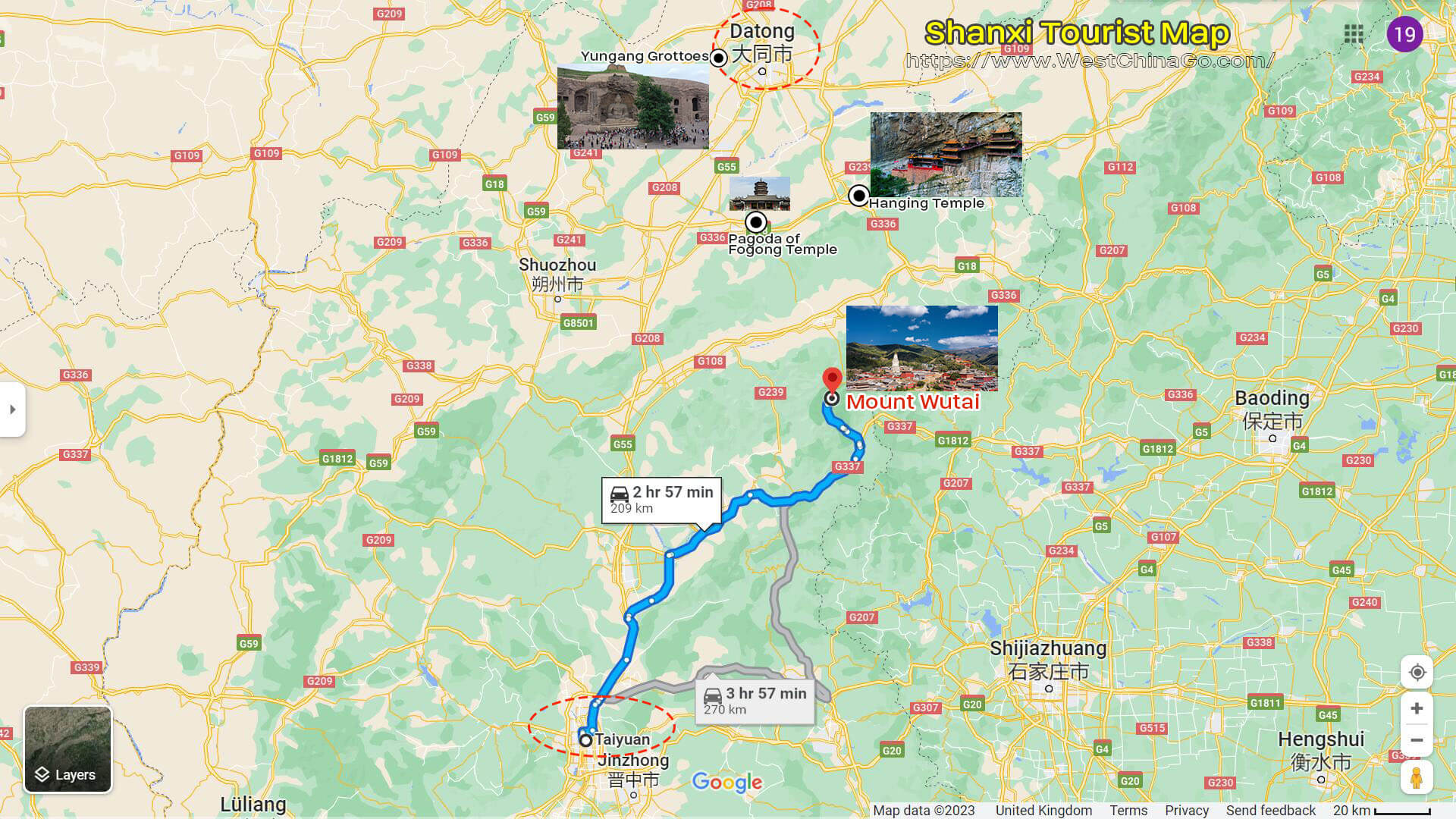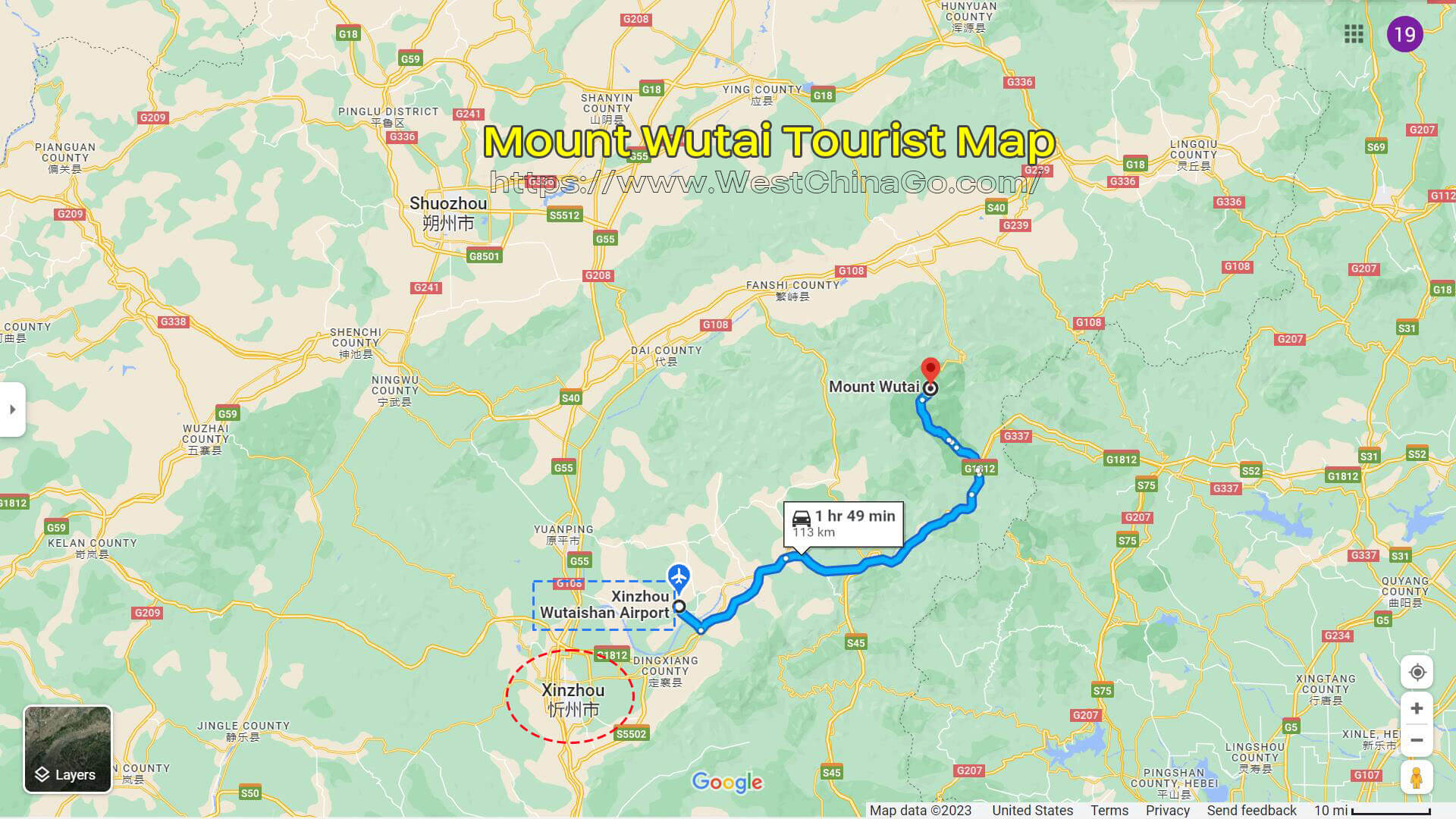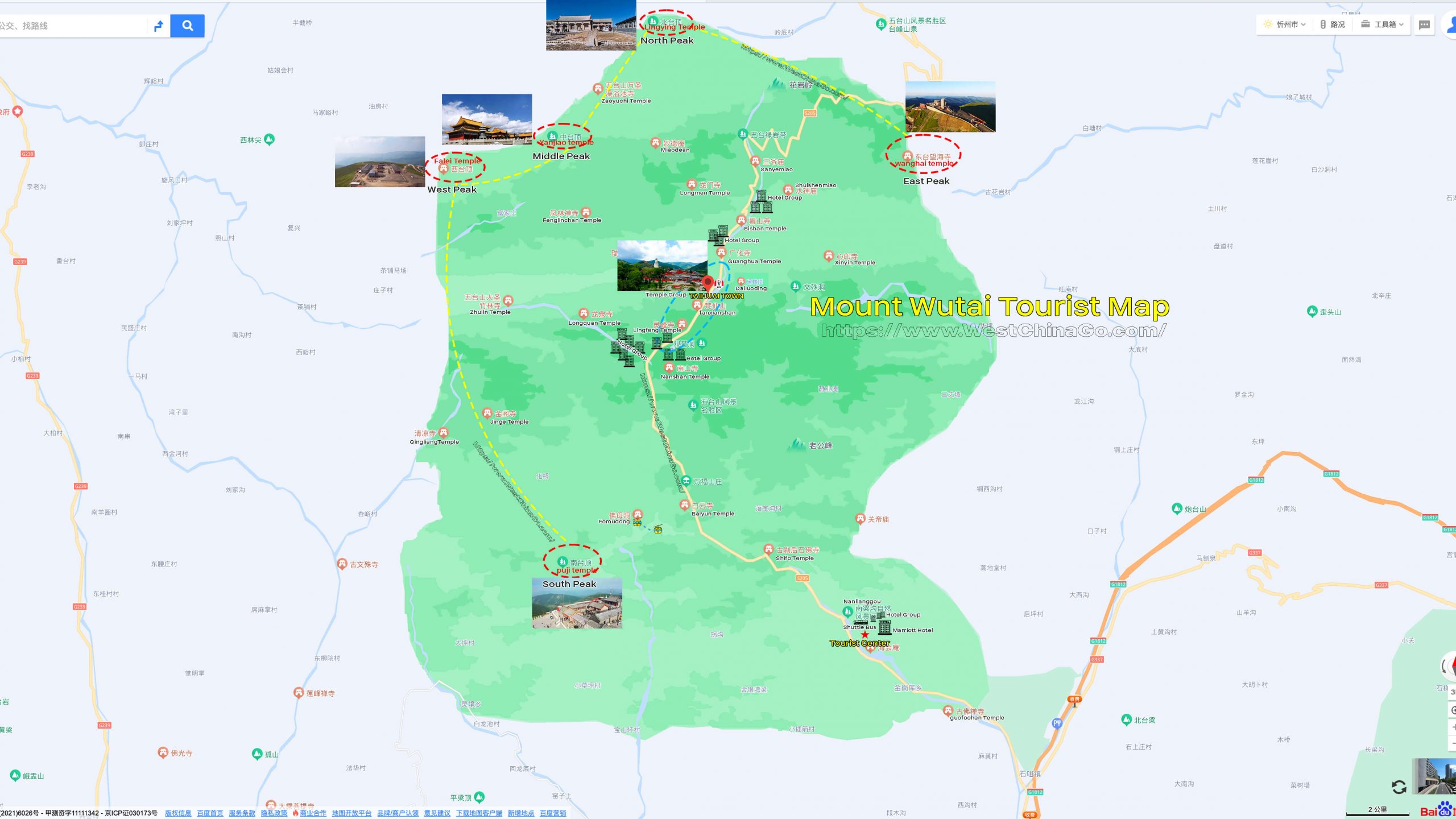 Wutaishan Mountain Travel Guide
Mount Wutai is located in Wutai County, Xinzhou City. Surrounded by five peaks with platform-like peaks and beautiful scenery, it is a famous summer resort. In addition, it is also the dojo of Manjusri Bodhisattva, and there are many temples, ranking first among the four famous mountains of Chinese Buddhism. This is the dojo where the Yellow Temple (Tibetan) and the Qingmiao (Han) coexist. You can see not only the monks of the Han, but also the Lamas of the Tibetan.
If you regard the five fingers as the towering "five platforms", then the palm is the town of Taihuai. Taihuai Town is the geographical center and base camp of Wutai Mountain Scenic Area. Most of the temples are also concentrated here, which is a must-see for tourists. When visiting Wutai Mountain, you usually live and eat in Taihuai Town. It is more suitable for a three-day itinerary. If you don't rush the time, you can basically see all the main temples. There are two things you must do when you come to Wutai Mountain. One is to go to various temples to worship Buddha and pray for blessings, and the other is to worship Wutai (Dachaotai).
Service Facilities
WIFI: account: ishanxi; password: no password; range: panoramic area
Transportation in the park: reference price: 40 yuan/person in off-season, 50 yuan/person in peak season; address: visitor center; reference price: 40 yuan/person in off-season, 50 yuan/person in peak season; address: visitor center
Restrooms: There are multiple restrooms in Wutai Mountain, which are located near the South Gate Visitor Center, Wuye Temple, Shuxiang Temple, Dailuoding, etc., and are marked with eye-catching signs.
Nursing room: Address: There is a baby care center in the visitor center
Catering: There are many restaurants in Wutai Mountain, which are located near Wuye Temple, Shuxiang Temple, Dailuoding, etc. and marked with eye-catching signs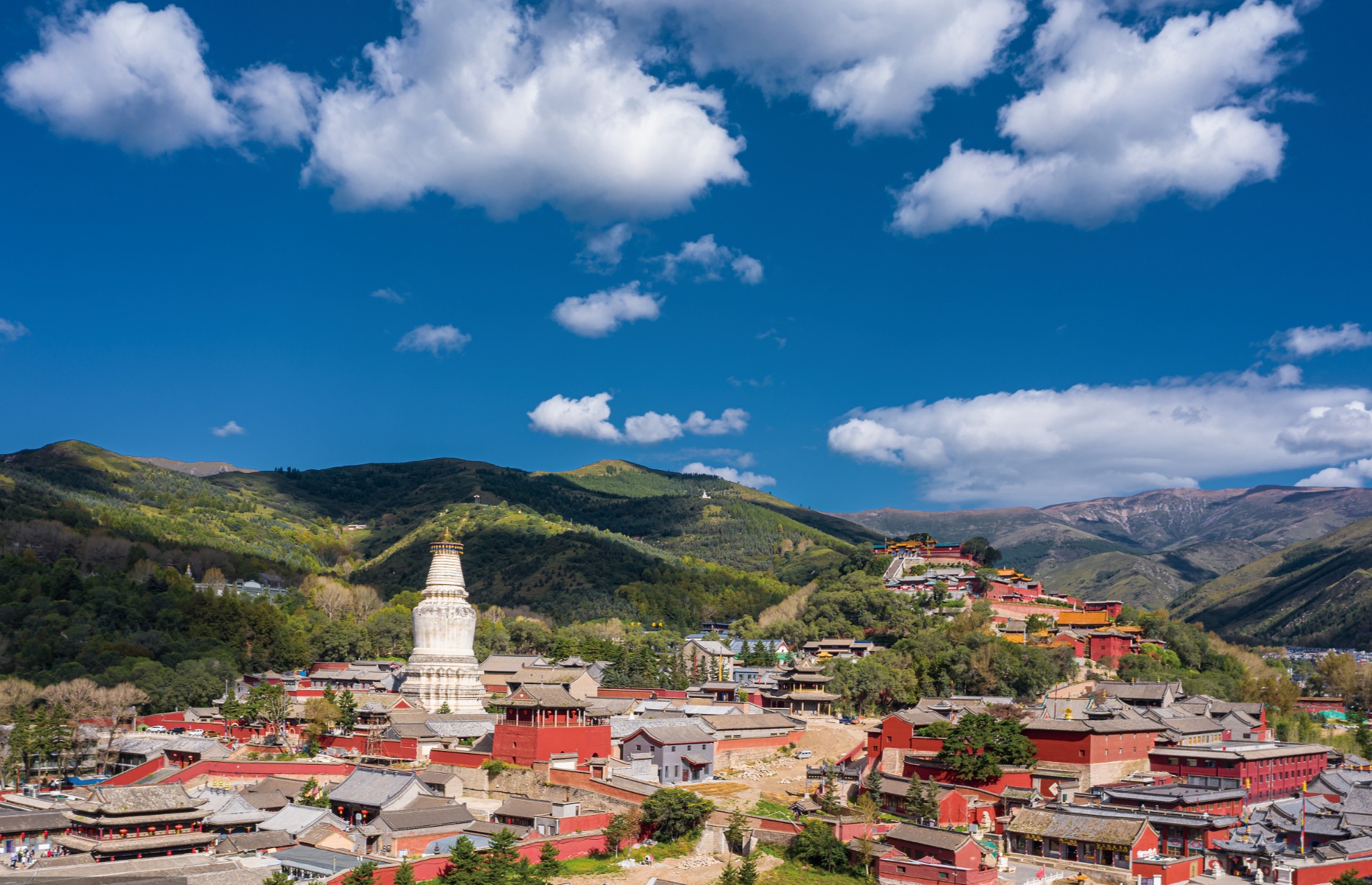 Wutaishan Mountain Transfer: Car Rental with Driver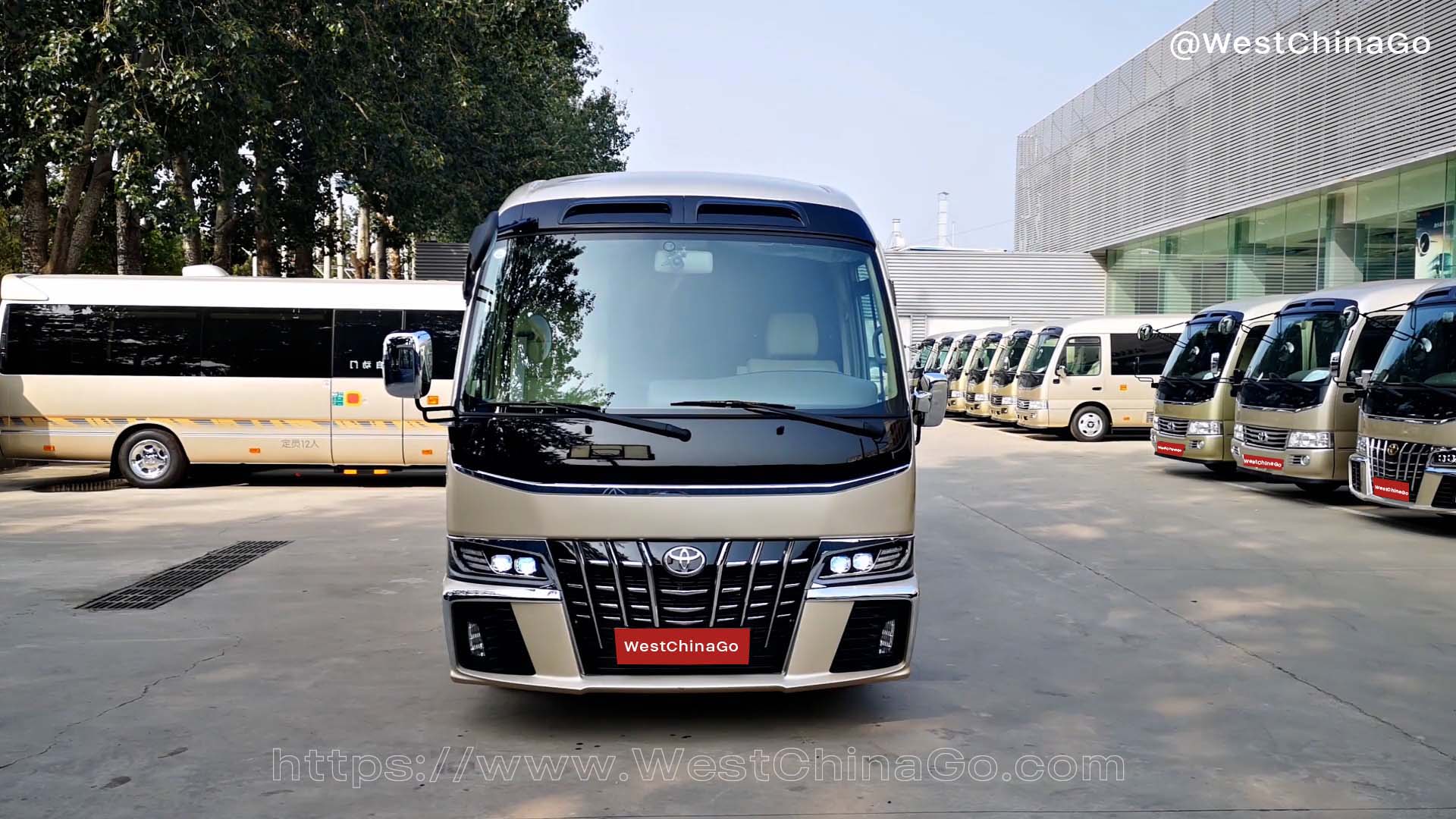 Shanxi Datong ⇄ Wutaishan Mountain
Shanxi Taiyuan ⇄ Wutaishan Mountain
Wutaishan Airport ⇄ Wutaishan
Wutaishan Scenic Spot Inside Transfer
……
Wutaishan Photo