Sanya Boundary Island
Chinese name: 分界洲岛
Foreign name: Boundary Island Scenic Area
Add:海南省三亚市陵水黎族自治县光坡镇分界洲岛旅游区
Wharf :陵水海南环岛高速海南分界洲岛旅游区
Location: Exit 15, Niuling, Sanya East Expressway(三亚东线高速公路牛岭15号出口处)
Ferry Hours: 8:30 AM – 10:30 PM
Island time: 08:30-20:00;
Time to leave the island: 09:00-22:30
Phone: +86 0898-31817777 0898-31817733
Official WebSite: http://www.hnfjz.com/index.html
Admission+Ferry: 132 RMB/Person
Tour time reference: more than 3 H
Opening hours:08:30-22:30 (all day); closing time: 20:00 (January 1st-December 31st Monday-Sunday)(stop ticket sales at 20:00, last admission at 20:00)
Level: National 5A-level tourist attraction
Attraction Type: Coast
Best season: November-March of the following year is the best.
Main attractions: Fuhai Shoushan, where the tortoise was born福海寿山, 神龟出世
Activities: diving, skydiving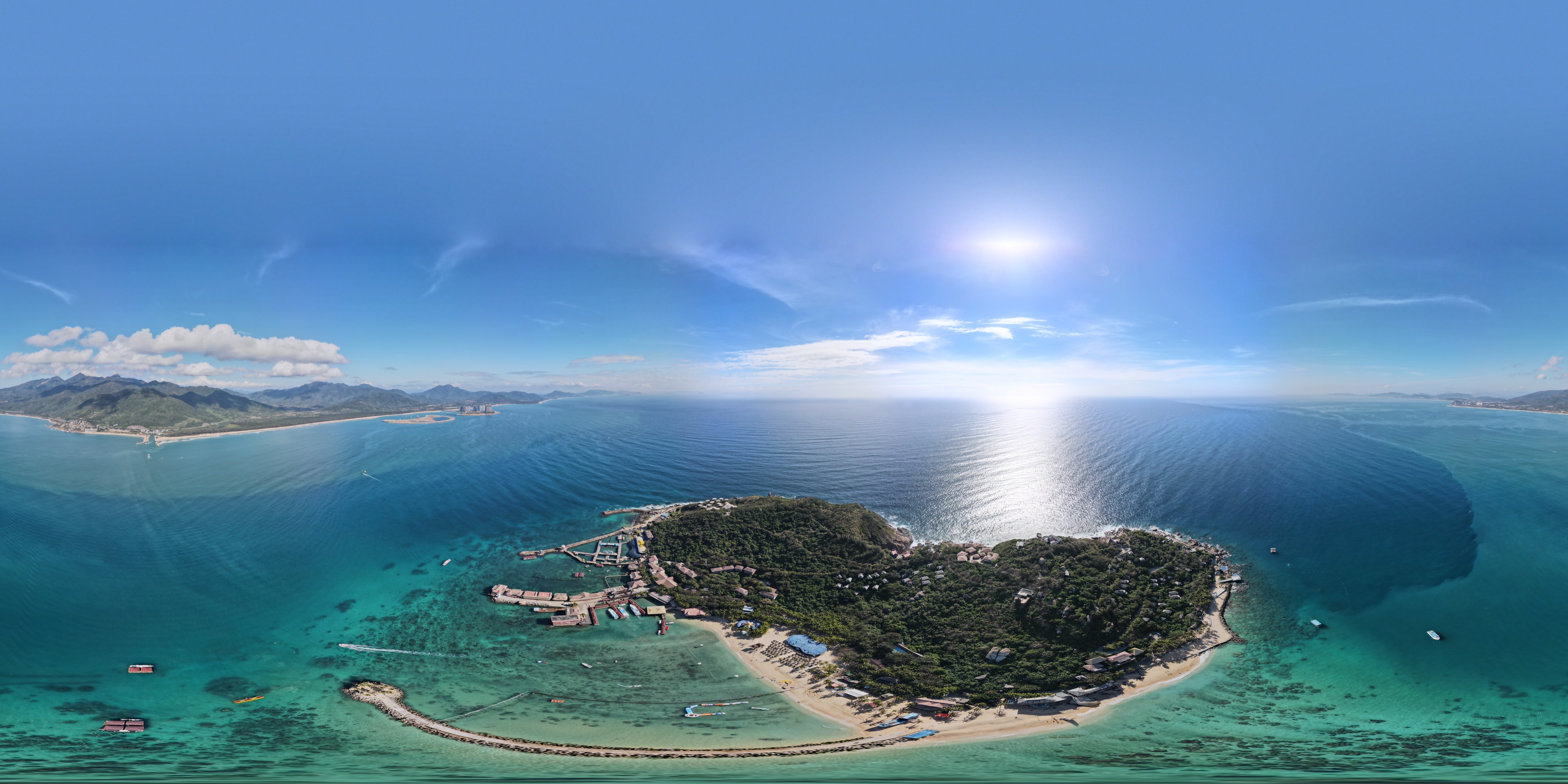 Sanya Boundary Island
Boundary Island has clear and clean sea water and soft white sandy beach. It is the most suitable island in Hainan for diving and viewing underwater life.
There are many water sports here, such as sea fishing, motor boats, parasailing, etc. You can also take a sightseeing submarine to explore the underwater scenery.
There are many rare plants and animals on the island, as well as a water animal entertainment park, which is suitable for parents and children.
Boundary Island currently has dozens of invincible sea-view wooden houses built of logs for tourists to stay, and romantic underwater weddings can also be held on the island.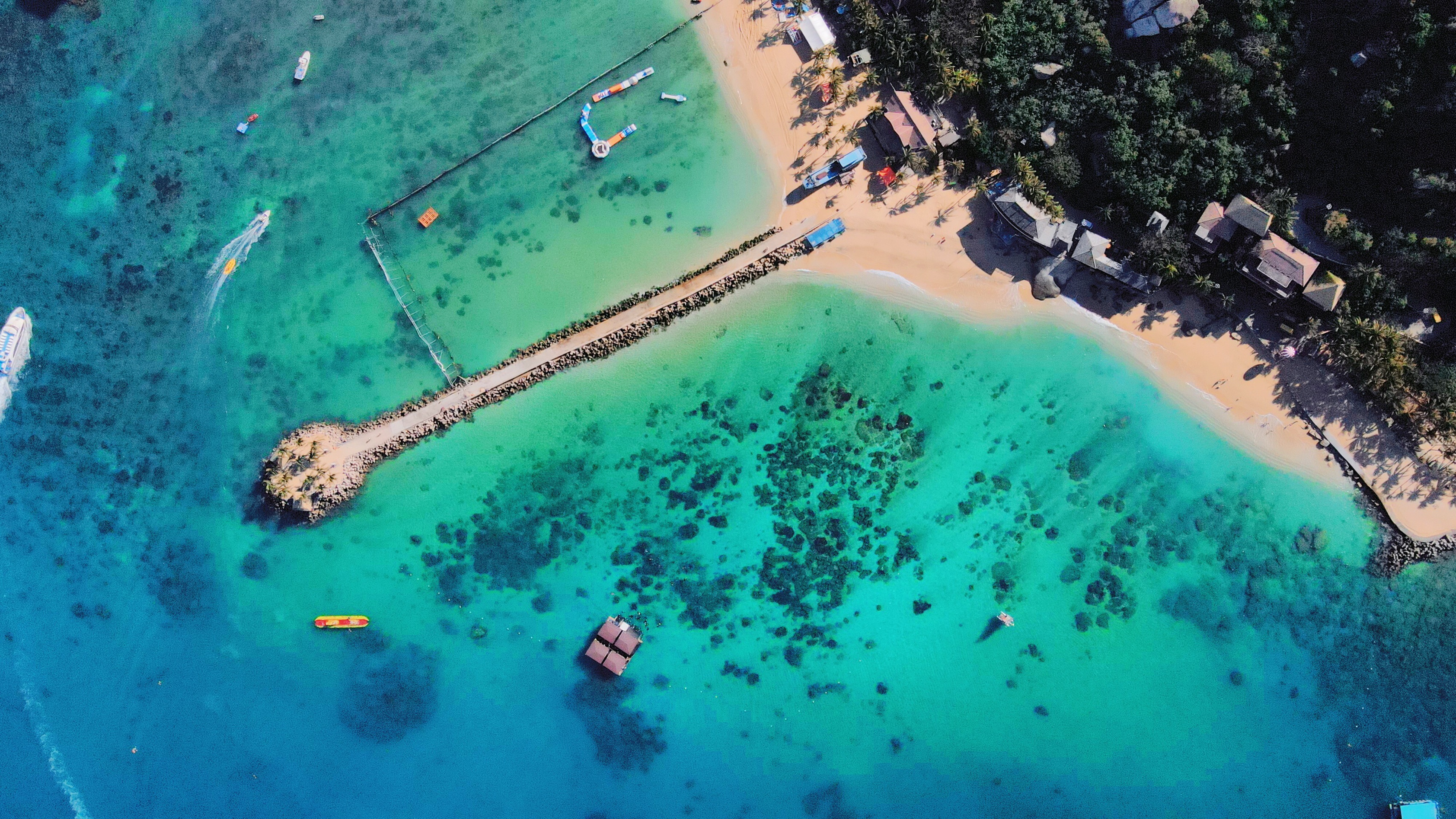 Sanya Boundary Island Photo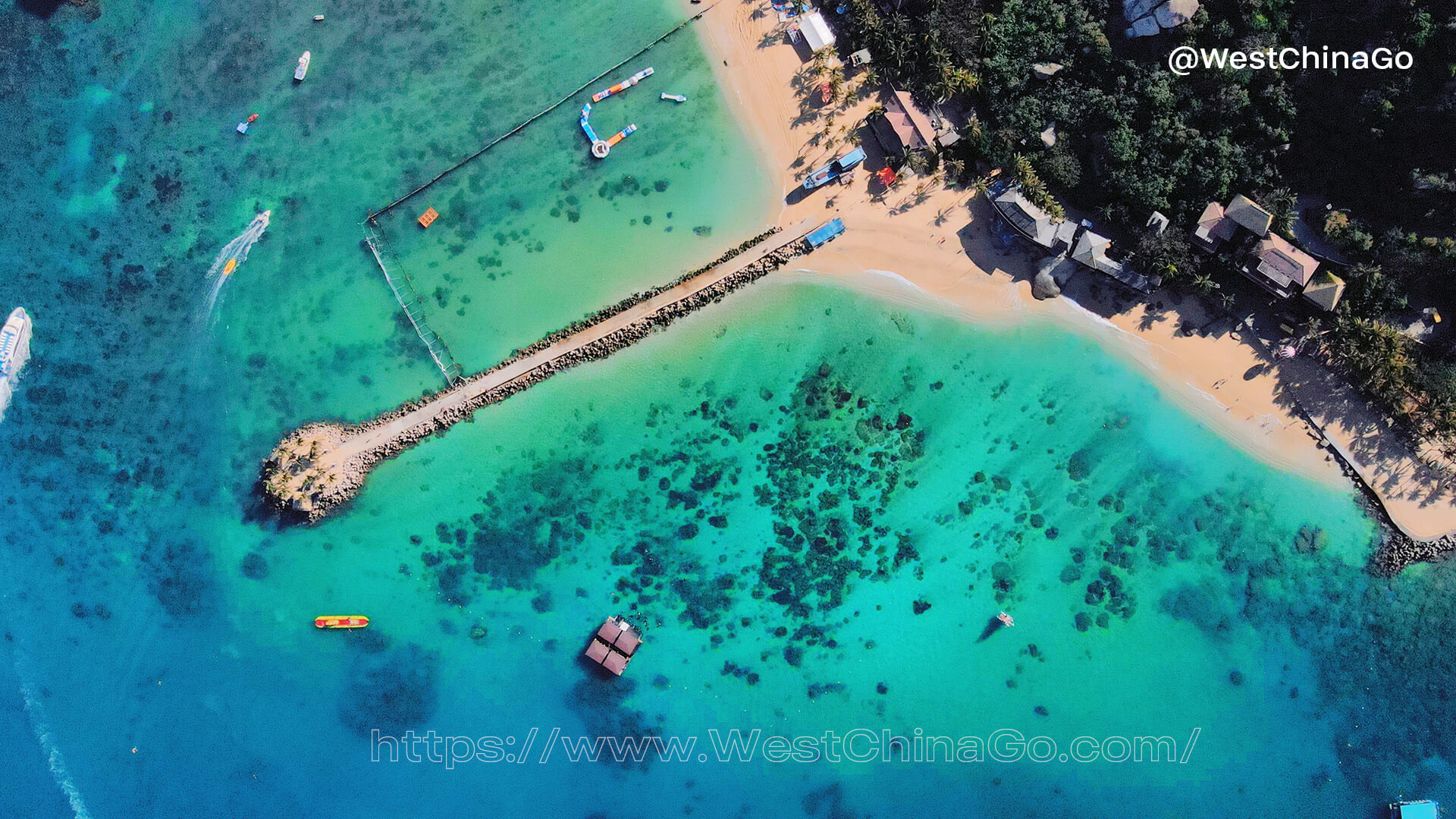 Sanya Boundary Island Video
Sanya Boundary Island
PROS
Compare with popular Wuzhizhou island, Boundary island is the earliest 5A tourist destination , equally stunning yet less touristy and crowded.
Boundary island offers the most professional diving course from basic to advance level
Last ferry is 10:30pm, enough time for sightseeing and participating various water activities
Boundary island offers the accommodation from budget to luxury, stay overnight to embrace the peace
Family friendly, dolphin show and observation submarine for young kids
CONS
90km away from Sanya airport, 55km way from Haitang bay, further than Wuzhizhou islet and West islet
Sanya Boundary Island Tourist Map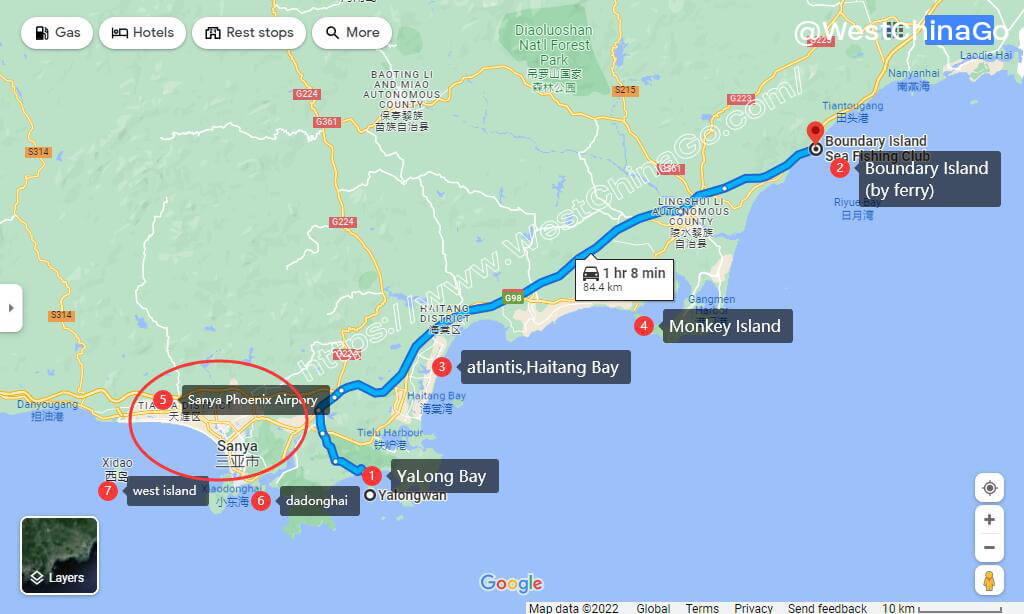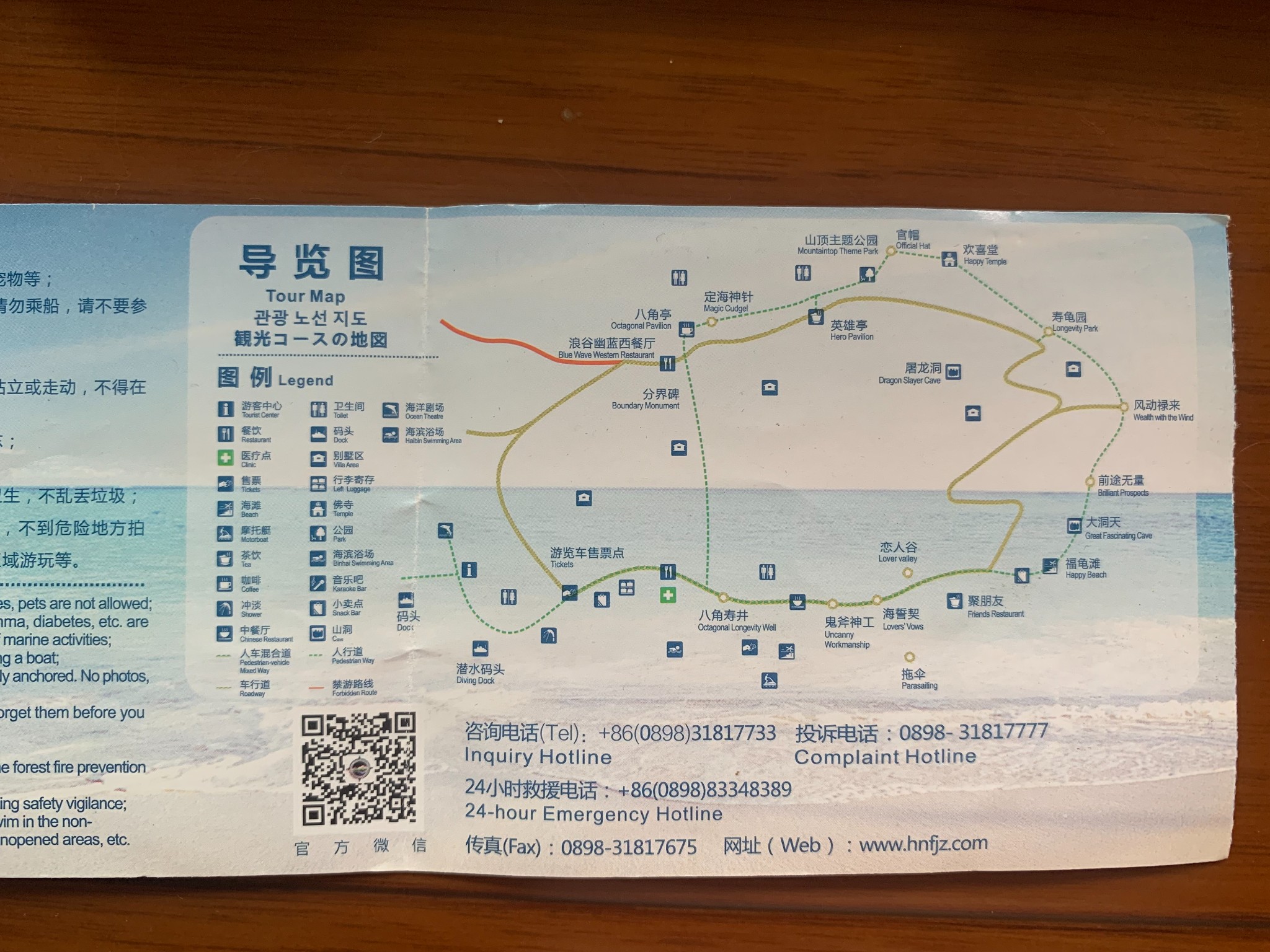 Sanya Boundary Island Travel Guide
Hainan Boundary Island Tourist Area, a national 5A-level tourist attraction, covers an area of ​​0.45 square kilometers. It is located at the exit of No. 15 Niuling of the East Sanya Expressway in Haikou, Hainan Province. It is an island-type scenic spot with a tropical island style. Due to its special geographical location, climatic characteristics, island topography, and regional culture, Boundary Island is known as "Beauty Island", "Guanyin Island", "Nameless Island", "Sleeping Buddha Island" and "Ice and Fire Island". It is 174 kilometers from Haikou to Boundary Island, and only 68 kilometers from Sanya.
Boundary Island has been uninhabited since ancient times. It has a very clean marine environment and rich marine ecological resources. It is the most suitable island in Hainan for diving and viewing the underwater world. Its ecological environment is comparable to the Paracel Islands. The landform of this island is quite special, with mountains, rocks, water, reefs, etc., clear sea water, good visibility, and unique diving conditions. Therefore, it attracts professional divers and tourists from Hong Kong, Macau, Guangdong, Beijing and other places to dive in Boundary Island. It is considered by international diving experts to be one of the most suitable diving resorts.
The good marine ecological environment of Boundary Continent also attracts new people to come here for romantic underwater weddings. Aside from the traditional gorgeous dresses, the newlyweds in colorful diving suits, the fish are the guests of the newlyweds' wedding, and the turtles are the wedding choir. Boundary Island has held more than 20 undersea weddings in a row, and more than 300 newlyweds have been married in Boundary Island.
In addition, the island also provides marine animal tours such as dolphins and whale sharks, marine recreational services such as parasailing, motor boats, and semi-submarine submarine tours, as well as elegant leisure activities such as sea fishing and outdoor development.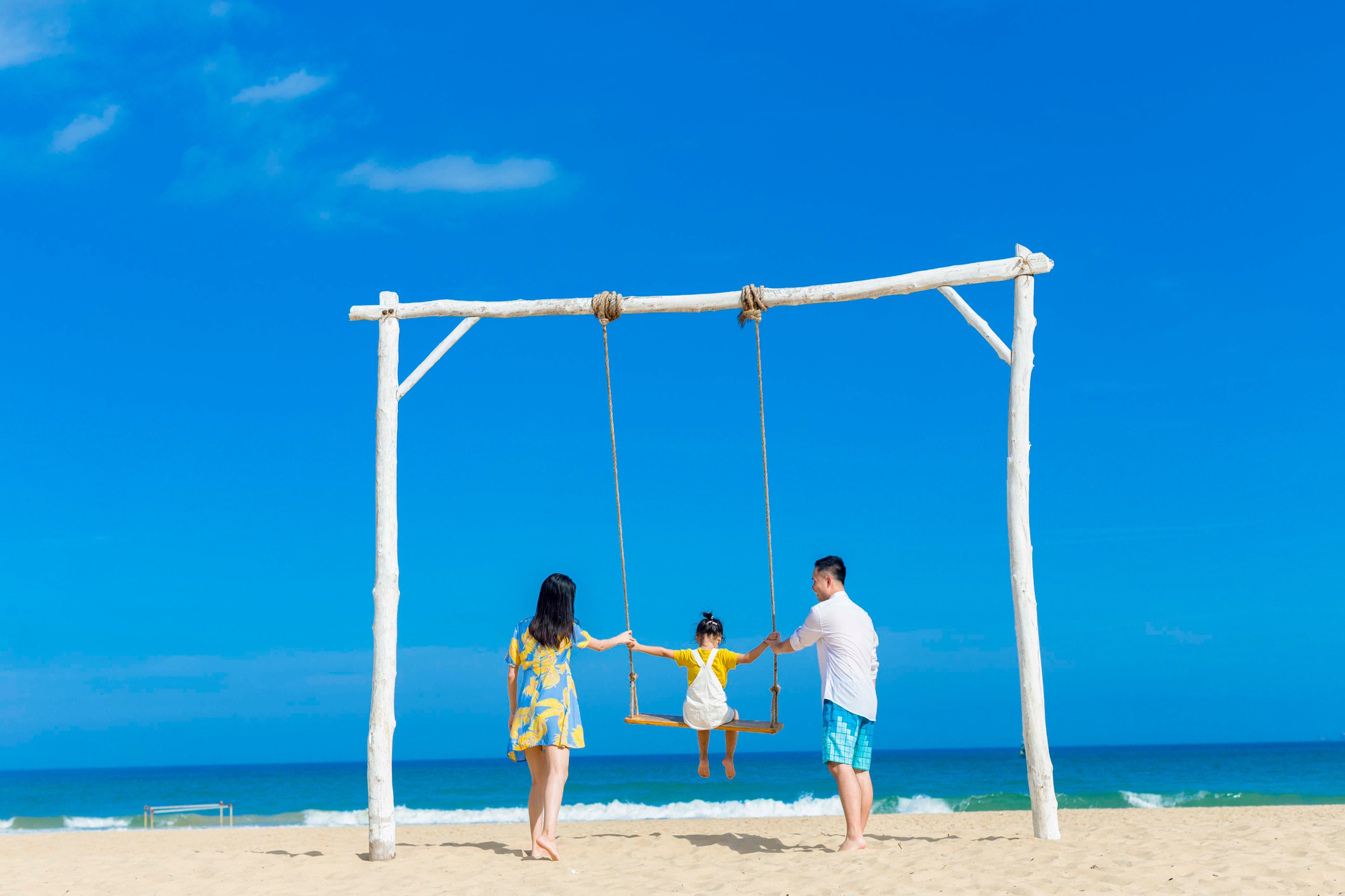 WestChinaGo's Recommendation
It's worth driving further to Boundary island to avoid crazy crowds in Wuzhizhou island during public holiday and Chinese new year.
If time permit, highly recommend to stay overnight to embrace the peace and savor the beauty of Boundary islet.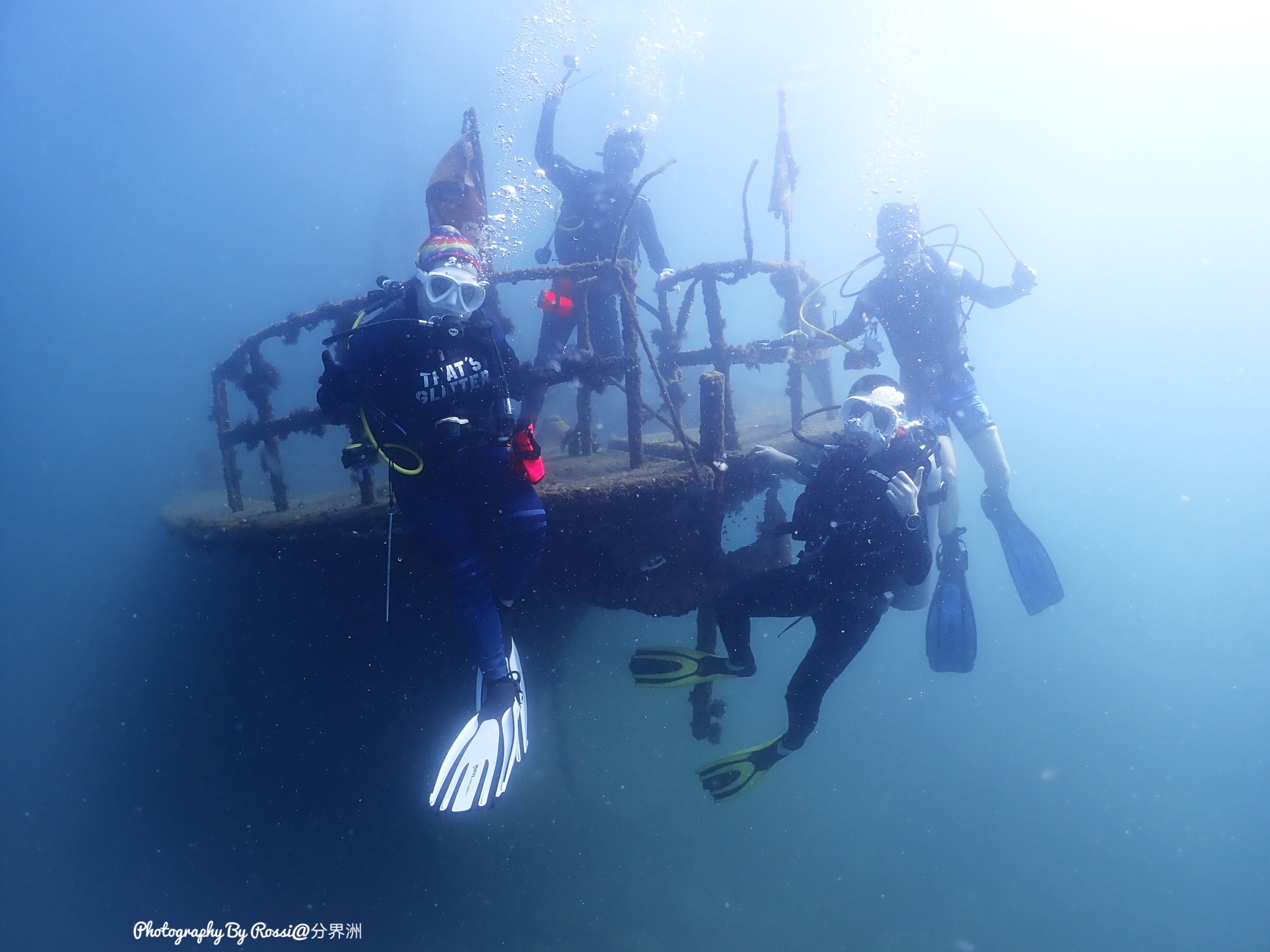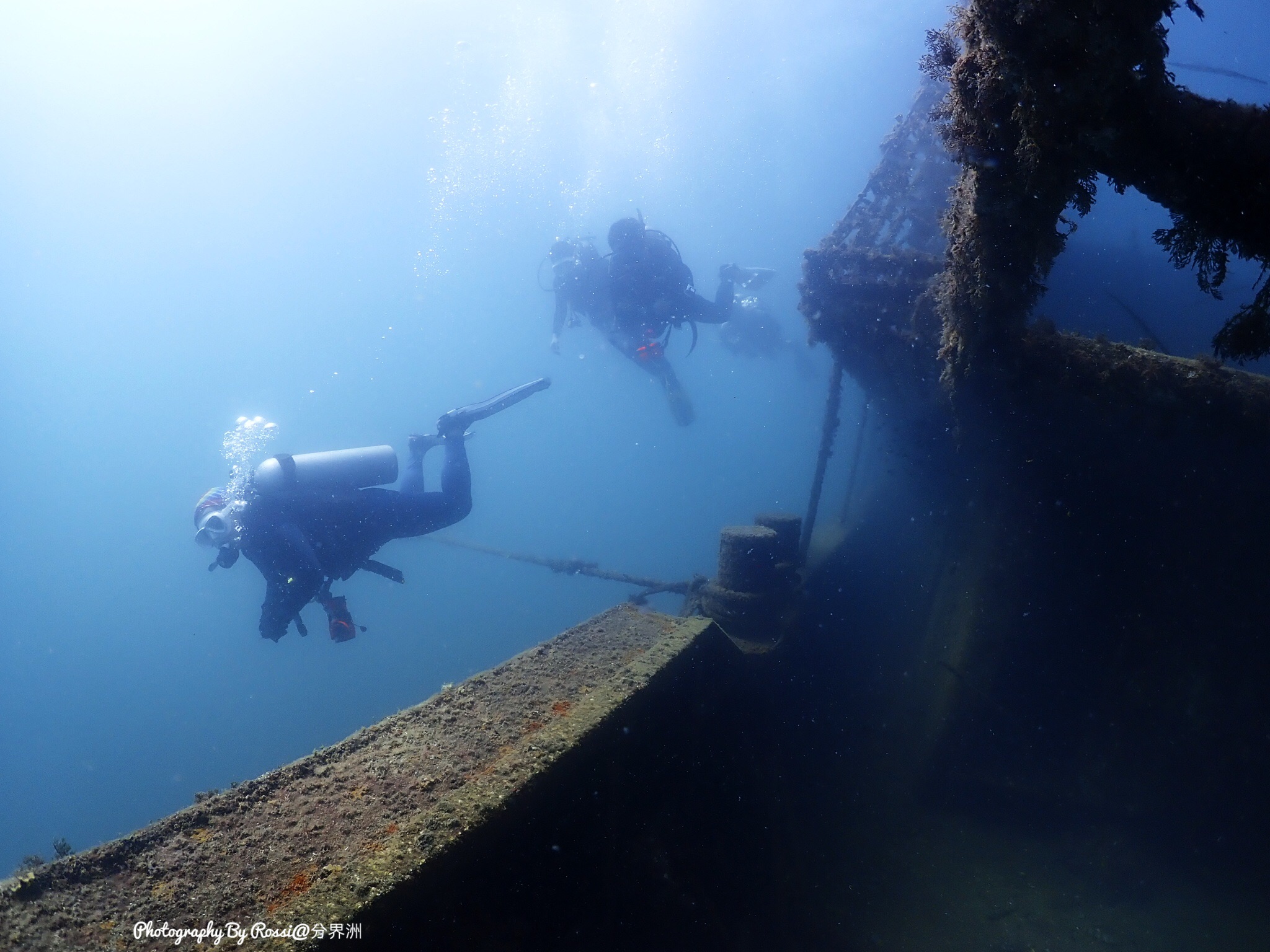 Entertainment Activity
Boundary Island has developed five diving activities according to the different underwater environments and dive sites, ranging from simple experiences to slightly adventurous experiences.
Experience diving: As the name suggests, it is mainly based on experience. The experience diving in Boundary Island is also sent to a fixed diving platoon or No. 1 boat by speedboat. The diving platoon or the diving platform on the boat dives. It is about five meters in the middle of the night. Mainly to experience the feeling of carrying equipment into the water.

Reef diving: a popular project that takes into account experience, leisure and sightseeing. It also dives through a diving platform. The diving depth is about eight meters. At the diving point, you can see underwater corals, tropical fish, sea anemones, etc. Sea creatures, but taking into account the physical endurance of friends who participate in diving activities for the first time, it is suitable for popular feelings.

Cliff diving: On the mountains on both sides of Boundary Island, friends who participate in diving are sent to the designated diving site by speedboat, and dive on the speedboat. A diving project developed according to the peculiar seabed landform that extends from the mountains and rocks to the water. Underwater cliffs are the main scenery, and sometimes you can see underwater corals, and the diving depth is about ten meters.

Cave diving: The diving point is in the back mountain of Boundary Island. It also provides round-trip transportation by sea speedboat. At the same time, the speedboat is used as a diving platform, mainly for viewing underwater caves. It is a unique diving project in Hainan. Between ten meters to fifteen meters or so, depending on the individual's physical capacity.
Shipwreck diving: a unique diving project in Boundary Island, mainly to watch the sinking of modern large iron ships on the seabed. The boat dives up and down. The deepest diving depth at high tide is about 24 meters. You can observe the large iron ship on the seabed at close range. Countless hard sea anemones and other attachments have grown on the deck of the large iron ship. There are also two lionfish guarding, a large group of fish live in the cabin, and it is said that there are several large groupers. Whether you can enter the cabin to visit mainly depends on the security situation at that time. A project with a strong adventurous nature, it is recommended that friends who have participated in diving before try it, which can be regarded as a challenge in life.
Boundary Island PADI Dive Centre