ShangHai Shanghai Wild Animal Park
Shanghai Wild Animal Park
Chinese Name: 上海野生动物园
Address: 上海市浦东新区三灶镇南六公路178号
Tel: +86 (021-58036000)
Opening Time:08:00-17:00; stop ticketing time: 16:00 (March 1st – June 30th, September 1st – November 30th Monday-Sunday)
08:00-18:00; stop ticketing time: 17:00 (July 1 – August 31 Monday – Sunday)
08:30-16:30; stop ticketing time: 15:30 (December 1st – February 28th of the following year Monday-Sunday)
Recommended Visiting Time:>3 H
Tickets : 130 CNY P/P
offical website:http://www.shwzoo.com/
Shanghai Wild Animal Park
· Shanghai Wildlife Park is a theme park that integrates wildlife breeding, exhibition, breeding protection, science education and recreation. The scenic spot was officially opened on November 18, 1995. It is located in Shanghai Pudong New Area and covers an area of 153 hectares (about 2,300 acres). It is the first batch of national 5A-level tourist attractions.
· There are more than 200 kinds of rare wild animals from home and abroad such as giant pandas, golden monkeys, golden takins, pheasants, giraffes, zebras, antelopes, white rhinoceros, cheetahs, and more than 10,000. The park is divided into three areas: the entry area, the pedestrian area and the "water exploration"..
·Pedestrian area, allowing you to learn more about animal friends in the fun and education. Not only can you see giant pandas, African elephants, Asian elephants, giraffes, chimpanzees, gibbons, lemurs, flamingos, and virgin wild animals, but also many animal behaviors and interactive experiences.
·The car entry area is a form of animal display and keeping the exhibition mode of "people in the 'cage', animal freedom", giving the animal more free space. Make you feel like you are surrounded by a group of zebras, antelopes, wildebeests, rhinos and other herbivores. You can also enjoy the large-scale beasts such as cheetahs, Siberian tigers, African lions, bears and wolves. Wild and majestic.
There are also 4 performance venues with different functions in the park. The stunted Russian professional team carries a variety of animal stars to perform the "magic tour"; cheetahs, Gree dogs, Mongolian horses, camels, ostriches and other competitive speed races, let you have a good time; the ocean "elf" – California sea lions and American sea lions tell the "legends" from the sea.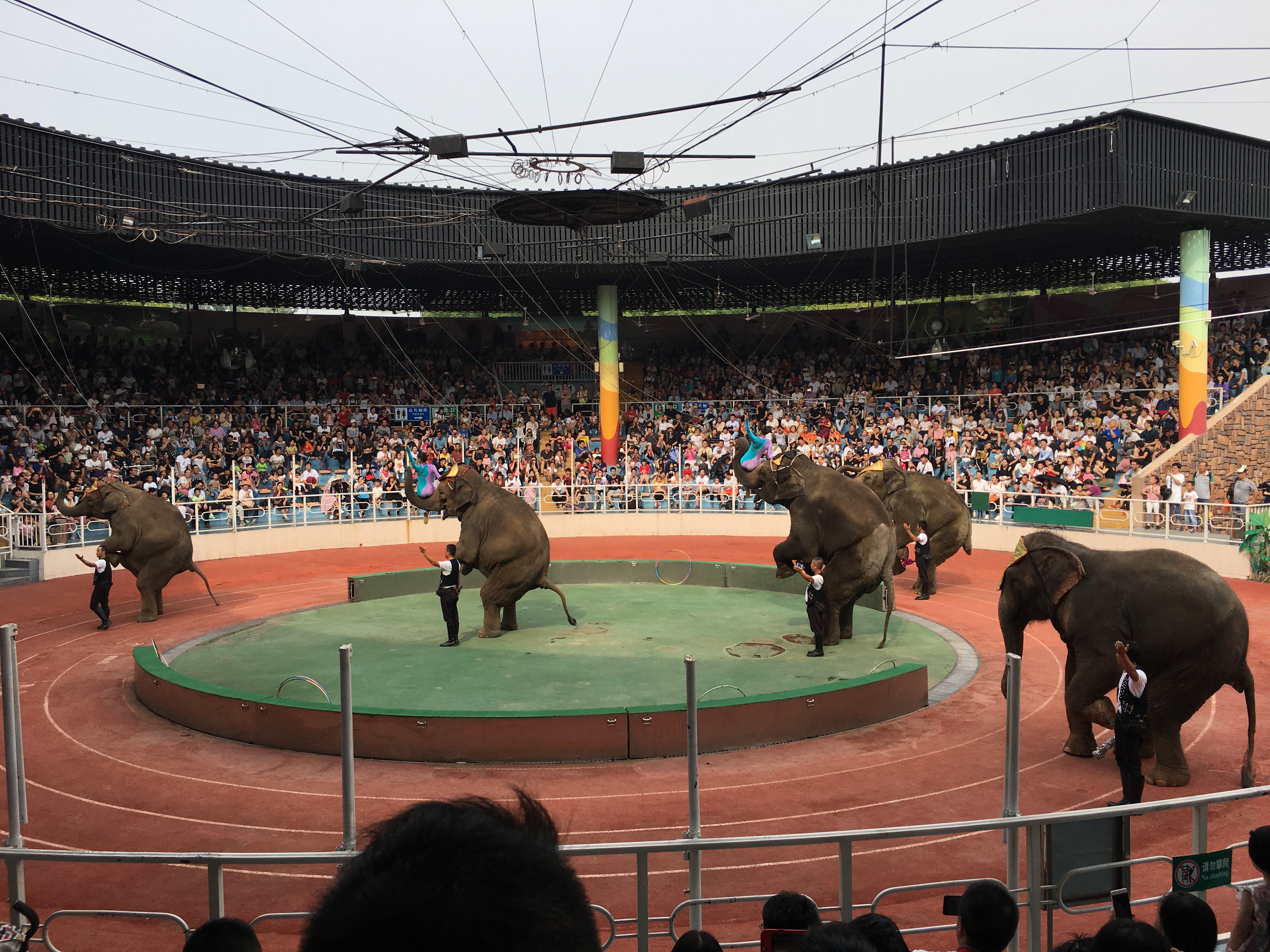 Interactive Experience
Many interactive experiences in the captive area begin at 11:00;
In the morning, the animals have not been fed enough, and they are more active in seeing food. In the afternoon, it is estimated that the food is tempting and people are lazy to take a nap.
Flamingo (main entrance, feeding fee 20 yuan)
Zebra interaction (feeding fee 20 yuan)
Giraffe interaction (feeding fee 20 yuan)
Small animal paradise (free, small animals are very warm, a large green wall at the entrance, very filming)
Little raccoon interaction (very powerful, will stand up and ask for food for tourists)
Panda area (many people, but pandas are cute and crowded)
Alpaca interaction (feeding fee 20 yuan)
Beast area (tickets already include fares, although they are queued for a long time, but you can see a lot of wild animals, you must experience)
Shanghai Wild Animal Park Photo
Shanghai Wild Animal Park Video
Shanghai Wild Animal Park Tourist Map
Shanghai Wild Animal Park Travel Guide
A full-scale smoking ban will be implemented in the park from now on! For the health of you and other tourists and animals, please do not smoke in the park, please cooperate, thank you for your understanding!
Luggage can be stored in the park, 10 yuan a piece
Sea lion show and Russian circus are wonderful, don't miss it
Entering the park as soon as possible, 9:00-10:00 There is an animal welcoming at the main gate square, and the interaction of the small animals will be much lower after being fed.
If the luck is not good, it will be cancelled. Some animal performances will be cancelled.
The tour in the park is divided into a captive zone and a free-range zone. To visit the free-range zone, you need to take a bus. The free bus and the food-feeding car (not free) have the same route. The difference is that the food truck is an iron fence. Window, during the tour, there are staff to feed the animals, so the animals will be close to the car, and even have the opportunity to see the animals rushing, we are fortunate enough to see the bear cubs hang on the iron fence and drive with the car long time. It is highly recommended to buy a food truck, it is a lot of fun, and it doesn't need to be lined up. There are too many people taking the free bus.
The captive area has some interactive activities for visitors, such as feeding alpaca, feeding kangaroos, feeding giraffes; prices range from 15-20 yuan to provide food; alpacas see food with two eyes, straightforward to your food However, it is still very fun; personal feeling, the kangaroo interactive experience is the most interesting, the kangaroos are scattered on the lawn, you can go in and touch and take pictures, they are very gentle and easy to get close
How To Get To Shanghai Wild Animal Park
By Taxi
Shanghai Wild Animal Park
Practical Chinese:for taxi driver
pls take us to Shanghai Wild Animal Park
请载我们到上海野生动物园
By Subway
Take Metro Line 16, South New Line, Zhangnan Line, Huinan 6 Road to Safari Park.Get off at Exit 2 of Shanghai Safari Station on Subway Line 16, but there is still a certain distance from the zoo. You can choose to arrive by bus, you need to queue, you can also choose private car in front of the subway station to reach 10 yuan / person.
Shanghai metro map