Suzhou Jinji Lake
Chinese Name: 苏州金鸡湖
Address: No. 158, Xinggang Street, Wuzhong District, Suzhou City, Jiangsu Province (Huxi Wanghu Pavilion Pier)江苏省苏州市吴中区星港街158号(湖西望湖阁码头)
Area: 7.4 km²
Famous attractions: Gate of the East, Ligong Causeway, Jinji Lake Fountain, Jinji Lake Bridge, Ferris Wheel Park, etc.东方之门、李公堤、金鸡湖喷泉、金鸡湖大桥、摩天轮乐园…
Tickets: 0-50 CNY
Recommend tour time:2-3 hrs
Phone: +86 4007 558 558
Offical Website: http://english.jinjilake.sipac.gov.cn/
Opening Time: day and night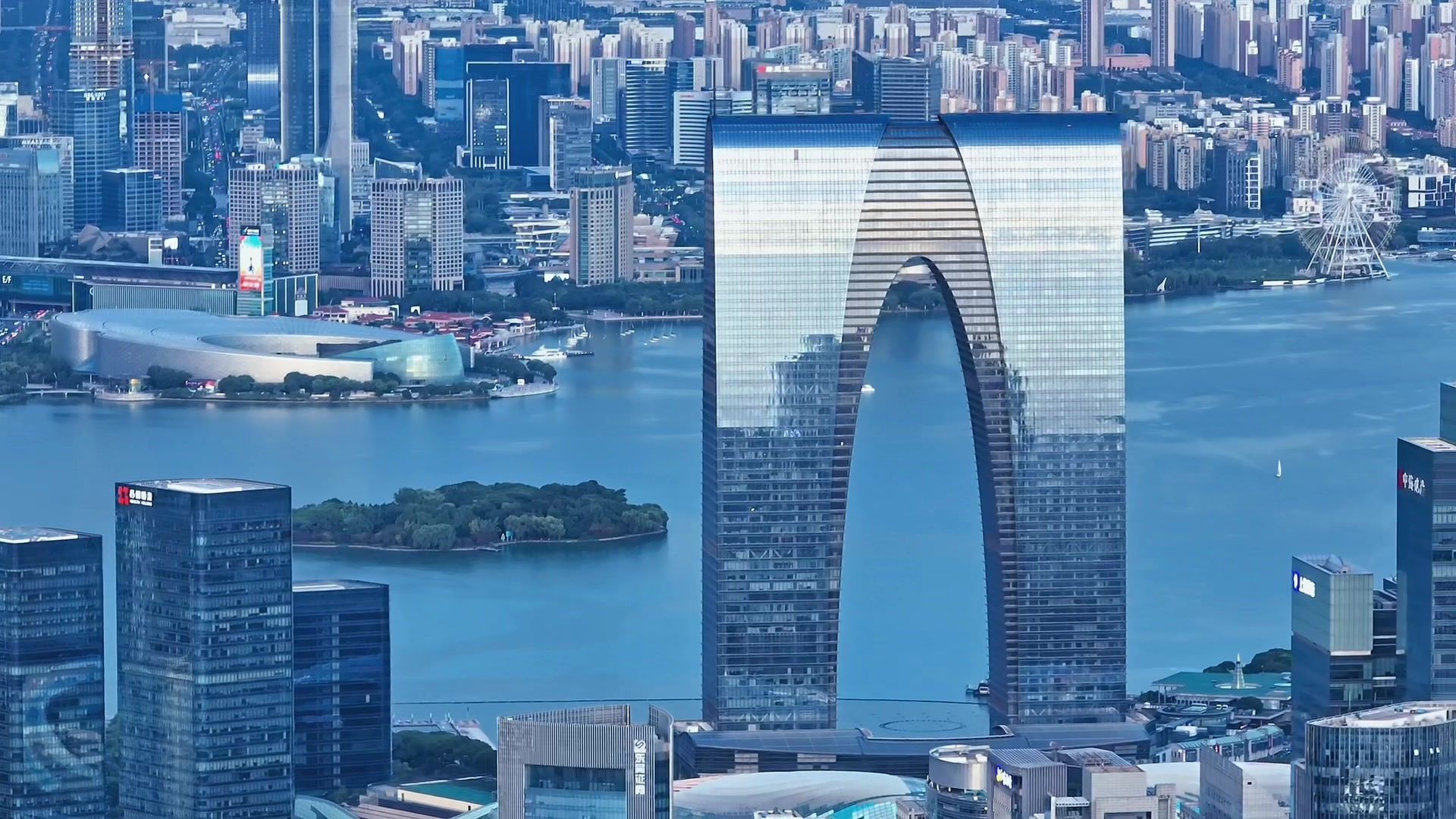 Suzhou Jinji Lake video
Suzhou Jinji Lake
Suzhou is a city with many lakes, such as Taihu Lake, Yangcheng Lake, Jinji Lake, Dushu Lake, etc. The closest to the ancient city of Suzhou and the most prosperous surrounding is Jinji Lake; the surrounding area of Jinji Lake is currently the most golden area in Suzhou Now, surrounded by big shopping malls, landmarks, restaurants, etc.
Jinji lake is the largest inner city lake in China, top 5A tourist destination to experience the young and dynamic Suzhou.
There are four entrances to the scenic spot. Generally, you enter the park from the west entrance, and there is a bicycle rental point when you exit the subway entrance.
·Ligong Causeway is the only long causeway in the lake in Suzhou Jinji Lake. It retains the traditional Suzhou residential building form.
·The night view of Jinji lake is not to be missed. The colorful digital waterfall made by high-tech means such as digital lighting flows down from the bridge, and the scenery is beautiful.
Suzhou Jinji Lake Tourist Map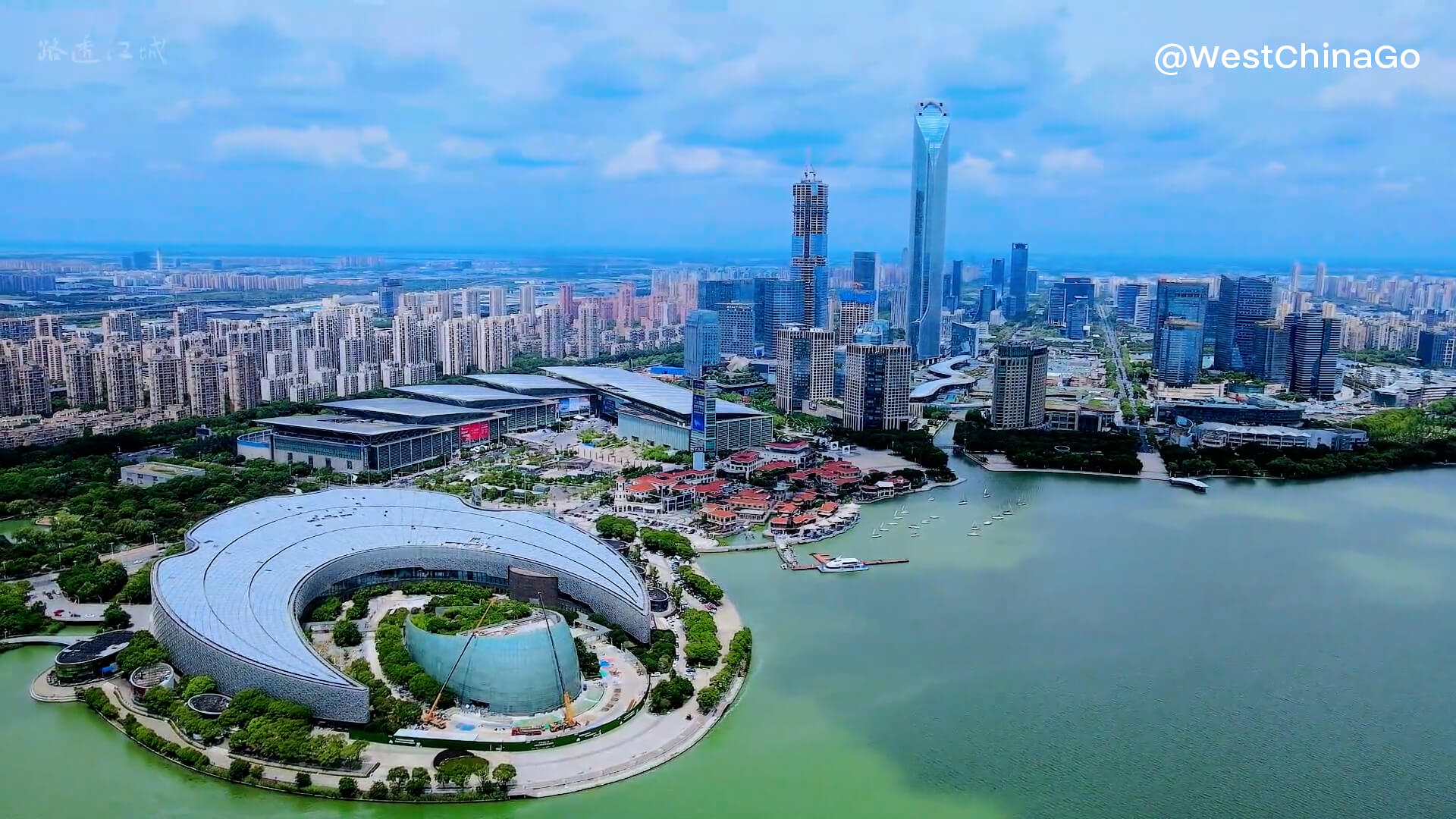 Shopping in Jinji Lake Scenic Area
When visiting a city, shopping will always be one of them. Shopping near Jinji Lake is recommended.
Luxury brands go to Jiuguang Department Store, the brands here are high-end and high-end
High-end area: Yuanrong Constellation, Shin Kong Department Store, Yuanrong Tianmu Street, Eslite Bookstore
Here we focus on introducing Suzhou Center, because Suzhou Center is a comprehensive shopping mall, which covers everything from entertainment to food, luxury brands to high-end and economy.
Suzhou Center
Suzhou Center has gathered more than 600 brands, more than 30 brand flagship stores, nearly 200 catering brands, and more than 30 experiential stores.
Indoor high-end gameplay: indoor ski resort, sky horse riding arena, simulated flying experience
The water curtain at night is also beautiful, where you can spend the whole day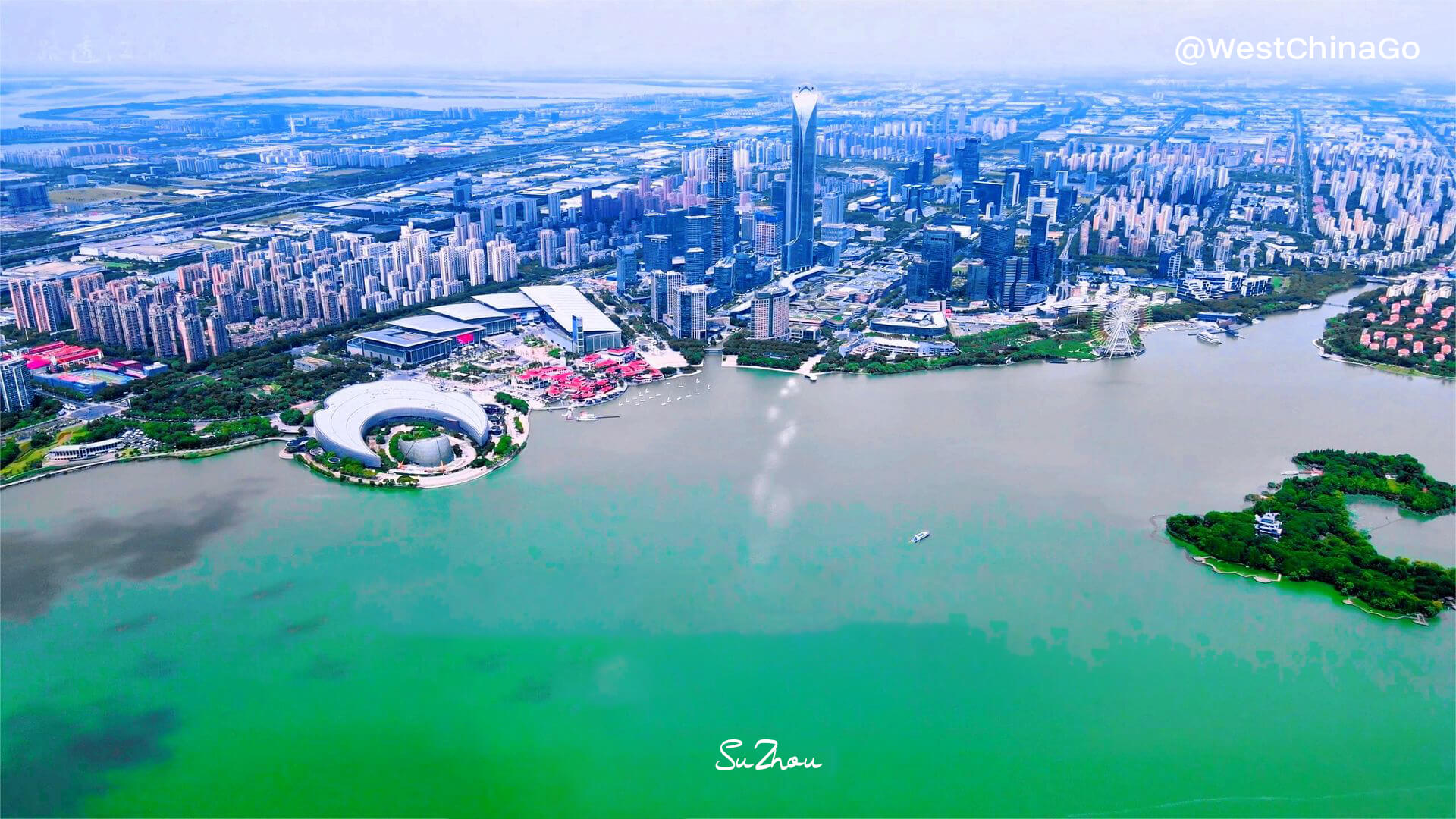 Travel Tips
If you visit Jinji Lake for a circle, it is most suitable for cycling, whether it is at night or during the day; a circle around the lake is about 15 kilometers, you can stop to see what you want to see, and you can also take a yacht to visit Jinji Lake.
You can also experience the Ferris wheel
Jinji Lake night view
The three most beautiful places to see the night view of Jinji Lake, Yuanrong Times Square, Ligong Causeway, Moonlight Pier
Harmony Times Square (圆融时代广场)
The most beautiful light show in Harmony Times Square, Tianmu Street is not bad, the surrounding shopping malls are relatively luxurious brands, there are quite a lot of restaurants, Shin Kong Place, Jiuguang Department Store, Harmony Plaza, Eslite Bookstore and so on.
Transportation: Get off at Times Square Station of Metro Line 1
The neighborhood is good for walking, and the riverside is good for chatting
Yuanrong Times Square
Yuanrong Times Square is located on the east bank of Jinji Lake in Suzhou Industrial Park. It is a large-scale, comprehensive, modern and high-quality commercial complex integrating shopping, dining, leisure, entertainment, business, culture, tourism and many other functions. One-stop shopping complex commercial real estate project,The most complete shopping and food court in Suzhou, where you can enjoy the night view of Suzhou
Moonlight Pier (月光码头)
Moonlight Wharf is a good place to blow your hair at night in summer. There are western restaurants, bars and clubs.
There is always something that suits your taste
Transportation: Get off at Kewen Center Station of Metro Line 1
The night view of the Kewen Center on the west side of Moonlight Pier and the Expo Center on the north side is also very good
Li Gongdi (李公堤)
Ligongdi is suitable for riding a green bicycle. If you like to walk, walking is also very good. There are also sightseeing trams. There are also restaurants, bars and nightlife here. There is an exhibition hall on the east side of Ligongdi.
Sunset at Jinji Lake
The most beautiful golden color of Jinji Lake in Suzhou is the sunset time. Below I will share some of the best places to watch the sunset.
Location 1: West of Jinji Lake State Grid Charging Station (a little bit west of Linrui Square Bus Station) 金鸡湖国家电网充电站西侧(邻瑞广场公交站西面一点点)
Location 2: Deyue Building Ligongdi Store (得月楼李公堤店)
Location 3: Moonlight Pier (月光码头)
Music Fountain
The musical fountain performs every Friday and Saturday from 8:00 to 3:00 pm. It is really beautiful and of course there are many people.
Transportation: Get off at Dongfangzhimen Station of Metro Line 1