1Day Guilin Li River Cruise
| Tour Number | Price |
| --- | --- |
| Tour for 2 Traveler | inquiry |
| Tour for 3 Travelers | inquiry |
| Tour for 4-6 Travelers | inquiry |
| Tour for 7-10 Travelers | inquiry |
| Tour for >10 Travelers | inquiry |
Highlights
★ All entrance fees included
★ Free hotel pickup and drop-off included
★ Lunch included
★ Led by a local guide
★ Day trip (destination A to B)
Price Inclusions:
Private Transportation:transport fee in GuiLin city,Air-conditioned tour bus;Hotel pick-up & drop-off service,
Guide: English speaking Tour guide
Meal:Lunch
Entrance fee:Entrance fee for the sites which listed in the itinerary
Price Exclusions:
Private expense: such as Panda souvenir,laundry,drinks,telephone calls,optional activities
Personal Expenses: Tips for Tour guide and driver.not compulsory,which depend on your approval of service
Accommodation:N/A
Optional tour programs in Yangshuo
What You Can Expect
1. You will be picked up from your hotel in Guilin City at 8:00 am and transferred to the departure point for your Li River cruise. Enjoy an upstream cruise on the Li River and absorb the beauty and scenery surrounding it. Lunch will be provided on the cruise.
2. Disembark at a small village, where you will have a chance to visit a local family. Continue your day with a drive to Yangshuo, a small town popular with tourists. The relaxing pace of life, friendly people, good food, scenic beauty, rice fields, clear streams and country roads for cycling make it a paradise for those who wish to get a rest from the harsher aspects of life in the big cities. You will have some free time to shop at large markets nearby.
3. When you arrive at Yangshuo your guide will take you to explore the famous West Street, or called Xi Jie in Chinese. Built in 590 during the Sui Dynasty the street is still well preserved, revealing the resplendence of past days. When the tour ends, you will be transferred back to your hotel.
---
1Day Guilin Li River Cruise Tour
Morning:Our guide will pick you up from your hotel around 08:10, when all the tourist are on bus,drive about 1hour to Zhujiang Pier. Cruise down the Li River to Yangshuo and enjoy the beauty of the fabulous scenery. Lunch is served on boat. The river tour is more than 83 kilometers long and takes 4 to 5 hours.
Meal:Lunch
Day 1:
1Day Guilin Li River Cruise
Afternoon:Disembark your boat when arriving Yangshuo. 2 hours for free time or optional tour programs in Yangshuo. Have a stroll over the West Street – a 1400-year-old ancient street with Chinese style buildings. There are some optional Yangshuo tours available at your own expense: bamboo rafting on Yulong River; tour to Silver Cave; watching cormorants catching fishes; countryside tours by bike; visit village and a family to get some ideas of the local farmers' lifestyle.
Drive back to Guilin which takes 1.5 hours, arrives Guilin at about 18:00, transfer back to your hotel.
Accomdation:N/A
---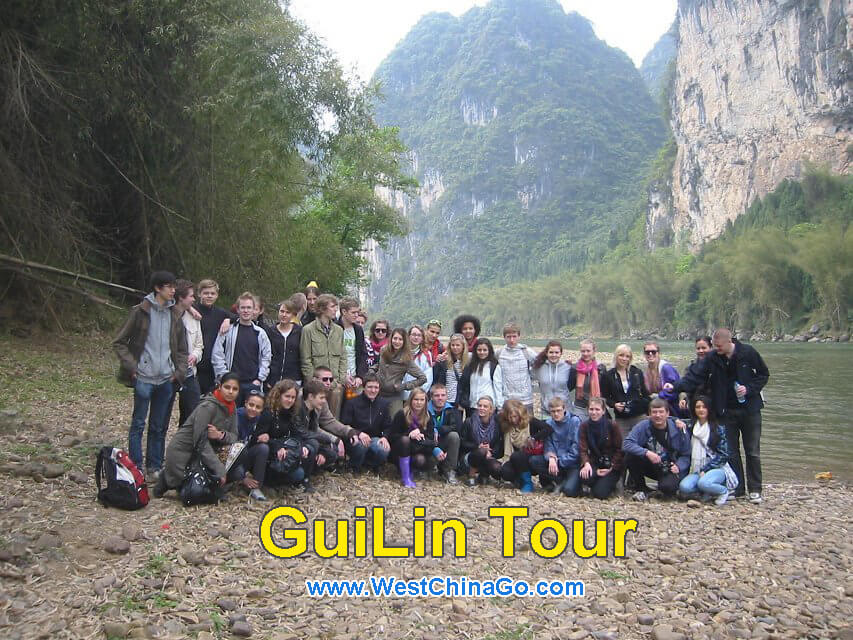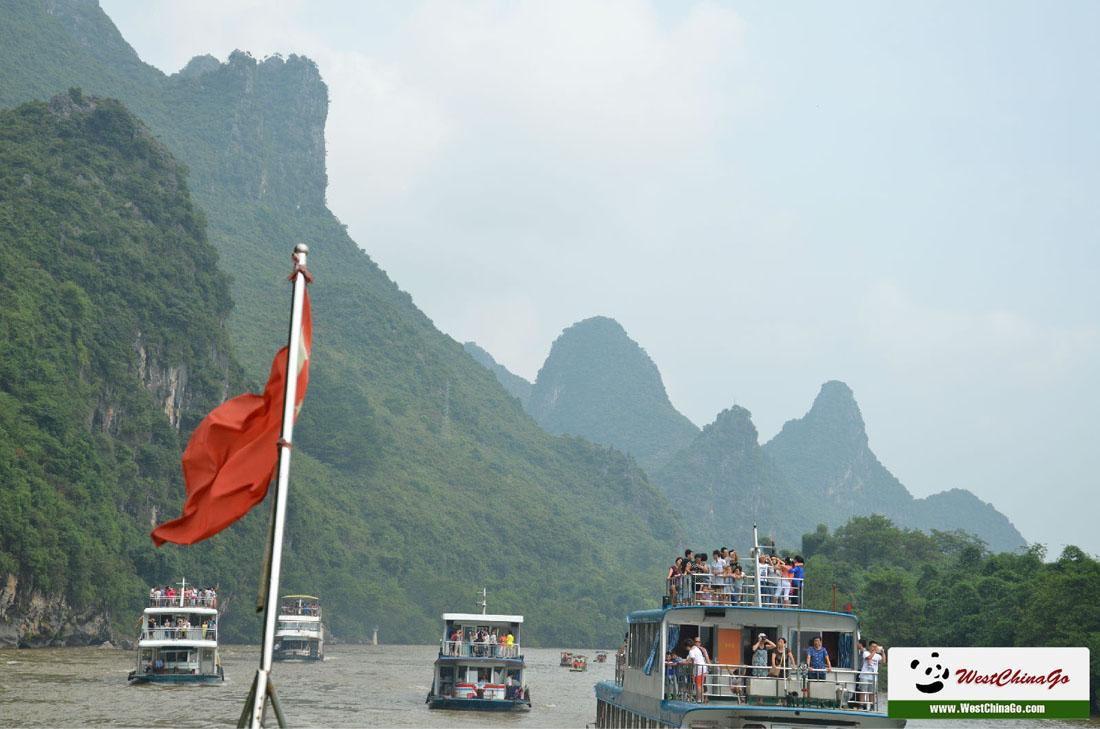 Li River Cruise Travel Guide
漓江,是中国锦绣河山的一颗明珠,是桂林风光的精华。漓江发源于桂林东北兴安县的猫儿山,流经广西桂林、阳朔,至平乐县恭城河口,全长437公里。由桂林至阳朔84公里的漓江,像一条青绸绿带,盘绕在群峰山峦之间,奇峰夹岸,碧水环绕,青山浮水,犹如一幅百里画卷。千百年来它不知陶醉了多少文人墨客。新版人民币20元背面,就是漓江山水的一段。
沿漓江从桂林到阳朔,水程约83公里,可分三段:
桂林–杨堤,全程46公里,航程4小时。风景点离航道较远。距桂林较近的有象鼻山、塔山(剑山)等。隔江对峙的有东岸的穿山与西岸的龟山,形如隔江相斗的两只雄鸡。
杨堤–兴坪,全程17公里。航程约40分钟。这里是山水风景最佳的一段。许多风景名胜就在漓江岸边。例如著名的半边渡,渡口山壁如削,为世所罕见;二郎峡两岸山峰奇立,瀑布高挂;画山平直如削,石壁上显出白、黄、灰、黑等颜色,浓淡相间。船过四望,现出九匹马形,俗称九马图。

兴坪–阳朔,全程20公里,航程约2小时。当看到阳朔的主峰碧莲峰,就快到阳朔了。从正面看碧莲峰,平滑如镜,故又称鉴山。
游览漓江,有一个绝妙之处,就是不愁天气变化,因为不同天气漓江景色有不同特点:晴天,看青峰倒影;阴天,看漫山云雾;雨天,看漓江烟雨。甚至是阴雨天,江上烟波浩渺,群山若隐若现,浮云穿行于奇峰之间,雨幕像轻纱笼罩江山之上,活像一幅幅千姿百态的泼墨水彩画。
开放时间: 7:00-18:30
门票价格: 漓江游览票分为三种类型:甲类(超豪华空调船)、乙类(豪华空调船)、丙类(普通空调船)。
旺季(4-11月及春节长假):甲类散客价为:450元/人,团体为400元/人;乙类散客270元/人,团体240元/人;丙类散客为210元/人,团体200元/人。
淡季:甲类散客价为:380元/人,团体为350元/人;乙类散客240元/人,团体210元/人;丙类散客为190元/人,团体180元/人。其中甲类、丙类门票分别免费向游客提供中式经济餐和中式自助餐。
联系方式: 0773-2825502
交通指南: 市内交通:内宾在磨盘山码头乘游览船,外宾在竹江码头乘游览船,10-3月为枯水期,期间在杨堤码头乘船。
When To Li River Cruise
Cruise depart time will be 9:00 a.m. or 9:30 a.m. in different seasons. Final departing time will be printed on your cruise tickets and your tour guide will tell you in advanced.
Cruising time is generally 4 hours while it will be changed according to the water level situation.
Lunch is served on the board.
Sunscreen is needed in summer days on the cruise, You'll benefit from listening to the commentary by the tour guide.
Famous parts on Li River cruise
Yangdi – Yangdi part is the best place to take a picture of misty Li River. And from Yangdi, the following part will be the highlight of Li River cruise.
Langshi – there river banks along Langshi part is colored by green trees. And you will see more beautiful hills in this part.
Nine horses painted hill – the most famous hill in Li River. The pattern on the hill forms a picture describing nine horses are running. But not everyone can find nine horses. So try to find as possible as you can when cruise on this part.
Yellow cloth reflection – it is named because there is a yellow stone under the river bottom which seems like a yellow cloth shoal there. The reflection of the landscape here is clearer than other parts.
Xingping – Xingping part is famous because the landscape here has been printed on the CNY 20 currency. Many tourists would like to take a picture with 20 Yuan currency in this part.
high water period and low water period
Li River has high water period and low water period. In another words to say, Li River is influenced by rainy season and dry season.
When in rainy season (high water period), the river flows faster than usual, thus the cruise time may be less than 4 hours. The rainy season falls on May to June generally.
When in dry season (low water period), the river flows slower than usual, thus the cruise distance may be shorter than usual, and tourists may need be get on the cruise ship from another pier. (This situation will be informed to guests before the cruise). The dry season falls on winter months generally.