7Days Lhasa-Kathmandu Overland Join-In Tour(A)
Time
Jan. to Mar.
Apr. to Jun.
Jul. to Aug.
Sept. to Oct.
Nov. to Dec.
Price/person
Inquiry
inquiry
inquiry
inquiry
inquiry
Highlights:
Lhasa Potala Palace
Tour Feature:
★.This 7-day tour is designed for those who prefer to soak in the sights by driving along the famous friendship highway from Kathmandu to Lhasa.
★.This tour gives you an opportunity to discover the real Tibet. From the bustling old cities to the ancient villages and settlements.
★.You will experience rich Tibetan culture heritage bu visiting top 3 historical cities-Lhasa(seat of Dalai Lama),Gyantse(Granary of Tibet),Shigatse(seat of Pamchen Lama)
★.The trip boasts of spectacular mountain scenery by passing several high mountain passes, including those of the majestic Mount Everest, Cho Oyu, Makalu and Shishapangma.
---
Price Inclusions:
Tibet Entry Permit:Tibet Entry Permit and Alien's travel Permit
Transportation: Transfer between airport/train station and Lhasa city;Lhasa City transportation, Tourist Vehicle according to Group size;Zhangmu-Shigatse-Lhasa, Tourist Vehicle in spring/summer/autumn Note:The quotation dose not include the transportation from Kathmandu to Zhangmu.We provide Kathmandu to Kodari (Nepal border) private transfer service at 200USD/car, if you need, please consult your travel advisor.
Admission fee of all tourist sites as listed in itinerary:
Professional Tibetan English speaking tour guide
Travel Agency Service Charge
Oxygen for emergency use
Tourist Accident/Casualty Insurance;
Accommodation;
★★★Economy Hotel: Nymlan Hotel or similar
★★★Economy Hotel: Tingri Everest Hotel or similar
★★★★Comfortable Hotel:Lhasa Mandala Hotel or similar
★★★★Comfortable Hotel:Shigatse: Tsangba Hotel or similar


Notice:If you prefer better accommodation,we will help to arrange.

Tibetan style welcome dinner
Price Exclusions:
Lunches and Dinners: such as souvenir,laundry,drinks,telephone calls,optional activities
Discretionary gratuities for guides and chauffeurs
Other personal expense
Single room supplement
City
Economy Hotel ★★★
Comfortable Hotel ★★★★
Deluxe Hotel ★★★★★
Lhasa
.
.
Mandala Hotel
Add: .31# barkhor street,Lhasa More Info
.
.
Shigates
.
.
Tsangba Hotel
Address: Shigatse ,Renbu Road ,No.9 TEL: 0892-8669888 FAX:0892-8667888.
.
.
Nymlan
Nymlan |Hotel:Nymlan Hotel
Add:Nymlan
.
.
.
.
TIngri
New Tingri |Hotel:Tingri Everest Hotel
Add: Zhufeng Donglu1#, Baiba, Tingri TEL: 0892-8262775 More Info
.
.
.
.
---
Airport|railway limousine service
The fee of limousine service has been covered. however, airport service is only available for the following period of time; railway station serivice is always free.
Pick-up from airport:
1.Around 12:30,pick up the clients who arrive before 12:00.
2.Around 16:00, pick up the clients who arrive before 15:40.
Drop-off to airport:
1.Around 07:30,depart from hotel to airport.
Aound 11:00,depert from hotel to airport
if:
the airport limousine service is needed in other time,or the flight is delayed and miss the pick-up time,extra 400rmb.
Notice: :
The vehicle will only leave until all guests, who arrive during the above period of time get on. There may be about one-hour's waiting time. We extend our sincere apology for the inconvenience. In the meantime, you are strongly advised to book your ticket in accordance with our limousine.
7Days Lhasa-Kathmandu Overland Join-In Tour(A)
Day 1:
Zhangmu(2300m), Nepal Border (Friendship Bridge)-Nymlan(3900m) ,195km,5-6 hours' drive
Meet your guide and driver after crossing the Friendship Bridge and showing documents and luggage to Chinese authorities. Continuing up the mountain to have lunch in Zangmu and further more to overnight in Nyalam (total 30km). To reach the small village of Nyalam there is the crossing of the Bhote Koshi River, deep in a valley with vegetation and many cascading waterfalls.
Things to know:
1.Make sure all your passport information are correct when applying group visa in Nepal,otherwise you may expect delays at the border in Zhangmu.
2.At the first 2 days from Kathmandu to New Tingri,the altitude ascend from 1300m-4000m,you will more or less suffer the high altitude sickness.In addition,The road conditon at the first 2 days are very basic,please ask consult your doctor about highlatitude sickness and car sick before departure.
Overnight :n Hostel in Nymlan |Hotel:Nymlan Hotel(or other similar Hotel )

Meal :N/A
Day 2:
Nymlan(3900m) to New Tingri (220km, 4-5 hours drive) (B)
Highlight of the day:Breath-taking Himalayan mountain view on the way.
Today you will enjoy magnificent mountain view by driving along the Sino-Nepal Highway up to New Tingri. Firstly, cross the mountain pass of Nyalam overlooking the Jugal Himal.
Then continue passing Lalung La Pass at 5050 m,here you can enjoy one of the best views of the Himalayan range, including Mount Xixapangma 8013m, Mount Cho Oyo8201m, Mount Makalu 8464m, Mount Lhotse 8516m and the great Mount Everest at 8848m, the highest mountain in the world.
Things to know:
1.This trip will not get into the Mt. Everest Base Camp,but you can appreciate Mt.Everest in distance.If you really spend 1 night at the bottom of Mt.Everest,please consult us to other available options.
Overnight :overnight at New Tingri |Hotel:Tingri Everest Hotel (or other similar Hotel )

Meal :Breakfirst
Day 3:
New TIngri/ Shigatse (250km, 4-5 hours) (B)
Highlight of the day:Gyatso La Pass,Tushilunpo monastery in Shigatse
<div class="alert"Today,head to the second largest city-Shigatse.On the way,stop at the Gyatso La Pass where Mt.Everest will meet you again. The colorful Tibetan Buddhist prayer flags are everywhere.
In the afternoon,arrive Shigatse, which locates at the junction of Yarlung Zangbo river and Nyangchu river,it is spiritually hosted by Pamchan Lama.visit Tashilunpo Monastery ,the grand monastery for Panchen Lama,Tibetans call it "Little Potala".It is also one of the few monasteries which survived during 1960s.The glistening golden roof,Giant Buddha Statue and the ancient old murals are the highlights,and walk the kora behind the monastery,which provide the parnoramic view of whole Shigatse city..
Things to know:
1.Today,you will say goodbye to rugged road,After Lhatse,the condition become much better.You can enjoy the view along the way better without car sick.
2.Monks in Tashilunpo monastery adopt lots of dogs,they are cute and lazy,do not disturb and feed them.
Overnight :in Shigatse | Hotel:Tsangba Hotel(or other similar Hotel )

Meal :Breakfirst
Day 4:
Shigatse-Gyangtse -Lhasa (375km,7 hours driving)(B)
Highlight of the day:Pelkor monastery/Karo-La Glacier/Yamdrok Lake
Morning, follow the Nyingchu river and endless highland barley fields to the granary of Tibet-Gyangtse.Visit the famous Pelkor Monastery,spend time in the unique Gyantse Kumbum as well,a layered stupa designed as a kind of 3 dimensional mandala and model of the Buddhist universe.During the 1960s,this over 500 years Kumbum was luckily avoid the damage as it was used as the wearhouse of the grain.
Then keep driving to Lhasa,on the way,at Karo La pass(5039m) ,great point to overlook the grand karo-la glacier,do not miss the great photo opportunity.About 20km away from Karo-La Glacier,is hugh expanse of turquoise holy Yandrok lake,local Tibetan believe it's a turquoise eardrop of the godness fallen to the earth.
In the late aftenoon,arrive in Lhasa.Cherish your free time to explore this holy city on your own.
Overnight :in Lhasa

Meal :Breakfirst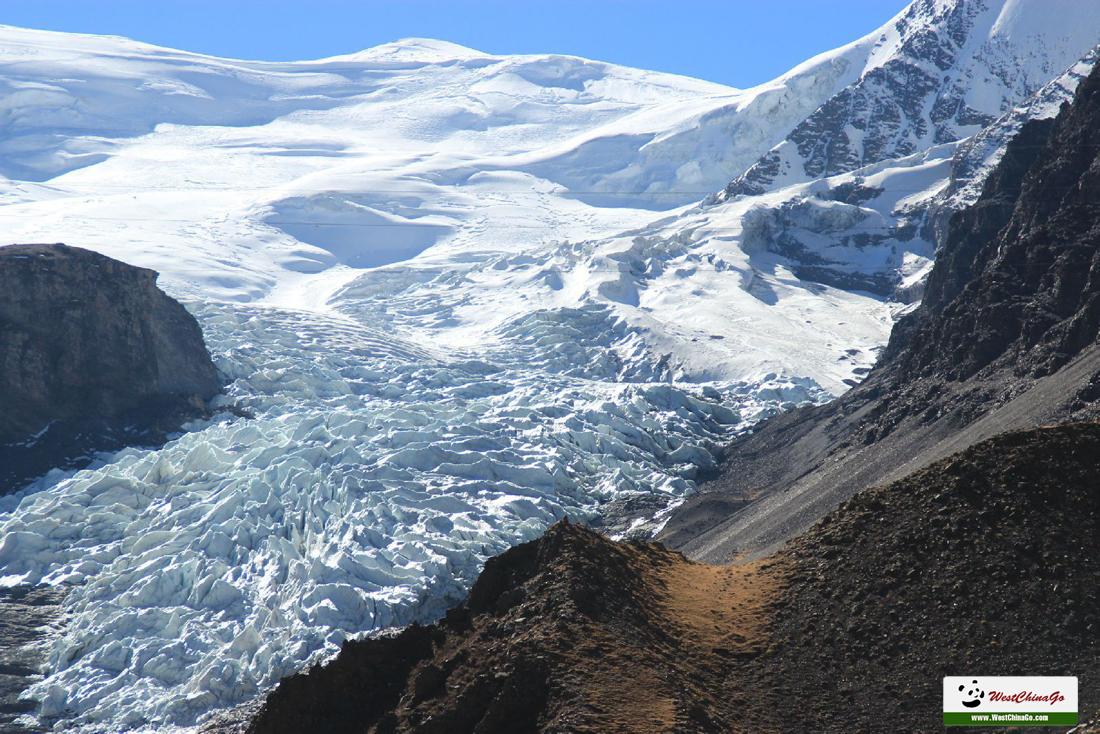 Highlights of the day:Potala Palace/ Jokhang Temple/Barkhor Street
Today you will explore the extraodinary Potala Palace, Tibet's defining religious landmark, a grand masterpiece of white, crimson and gold famed for being the former residence of the Dalai Lama.On the top ,you will have a bird-eye view of the whole Lhasa,In the distance there are undulating mountain ranges, the beautiful Lhasa River, tracts of fields, tree-shaded villages and the glistening Jokhang Temple.
Afternoon, visit Jokhang Temple, it is the first built during the period of Sontsan Gambo in the 7th century, features Buddhist prayer wheels, reclining deer, golden sutra streamers. It attracts a large number of pilgrims as its being considered the most sacred temple in Tibet .Step out of the Jokhang temple, browse the bustling, multicolored handicraft stalls of Barkhor Bazaar, a section of the oldest part of Lhasa that bustles with marketplace activity and religious devotion.
Tonight,a welcome dinner will be arranged in local Tibtan restaurant,get to know more about your group members.
Things to know:
1.To better protect the 1300 years old palace, the daily tourists flow is limited to 4000 visitors,we will reserve the tickets in advance,and guaranteed the visit to Potala Palace,but the sightseeing order may subject to change according to the actural situation.
2.The stairs of Potala Palace is pretty steep,ascend slowly,no rush.
3.No lighter,liquid allowed in Potala Palace.
Overnight :Lhasa |Hotel:Mandala Hotel(or other similar Hotel )

Meal :Breakfirst
Day 6:
Lhasa Surrounding (B)
Highlights:Drepung Monastery/ Sera Monastery
Morning,drive to the outskirt of Lhasa, visit two great monasteries: the Drepung Monastery( west of Lhasa) and the Sera Monastery (north of Lhasa).
Drepung Monastery was once home to 10,000 monks and the Dalai Lamas – it was the seat of central government until the Fifth Dalai Lama built the Potala.
Sera Monastery, one of the largest monastery of the Gelugpa sect. In the Tibetan language, sera means "wild rose garden."Sera also has three monastic colleges, which served in past centuries as magnets for thousands of monks who traveled from all over Tibet to study.You will come across Sera Monastery's monks debating which was held in the courtyard at around 3;00-5:30 in the afternoon.(Except Sunday)
In the late afternoon,return to Lhasa city,free time on your own.

Overnight :Lhasa |Hotel:Mandala Hotel(or other similar Hotel )

Meal :Breakfirst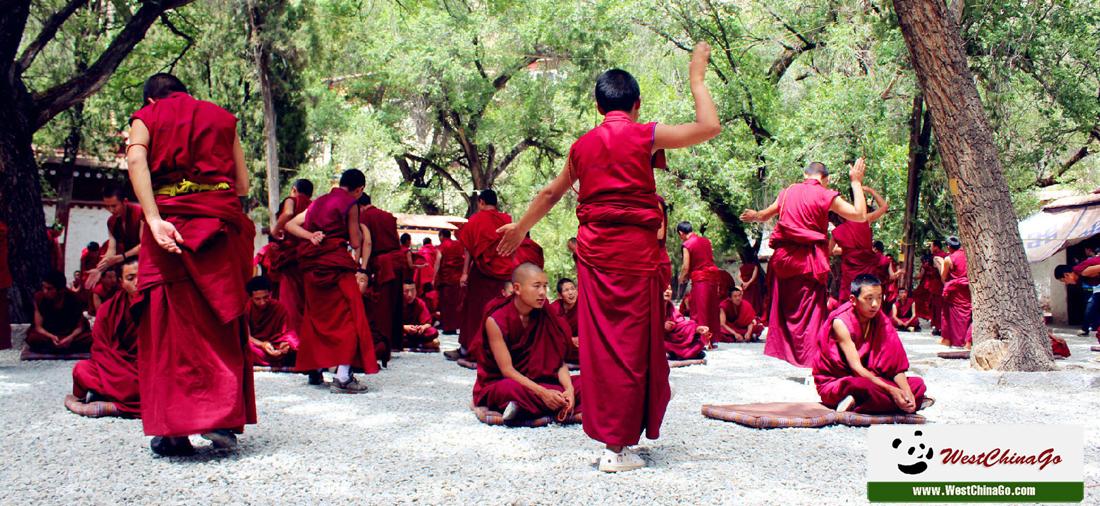 Day 7:
Lhasa-Your next destination
Today is the time to say good bye and depart to your next destination.We will arrange airport or train station drop-off .Thank you again for choosing our service.Bon voyage!

Overnight :N/A

Meal :Breakfirst