4 Days JiuZhaiGou Tour From ChengDu
4 Days JiuZhaiGou Tour From ChengDu
Tour Map:

*Notice:this following quotation is not applicable for Sep and Oct and Public Holiday.
| Tour Number | Price |
| --- | --- |
| Tour for 2 Traveler | 858 USD/Per |
| Tour for 3 Travelers | 690 USD/Per |
| Tour for 4-6 Travelers | 619 USD/Per |
| Tour for 7-10 Travelers | inquiry |
| Tour for >10 Travelers | inquiry |
Price Inclusions:
Round Trip Transportation:From ChengDu to JiuZhaiGou +Back Trip, Business Van according to group size
Guide: English speaking Tour guide
Accommdation:3-nights local boutique hotel (shared twin room, private bathroom and daily breakfast)
Entrance fee:Entrance fee for the tour attraction listed in the itinerary
All required government taxes and fees.
Price Exclusions:
Private expense: such as Panda souvenir,laundry,drinks,telephone calls,optional activities
Tips:Gratitude for your guide and driver
Meal not specified in the itinerary
Transportaion:Airfare:to Chengdu trip—air tickets
Optional Activity: Tibetan cultures show in Jiuzhaigou.horse riding….
Transportaion: Cable car ticket at Huanglong Park.
4 Days JiuZhaiGou Tours From ChengDu
Day 1:ChengduSongPanChuanZhuSi
Time Length:6-9 H
Morning, meet your guide and driver in the hotel lobby, with good mood, starting the scenic road journey to Chuanzhusi, a prosperous town near Huanglong National Park. Along the way, you will enjoy the breath-taking scenery along the Min River.
Maoxian Jade color Diexi Lake ,fountain head of Min River,and over 1000 years old Songpan Ancient Town.
*(this itinerary will pass by dujiangyan panda base, if you have plan of only feeding panda and visiting, please inform, we'd make reservation for you in advance.)
On the way, whenever and wherever is safe to stop, our driver will be happy to park the car for the picture opportunities
ChuanZhuSi Panoramas
Accommdation: :ChuanZhuSi Memory Hotel or comparable
Meal : L|D (in local Popular restaurant)
Day 2: ChuanZhuSiHuangLongJiuzhaigou
After breakfast, drive 1.5h to Huanglong National Park,stop at the 4000m platform ,behold the magnificent view of highland scenery and Xuebao Summit on the way. Upon arrival, spend 4-5hours inside Huanglong National Park.
Huanglong National Park is surrounded by trees and faint forests, the breathtaking landscapes consist of snow-capped mountains, limestone landforms, colorful lakes, waterfalls.
Looking from above, you will see Huanglong Valley shaped like a sleeping dragon.
In the afternoon, continue the journey to your hotel near Jiuzhaigou national park.
Accommdation: : Sanroyal International Hotel or comparable hotel
Meal : B|L|S
Optional Activity : horse riding(more info)
Day 3: Jiuzhai Valley National Park
Today, you will spend a whole day to explore the "Shuzhen Valley","Zechawa Valley","Rize Valley" inside Jiuzhiagou by public sightseeing bus.
Jiuzhaigou fairyland lies about 2500m above sea level and covers an area of 620 square kilometers.
The majestic and unrivaled forests, snow peaks and Tibetan folk villages all blend in harmony with each other.
Its lush vegetation alternates with grass steppes, lakes, rovers and bizarre waterfalls.
Hotel:Sanroyal International Hotel or comparable hotel
Meal:Buffet breakfasts at hotel daily
Optional Activity : JiuZhai Night Show(more info)
Day 4: Jiuzhai Valley National Park—ChengDu
After breakfast, drive back to Chengdu.
On the way, visit the over 1000 years old Songpan Ancient town, the fountain head of Min river.
Hotel:N/A
Meal:Buffet breakfasts at hotel daily
JiuZhaiGou Tours
China chengdu jiuzhaigou tours.
JiuZhai Valley National Park
JiuZhai Valley National Park
World Natural Heritage, National AAAAA Level Scenic Spot, National Nature Reserve, National Geopark, World Biosphere Reserve Network
2020 jiuzhaigou tours
JiuZhaiGou National Park is going to re-open at 28.Sep.2019.5000 p/ day limitations,tickts only available with travel agency.
ChengDu Panda Tours
World Cultural Heritage Around ChengDu:
2020 JiuZhaiGou Tours, Travel Guide
China JiuZhaiGou
China JiuZhaiGou
Chinese Name: 九寨沟
Address: jiuzhaigou,SiChuan,China(424 KM from chengdu)
Visiting Time: 3-4 Days
Tickets:258 RMB/per
Recommended Visiting Time:1-2days
Tickets: ¥220 (ON SEASON)
Sightseeing Bus: ¥90 CNY
Open Time : 8:00-18:00
Website : https://www.jiuzhai.com/
Tel : 0837-7739753
China jiuzhaigou National Park
Jiuzhai Valley or Jiuzhaigou National Park is located in the Aba Tibetan and Qiang Autonomous Prefecture of Sichuan Province, South Western China(400 KM from chengdu). It was declared a UNESCO World Heritage Site in 1992.
Jiuzhaigou is a valley with a depth of more than 50 km.with a total area of 650.74 hm² .
Jiuzhai Valley literally means "Nine Village Valley" and is named after the nine Tibetan villages scattered throughout the park. There is evidence of people living in the national park up to 3,000 years and the local people still hold onto many of their traditional ways of life. The human population of the park is just over 1,000 which comprises of over 110 families.
The superb landscapes of Jiuzhai Valley are famous for their conic karst land forms and spectacular waterfalls and colorful lakes,snow mount. as if jiuzhaigou is palette upset by god, the breath-taking scenery will let you into fairytale world, There are over 220 bird species found in Jiuzhai Valley as well as a number of endangered plant and animal species, including the precious giant panda, Sichuan golden monkey ……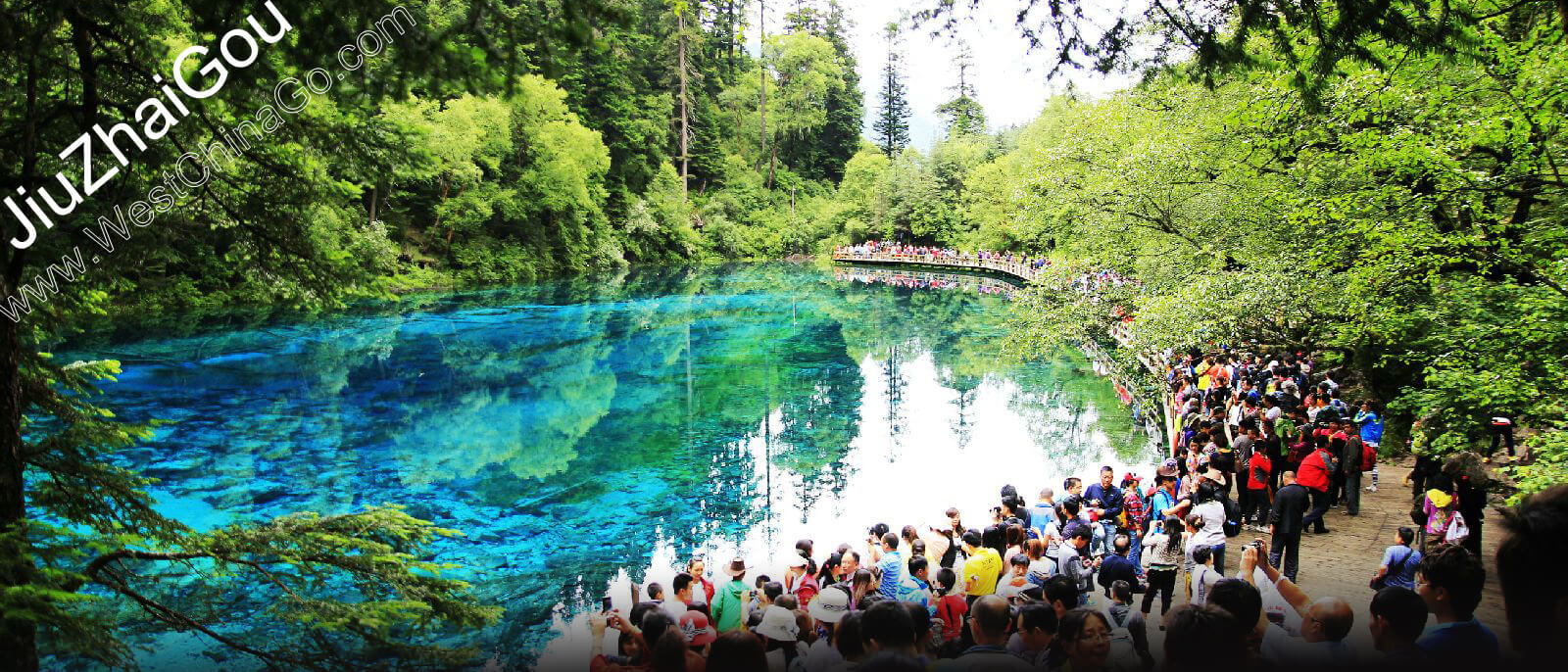 JiuZhaiGou Tours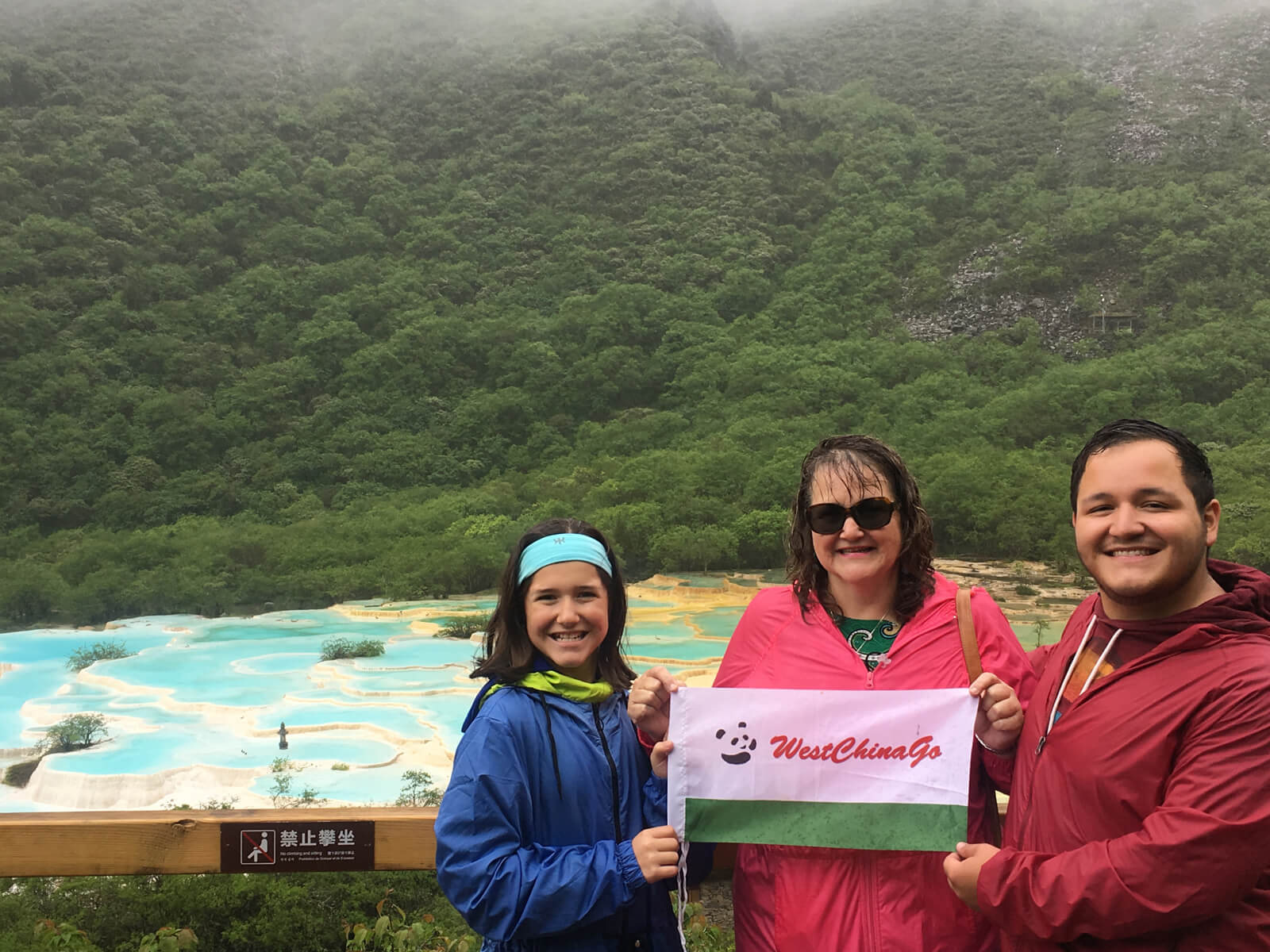 JiuZhaiGou Tours Package
JiuZhaiGou Join-in Tours
JiuZhaiGou Join-in Tour
For Solo Traveler or Budget Tourists For JiuZhaiGou Tour., we recommend you join in Quality and best-value Chinese jiuzhaigou tour group.
3 Days JiuZhaiGou + HuangLong Tour(Chinese-Speaking Tour Guide)
Price:From 299 USD/Person
(Chinese-Speaking Tour Guide)
4-5 Star Hotel(2 nights)
Space Coach
Amazing Itinerary.(Panda+Tibet Family Visiting+Party….)
No Shopping
JiuZhaiGou Tours Video
JiuZhaiGou Tours Car Rental With Driver