Sichuan Opera Tickets,book chengdu face change show tickets
SiChuan Opera Night Show
• Chinese Name:川剧 变脸秀
• Address:ShuFengYaYun 成都琴台路蜀风雅韵(成都市青羊区琴台路23号市文化公园内)
• starting time:20:00 PM
• Duration: 20:00 PM–21:30 PM
• Price Type:VIP A B Class
• Price:40 usd / 32 usd / 29 usd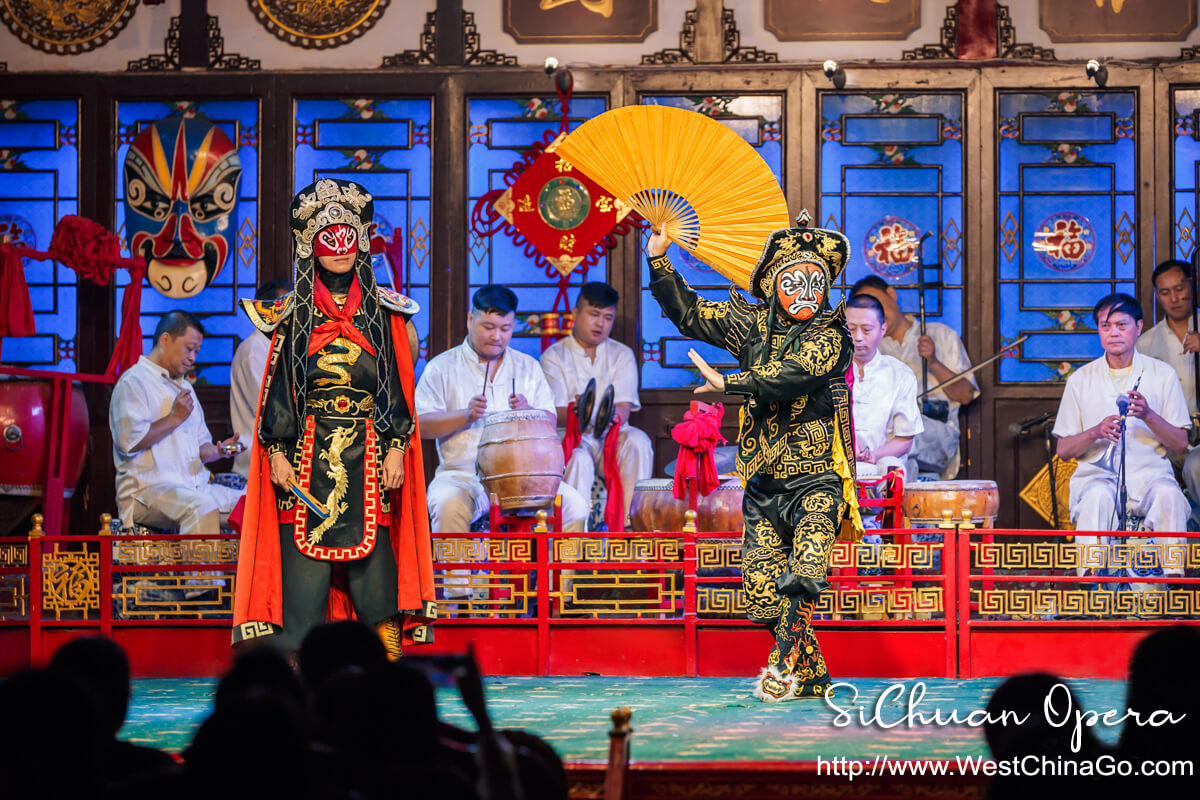 Sichuan Opera
Sichuan Opera,is night entertainment while in chengdu tour,most tourist will choose this program.including ancrobat,sing,stunt…worthy to watch.
Overall the art form is well known for its singing, which is less constrained than that of the more popular Beijing opera form. Sichuan opera is more like a play than other forms of Chinese opera, and the acting is highly polished. The music accompanying Sichuanese opera utilizes a small gong and an instrument called a Muqin, which is similar to the Erhu.

The traditional formula is quite systematic with a combination of stunts like face-changing, tihuiyan, sword-hiding, fire-spitting and beard-changing with the plot and different characters.

Experience the mesmerizing melodies and intense action of the Sichuan Opera during a 1.5-hour performance in Chengdu's Shufeng Yayun Teahouse. Marvel at dazzling dancers and astounding acrobats as they deliver an extravagant spectacle of color and culture. Upgrade to enjoy unrivalled stage views from luxurious seats and pleasure your palate with snacks to accompany a Sichuan tea. For the ultimate experience, opt for ear grooming, a Chinese massage and a show costume dress up session that comes with a complimentary photograph.
WestChinaGo offer you value price and hassle-free service of booking chengdu face-changing show
Book SiChuan Opera tickets Price
Show Time20:00-21:30 PM
Book Sichuan opera Tickets
VIP Class Seating
A-Class Seating
B-Class Seating
Price*
40 usd p/p
32 usd p/p
29 usdp p/p
Free Hotel Pick-up & Service within chengdu city 3 ring road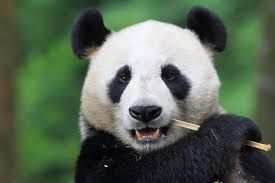 ChengDu WestChinaGo Travel Service
www.WestChinaGo.com
Tel:+86-135-4089-3980
info@WestChinaGo.com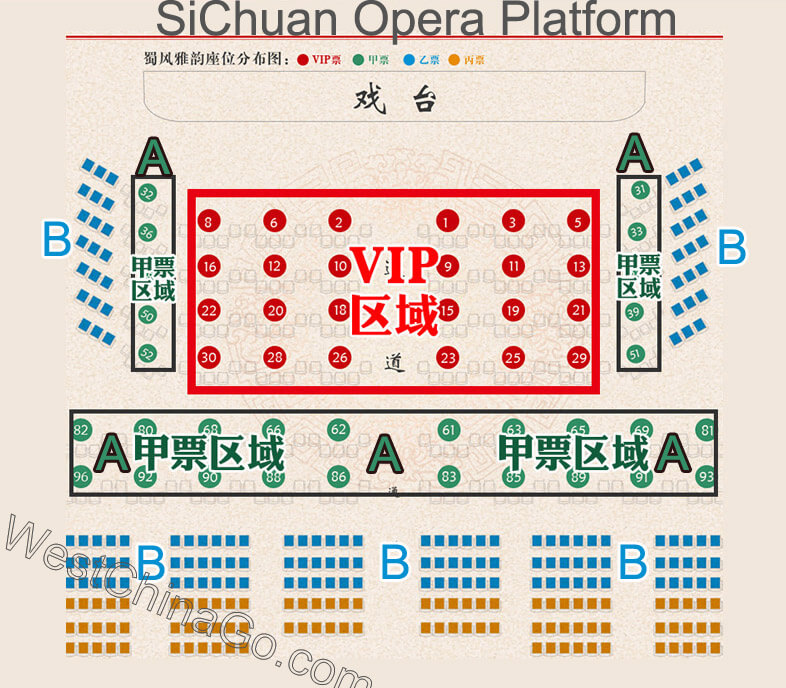 Book ChengDu face changing Show Tickets
1)VIP Class Tickets
sichuan opera VIP Class seating includes entrance ticket to front-central seating area, tea service and one of the following: massage, ear-grooming, or photo opportunity while dressing up in opera costume.
2)A Class Tickets
A Class seating includes entrance ticket to rows 1-4 behind VIP area, tea service and 1 option:costume experience
3)B Class Tickets
B-Class seating includes entrance ticket to seats in rows 5-7 and tea service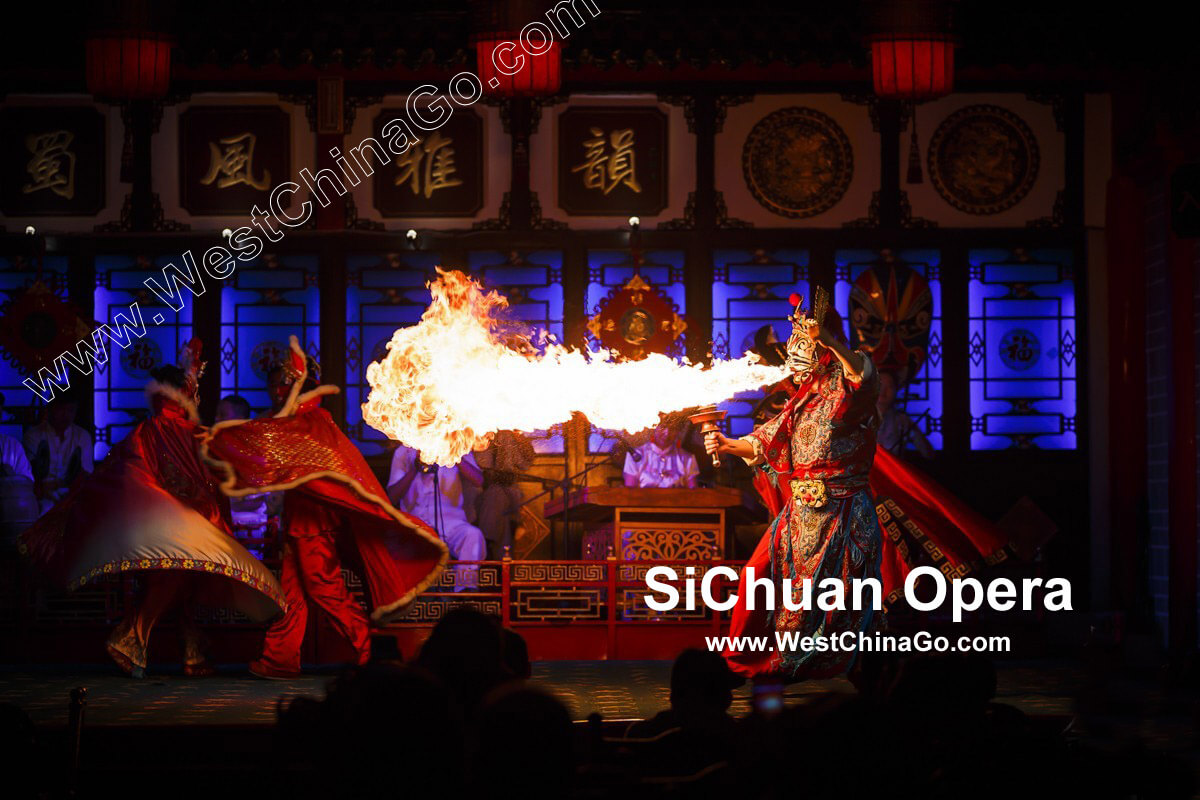 Cheng Face Changing Show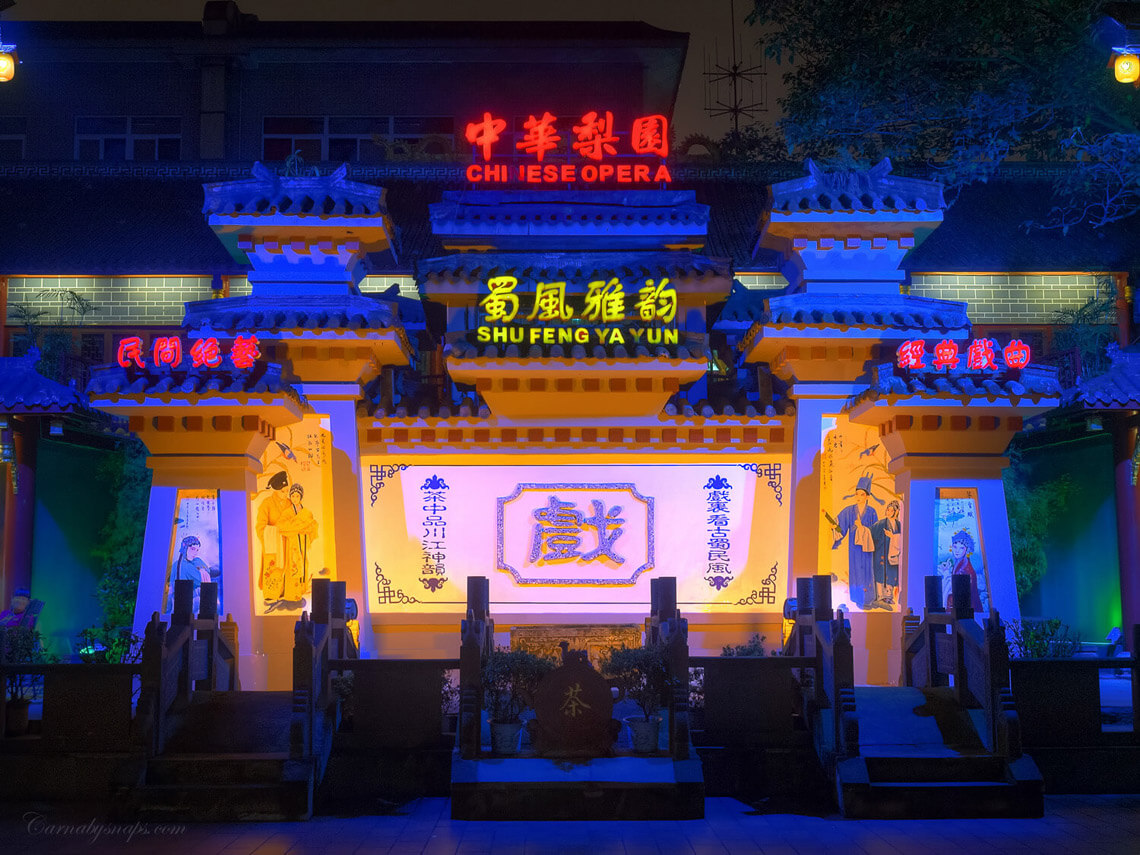 Sichuan Opera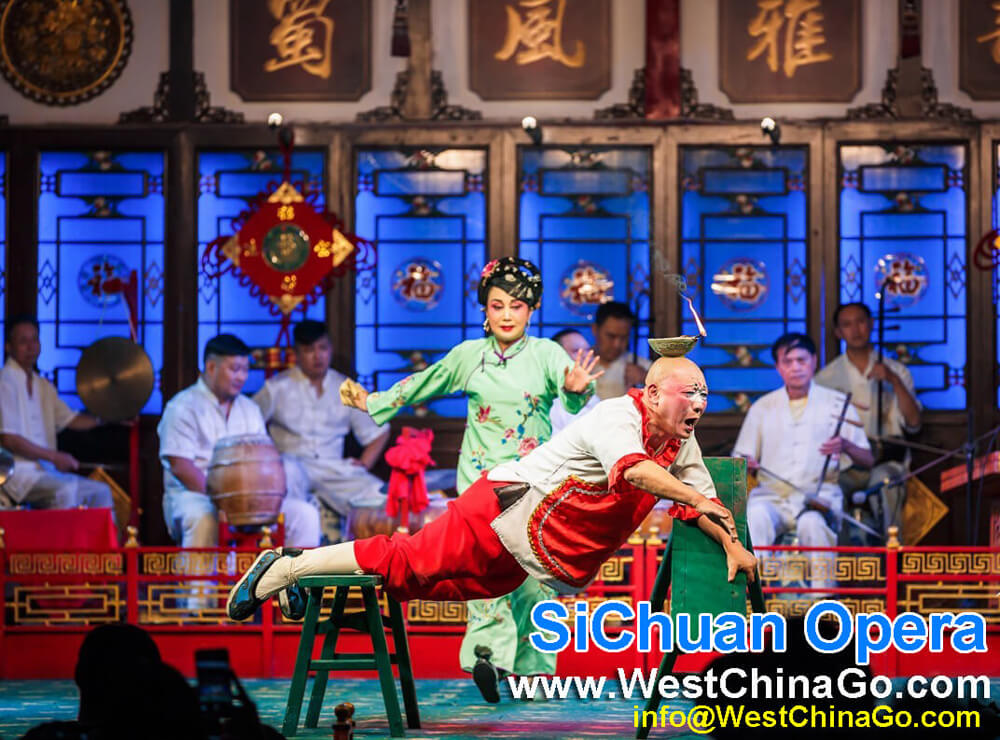 Chengdu Sichuan Opera
Chengdu Sichuan Opera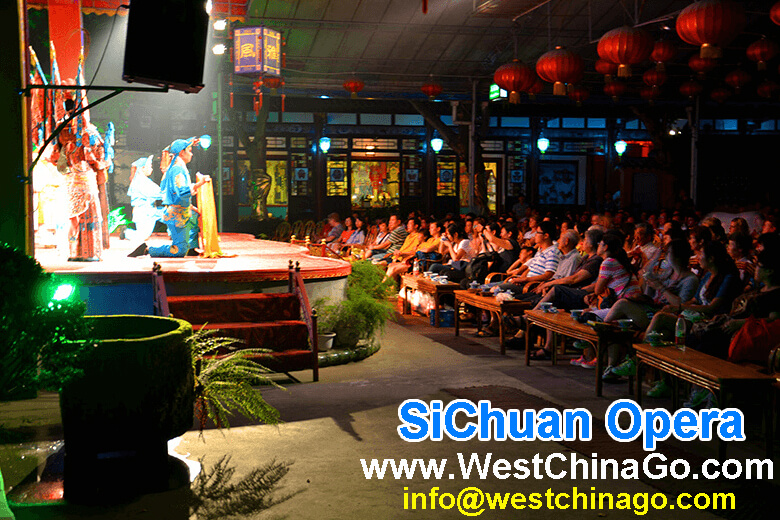 Chengdu Sichuan Opera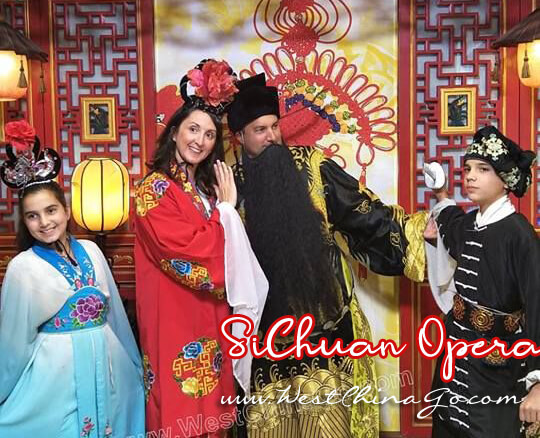 Chengdu Face Change Show
More Info >>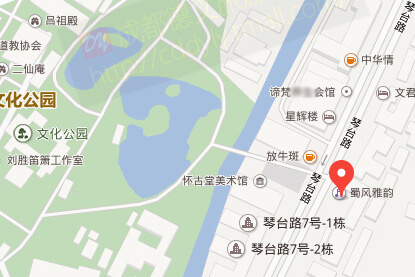 How to Get to ShuFengYaYun (SiChuan Opera)
More Info >>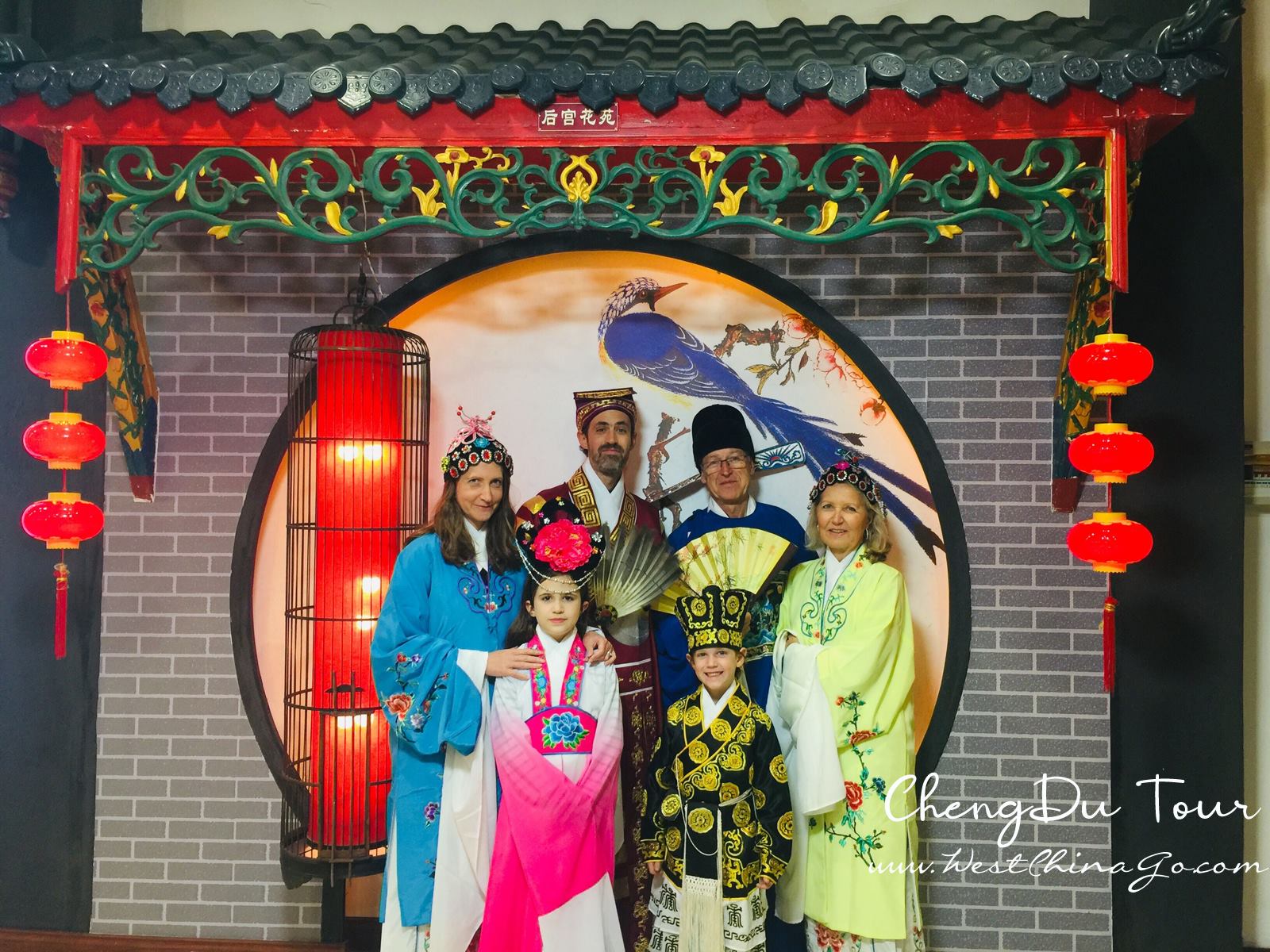 What You Can Expect
Shufeng Yayun Teahouse with ancient atmosphere,cultural construction group located in the Chengdu Culture Park.
Venture within the richly decorated building and take a seat in the position selected.
If you've opted for VIP seating, sink into a luxurious chair and enjoy a relaxing massage and ear grooming session before the show starts.
Hear an expectant hush descend over the crowd as the lights dim and the curtains open to reveal dazzling set design and colorful costumes.
Become hypnotized as you watch a magnificent mélange of puppetry, folk music, acrobatics and dancing.
See Southwestern China's rich culture come to life through three distinct acts, which include Spitting Fire, Rolling Light and Changing Faces.
Immerse yourself in tales of legend and love and watch puppet shows that depict ancient folk art while enjoying a traditional Sichuan tea service at your table.
Upgrade to enjoy specialty snacks that compliment the refreshing beverages.
Applaud raucously at the end of the show and venture to the dressing room to transform into a colorful character if you have upgraded to the VIP experience.
Make your own way back to your hotel with magical memories after the show concludes.
sichuan opera
sichuan opera tickets
book sichuan opera tickets
chengdu face changing show tickets
book chengdu face changing show tickets
sichuan chengdu opera show