ShangHai ZhuJiajiao Water Town

ShangHai ZhuJiajiao Water Town

ShangHai ZhuJiajiao Water Town

ShangHai ZhuJiajiao Water Town

ShangHai ZhuJiajiao Water Town

ShangHai ZhuJiajiao Water Town

ShangHai ZhuJiajiao Water Town

ShangHai ZhuJiajiao Water Town

ShangHai ZhuJiajiao Water Town

ShangHai ZhuJiajiao Water Town

ShangHai ZhuJiajiao Water Town

ShangHai ZhuJiajiao Water Town

ShangHai ZhuJiajiao Water Town
Shanghai XinTianDi
Chinese Name: 上海朱家角古镇
Address: 上海市青浦区朱家角镇
Tel: +86 (021-59240077)
Opening Time:all day
Recommended Visiting Time:>3 H
Tickets : free
offical website: http://www.zhujiajiao.com/
ShangHai ZhuJiajiao Water Town
ShangHai ZhuJiajiao
· Commonly known as "Jiaoli", the nearest Jiangnan water town to Shanghai is one of the four historical and cultural towns in Shanghai.
The small bridge in the town is full of water, showing the epitome of Jiangnan water town.
The most famous release bridge is the largest five-hole arch bridge in Shanghai.
There are many specialty snack bars in North Street, including the famous Apo, and all kinds of exquisite cakes can be eaten here.
• Best Time:March-October. The best in spring, summer and autumn. Zhujiajiao has four distinct seasons, abundant rain, long frost-free period and sufficient sunshine. "Spring rewards the small bridge, the Xiaguan ancient street is quiet, the autumn tour famous garden ancient temple." Zhujiajiao, located in the water town of Jiangnan, is a place of dripping water. It is often rainy and rainy in spring and summer. The bridge is full of water and the unique charm of the water town is unobstructed. Autumn ginkgo leaves turn yellow, millennial old trees, very beautiful. Winter temperatures are slightly lower, the air is cold and cold, not suitable for excursions
• 民俗风情游::30.00 yuan (including Humanities Art Museum, Daqing Post Office, Plantation Garden, Tongtian and Drug store., excluding tickets)
• 新水乡访古游: 60.00 yuan (including Shanghai Quanhua Watercolor Art Museum, Yuanjin Temple, Shanghai Handicraft Exhibition Hall, Chenghuang Temple, Daqing Post Office, Tongtian and Medicine, Humanities Art Museum, Class Plantation, excluding ticket)
• ShangHai ZhuJiajiao: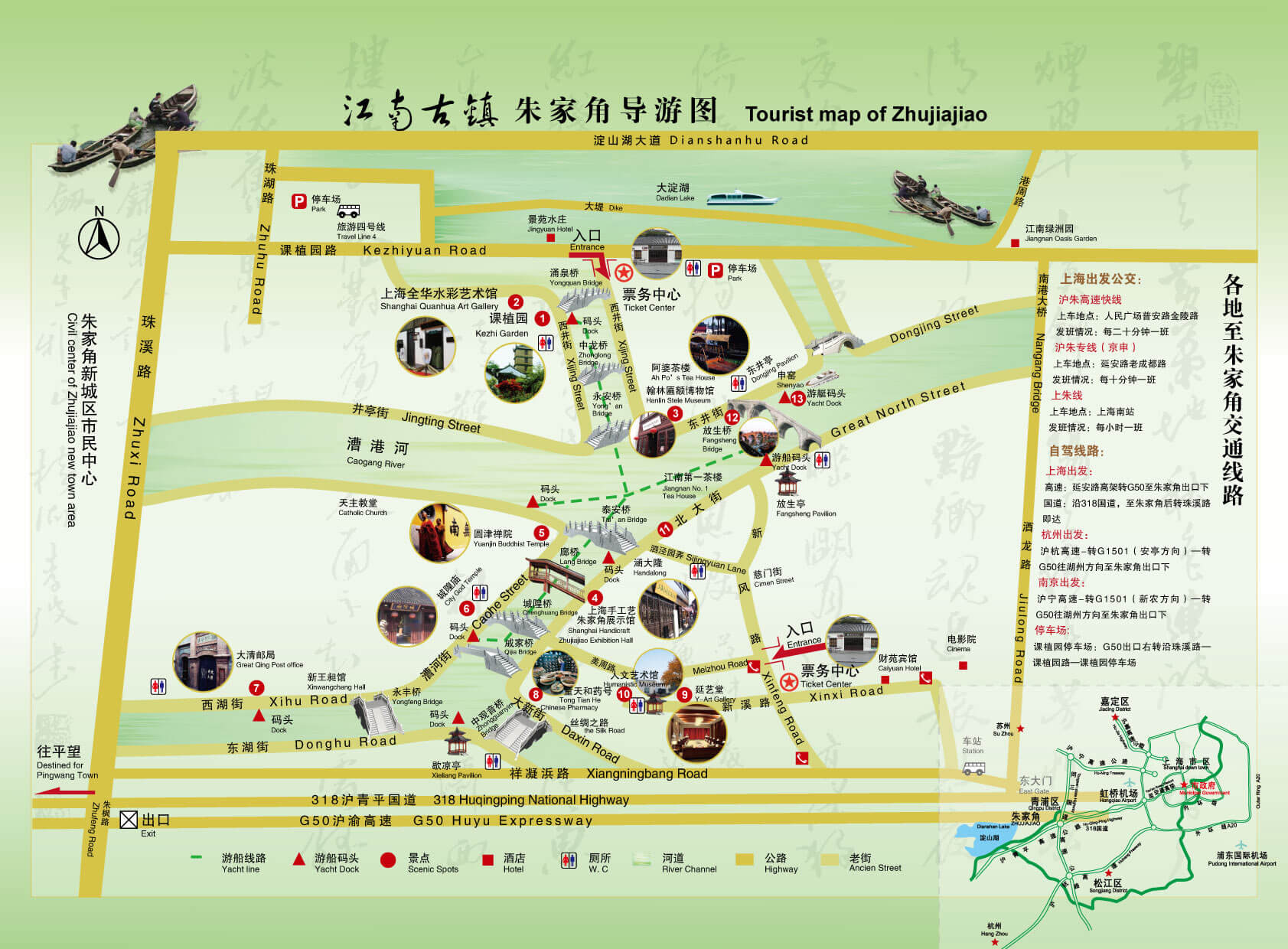 How To Get To ZhuJiaJiao from ShangHai
Car Rental
Bus
Subway
Review
| Number | Total Cost |
| --- | --- |
| 5 Seats Car | 185 USD |
| 7 Seats Car | 250 USD |
| 9 Seats Car | 335 USD |
| 15 Seats Car | 385 USD |
Inclusion
5 seats or 7 seats car with good condition
Parking fee,fuel cost,toll gate fee…
Driver's MEAL
insurance of passengers
ShangHai |Hotel(Airport) Pick up and drop off
Exclusion
Tourist attractions admission tickets
personal expense
english tour guide
accommodation
tips for driver, depends on service