jade dragon snow mountain
Yulong Snow Mountain
Chinese name: 玉龙雪山
Foreign name: jade dragon snow mountain
Location: 15 kilometers north of Lijiang Old Town, Yulong County, Lijiang City (Yulong Snow Mountain Scenic Area)
Location: 云南省丽江市玉龙纳西族自治县(丽江市北面15公里)
Climate conditions: subtropical climate
Opening hours: 08:00-17:00 throughout the year (last admission at 16:00)
Attraction level: AAAAA level
Ticket price: 100 yuan/person (not including ropeway, eco-cars, impression of Lijiang performance tickets)
Big ropeway: 120
Cotton clothes: 50
Eco-friendly car: 20
Area: 415 km²
Altitude: 5596 m
Width: 13 km
Length: 75 km
Main peak: Steep fan
Best time to travel: April and May
Official Website: http://www.lijiangtour.com
Tel: 0888-5131068
Virtual Tour: https://720yun.com/t/99vku7qe57l?scene_id=40963577
Yulong Snow Mountain
Yulong Snow Mountain Scenic Spot in Lijiang City is the southernmost Daxue Mountain in the Northern Hemisphere. Located in Yulong Naxi Autonomous County, it is a 5A-level national scenic spot officially approved by the National Tourism Administration. It is 35 kilometers long from north to south, 13 kilometers wide from east to west, and covers an area of 960 square kilometers. The main peak fan is steep at an altitude of 5596 meters. The mountain and snowy scenery is located above 4000 meters above sea level. It has dangerous, strange, beautiful and beautiful scenery.
Jade Dragon Snow Mountain is called "Olu" in Naxi language, which means silver rock. Wrapped in silver, the thirteen snowy peaks are endless, like a "great dragon" soaring and flying, so it is called "Jade Dragon".
Yulong Snow Mountain Video
Yulong Snow Mountain Photo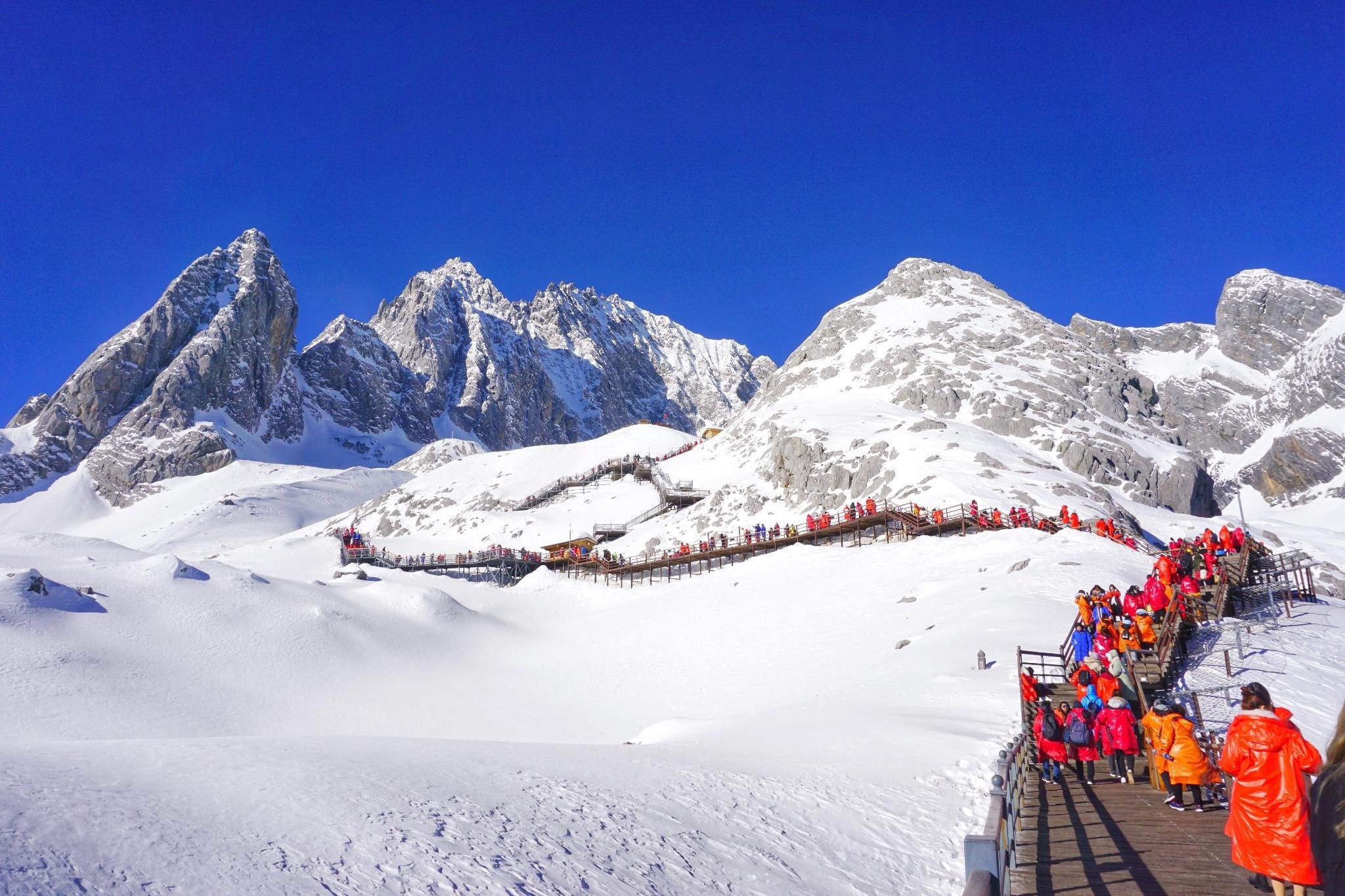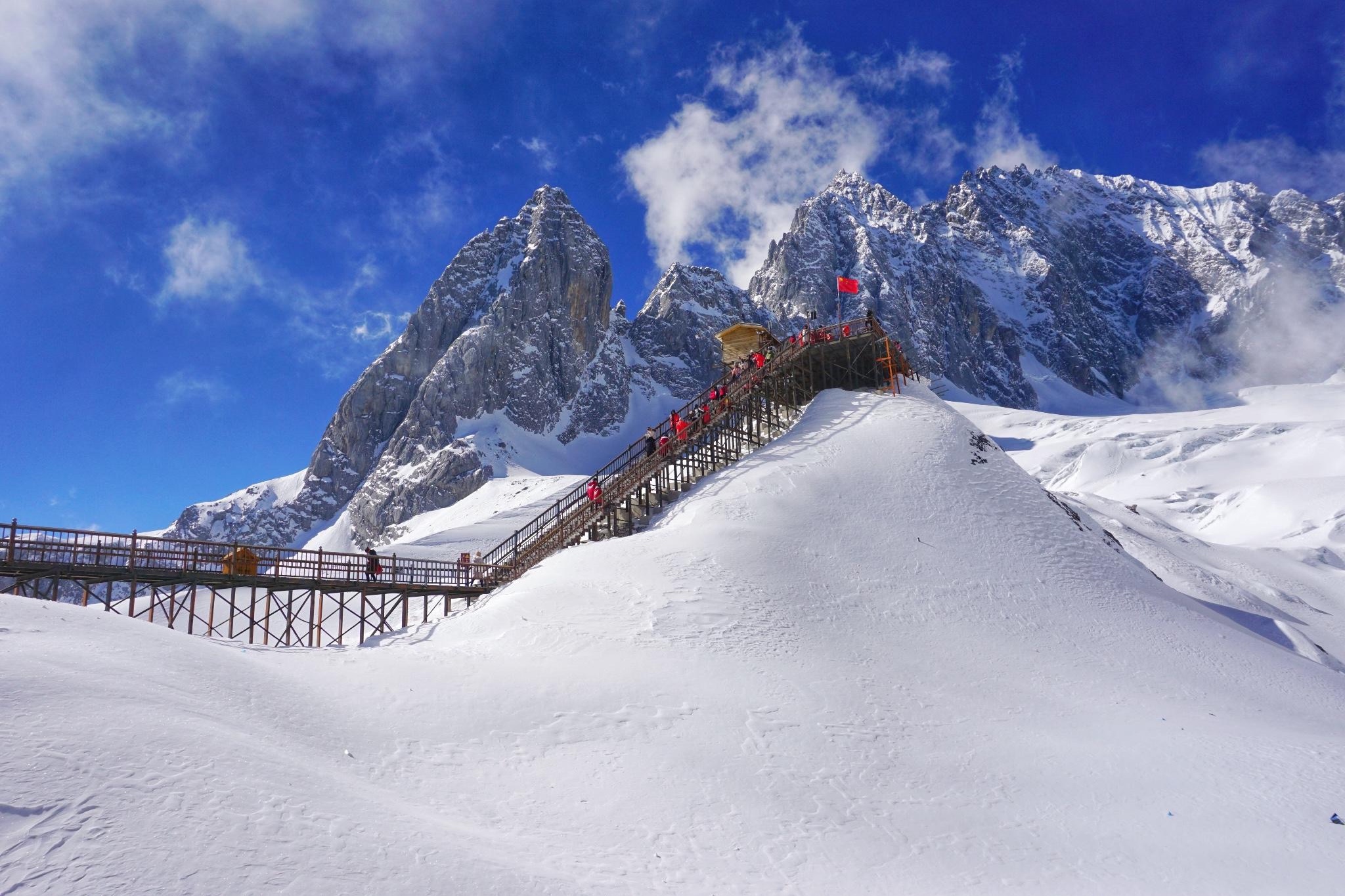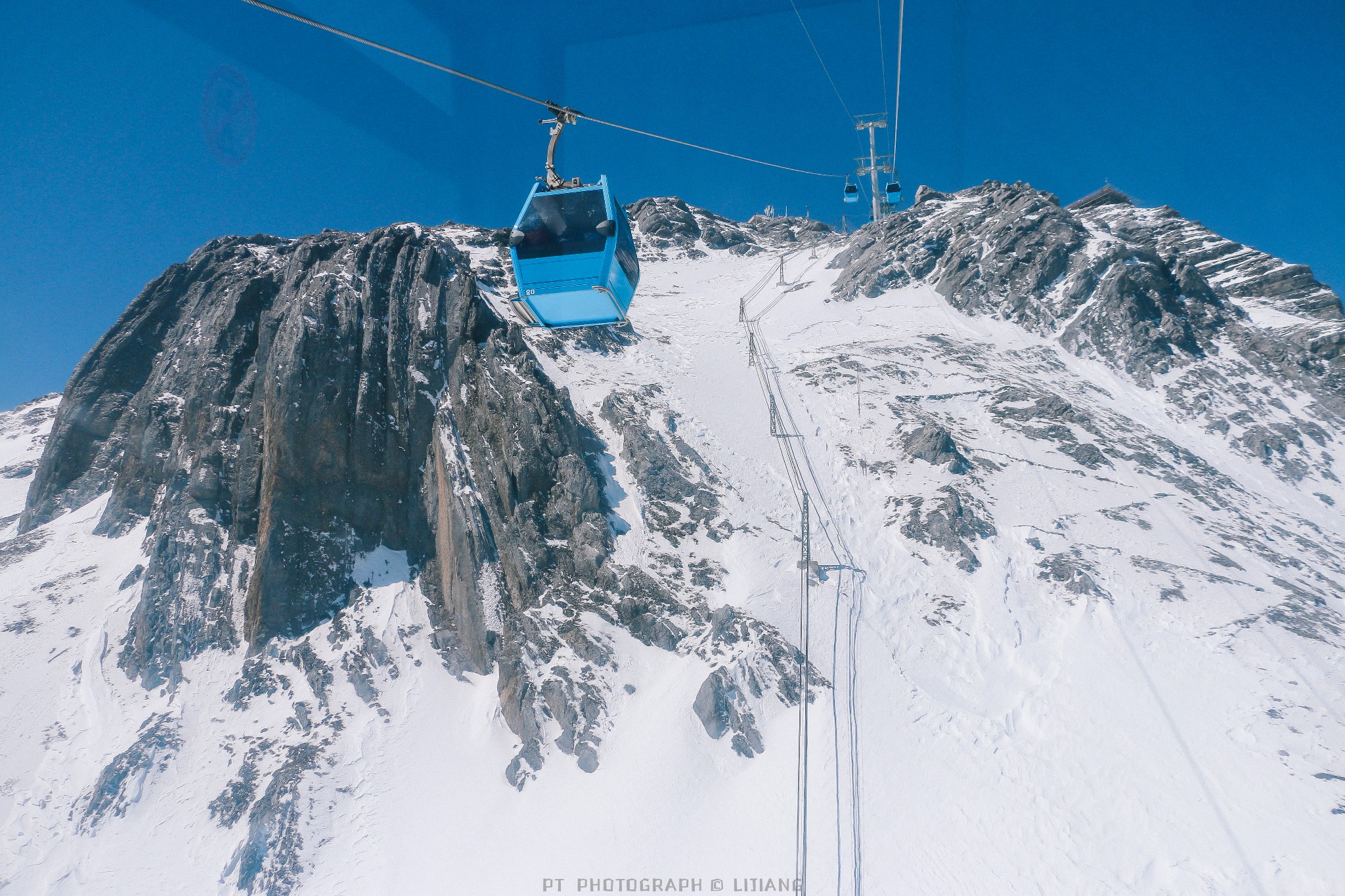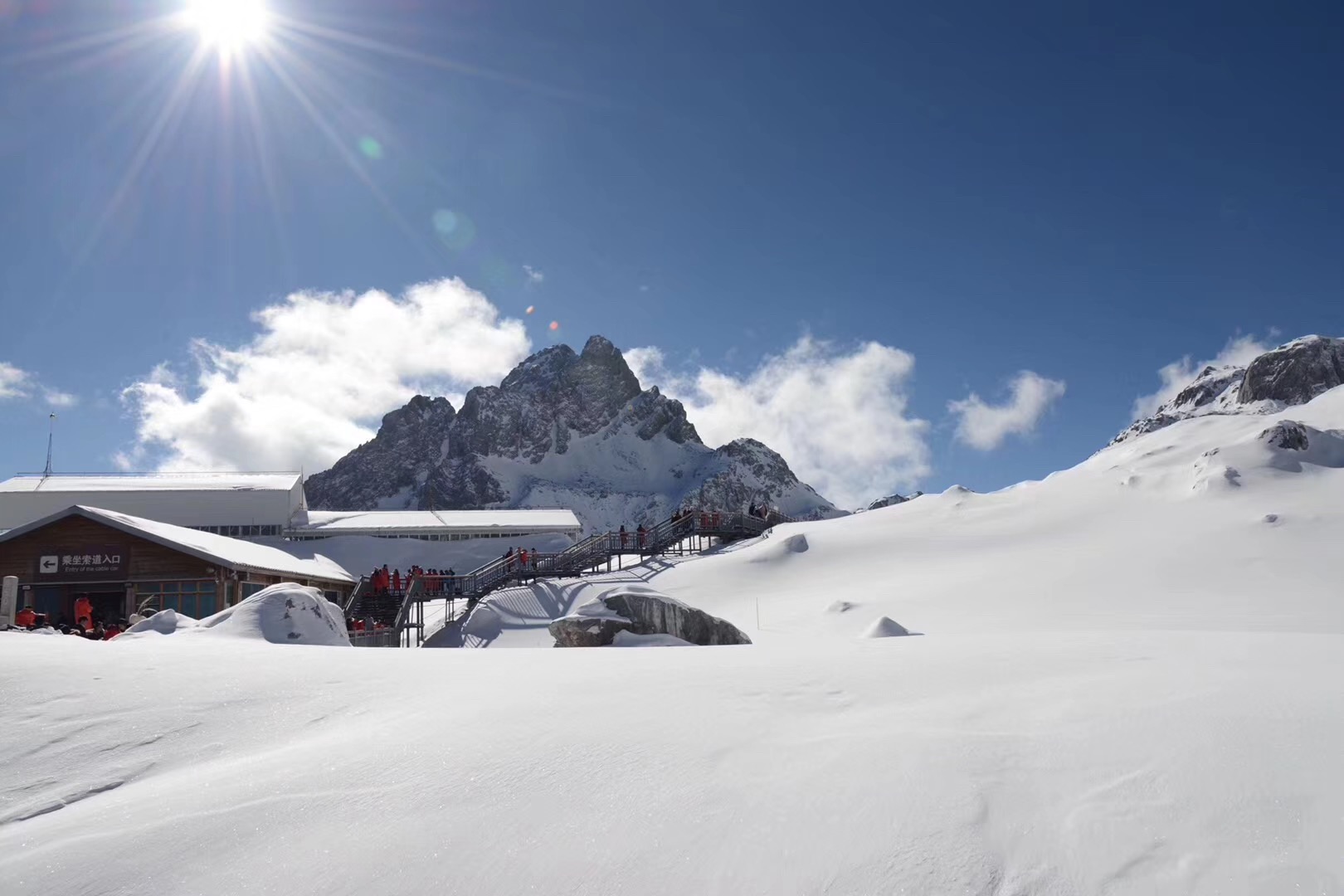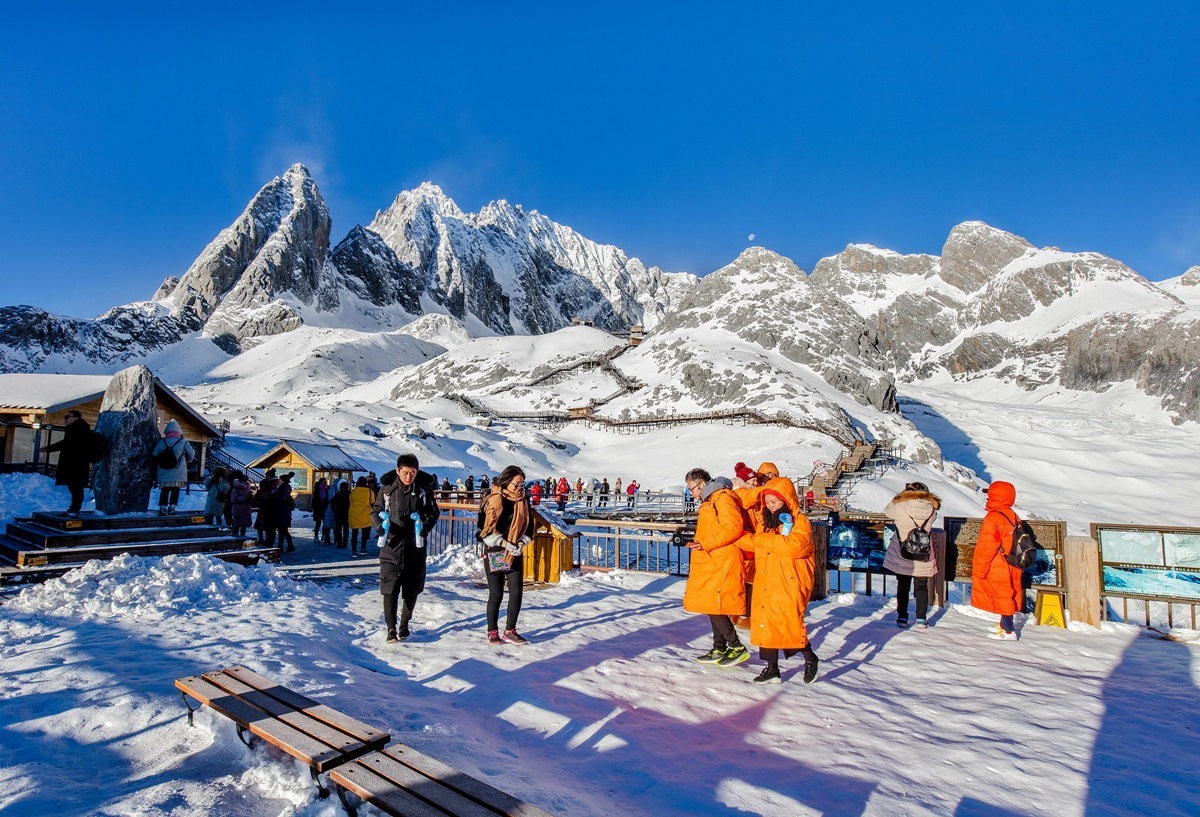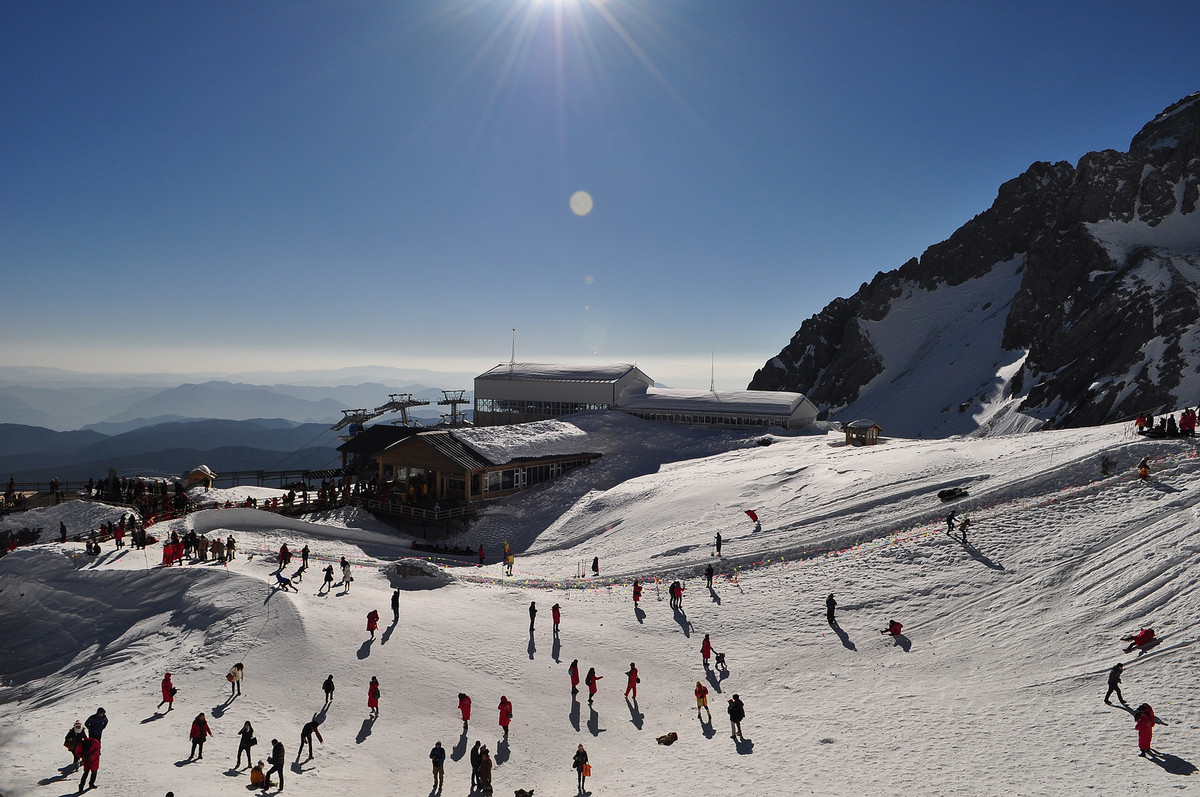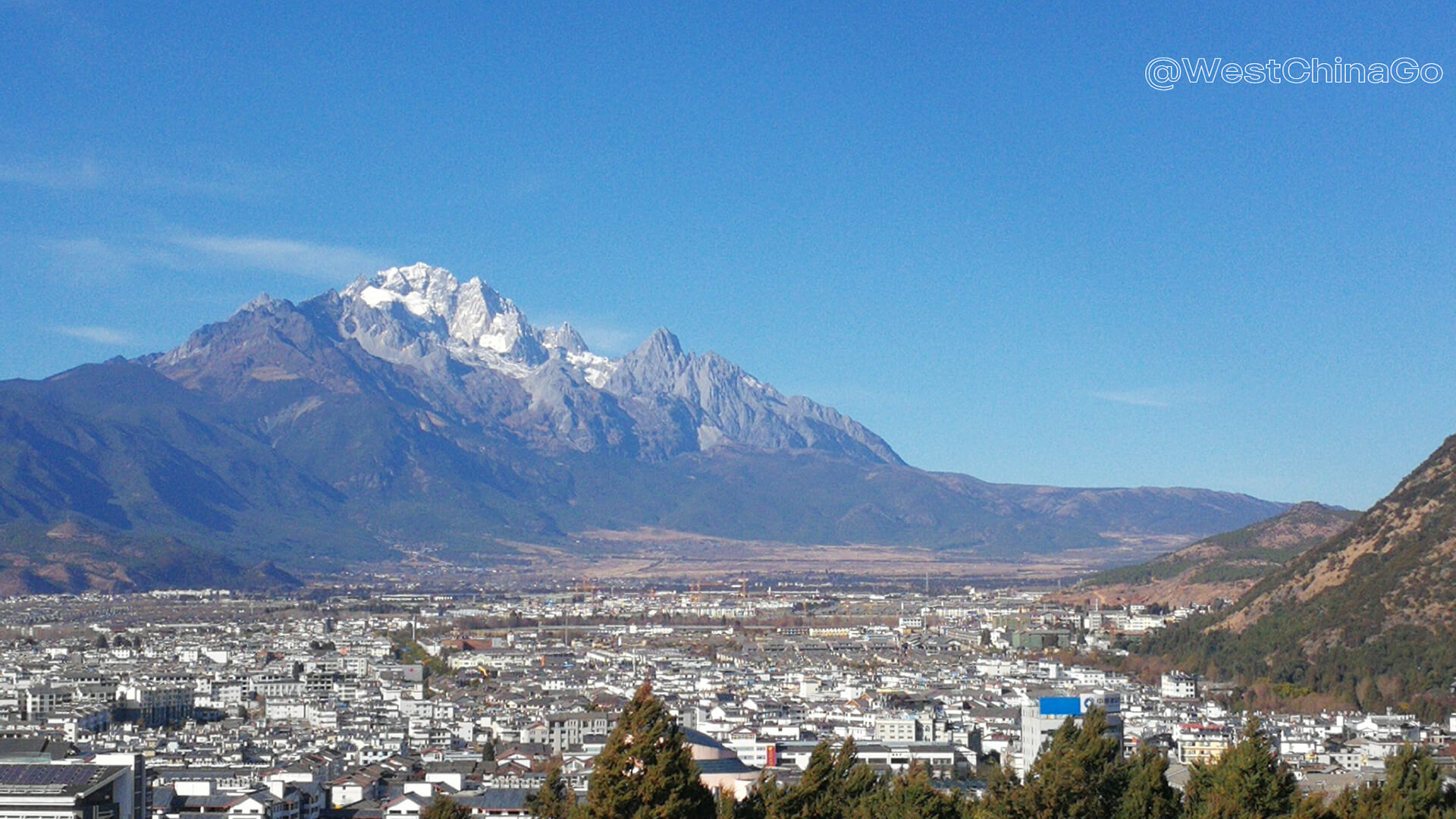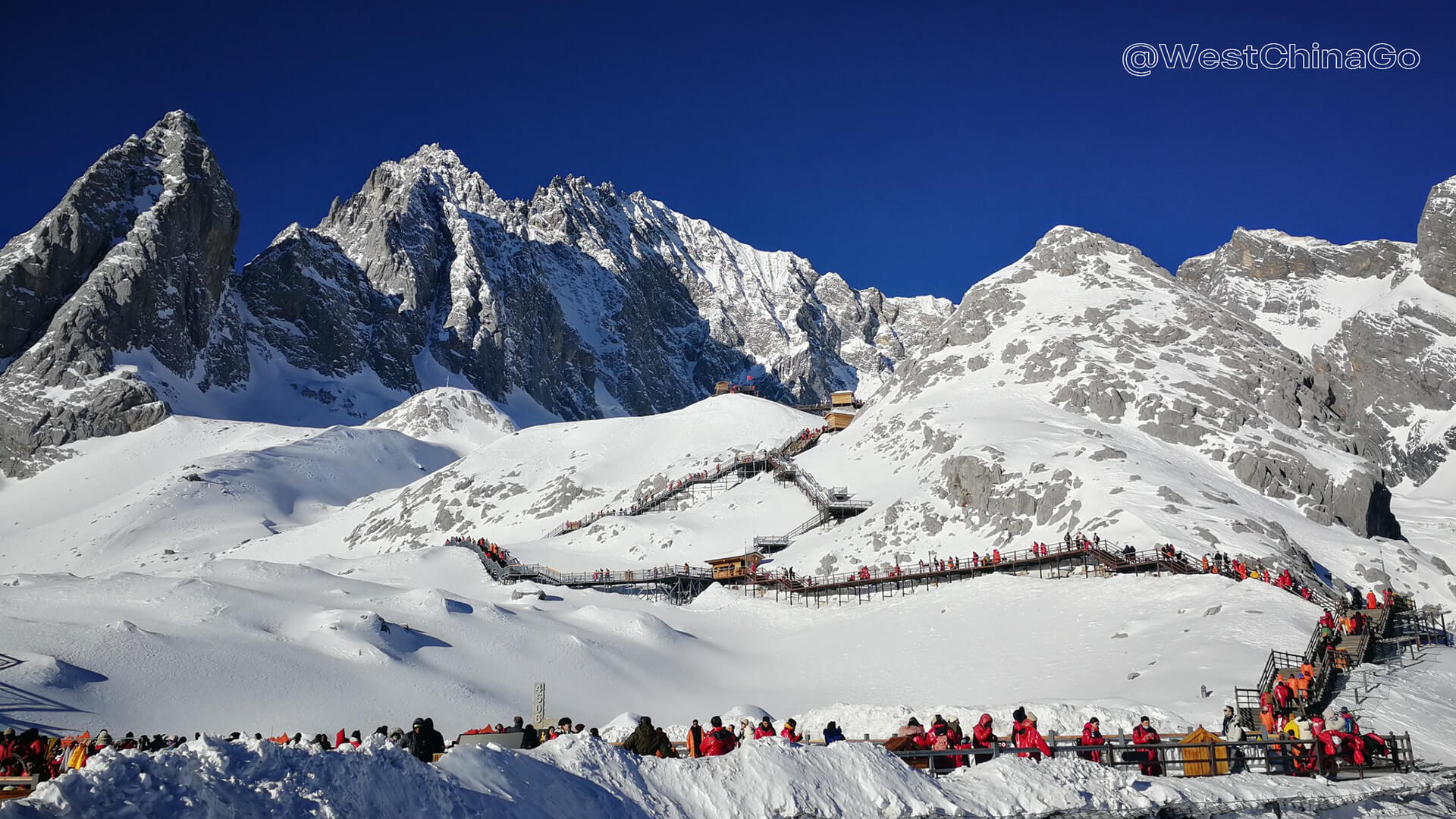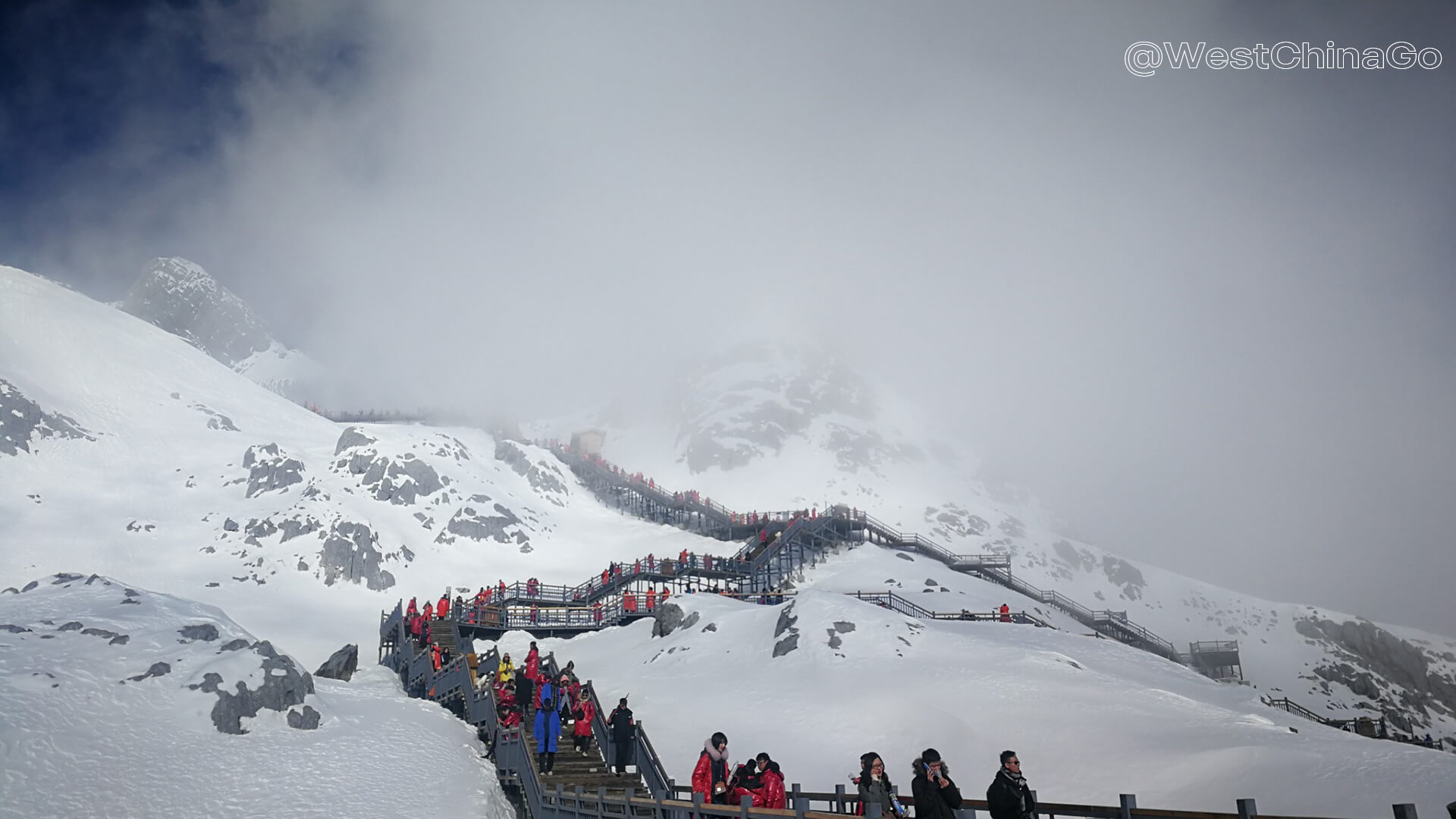 Yulong Snow Mountain Tourist Map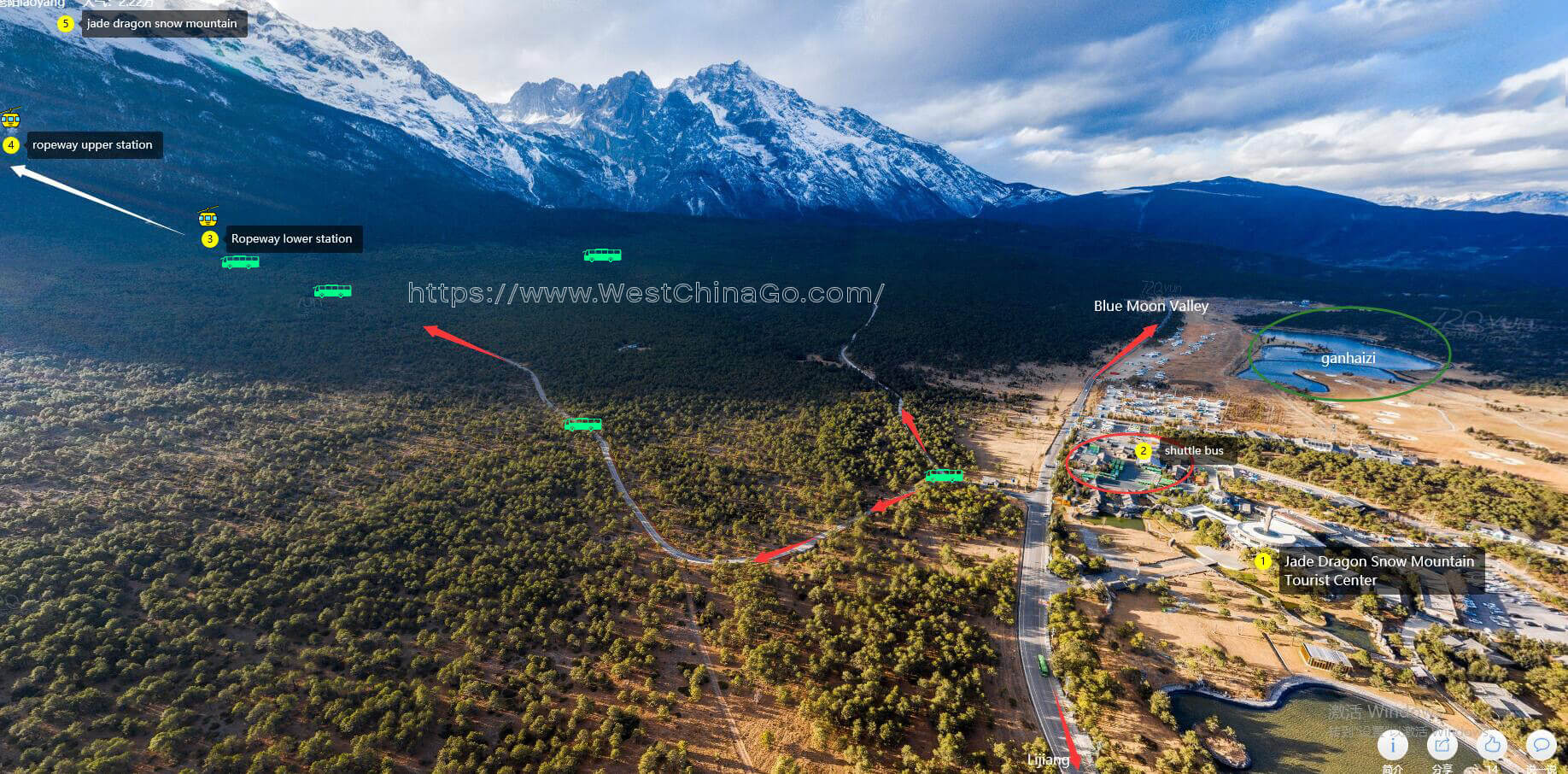 Yulong Snow Mountain Car Rental with Driver
Yulong Snow Mountain Travel Guide
Booking ticket and order of tour
After arriving at the entrance of Yulong Snow Mountain Scenic Area, all cars can only be parked in the parking lot, and only environmental vehicles can travel in the scenic area.
Arrive at the entrance of Yulong Snow Mountain Scenic Area and take an eco-car to the parking lot of the big ropeway.
The entrance fee and the ropeway are separate, not together,The best is of course to book the big ropeway tickets one day in advance or earlier,Otherwise, it is extremely likely that the time will be delayed due to the queue, which will affect the next itinerary
From the Jade Dragon Snow Mountain, you can take an eco-car to the Blue Moon Valley Scenic Area. There is a battery car between each scenic spot in the Blue Moon Valley Scenic Area, but an additional charge of 50 yuan is required. Generally, there is no need to take a battery car (similar to a sightseeing car), and it takes about 40 minutes to walk. It is better to hike
Does Jade Dragon Snow Mountain need oxygen?
The highest elevation of Jade Dragon Snow Mountain is 5596 meters, and the highest elevation of Jade Dragon Snow Mountain Glacier Park is 4680 meters, which is also the highest elevation that everyone can reach in the Jade Dragon Snow Mountain Scenic Area. Generally, the end point of the ropeway is 4506 meters above sea level, and the climbing height can reach 4680 meters after getting off the ropeway, and the ascent height is 174 meters. Depending on the individual's physique, there will be varying degrees of altitude sickness. Generally speaking slowly, most people still have no problem. Whether you need to buy oxygen cylinders depends on your actual situation. However, it is recommended to prepare a tank of oxygen to go up the mountain just in case. Generally, an oxygen cylinder can last 30 minutes to 45 minutes. It is cheaper to buy oxygen cylinders in the ancient city of Lijiang than on the snow-capped mountains. The price is about 40 yuan, and the mountain service station sells about 100 yuan.
Jade Dragon Snow Mountain What do you wear? Do I need to prepare a down jacket?
Yunnan has a plateau climate, the weather is changeable, and the temperature difference between morning and evening is large. Therefore, among the Eighteen Monsters in Yunnan, there is a strange saying that "wear the same clothes in all seasons". Yulong Snow Mountain has a high altitude, and the top of the mountain is covered with snow all year round. The temperature difference between the mountain and the mountain is very large, and it is colder in the morning and evening. Down jackets are generally required in the mountains, even in July and August. If you find it troublesome, you can rent one directly at the foot of the snow-capped mountains. Renting down jackets will vary according to the quality and brand of down jackets. The prices are different. Other warm clothes should also be prepared. Long-sleeved sweaters, down vests or vests. The wind on the top of the mountain is very cold. You can wear gloves, etc.
Recommendations on reducing altitude sickness:
① First of all, maintain a good attitude and be fully prepared. Reduce the exercise intensity before departure. People who do not usually exercise are more likely to exercise altitude sickness before departure.
②If you are worried, or if you have been in high altitude areas before, you can take anti-hyperreactive drugs such as Rhodiola, Gaoganan, and Lanyang tablets before departure
③Don't do violent exercises while climbing, climb up slowly, and adjust your breathing and pace.
④Be careful before you leave, don't catch a cold. A cold can be big or small in the plateau, not only affecting everyone's journey, but also life-threatening in severe cases. If you have a bad cold, it is recommended not to go up the mountain reluctantly, your body first
Travel Tips:
Watching snow on the Yulong Snow Mountain for a long time is very prone to snow blindness, which is not good for your eyes. It is recommended to bring a pair of sunglasses to go out.
High-altitude areas have strong sunlight, so be sure to pay attention to sun protection before going out.
You can prepare some high-calorie foods like chocolate to supplement energy.
Yunnan The weather changes, so you must prepare an umbrella before going out.