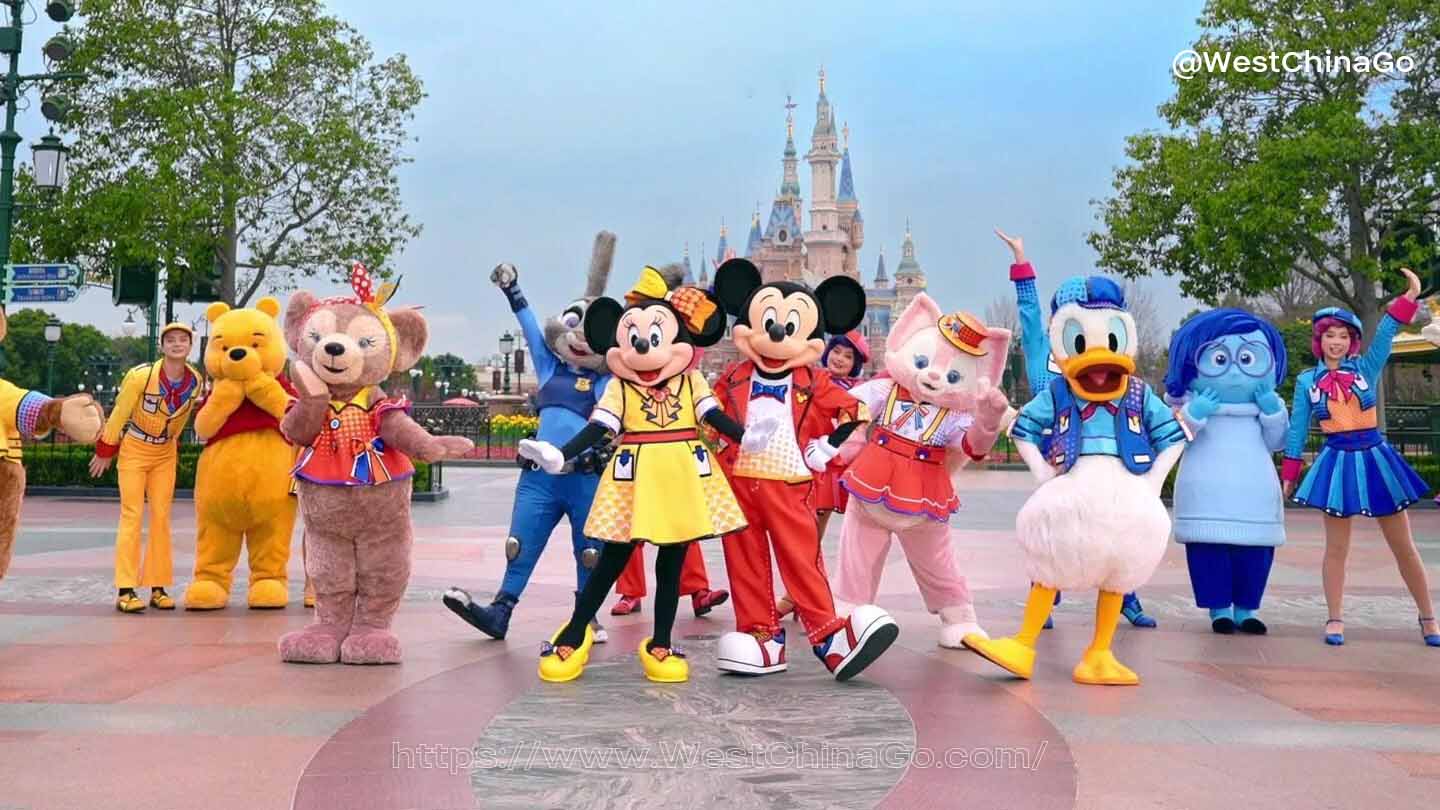 ShangHai Disneyland Resort
Chinese Name:上海迪士尼乐园
ShangHai Disneyland Resort Official Website : https://www.shanghaidisneyresort.com/
Tickets: One-day adult tickets are $56 and $76 during peak season Book Official Tickets online
Phone (Park Information & Ticket Sales Hotel+Dining Reservations): 400-180-0000 +86-21-3158-0000
Shanghai Disney Resort information (Non-Reservation Questions): +86-21-2099-8001
Shanghai Disneyland Hotel: +86-21-2099-8002
Toy Story Hotel: +86-21-2099-8003
Aarea: 963 acres, more than 11 times the size of the original Disneyland in Anaheim
ShangHai Disneyland Resort:Tour Map
Virtual Tour: https://720yun.com/t/89d2aqpvcyg?pano_id=847018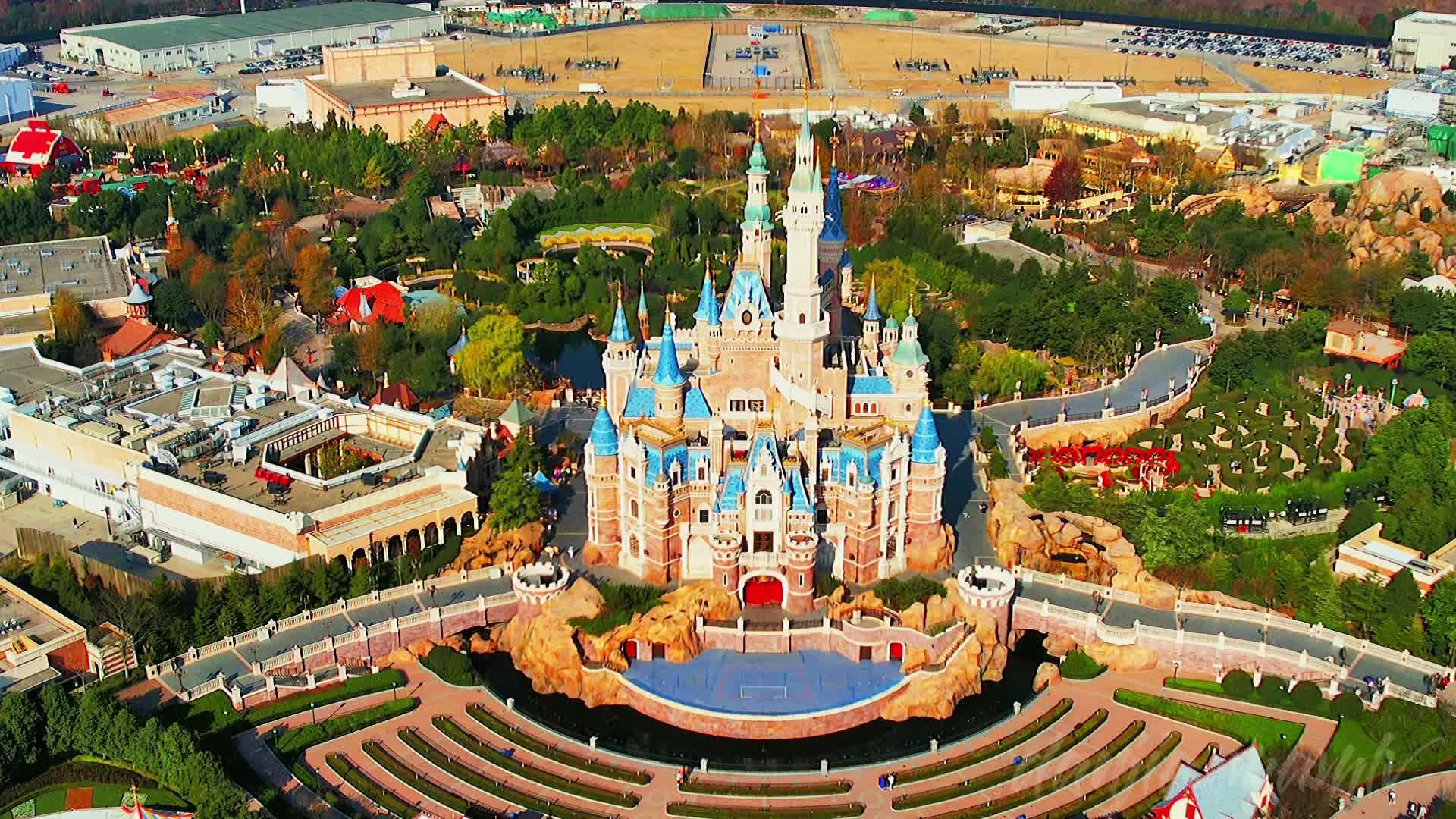 ShangHai Disneyland Resort
Shanghai Disney Resort is located in the Pudong New District of Shanghai. It is the first Disney resort in mainland China. You can experience many classic Disneyland projects here, including a larger Disney castle, a pirate-themed park, and a longer Disney float Cruise routes, etc., to experience the Magic Kingdom immersively.
Disneyland
Shanghai Disneyland is divided into seven distinctive theme parks, including "Mickey Street", "Imagination Garden", "Dream World", "Disney Pixar Toy Story", "Adventure Island", "Treasure Cove" and "Tomorrow world". Both men, women and children can find a happy world here.
Mickey Street
As soon as you enter the entrance of Disneyland, you will step into "Mickey Street". Minnie, Donald Duck, Daisy, Goofy, Pluto and other partners will gather here, where you can warmly hug and take photos with your favorite Disney friends. Among the various shops on the street, the "M Street Shopping Gallery" will provide a rich selection of gifts and souvenirs in the park.
Imagination Garden
The Garden of Imagination consists of 7 magical small gardens of different styles. You can ride the "Fantasia Carousel" in joy, or ride the "Dumbo" to soar into the sky. Show" and many other iconic Disney entertainment performances are available for viewing. Visitors can also enjoy the Disney-themed float parade with a longer route around the world from different angles – "Mickey's Fairy Tale Special Train".
dream world
Dreamland is the largest park in the park, and it is also the location of the magnificent "Fantasy Fairy Tale Castle". In this fairytale-like wonderland, animation lovers can explore the Hundred Acre Forest with Winnie the Pooh, walk through the maze in Wonderland with Alice, take a mine cart adventure with the seven dwarfs, board the "Peter Pan" Fly across the skies of London with Sky Encounter, or meander through familiar Disney stories with Crystal Voyage.
Disney·Pixar Toy Story
Here, you can sit on the coiled spring of "Spring Dog" and happily circle around a big dog filled with toy bones. Start an exciting adventure on the "U" track. In addition, you can also buy your favorite games, toys, clothing, badges, etc. in the "Ayer Toy Store".
Adventure Island
Coming to Adventure Island is like being part of a newly discovered ancient tribe. The majestic Thunder Mountain will point out a clear direction for your Adventure Island trip. You can go out on your own adventure path in the "Historic Exploration Camp", or cross the world and time and space in "Fly Over the Horizon", take the raft of "Rafting on Thunder Mountain" and go deep into the hinterland of Adventure Island to explore a A dark realm where huge mysterious behemoths reside.
Treasure Bay
"Treasure Cove" is the first pirate-themed park in Disneyland worldwide. "Pirates of the Caribbean – Battle for the Sunken Treasure" turns the waterborne ride into a thrilling adventure. Tourists with an adventurous spirit can also row the "explorer canoe" to enjoy the beautiful bay and step on the deck of the pirate ship. Feast on the Barbossa Grill.
Tomorrow's World
"The World of Tomorrow" is full of possibilities and a bright vision of the future. The interstellar adventure project "Buzz Lightyear Interstellar Rescue" leads tourists to go forward bravely and surpass infinity; "jetpack aircraft" allows people to break through the constraints of gravity; , to attract tourists to step on the queue of two light-wheeled motorcycles to challenge one of the more exciting roller coaster projects in Disneyland around the world.
disney town
Disney Town is a large shopping, dining and entertainment area of Shanghai Disney Resort, adjacent to Shanghai Disneyland, and will be open to the public free of charge. The international and charming neighborhood makes people linger and forget to return. Visitors can enjoy the charming scenery of Shanghai Disneyland while enjoying delicious food. The "Walt Disney Grand Theater" located in "Disney Town" staged classic Broadway musicals, and tickets were sold separately for watching the show.
Park Catering
In Disneyland, there are Barbossa Grill, Royal Banquet Hall, Pinocchio Country Kitchen, Tribal Abundance Hall, Mickey's Friends Delicious Bazaar, Star Terrace Restaurant, Chef Millet Bakery, Man Yue Xuan, Old Vine Tree Food Store There are a number of themed restaurants, scattered in various theme parks, with rich food, special snacks and tempting desserts of Eastern and Western cuisines, making your magical journey endless aftertaste.
Disney theme hotel
"Shanghai Disneyland Hotel" and "Shanghai Toy Story Hotel" are adjacent to Shanghai Disneyland, and the superior location extends the magical journey of Disney from day to night. The two hotels combine the theme design of Disney storytelling, and will provide guests with warm and thoughtful services, a variety of entertainment activities, gourmet feasts, shopping experiences and various leisure options, bringing a Disney experience with Chinese charm. If you buy goods in the park, you can deliver them to the hotel where you stay for free. In addition, there are free shuttle buses and ferries in the resort, which travel between the two hotels and Disneyland. The transportation is very convenient.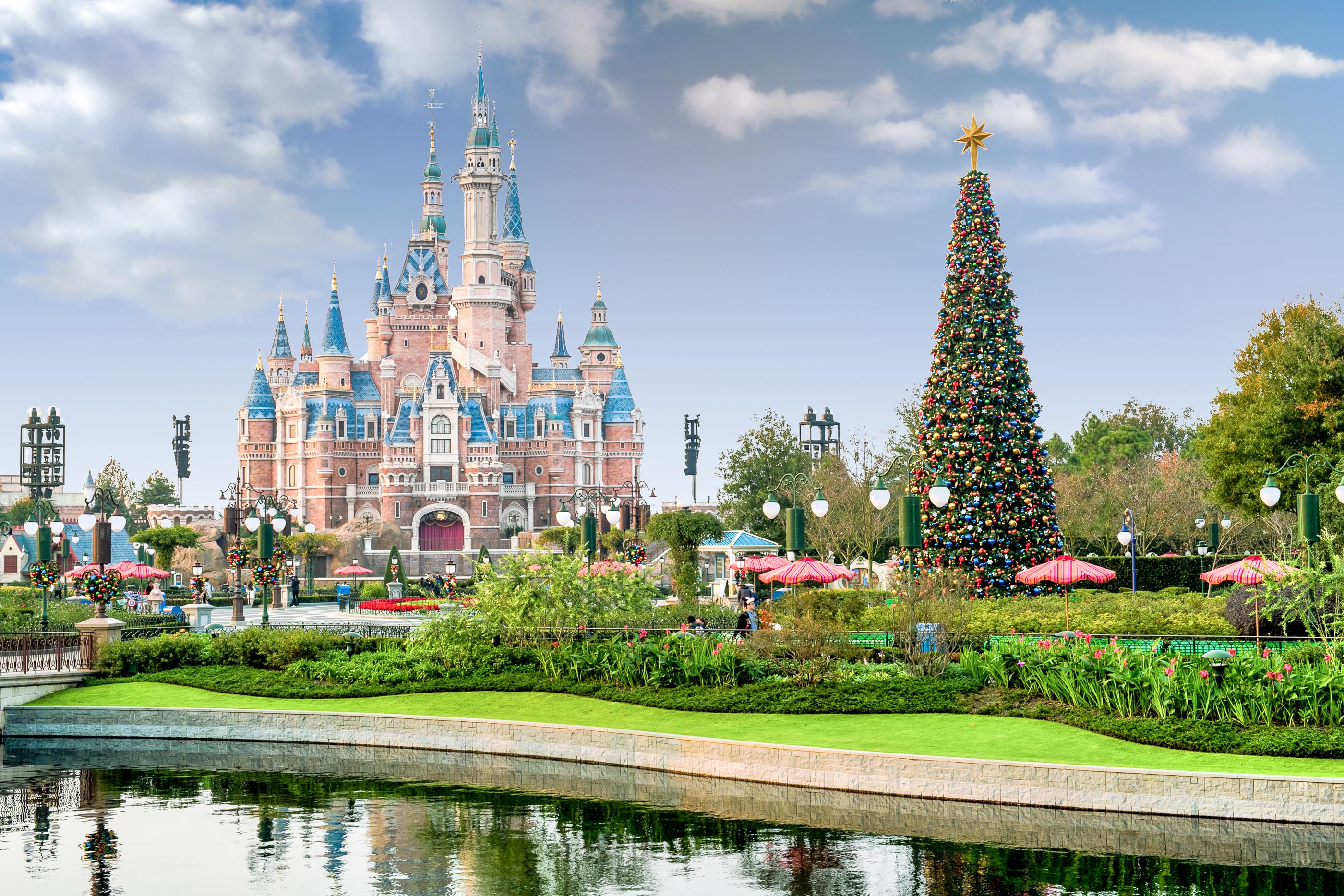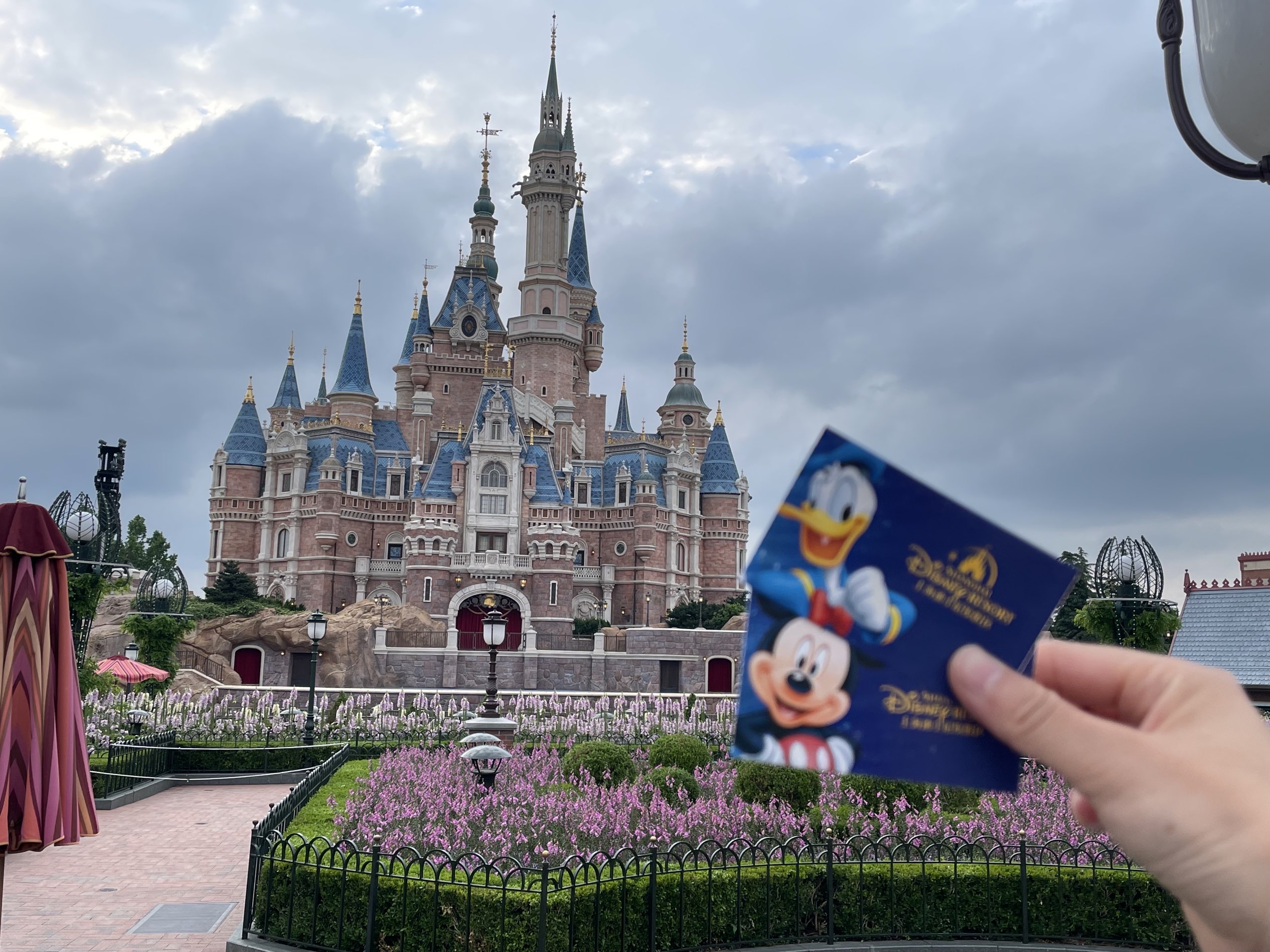 How To Purchase Tickets of Shanghai Disney
Download the official app for Shanghai Disney Resort!
Enhance your visit with this enchanting mobile experience. Buy theme park tickets, see estimated wait times for attractions and entertainment, make Disney Fastpass and Disney Premier Access selections, view entertainment schedules, browse interactive maps and much more!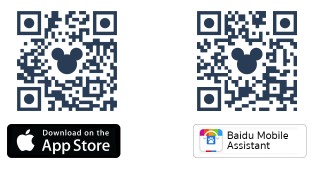 How To Get to ShangHai Disneyland Park
By Taxi
The huge metropolis of Shanghai offers an assortment of taxi lines that can transport you to transit hub. From there, you can then enjoy a quick stroll to Shanghai Disneyland, Disneytown and Wishing Star Park, or hop aboard a short Disney Resort Shuttle ride to the Resort hotels.

Taxi and Vehicle Pick-up/Drop-off:
All pick-up and drop-offs are allowed at the West Public Transportation Hub (West PTH). Please follow the guide for location information.
practical chinese for taxi driver
请载我们到上海迪士尼乐园
By Metro
Metro Line 11 between North Jiading/Huaqiao/Anting and Disney Resort stations operates seven days a week from early morning to late night. Line 11 provides a convenient and fast access to Disney Resort by running a train every a few minutes. Guests get off the train at Terminal Station Disney Resort —just steps away from Shanghai Disneyland, Disneytown and Wishing Star Park, and only a short Disney Resort Shuttle ride from the Resort hotels.
Line 11 Operating Hours
To Disney Resort: First Train 07:08 (arrival) / Last Train 23:39 (arrival)
To North Jiading: First Train 06:00 / Last Train 22:30
To Huaqiao: — / Last Train 22:00
To Anting: — / Last Train 22:25
ShangHai metro map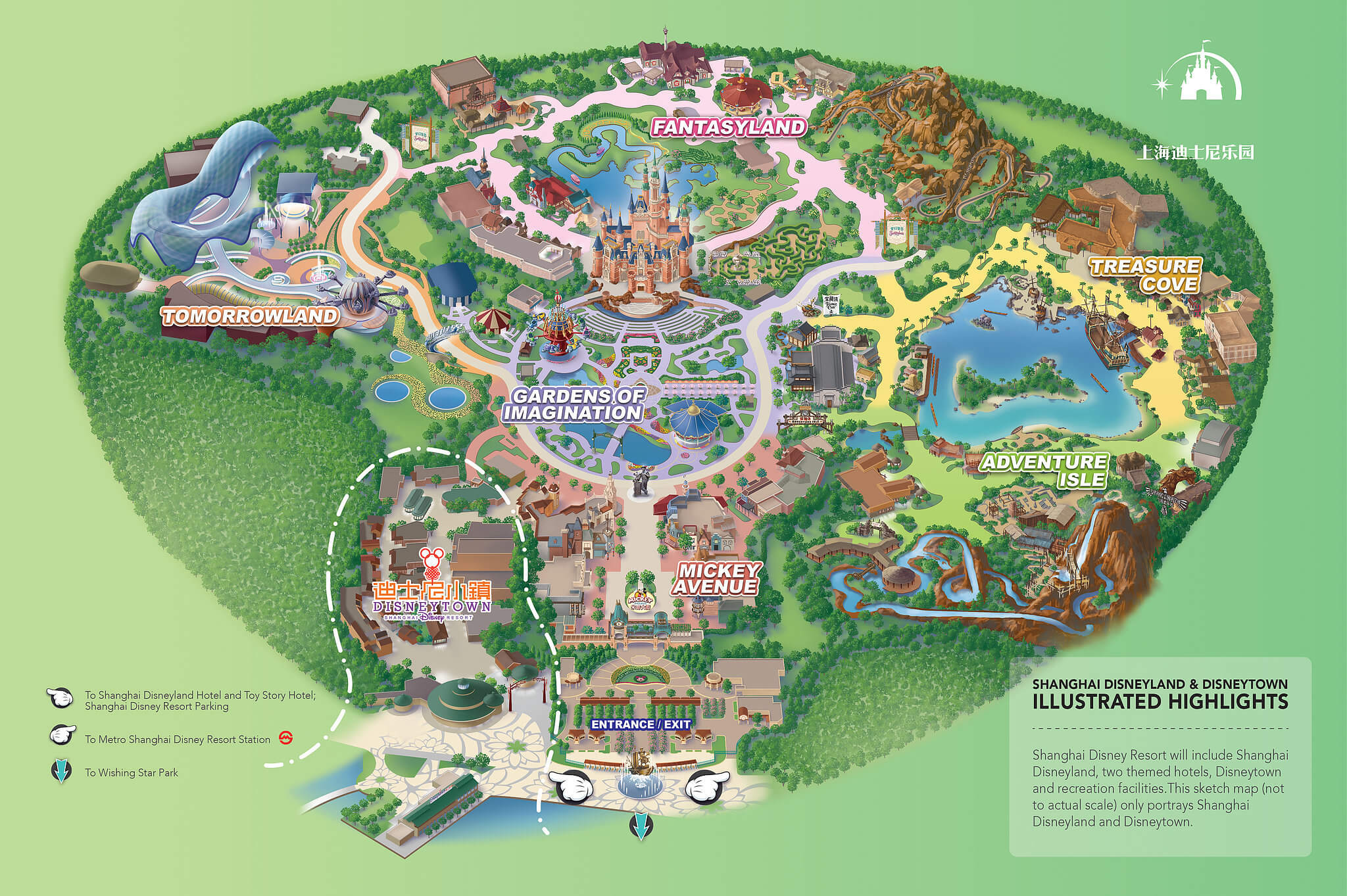 Disneyland Park APP
You can check the waiting time of each ride in real time. You can adjust your tour plan according to the waiting time and save the queue time. In addition, the APP can also query all entertainment performance time and daily operation information, so that you can adjust the plan at any time; its map navigation can also be positioned at any time, so that you can arrange the garden time reasonably and try to avoid the road.Go early / late leave / avoid peak play

1 As long as you go to the queue earlier than the opening time, you will definitely be the first to enter the park!
Although the official website said that it opened at 9:00, in the summer, it usually opened at 8:00, and some people ran to the entrance at 7 o'clock.

Two hours away from the park for 2 hours, it is the best time to take the rides. Most of the tourists have left the park during this time. Many popular rides can be taken without waiting in line.

3 use the cruise time to play
During the parade in the afternoon during the parade, a large number of tourists will gather on both sides of the tour. If you don't mind missing the tour, the hour of the tour can be used to play more rides~

4 staggered meals
Around 12:00 noon and around 18:00 in the evening, most of the restaurants in the park are full of people, you can stagger the meals, not only the restaurants do not have to line up, the queues of amusement facilities will be relatively less ~

①只要你比开园时间还早就去排队,那你肯定能成为最早一批入园的!
虽然官网说9点开园,但是夏季的时候一般8点就已经开门,有的人7点就跑去入口排队了。

②晚离开乐园临近关门的两小时是乘坐游乐设施的最佳时间,这时段大部分游客已经离开乐园,游很多热门的游乐设施都可以不用排队直接搭乘。

③利用巡游时间去玩
巡游时乘坐设备下午的巡游表演期间,大批的游客会聚集在巡演道路的两旁,如果你不介意错过花车巡演的话,巡演的这一小时时间,则可用来玩更多的游乐设施~

④错开饭点
中午12:00左右及晚间18:00左右乐园内大部分餐厅都是人满为患,可以错开饭点,不光餐厅不用排队,游乐设施的排队人也会相对少一些
Disney Shanghai Video
Shanghai Disneyland Tourist Map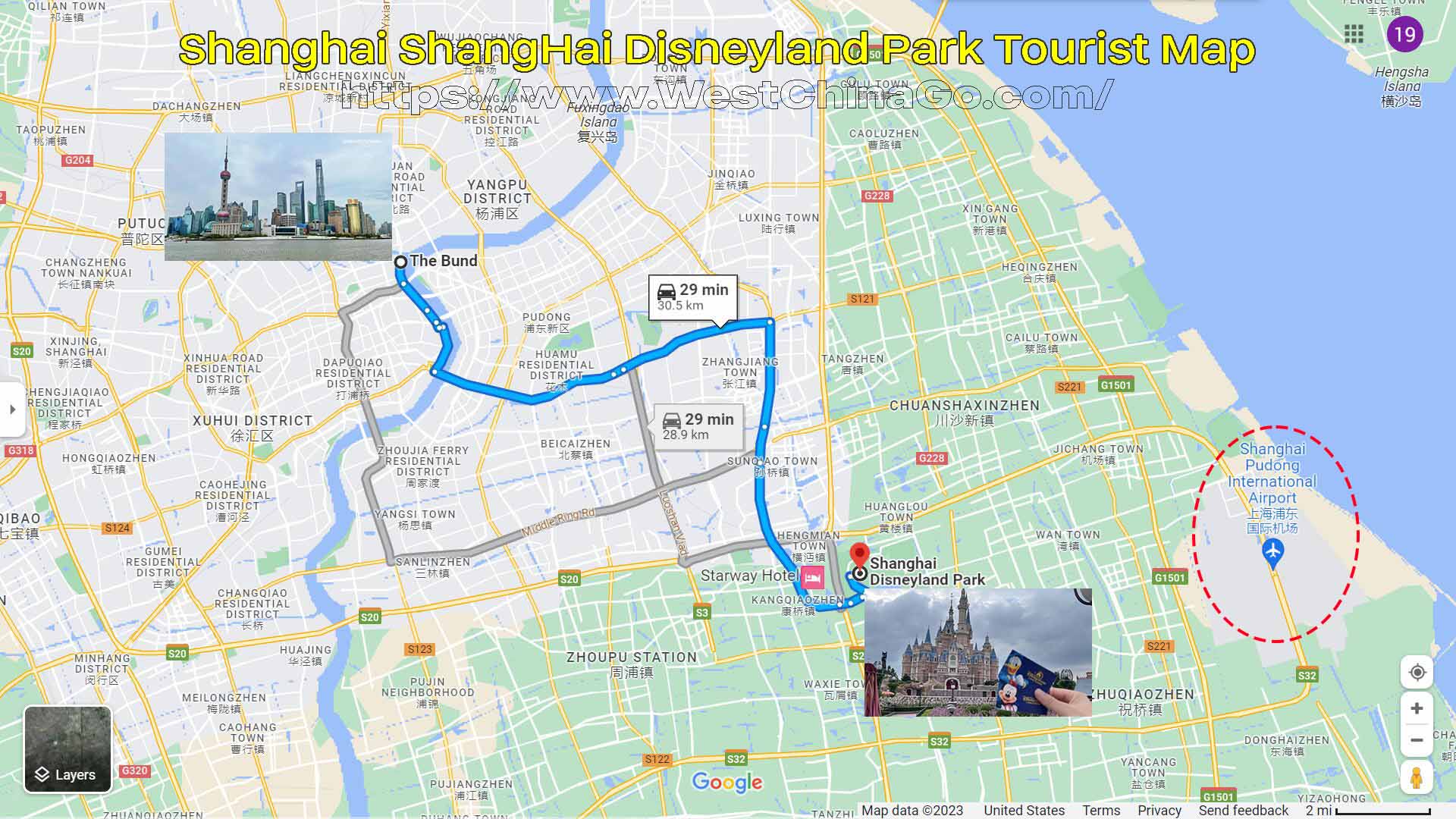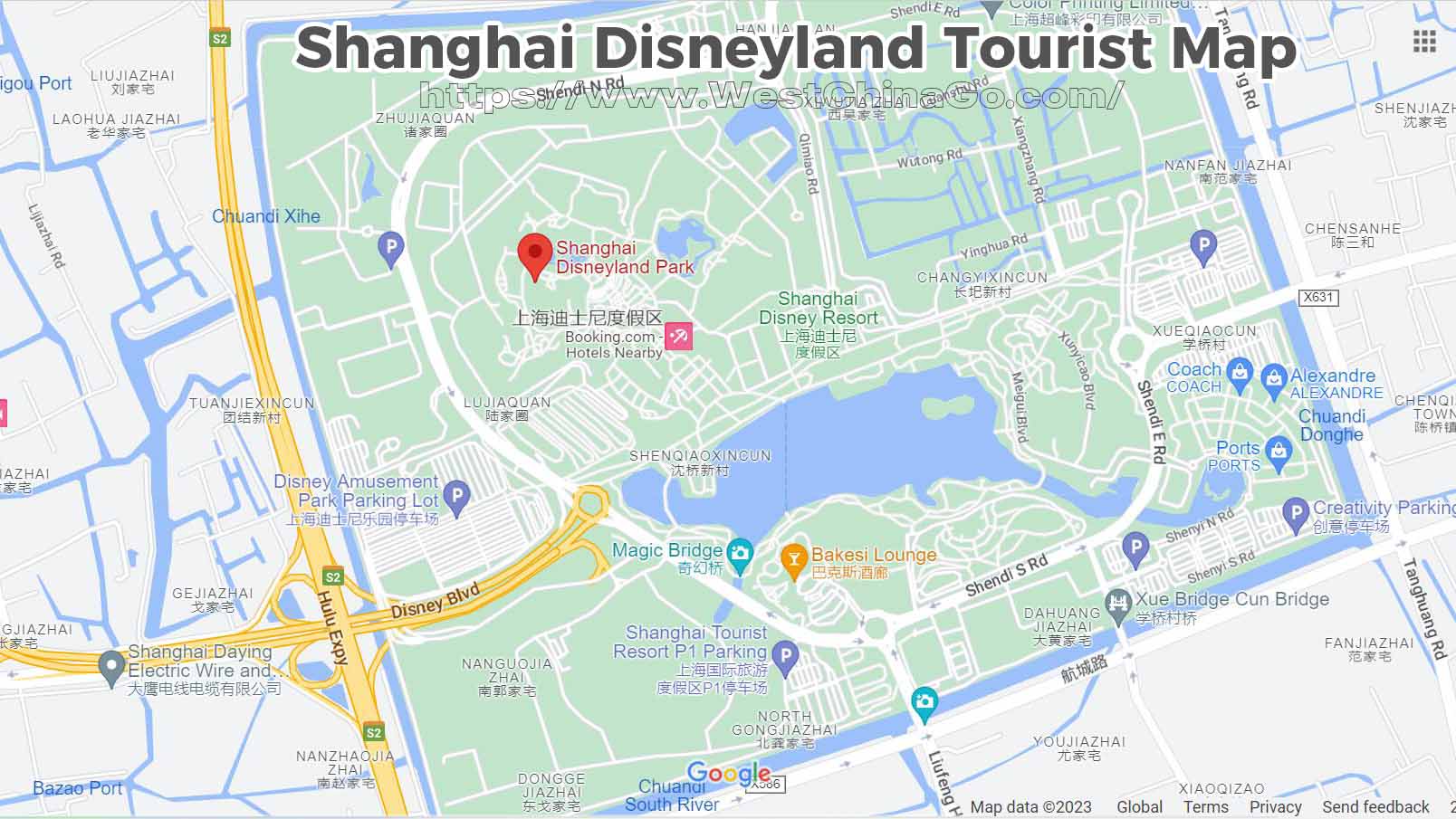 ShangHai Disneyland Travel Guide
1.Getting There
Shanghai Disneyland is located about 20km from the city center and can be easily accessed by taxi, bus or metro. Take Line 11 on the metro and alight at the Disney Resort station.
2.Ticketing
Tickets can be purchased online or at the park entrance.
It's advisable to book tickets in advance, especially during peak seasons.
3.Attractions
The park has six themed areas: Adventure Isle, Fantasyland, Treasure Cove, Tomorrowland, Mickey Avenue, and Gardens of Imagination.
Each area has its own unique attractions, shows and activities suitable for people of all ages.
4.Dining
Shanghai Disneyland has a wide range of dining options, from quick service restaurants to fine dining experiences.
The park offers a variety of Chinese and international cuisines.
5.Accommodation
If you're planning to stay near the park, there are two Disney-themed hotels located within the park.
Alternatively, there are many hotels and guesthouses in the surrounding area that offer convenient access to the park.
6.Travel Tips
Plan your visit ahead of time and arrive early to avoid long lines.
Bring comfortable shoes and dress for the weather, as some attractions are outdoors.
Be sure to check the park's website for information on park hours, closures, and special events.