Tibet Lhasa Ganden Monastery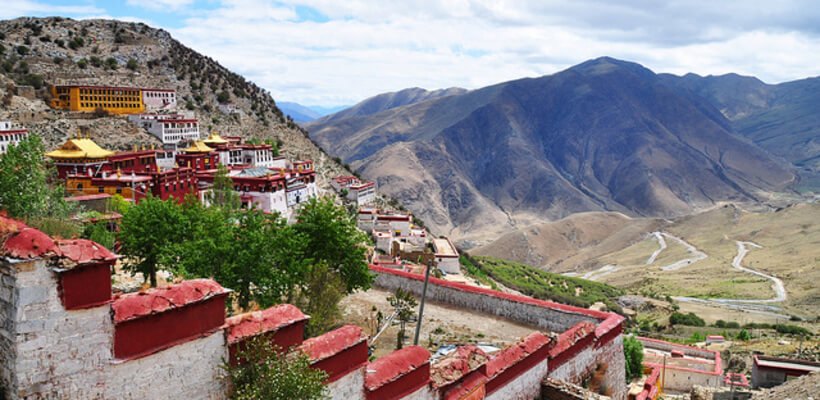 Tibet Lhasa Ganden Monastery
Over an hour's ride to the east from Lhasa is the Ganden Monastery, a complex of buildings on the slopes of the Wangbur Mountain about 3,800 meters (12,467 feet) above sea level. First built at the start of the 15th century, a number of buildings have seen reconstruction over the years, while rare artifacts like Qing Dynasty armor and unique Buddhist structures like the ninety-five Holy Stupas have also been well-preserved. A day trip from Lhasa should be a no-brainer for the monastery's cultural significance, the lack of tourist presence, and the outrageous views over the valley below. Do yourself the favor of walking from the monastery grounds to the short footpath that traverses the opposite side of the summit for an even more breathtaking appraisal of the Tibetan landscape and you'll begin to see how a monk could live his life here and never need anything else.
Tibet Lhasa Ganden Monastery Location From Lhasa
[iframe src="https://www.google.com/maps/embed?pb=!1m28!1m12!1m3!1d110888.27225148396!2d91.26783381240102!3d29.712270268265847!2m3!1f0!2f0!3f0!3m2!1i1024!2i768!4f13.1!4m13!3e0!4m5!1s0x376131633a32541d%3A0x931c8eef06f9b800!2sLhasa%2C+Tibet%2C+China!3m2!1d29.652490999999998!2d91.17210999999999!4m5!1s0x3766c08ca363903b%3A0xae8c3055898d363e!2sGanden+Monastery%2C+Dazi+Xian%2C+Lasa+Shi%2C+Xizang+Zizhiqu%2C+China!3m2!1d29.755485699999998!2d91.4769889!5e0!3m2!1sen!2s!4v1494752662593″ width="100%" height="450″ frameborder="0″ style="border:0″ allowfullscreen]
Location:Lhasa
Note:Shuttle buses do leave periodically in the morning from Jokhang Square and return in the evening if you are in need of transportation.
Tibet Lhasa Ganden Monastery Video
[iframe width="100%" height="415″ src="https://www.youtube.com/embed/178PmfIaDMg" frameborder="0″ allowfullscreen]