10 Things You Need To Know About Doing Dujiangyan Panda Volunteer From ChengDu
China Dujiangyan Panda Base
• Chinese Name: 都江堰熊猫乐园(基地)
• Address: dujiangyan daguan town Sichuan,China(60KM from chengdu)map
• Opening Time:09:00AM~18:00PM
• Tickets:58 rmb/per
• Recommend tour time 2-3 hour
• Buliding Time:2013
• Panda Number: < 45pcs
• Phone: 028-85044854
• Email: pandaeducatecenter@163.com

China Panda Volunteer
being a panda volunteer is an amazing experience,(clean the encloseure,collect the panda poopoo,feed the panda face to face,make the panda cake…) Participant will learn much more about panda from insider's perspective.
The choice is more important than Panda Volunteer Experience itself
for the china panda volunteer,the core is your choice,because the panda volunteer program is totally same.the difference is Price.
Why Many tourists have been tricked by travel platform and ripped off to do Panda Volunteer, that's because you did not find the right travel agency.
all about the choice, if you made wrong decision, definitely you will pay more than excessive 100-500 USD. more worse,Be treated as a fool
Notice 1: Nobody can claim No Overcharge,No Hidden Charge.except WestChinaGo
Notice 2:WestChinaGo Save your 100-500 USD for the totally same panda volunteer program.
1)How to apply panda volunteer
Panda Volunteer healthy report
to finish the healthy report will take much time ,effort, and money in hospital,
considering the above difficulty, westchinago help you with the healthy report.
How To Apply China Panda Volunteer
Participant's Name, Age,Nationality,Passport Number
Travel Date
ChengDu Hotel Name
then send email or query to info@westchinago.com or westchinago@gmail.com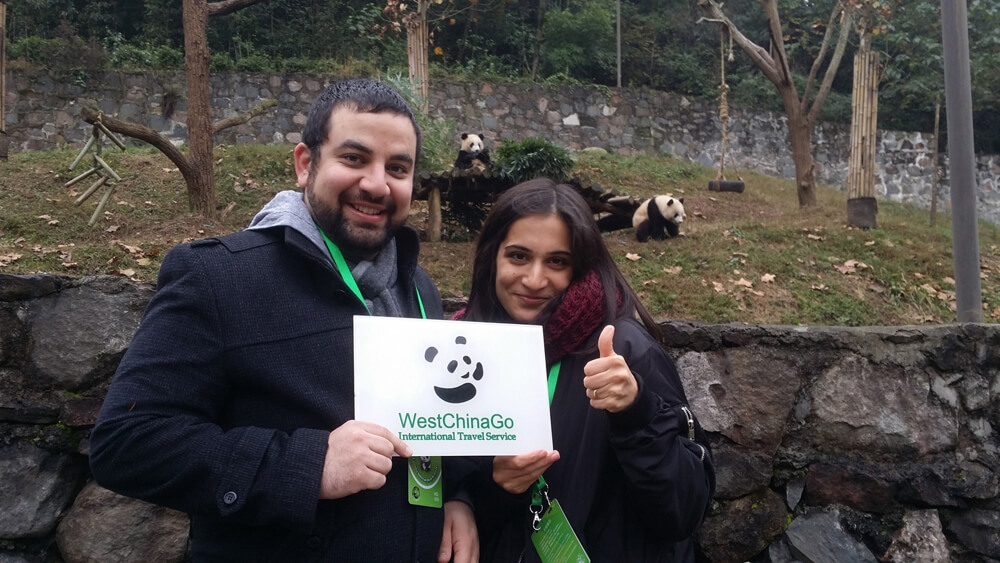 2)Age limit of being panda volunteer
The participant's age should be between 12-65 years old,including 12-year-old&65-year-old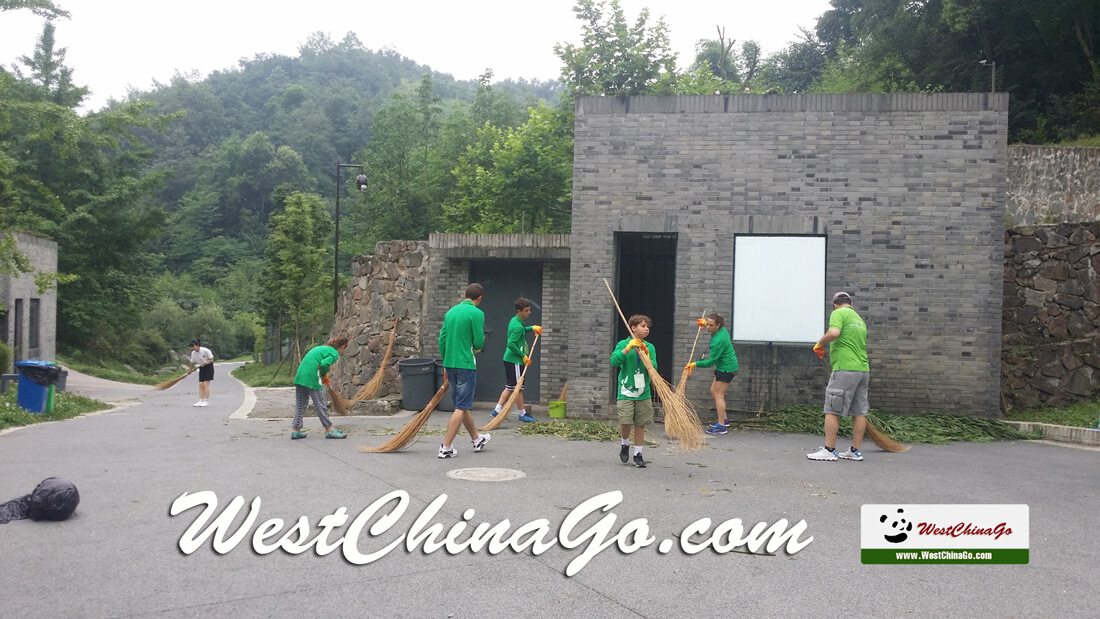 3)What kind of material need to prepare to be panda volunteer
In order to prevent panda from infectious disease,applicant need to prepare the health certificate.to finish the form is so complicated.taking much effort and money.
so we manage this for you and for free, you will worry free, just go and attend your panda volunteer program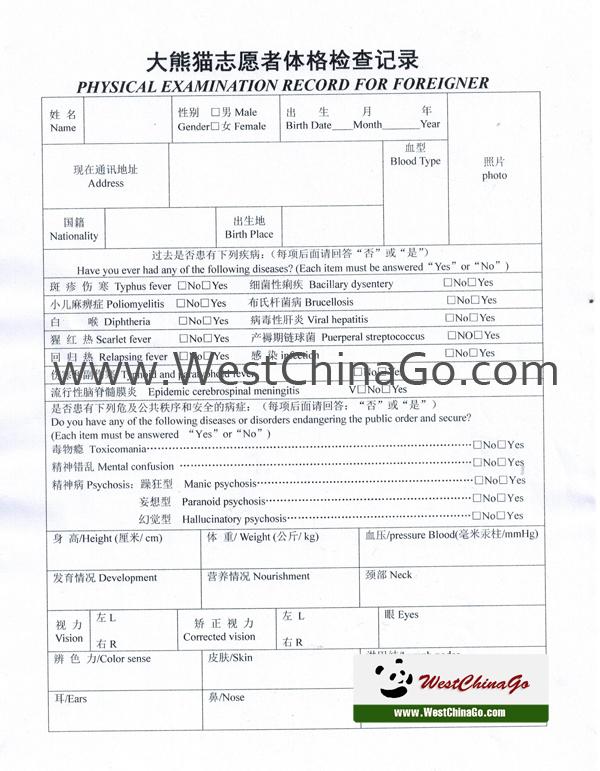 4)How much dose the panda volunteer cost
The cost of China Dujiangyan panda volunteer is 700rmb/person.(≈105 usd), which is officially standard rate,and no extra fee.you directly pay to dujiangyan panda base upon arrival.
No Matter what you see difference at other place,regard WestChinaGo as standard.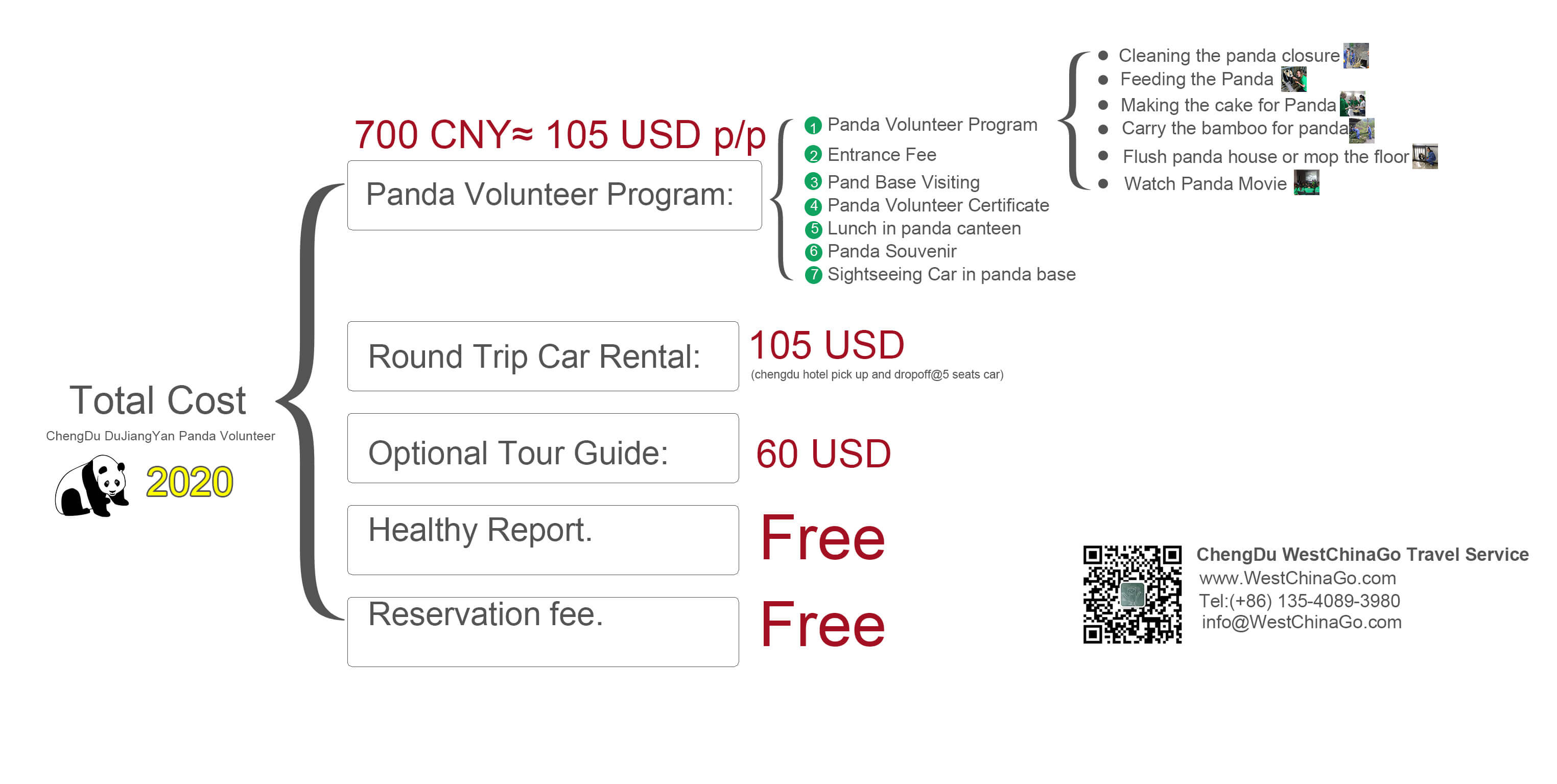 5)Where to do panda volunteer
Now Dujiangyan Panda Base is the only place offers panda volunteer program.It locates 60 KM(1.5h driving distance)out of Chengdu,in a pretty remote area near Mt.Qingcheng.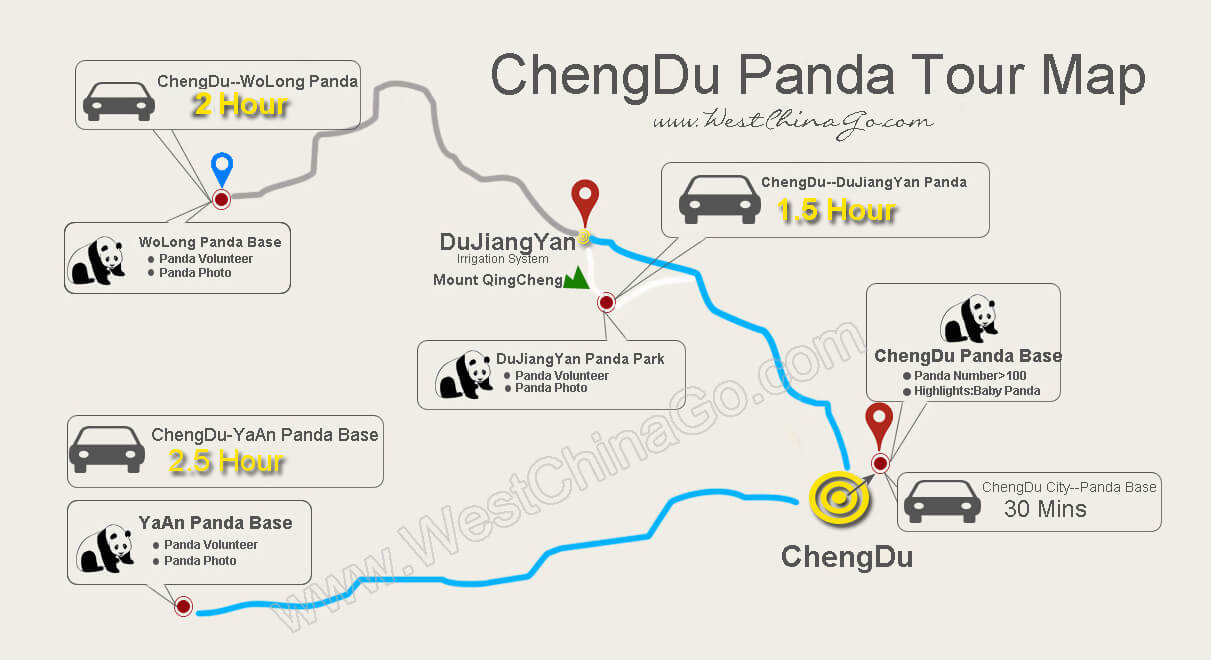 6)How to get to Dujiangyan Panda Base?
To work as panda volunteer,need to arrive in Dujiangyan Panda Base before 9am.It locates in remote area about 1.5h driving distance out of Chengdu.
There is no direct public bus opeates from Chengdu to Dujiangyan Panda Base.Panda volunteer work starts at 9am,
in order to be on time,rent a car is the most efficient way to maximize the flexibility of your unique panda day.
Chartered Car —Round Trip
| Tour Number | Price |
| --- | --- |
| Chartered Car for 1 Traveler | 105 USD/Per |
| Chartered Car for 2 Travelers | 52.5 USD/Per |
| Chartered Car for 3 Travelers | 33 USD/Per |
| Chartered Car for 4 Travelers | 35 USD/Per |
| Chartered Car for 5 Travelers | 30 USD/Per |
* Please Note:when tourist number > 3;we will arrange 7 seats buick business Van.,when tourist number ≤ 3,good condition 5-seat car will be arranged.
7) What to expect to be panda volunteer
Dujiangyan Panda Volunteer Program
To be China dujiangyan panda volunteer,You will learn much more about panda from insider's perspective and gain hand-on experience.You will have a chance to clean the cage and panda poopoo,prepare bamboo,feed the panda face to face with your own hand,make yummy panda cake, in the end,will recieve the panda volunteer certificate.For the detail schedule
if you don't intend to do panda works,such as cleaning,carrying…you just want to visiting + feeding the panda, it's OK,and the total cost unchanged.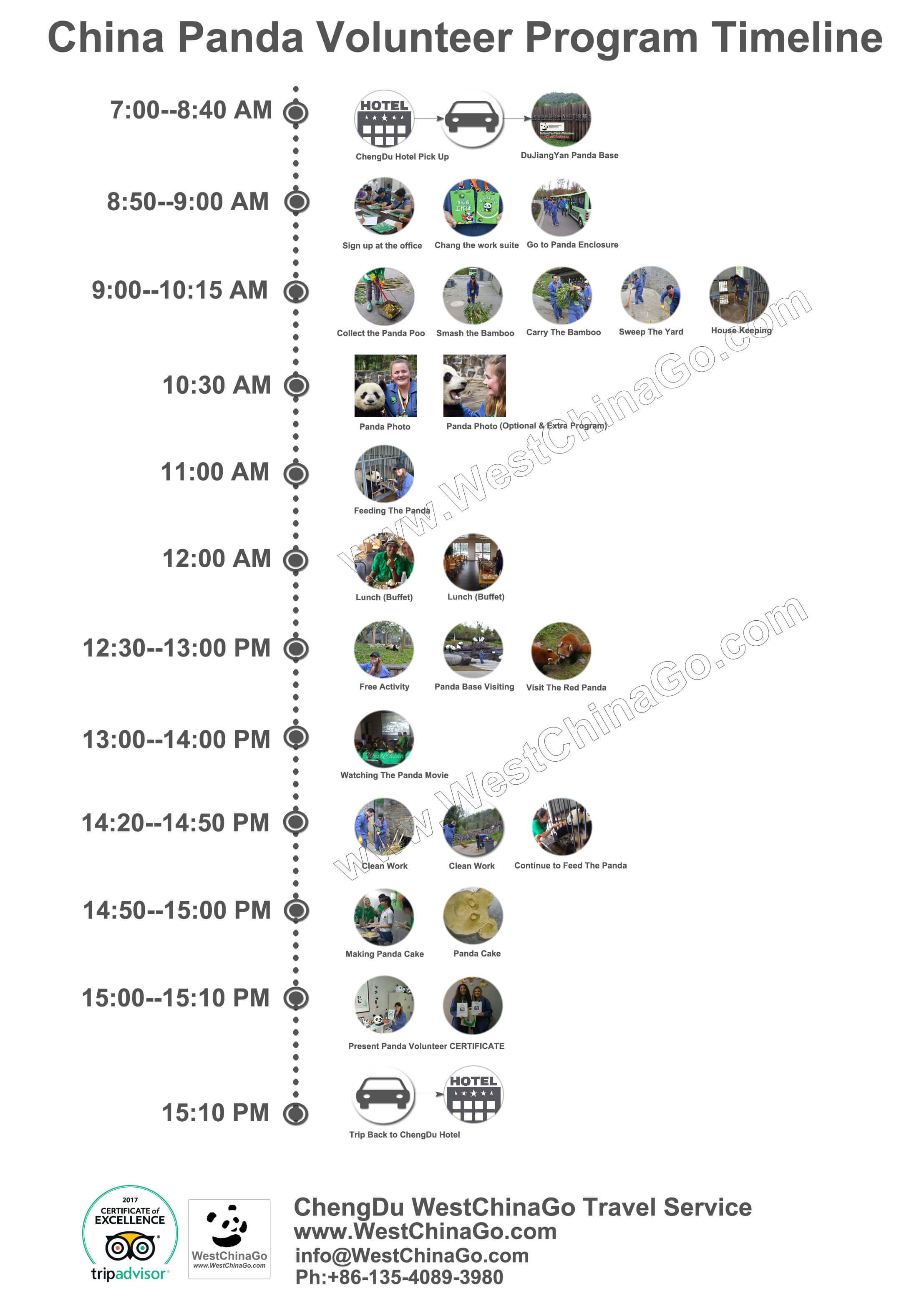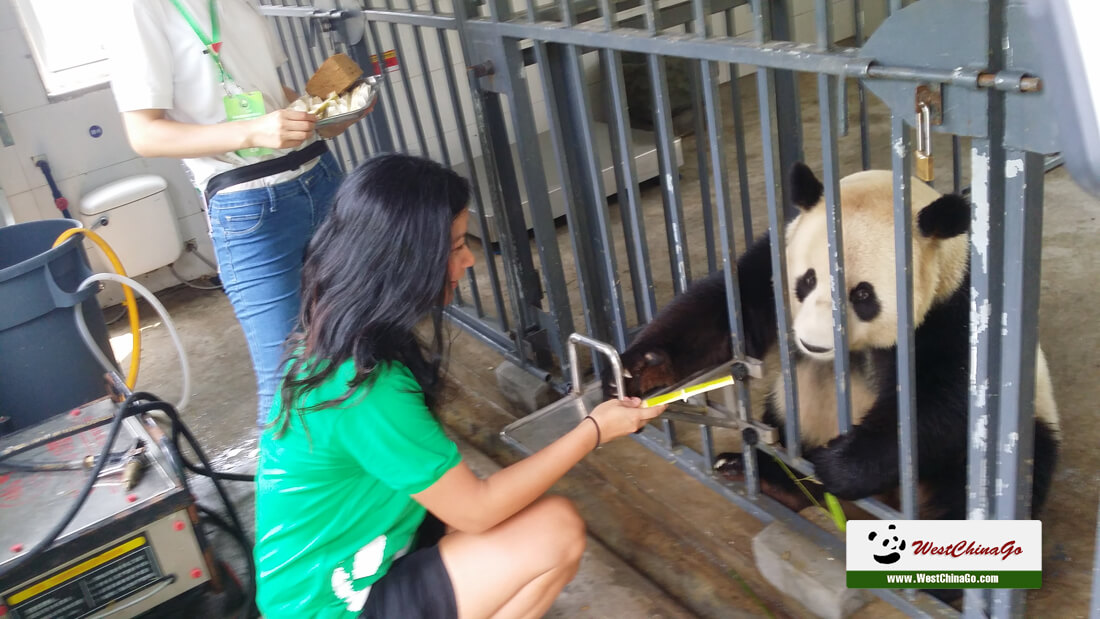 Time Frame
2020 DuJiangYan Panda Volunteer Program
8:30AM-09:00PM
Register and finish the payment,.take a photo for certifacate
09:00PM-10:00AM
clean the enclosure;collect the poopoo;and dump into trash bucket
wash the panda house and mop the floor;
smash the bamboo.
10:30AM-11:00AM
free activity
11:00AM-11:30AM
Feeding the panda
11:30AM-12:00AM
Lunch Time:free chinese style lunch
12:00AM-13:00PM
Free Time;You could visit around or have a rest at office
13:00PM-14:00PM
Watch panda film in the office
14:15PM-14:30PM
Clean Panda house;Carry the Bamboo,Feeding the panda
14:30PM-14:45PM
Making panda cake
14:45PM-15:00PM
Present the certificate;end up!
[iframe width="100%" height="525″ src="https://www.youtube.com/embed/I6OuI2pCPCY" frameborder="0″ allow="accelerometer; autoplay; encrypted-media; gyroscope; picture-in-picture" allowfullscreen="true"]
8) Can participants take picture with panda while doing the panda volunteer work?
in 2020,sorry this panda photo is not available now.
(P.S:The cost of picture-taking with panda is 1800rmb/person,(≈285 usd)need to reserve in advance as well.)
8 Things to know about taking photo with Panda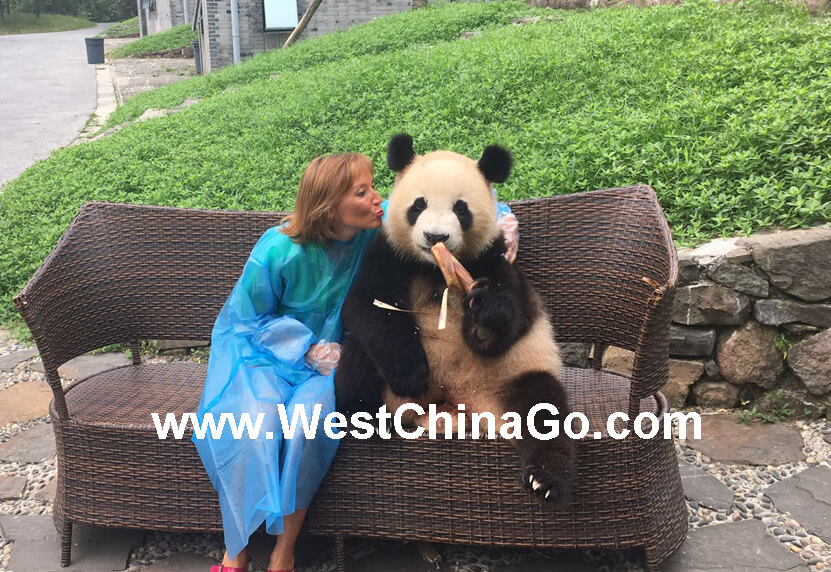 9) Do I need a guide?
No neccessary to hire extra tour guide unless you insist
Actually offical cost(700 RMB/per) you paid to dujiangyan panda base already included the english service fee while your doing the volunteer work,
during the panda volunteer work,the English speaking staff in Dujiangyan Panda Base will be on site to enhance the communication between volunteer workers and keepers.Base on cost saving,it's not very necessary to hire a guide.
you pay 2 times repeatedly if you hire a extra tour guide.,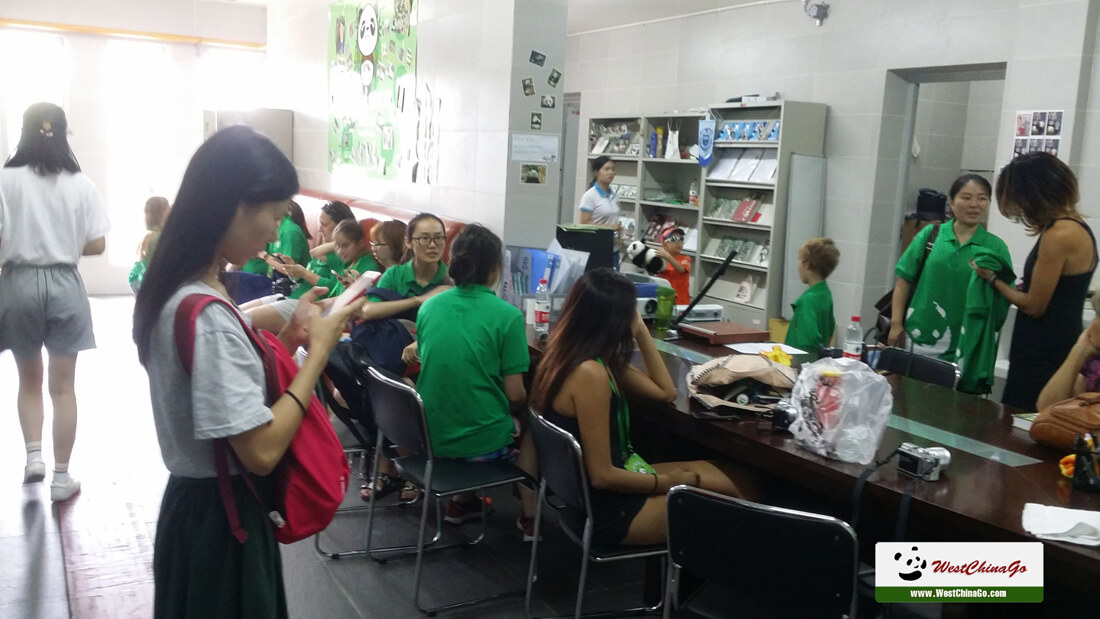 10) Things to know before you go
Panda is adorable,however,animal is animal,please follow the instruction of the staff when work as panda volunteer.
The shedule of panda volunteer may sbuject to change according to the actual situation
Taking picture with panda is totally depend on the availability of panda,if there were any unexpected change,WestChinaGo travel will inform you at least 1 day in advance.
panda is senstive to strong perfume, please don't spread youself before panda volunteer
in order to prevent the infectious disease from panda, pls don't catch cold, ill….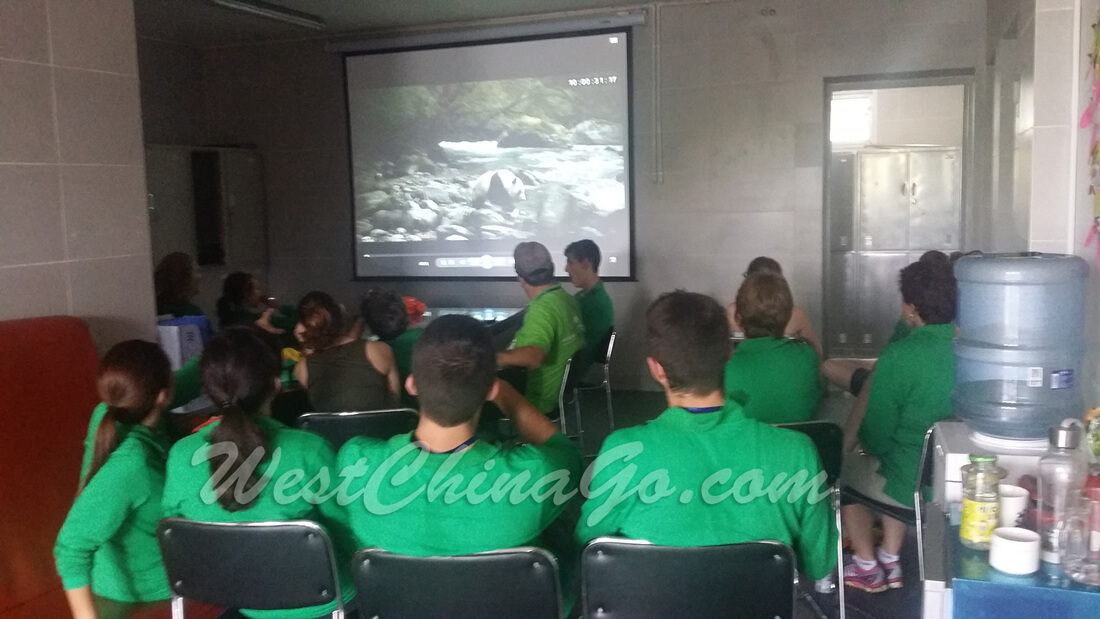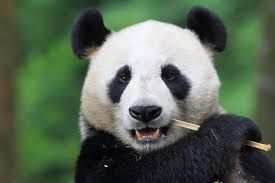 ChengDu WestChinaGo Travel Service
www.WestChinaGo.com
Tel:+86-135-4089-3980
info@WestChinaGo.com
[contact-form-7 id="19898″ title="KONTAKT11″]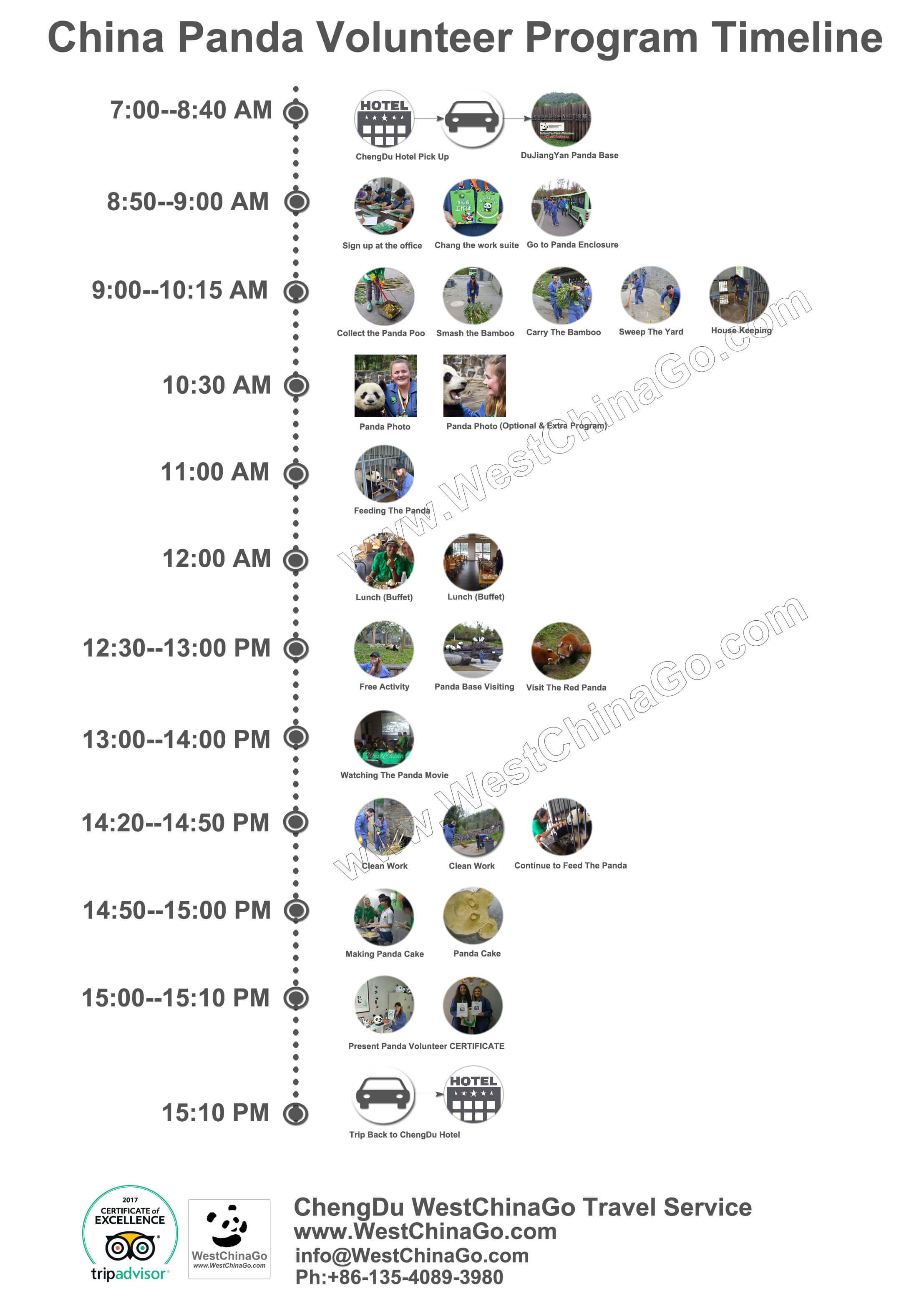 2020 ChengDu Panda Volunteer
2020 DuJiangYan Panda Volunteer from ChengDu
Save your 100-500 USD,regardless of all other offer for totally same tours
See Detail