Tibet Yamdrok Lake
Chinese Name: 羊卓雍错
Address: 70km from east-south lhasa, Tibet, China
Lake shoreline:250KM
Coordinates28°56′N 90°41′E
Max. width (south-north)72 kilometers
Recommend tour time1 hour
Average depth:20-60 meters
Surface area: 638 km2 (246 sq mi)
length(east-west):
Altitude: 4,441m
Admission Fee Peak Season, May to October: 40 RMB/Per ,Off Season, November to Next April 40 RMB/Per
Tibet Yamdrok Lake Video
Tibet Yamdrok Tso
The lake, its islands, and the surrounding area are closely associated with Padmasambhava,
the Second Buddha, who brought Buddhism to Tibet in 8th century AD.The lake is home to the famous Samding Monastery which is on a peninsula jutting into the lake.
This monastery is the only Tibetan monastery to be headed by a female re-incarnation. Since it is not a nunnery, its female abbot heads a community of about thirty monks and nuns.
Samding Monastery is where Samding Dorje Phagmo, the most important female incarnate Lama in Tibet, stayed and presided, and stands to the south of Lake Yamdrok Yumtso.Today, both pilgrims and tourists can be seen walking along the lake's perimeter. One of the lake's islands contains an old fort or castle called Pede Dzong
Yamdrok Lake tour
Yamdrok Lake (also known as Yamdrok Yumtso
or Yamzho Yumco; Tibetan: ཡར་འབྲོག་གཡུ་མཚོ་, is a freshwater lake in Tibet, it is one of the three largest sacred lakes in Tibet (28°56′N 90°41′E). It is over 72 km (45 mi) long. The lake is surrounded by many snow-capped mountains and is fed by numerous small streams. The lake has an outlet stream at its far western end.
Around 90 km to the west of the lake lies the Tibetan town of Gyantse and Lhasa is a hundred km to the northeast. According to local mythology, Yamdok Yumtso lake is the transformation of a goddess.
The Yamdrok Hydropower Station was completed and dedicated in 1996 near the small village of Baidi at the lake's western end. This power station is the largest in Tibet.
第一次见到羊卓雍措(简称"羊湖")的时候,被眼前这一抹蓝色震惊了。羊湖的水呈现着异常美丽的蓝绿宝石一般的色调,光彩夺目,明艳夺逼人!远处是海拔7206米的宁金抗沙雪山,让人仿佛置身于仙境。传统行程的车辆在岗巴拉垭口短暂停留后,就要马不停蹄的开往了浪卡子县,匆匆一瞥实为遗憾。
在西藏,转山绕湖是一种庄严神圣的信仰活动。人们相信,通过此种修行方式,可消除无量的罪孽,增上修行的功德。而"马年转山、羊年转湖"更是佛祖给人间留下的旨意。今年正是藏历羊年,转上一圈圣湖的功德更是平日的数倍。于是羊年转羊湖,就一直成了我的心愿。
转羊湖的旅程与普通旅游线路完全不同,按照藏族的传统,需要顺时针绕湖一圈。于是我们从拉萨出发前往岗堆镇开始顺时针转湖。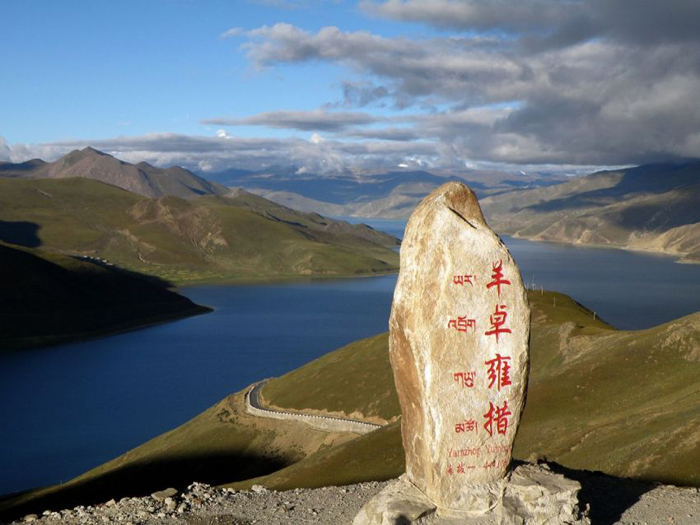 Tour
Tourist Map
Video
Travel Guide
Like mountains, lakes are considered sacred by Tibetan people, the principle being that they are the dwelling places of protective deities and therefore invested with special spiritual powers. Yamdrok Lake is one of four particularly holy lakes, thought to be divinatory; everyone from the Dalai Lama to local villagers makes pilgrimages there. It is considered sacred as one of the four "Great Wrathful Lakes" guarded by the goddess Dorje Gegkyi Tso.
The others such lakes are Lhamo La-tso, Namtso and Manasarovar. The lake is revered as a talisman and is said to be part of the life-spirit of Tibet. The largest lake in southern Tibet, it is said that if its waters dry, Tibet will no longer be habitable.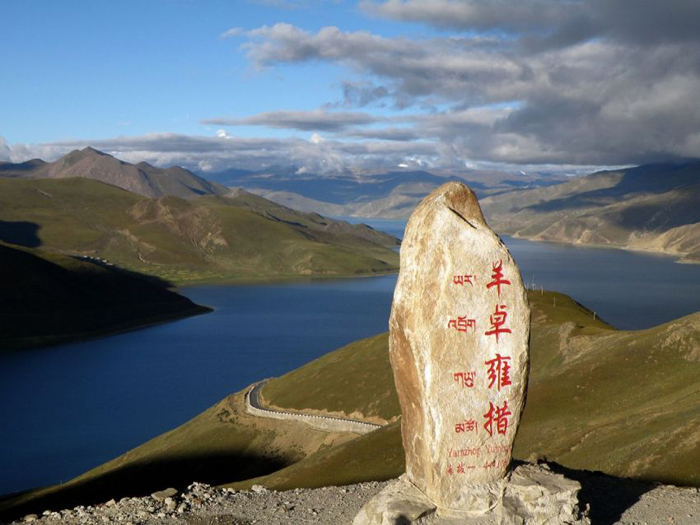 Lhasa City +Yamdrok Lake Tour:from 550 USD/person

Yamdrok Lake lies at 4,441 meters of altitude, if you aren't used to it, you'll feel bloody tired. Even walking was difficult, let's forget about climbing the rock on the right side of the lake
Photo with yak and tibetan mastiff charge 20 rmb
Nearby south of lake is famous Samding Monastery.keeping moving forward is Karuola glacier,the total; area is 9.4 sq km
don't move the stone heap.which is use to make a holly wish by tibetanese
bring more food in advance,because there is almost no food shop;eco-friendly for food package
Tibet Main Tour Attractions
Yamdrok Tso Lake 360 Panoramas