Emei Mountain Travel Guide
How To Plan Mount Emei Tour From ChengDu

Mount Emei is one of the Four Sacred Buddhist Mountains of China, and is traditionally regarded as the place of enlightenment of the bodhisattva Samantabhadra. Samantabhadra.
Its rich cultural tradition and natural resources made Mount Emei a UNESCO World Heritage Site in 1996.
according to WestChinaGo expert's tour experience, we conclude the following content to help tourist plan perfect mount emei tour.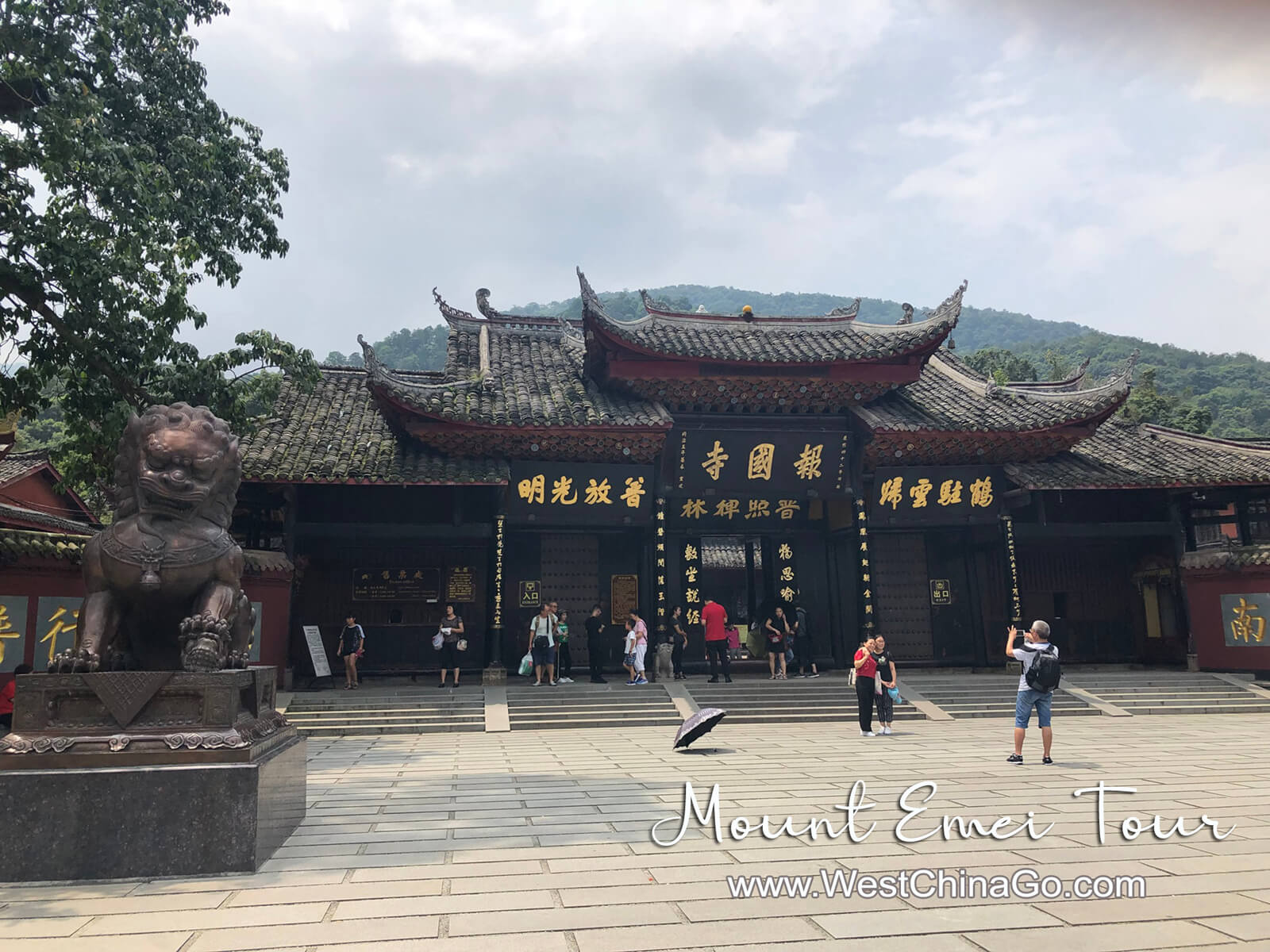 Mount Emei Tour Timeline and Itinerary
Length
Attractions
Itinerary
Summary
1-day
• Mount Emei Golden Summit
• BaoGuo Temple
Mount Emei Summit
Mount Emei Foot
rush off the feet,departure earlier is necessary.and back to chengdu late.
2-day
• Mount Emei Golden Summit
• Mount Emei BaoGuo Temple
• Mount Emei WanNian Temple
• Mount Emei QingYing Pavilion
Day 1: Mount Emei arrival + BaoGuo Temple (foot)
Day 2: sightseeing car +cable car to Golden Summit
Hiking down from wannian temple to qingying pavilion.

including the main scenic spot,and some hike, you can choose temple stay or accommodation at the summit
3-day
• Mount Emei Golden Summit
• Mount Emei BaoGuo Temple
• Mount Emei WanNian Temple
• Mount Emei QingYing Pavilion
Day 1: Mount Emei arrival + BaoGuo Temple + FuHu Temple.
Day 2: Golden Summit
Day 3: Mount Emei WanNian Temple + QingYing Pavilion + Departure

Night Activity:kungfu show or hot spring relax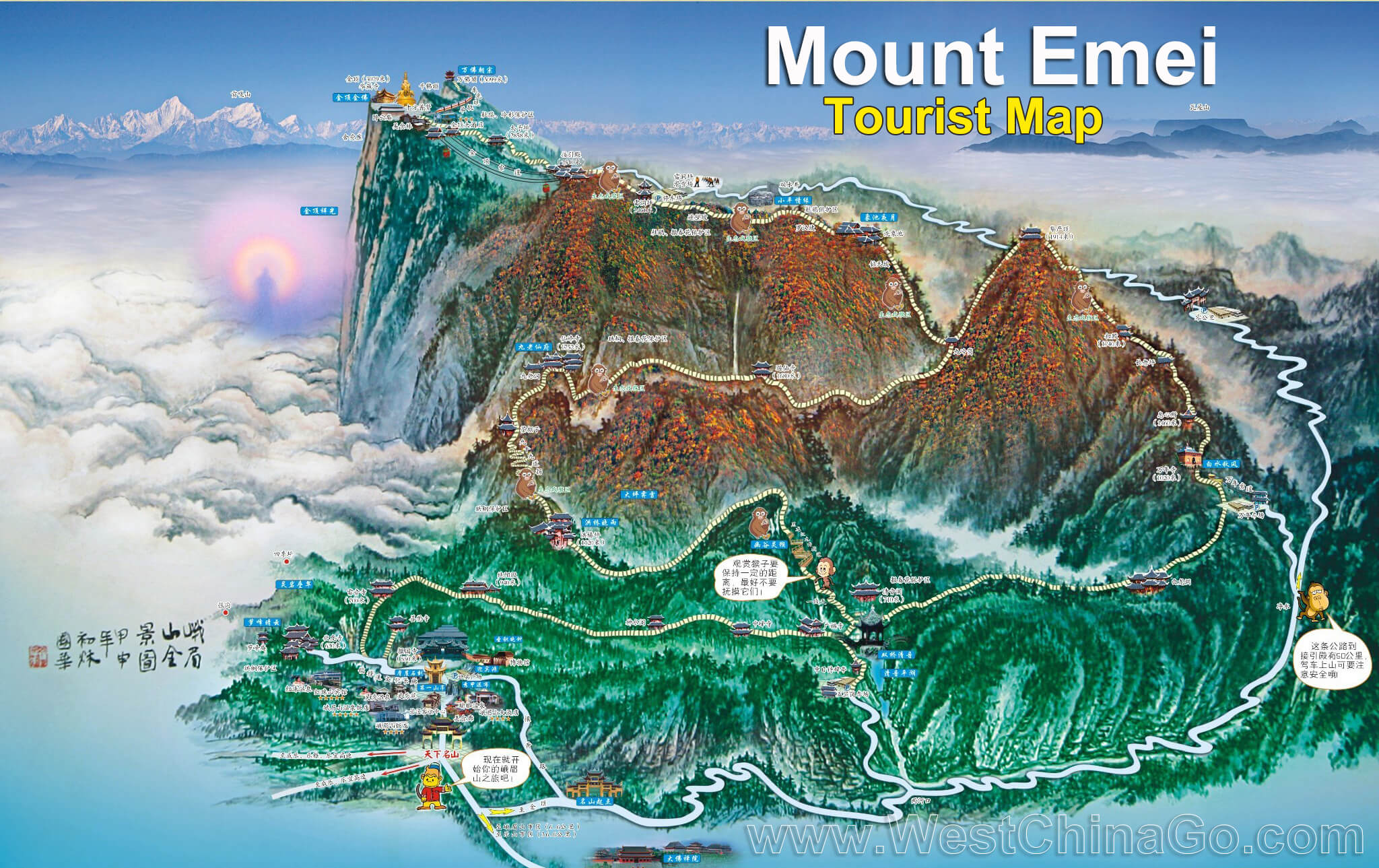 How To Get To Mount Emei from ChengDu
[iframe src="https://www.google.com/maps/embed?pb=!1m28!1m12!1m3!1d625400.6703247328!2d103.41042709784952!3d30.01150880321822!2m3!1f0!2f0!3f0!3m2!1i1024!2i768!4f13.1!4m13!3e0!4m5!1s0x36efc52300447721%3A0xb98652ce2e240e02!2sChengdu%2C+Sichuan%2C+China!3m2!1d30.572815!2d104.066801!4m5!1s0x36e5fc7a97d4c931%3A0xa6cc88bed2c26b62!2sFuhu+Temple%2C+Emeishan+Shi%2C+Leshan+Shi%2C+Sichuan+Sheng%2C+China!3m2!1d29.556224999999998!2d103.4156!5e0!3m2!1sen!2sjp!4v1495534191851″ width="100%" height="450″ frameborder="0″ style="border:0″ allowfullscreen="true"]
Mount Emei locates 50km away from Leshan Giant Buddha,185km away from Chengdu.
For the travelers who want to visit Mount Emei, there are 3 major ways:
Charter Car
most flexible, can visit Leshan Giant Buddha for extended tour
By High-speed train
fastest and train journeys last about 1.5-2 Hours
By Bus
departure from chengdu xinnanmen bus station.2 hours for arrival
By Charter Car
185km from chengdu city,The single-side itinerary need about 2-3 hours
More Info
By High-speed Rail
1.5 hours from chengdu
After you arrive leshan train station,you will transfer by public bus or take a taxi,about half an hour for arrival.
More Info
By Bus+Transfer
ChengDu XinNanMen Bus station
SHIYANGCHANG Bus Station
After you arrive leshan bus station,you will transfer by public bus or take a taxi,about half an hour for arrival.
More Info
[mount-emei]

Mount Emei Travel Guide
Emei Shan literally means "Delicate Eyebrow Mountain" — it derives its name from two peaks which face each other and look like the delicate eyebrows of a Chinese classic beauty.
Emei Shan is a UNESCO World Heritage Site featuring many temples, natural wonders and breathtaking scenery. The slopes incorporate several different climates and much wildlife, especially birds and trees. Some of the trees are more than 1,000 years old.
There are also monkeys, who are accustomed to tourists and assertive; they aren't dangerious but will beg for food and grab at bags as hikers walk along the trails. Many hikers carry walking sticks to shoo them away.
There are over 30 Buddhist temples on Emei Shan, 10 of which are large and very old. They are considered masterpieces of creative ingenuity in the way they adapt to the natural enviroment and beauty of the holy mountain.
At the mountain base is Baoguo Monastery, built in the 16th century. The monastery has serene gardens with rare plants, a library of sutras and a huge porcelain Buddha. In the stone staircase of the rear hall are figures of the Eight Immortals, betraying the temple's Taoist origins.
Further up the mountain lies the Crouching Tiger Monastery (Fuhu Si), Emei's largest temple. Once associated with the Taoist martial-arts master Zhang Sanfeng, today it is a Guanyin nunnery. Notable features include the 16th-century, 7m-high bronze Huayan Pagoda, which is engraved with 4700 Buddha images.
The Qingyin Pavilion, built against the mountainside at the foot of the Niuxin Ridge, is an ensemble of pavilions, towers, and platforms, the earliest dating from the early 6th century. Its location and the streams that run through it have earned it the name "The Mountain Garden."
A few hours' walk or a cable car ride leads to the Golden Summit(Jinding), at 3077m. There are two temples here (the friendly Woyun Nunnery and the large Huazang Si) and thousands of padlocks inscribed with couples' names to symbolize eternal love.
Huazang Si on Jinding was founded as early as the 1st century as the Puguang Hall, later becoming the Guangxiang Temple and receiving its present royal name in 1614. It was extensively rebuilt and refurnished in the 1970s, but every effort was made to preserve its original appearance.
Jinding is the best place to experience the Four Wonders of Mt. Emei: the Buddha's Halo (rainbow-like rings that surround and move with your shadow), the Sea of Clouds, the Holy Lamp (or Divine Lights) and the Golden Summit Sunrise.
From the Golden Summit you can ride a monorail along the ridge to Wanfoding (Ten Thousand Buddha Summit), the true summit of Emei Shan.
How to Get To Mount Emei (FOOT) from LeShan Giant Buddha
How to Choose Mount Emei Hotel
Area
foot of the mountain
middle of the mountain
summit of the mountain
5 star hotel
Hongzhushan Hotel;JZ Hotel
4 star hotel
• Emeishan Hot Spring Hotel
• Boutique hotel
• Zen Forest Boutique Hotel
Wannian Xueyafang Hotel
temple stay
baopguo temple
qingyin pavilion;wannian temple
n/a
boutique hotel
• On the Golden Summit
• Jinding Hotel(Best available on the Golden Summit)
• Jinding Villa
more info, please check where to stay in mount emei tour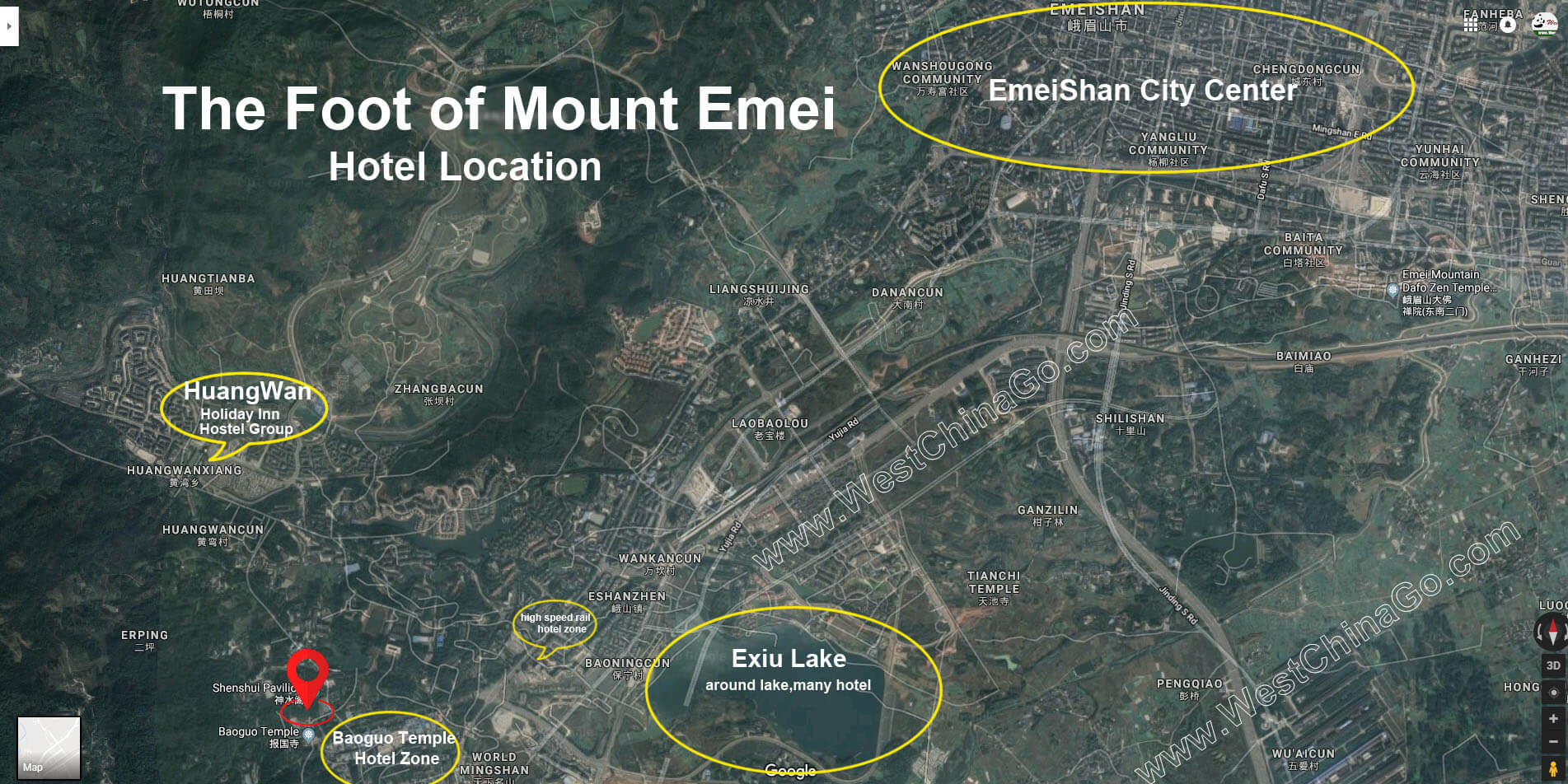 Best Time to visit Mount Emei
From March to November:good weather to go,comfortable temperature.the scenery is cover with green.
From December to Feb: cold; and the golden summit covered with snow. suitable to south-east asia tourist
don't come at china public holiday,such as may 1.oct 1,spring festival…
anytime, your moods ok
at summer season, usually you have chance to check sunrise and sunset at golden summit.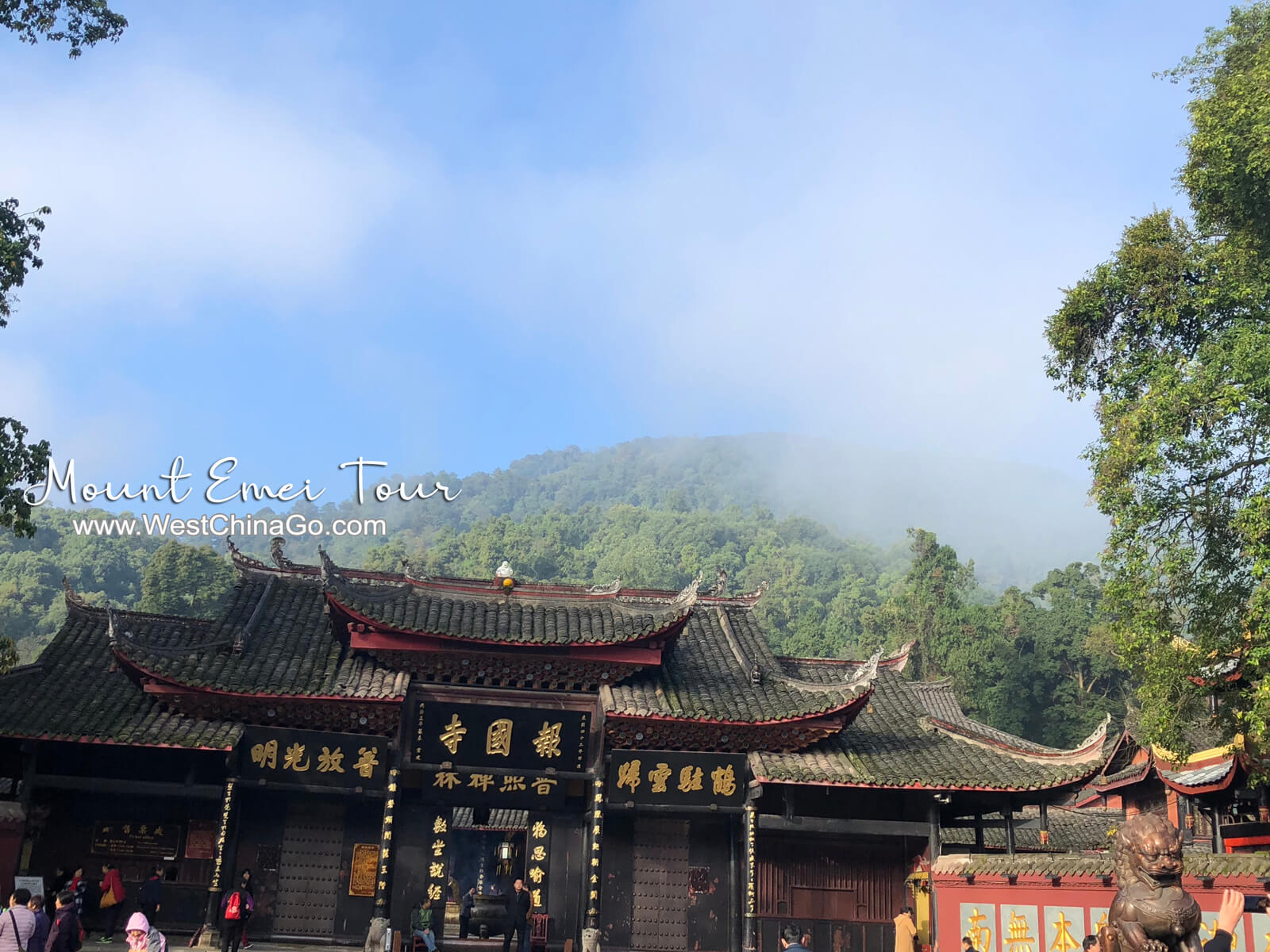 What To Pack in Mount Emei Tour
• light Hiking or sport shoes
• Thick Cloths When In winter
• sun glasses
• sunscreen cream,hat,lipstick
• medicine against the altitude
• bank card,passport,
• mobile phone charger
• Food:chocolate、dry beef、sugar candy、biscuit…high calorie food

Mount Emei Things To Do
Mount Emei Tour FAQ
Why Mount Emei Tour need at least 2 days?
from the above,you know why you need 2 days time for visiting mount emei for full panoramas.
so if you have hiking plan,WestChinaGo travel service will arrange the itinerary from top to bottom direction.in this way,easy and you can
enjoy a poetic walk downhill,On the way,you will pass the highlight of Mt.Emei,the crystal clear spring,old lush forests dotted with ancient temples.
Why Mount Emei Tour is little more expensive than regular tour attractions?
The tickets of Mount Emei validate time is 2 days
every little tour attractions , round trip cable car increase the cost
…….
totally,even though,it's worthy
The total area of Mount Emei is 154k㎡.
1 k㎡(square kilometer) =1,000,000㎡=100 hectare
Mount Emei is HUGE!
The above map offers you a panoramic idea of Mount Emei,you can also find the introduction of the major sites .
The following mount emei tour map show it,and you can click the point on the map for further info.,
in this way, you can plan your itinerary you like,
because different itinerary have different time and price
it's important to know the tour attractions's position.
3 parts of Mount Emei
Foot Mount tour Highlights: BaoGuo Temple,.FuHu temple.
Middle Mount Tour Highlights:QingYing Pavilion,WanNian Temple
Top Mount:Golden Summit
Tour Itinerary Time you need to know:
BaoGuo temple—FuHu Temple :walking up time:30 mins,bus:5 mins
BaoGuo temple—QinYin Pavilion :after 50 mins bus,then walking up 40 mins.
QingYin Pavilion—WanNian Templeafter 40 mins bus,then cable car,then walking 20 mins for arrival
WanNian Temple—Golden Summitafter 1 hour bus to leidongping parking lot,then cable car—10 mins.,walking will need about 2 hours.