ChengDu Tourist Atrractions
Chengdu Tour
ChengDu Panda Tour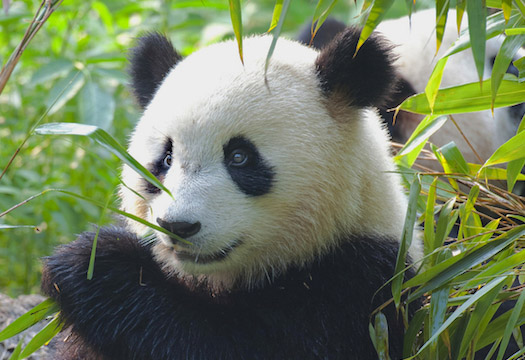 The Panda is Highlights in Chengdu tour, There are 4 Main Panda Bases in SiChuan;Each have specific traits, Now Only DuJiangYan Panda Base is unique place to do Panda Volunteer and Panda Holding………………..
Recommended Chengdu Tour Package:
Chengdu Tour, Travel Guide
Chengdu is the capital of Sichuan Province, which is known as the "Heavenly State" (Tian Fu Zhi Guo). Being the natural habitat of cute giant pandas, it is located in the west of Sichuan Basin and in the center of Chengdu Plain. It covers a total area of 12.3 thousand square kilometres (4,749 square miles) with a population of over 11 million.
1Benefiting from Dujiangyan Irrigation Project which was constructed in 256 B.C., Sichuan Province is reputed as "Tian Fu Zhi Guo", literally a place richly endowed with natural resources.
2Chengdu, as the capital, is extremely productive. The Min and Tuo Rivers, two branches of the Yangtze River, connected to forty other rivers, supply an irrigation area of more than 700 square kilometres (270.27 square miles) with 150-180 million kilowatts of water. Consisting of abundant mineral resources, the land is extremely fertile.
3Passport holders of 51 countries including the USA, Canada, UK, Germany, France, Australia, Russia, Netherlands, Switzerland, Spain, Portugal, Japan, etc. can enjoy 72 hours free transit via Shuangliu Airport.
4The history of the city can be traced back 2,400 when the first emperor built his capital here and named the city. Through thousands of years its original name has been kept and its position as the capital and as the significant center of politics, commerce and military of the Sichuan area (once called Shu) has remained unchanged.
Since the Han (206B.C.-220) and Tang (618-907) Dynasties when its handicraft industry flourished, the place has been famous for its brocades and embroideries. Shu embroideries still enjoy a high reputation for their bright colors and delicate designs, ranking among the four main embroideries in China. The city was also the place where the bronze culture, an indispensable part of ancient Chinese culture, originated; the place where the Southern Silk Road started; and the place where the earliest paper currency, Jiaozi (not the dumpling!), was first printed. It is listed among the first 24 state-approved historical and cultural cities and owns 23 state and provincial cultural relic units.
ChengDu culinary, cooking class experience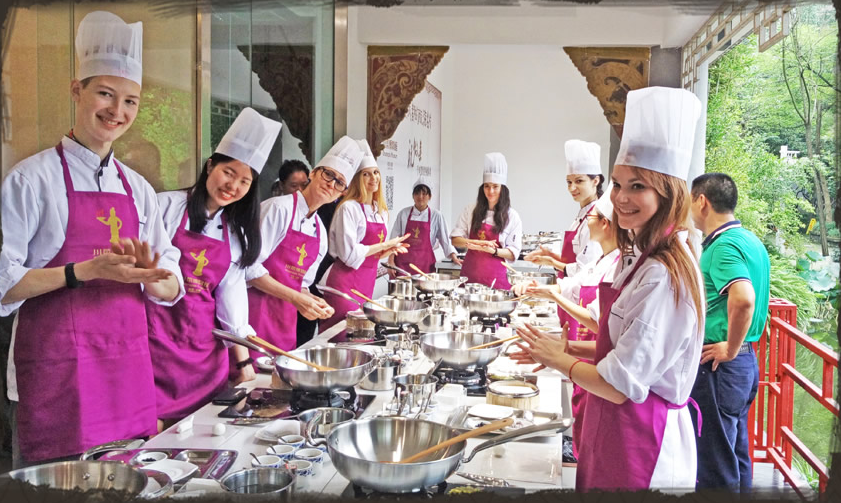 ChengDu Cooking Class
| | |
| --- | --- |
| Tour for 1 Traveler | 225 USD/Per |
| Tour for 2-3 Travelers | 160 USD/Per |
| Tour for 4-6 Travelers | 135 USD/Per |
Private Half-Day Cooking Experience at Sichuan Cuisine Museum in Chengdu Including Lunch or Dinner In addition to amazing points of interest in Chengdu, sampling famous Sichuan Cuisine is a must when you travel here. Over the centuries, Sichuan Cuisine has developed its distinctive flavors enticing people throughout China as well as in foreign countries lately.
Important Info
Tour duration: 5 hours (approx.)
Departure point: Your downtown Chengdu hotel
Transportation: hotel pick up and drop off
Highlights
Instant Confirmation
Choice of morning or afternoon departure
Free hotel pickup and drop-off included
Led by a local guide
Family friendly
Lunch included
Including
★ Private air-conditioned car/van with driver
★ English-speaking tour guide:
★ Cooking materials and meal at the museum:
★ Entrance fee to the Museum
★ Hotel Pickup and drop-off
★ Fuel,parking surcharge and tax
What You Can Expect
Take this half-day tour to enjoy amazing cooking Experiences at Sichuan Cuisine Museum. This half-day cooking experience starts either in the morning at 9am or in the afternoon at 1:30pm. Please indicate your preferred visiting time at time of booking. Your tour guide and private driver will pick you up from your hotel lobby at appointed time, and then transfer you directly to Sichuan Cuisine Museum in Pixian County.
As a National three-star level attraction, Sichuan Cuisine Museum is the only interactive museum in the world displaying Sichuan culinary culture. Your cooking experience will start by tasting one of the famous Sichuan snacks and visiting exhibition halls oncluding Classic Collection Hall, Raw Ingredients and Tools Display Area, and Kitchen God Ancestral Hall…etc. Then, a bilingual guide from the museum will teach you how to prepare three typical Sichuan dishes so you could get firsthand cooking experiences and skills such as Panda Steamed Dumpling, Kung Pao Chicken, Mapo Tofu, Pumpkin Steamed Dumplings, Daqian Dry-braised fish, and Boiled Beef in Chili Sauce…etc.
After Q & A session and receiving feedback from the master chef, you will enjoy those delicious dishes you have prepared served with free fruits and beverages. At the end of the cooking experience, you will be awarded a "Rookie Master Chief" certificates signed by the master chef of Sichuan Cuisine Museum. At the end, your guide and driver will transfer you back to your hotel where this memorable half-day cooking tour conclude.
Chengdu tours Thing To Do